This post was most recently updated on July 31st, 2016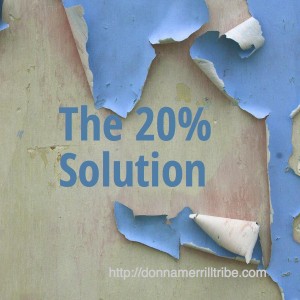 What is the 20 percent solution to finishing the big project that's still sitting on your desktop?
After many years of consulting with people both online and offline as to accomplishing their goals, I've pretty much come to this conclusion…
The average client I work with (call her "Kathy") does a really great job of completing about 80 percent of a big project, or accomplishes 80 percent of each major goal she works toward.
Then, somehow, the remaining 20 percent just never happens.
But Kathy doesn't just stop doing business.
She moves on to a new project, something far more promising and likely to succeed.
She gets on a training, fills her notebook with notes and charts and figures and projections.
Then she opens a new document and starts working on "Project B."
Things go great, and she puts her heart and soul into it.
Of course, you can guess where this is going.
Once Kathy gets about 80 percent of Project B done, she gets interested in starting "Project C" instead.
"Project C" looks like it will be easier to market and end up earning a lot more profit.
Special: Achieve Your Goal In The Next 60 Days
This pattern continues.
Today, Kathy has 6 pr 7 projects on her desktop that are 80 percent complete, but she's never figured out the solution… the 20 percent solution to completing any one of them.
Now, Kathy is my average client.
The Extraordinary Entrepreneur
I've certainly had some extraordinary clients, too.
They are the ones who actually complete their big project, reach their big goal and then go on to the next… and the next… and the next.
The extraordinary clients I've worked with have figured out the 20 percent solution, and have mastered the knack for planning a goal, and reaching it.
They do that by plotting milestone projects in sequence, and completing their "Project A" before moving onto "Project B." After they complete "Project B" they move on to "Project C."
Let's say that "Nadia" is one of my extraordinary clients.
Why does Nadia succeed at what Kathy continually fails at?
The 20 Percent Solution
Kathy is never sure of herself.
She second guesses everything she does and somewhere deep inside believes she can't really accomplish the goals she sets for herself.
Nadia knows she can do it.
She doesn't hope she can, she simply expects to, and so she does.
Even though Kathy always gets off to a great start, she's always looking around at other things to get involved in "just in case" Project A fails.
The truth is, she's telling herself on a subconscious level, that there's no way she can complete Project A, and if she actually does, there's no way that she'll be able to market it and make it profitable.
So as she nears the end of it, here self doubt increases along with her fear of the inevitable failure looming.
In her near panic, she starts looking for something "better."
Special: Achieve Your Goal In The Next 60 Days
At this same point in the process, Nadia is realizing that it's going to take some special effort to complete the final 20 percent of her project.
Nadia understands that the first 80 percent is far easier to accomplish than the final 20 percent.
That's because the final 20 percent raises so many more emotional as well as strategic concerns.
You see, when Kathy gets to the final 20 percent of her project, the emotional doubts and fears freeze her progress. She also realizes she has no real strategy for making the most of a completed project.
So it becomes much more comfortable for Kathy to abandon the project and work on something new. That's because working through the first 80 percent of a new project make Kathy feel like she's keeping busy without accepting post-production challenges.
Nadia knows that post-production, she will have to figure out exactly how to move her newly completed project forward.
But she's more able to do this than Kathy was because she had a post-production marketing strategy in place before she ever started the project.
Kathy never did, partly because she somehow knew she'd never get to that point.
Nadia also struggles with the emotional aspects of completing the final 20 percent, but she has the self confidence and resolve to give that big push at the end of the project.
She knew it would get to this point, she's ready to take it on, and she does.
Special: Achieve Your Goal In The Next 60 Days
How do you tackle the final stages of completing a big project or accomplishing a big goal?
Are you more like Kathy or more like Nadia?
Have you found your own 20 percent solution?
I'd love to hear about it.
-Donna