This post was most recently updated on August 1st, 2016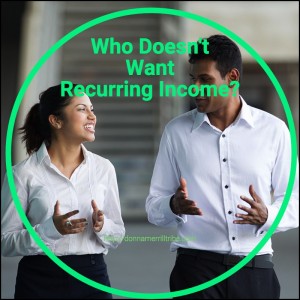 So really, now… Who Doesn't Want Recurring Income?
In fact, one of the most lucrative types of blogs and websites uses "recurring income" as it's main business model.
It seems kind of obvious, doesn't it?
Which would you prefer?
Get paid once (what online marketers call the "one-off" option)…
-or-
Get paid regularly, typically, every month.
I'm sure you've seen this varying business model in many instances.
I use a webinar software that I purchased for a one-off price.
The truth behind this story is that "I know a guy" (as they say in my old Brooklyn neighborhood).
This "guy" is a top software creator who offered this deal a while back and I jumped on it.
If you've shopped around for a way to produce webinars, I'll bet you've only found ones that charge you a monthly fee. And it's not cheap either, is it?
The point is, most of the big product developers would far prefer that you pay a monthly subscription that is "good until cancelled," rather than a one-off fee.
No wonder to that.
Special: Start Blogging… Right Here
Just think of the benefits of running an online business based on recurring income
You get a steady income.
No more struggling to get a commission here and there. Make one sale and get paid over and over again instead of just once. Remember, these subscription fees are steady income even though they are only good until cancelled. If the product is good and valuable, your cancellations should not outpace your new subscription rate.
You establish a reliable cash flow.
This allows you to project your income, and buy ads or commit to other expenses pretty much knowing how much income you'll be getting each month.
You lower the barrier of entry.
Example: If you have something worth $500/year, it means only people with $500 today can get started. That's a barrier to entry for many people. Instead of your customer having to pay the full amount, though, they could get started by paying only $49 for the first month, and each month after. Many more people will now be able to get started immediately.
You build a steady customer base.
When you sell a one-off product or service, people may use it once, twice… who knows how many times? Usually, they use it a few times then forget about it. Then they lose interest in the product, in your service, in your emails and in your business. They're like a one-night stand, here today, gone tomorrow. But when they buy in on a recurring subscription basis, they'll come back to your product over and over again. They'll remember you, they'll open your emails, they'll visit your site regularly and they'll be exposed over and over again to your up-sells, down-sells, cross sells, related products, upgrades, renewals and all the rest. In short, they'll become a loyal customer and a recurring buyer.
You can see the benefits of having a continuity based product, service or membership site of some type.
Those benefits clearly go much deeper than simply having recurring income for the front end product.
So, if want recurring income (who doesn't?), how do you do it?
Membership Sites
You can build a membership site that people pay for on a subscription basis, and in return, they get a regular drip feed of content.
One person I know has a meditation music membership site.
Special: Learn To Blog… (My Video Inside)
Each month he creates a new piece of meditation music (he's a composer and musician). The customers pay a monthly fee, and each month they get a new meditation audio recording.
That's a simple example of a membership site that gives the owner a recurring income.
I run a free membership site (Whirlwind Success VIP Club) that people join to get a steady drip of information about blogging and internet marketing, as I create it (with my husband, David). There is also a paid upgrade to the free site (VIP Club Pro) that combines coaching and advanced training in the same areas.
The VIP Club is an example of an information based membership site.
There are many different types of membership sites, but I think you can see from these examples how it works, and how you can create recurring income from operating such a site.
Coaching
Another way to build recurring income is with various coaching programs.
You might teach somebody conversational Spanish, for instance. This might be on a subscription basis, where the client pays a monthly fee until they cancel. Each month, you arrange lessons by email, then coach them directly in a weekly or even daily Skype call.
You can coach individuals on this basis, or even a group of people.
You can even sell coaching "packages" which are, essentially, subscriptions. So, for instance, you might coach somebody to set up Facebook ad campaigns for $300 a month, until cancelled. But as a package deal, you could offer your clients an annual subscription coaching plan where they agree to pay $175 a month on a recurring basis. This would greatly increase the likelihood that they would maintain their subscription and give you a more predictable recurring income.

Subscription-Based e-Commerce Sites
Now, this is a business model that people are not so familiar with as the first two.
But it can be easier to set up and has an unlimited potential for recurring income.
I haven't actually done this myself, yet.
I say "yet" because I "know a guy" in the business who is going to be getting me involved in this very soon.
So let me explain it as I understand it at this time.
Did you ever purchase a tangible product that involves a monthly subscription?
I have.
I use a cosmetic care system that works well for me. Now I'm not selling you on this, just sharing what I have purchased myself.
I pay a monthly subscription fee and get an auto-ship of a month's supply of the cosmetic creams.
How about those new gym clothes?
Special: Learn To Blog… (My Video Inside)
My step daughter opted into one and received a beautiful set for a low price. Because of all the compliments she was getting in her gym, she decided to upgrade to their subscription program. She received one outfit a month by mail for as long as she remained in the program.
My daughter, the shoe freak, subscribes to get one pair of shoes a month. Sounds crazy? If you knew her… this is one of her few luxuries of life. She'd buy them each month whether they were not delivered or not. So it works for her.
My niece subscribes to a program that sends her healthy home cleaning products. The products are amazing and don't hurt her dogs with nasty chemicals.
So what am I getting at here?
Subscription based e-commerce sites are hot.
They offer people tangible things that they need, use and that make their lives a bit better.
You're probably familiar with these programs.
But did you know that you could actually run an e-commerce site that affiliates these subscription based products?
It's a form of affiliate marketing, but it's affiliating tangible products instead of digital ones.
Now, I absolutely love my online business, but there is something inside me that wants to get into that tangible product thing.
I always did have my grubby little hands on something tangible. From real estate to selling antiques. It's an enjoyable, hey, maybe even therapeutic, thing for me.
I've been craving lately, to get into that hand to hand exchange of tangible objects.
I loved finding antiques, cleaning them up and re-selling them at retail outlet where I rented space.
I liked getting houses in need of improvement. David and I would rip out carpeting, climb ladders, paint ceilings, plant shrubs… and then stage and flip it when it when it was done.
I'd been thinking lately how this hands-on thing has been missing in my life.
Now, my marketing buddy has offered me a sort of a solution… a way to get involved in tangible retail products that I could offer online via e-commerce sites.
I love retail. I used to be a fashion buyer for Macy's.
I even volunteered to run a local thrift shop a few hours a month.
I love retail!
So, I pushed myself to Think of the Possibilities.
It could become an additional twist to my existing group of online businesses, and it could represent a new level of training for me to offer my students and clients.
Special: Learn To Blog Better… From Me… Today
As a coach and mentor, I work with people trying to build an online business for themselves. I know that online business, even blogging, is a not one size fits all enterprise.
One compelling reason for me to learn this new operation is to be able to help others that want to do this kind of business.
I teach people every day how to do affiliate marketing, create and market their own information products, ebooks, blogs, websites and so much more. These are all things I do routinely, and so coaching others to do it is easy.
Being a coach, though, requires me to keep on the cutting edge of things. That means exploring many different forms of online business.
The idea to start learning more about e-commerce came to my mind like some kind of Law of Attraction. And then, as the Universe would have it, this particular connection with one of the top experts in the business just fell into my lap.
I don't really believe in coincidences, do you?
Go figure.
Why e-Commerce Sites?
Think of it this way.
You have money. What do you do with it? Put it all in a bank?
Crazy!
You have to invest in various things. Put your money to work.
It can be the stock market, gold, property, businesses and so on.
I'm not a financial wizard, or even close to it.
But I've invested many times in the past and presently.
The main thing to keep in mind is that although you may be making money with your current online business, don't keep your eggs in one basket.
And I'm not talking about just e-commerce sites.
I'm particularly interested in subscription based e-commerce sites.
Now, in case you didn't know, people can affiliate subscription based tangible products through Amazon, Ebay and Shopify already. But these are quite different and far less powerful than the kinds of programs I'll be investigating, and reporting back to you on in the near future.
This isn't for everyone, naturally.
And I'm the first one to urge you to keep focused on your current business.
But if it sounds like something you'd be interested in, be sure to click the banner image below and sign up to become a member of my Free VIP Club.

This is where I'll start posting the information on these recurring income, subscription based e-commerce sites as I develop it in the very near future. Meanwhile, there's other great blogging and online business training going on there right now.
So that's it for now.
Just one more thing.
Leave a comment for below and answer this one question…
Who Doesn't Want Recurring Income?
-Donna