This post was most recently updated on August 1st, 2016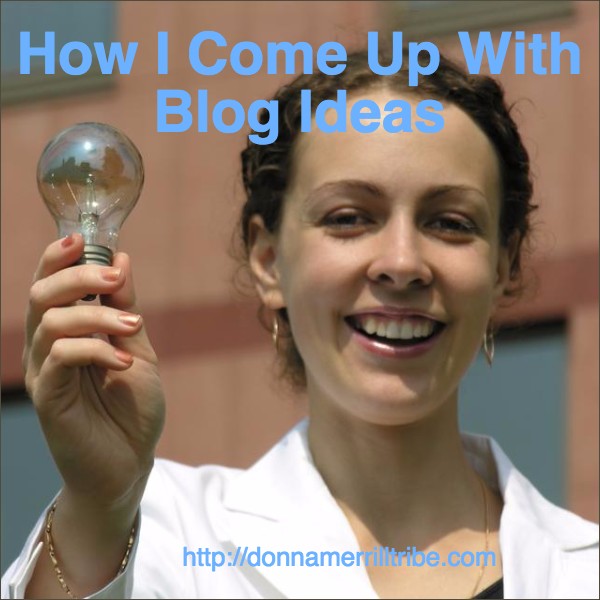 I'm often asked how I come up with blog ideas.
So I thought it would interest you to learn why I write what I write about.
There's a reason I say that "I thought it would interest you"… and that's really the key to the system I use to come up with blog ideas.
Now, when I talk about "blog ideas" I mean the topics you write about.
I guess another way of saying blog ideas is blog titles.
Special: Start Blogging… Right Here
Very often, people write what they think is a compelling title, and then they proceed with writing an article that goes with it.
But this still leaves you with the matter of coming up with the titles on a regular basis.
I actually have my own little system for doing this, and since I've been asked about it so many time, I decided that an intriguing title for this article would be "How I Come Up With Blog Ideas."
Before I show you my system, though, let's talk for a minute about how other people develop their blog ideas.
Here's Some Common Ways That Bloggers Come Up With Blog Ideas
Most bloggers I know struggle on a regular basis with what to write about on their blogs.
Understandably, they start out by wanting to write about things their readers care about.
Somehow though, this very often translates into things that THEY care about.
Here's one example:
How much money am I making?
Did you ever read blog posts about how great the author is doing?
Things like "I just sold 500 copies of…" or "This new thing I just joined is really paying off for me."
Now, does this really interst you, as the reader?
I find those kinds of posts dreadfully boring, but maybe it's just me.
If I go out to dinner with a few friends and all they talk about is their new job promotion, or how they just started making a lot of money with some new business they joined… I suddenly fake up a call from my dog sitter…
"Oh, I'm sorry. The dog sitter just called. She's stuck in traffic and the dogs haven't been out since 2:00. We'd better leave, now. So sorry to cut this short."
Special: FREE Guide… 4 Things I Did To Build My Blog Using Only Free Traffic
Same thing when I read a blog post about how much money someone's making with something.
Like I care, haha.
What next, copies of Profit & Loss statements?
Am I alone on this, or do you find these articles pretty boring, too?
Here's the problem, IMHO…
People write articles like this because THEY are interested in how much money they're making, and they assume everyone else is, too.
Or at least they hope everyone else is interested.
You see, if their readers are actually interested, it means they have a chance to sell them something or have them join a business opportunity or whatever.
The point is… a bog post like this is not really what the reader wants.
It's much more what the blogger wants the reader to hear, and maybe take action on.
Special: Start Blogging… Right Here
Here's How I Come Up With Blog Ideas
That's just one example of how bloggers tend to write what they want readers to be interested in, more than drill down to what readers actually are interested in.
Now, I'm sure I've written blog posts on topics that interested me more than my readers.
But I've develop a system that keeps me from doing that.
It's not a system that works for everyone, but it does for me.
And it's pretty fool proof if you use it.
Here's how it goes.
Hang out with people in your niche.
Engage with them, build real relationships with them… like first-name basis relationships.
Listen to them when they tell you the problems they have and challenges they face.
Write blog posts that help them solve their problems and overcome their challenges.
End Goal: Improve their lives to the extent that the problem or challenge was depriving them of reaching a goal or
attaining a desire.
That's it.
I do it all the time and it strongly resonates with my readers.
This is partly because I have constant interaction with my target audience.
This may not be the case with you.
Your business might be creating software, for instance.
Maybe you don't really interact with your customer/prospect base.
In that case, this might not be the best strategy for you.
Special: FREE Guide… 4 Things I Did To Build My Blog Using Only Free Traffic
This is really something that assumes you talk to your readers and prospects.
I don't know what business you're in, so I'll leave it up to you to determine if this is as a good a strategy for you as it has been for me.
Having said that… Here's why this is tailor made to my specific business model.
Hanging Out
I hang out with lots of people.
I'm in social media groups, blogging communities, and forums that are filled with my potential customers/clients.
I'm there all the time and so I meet lots of folks.
In addition, I also coach clients, mentoring them to build successful, profitable blogs and online businesses.
I run several membership sites, both free and paid.
I've released many digital information products into the marketplace.
I have multiple mailing lists.
The bottom line to all this activity is that I have many, many places where I hang out with people who are interested and involved in the things I do.
That means they're a highly targeted audience within my specific niche of blogging and online business development.
Engaging
Now, having access to lots of people is one thing.
Engaging with them on a regular basis is another.
And I do.
I strike up real conversations with people, and I ask them all the time what they're up to, what problems they're having and what their desires are.
I encourage them to respond to me and engage with me, as I do with them.
In this way, I build very strong relationships with my clients, customers and social contacts.
Listening
When people respond to things I say or do, I listen carefully to their responses.
But even when people aren't talking directly to me, I pay careful attention to what they're saying.
Some of this comes from social media conversations they're having, maybe in a Facebook group or forum.
Special: Start Blogging… Right Here
Some of it comes from blogging comment threads, whether or not I'm directly involved.
Wherever I am (within my niche, of course), I'm always listening to what folks are asking, talking about, ranting or complaining about.
I make it my business to really "hear" what's going on around me.
Writing
Because I keep myself so attuned to these conversations, coming up with blog ideas is pretty simple.
I usually write about something that's going on right now.
If a client tells me on Monday about a challenge he or she is having putting together a sales funnel, for instance… by Wednesday I'm writing a blog post that pretty much summarizes the answer I gave them in consultation.
The blog post won't go into the level of detail I do within a coaching session.
This is partly because when I talk to a coaching client, everything we discuss is within the context of their specific situation, business and goals.
It's partly because I just can't get into the level of detail in a general blog post on a topic, that I can in a coaching consult.
All things considered, my blog post will generally reflect my client's problem, and it will generally solve that problem… or at least point my readers in the right direction.
Special: FREE Guide… 4 Things I Did To Build My Blog Using Only Free Traffic
If I'm not writing about a question posed to me in coaching session, I'm probably writing about a question I got from someone on my email list, or from a customer of one of my training courses.
It could be in response to a forum or Facebook group thread in which a group of people were discussing an issue that concerned the group.
It could be from anywhere that I was hanging out with people in my niche… from clients I was speaking directly with, to a crowd I might have just been listening to.
End Goal
The final step in this process is for me to write blog posts that actually help people get past obstacles holding them back, or to help them solve significant problems in their business.
When I write these articles, I have in mind a specific person who I actually spoke with, or heard conversing with others.
So, I'm usually writing a particular blog post with that one person in mind.
This helps me keep focused on real people with real problems, who I can offer real solutions to.

Now, you know why I write what I write about.
There was a reason I said at the outset that "I thought this blog post would interest you."
There's a reason I said it is the key to the system.
The reason is that I wrote this blog post based on an actual discussion I had with one of my clients a few days ago.
So, I figured this might be of interest to you because I know (not speculate) that it was a real issue of real importance that was really of interest to this particular and very real client.
That's the key.
It's the key to writing blog posts that are of real concern to real people.
I hope I have given you some help to writing impactful and compelling articles, by seeing how I come up with blog ideas.
Now, it's time for some engagement.
I'd love to see your comments below, and I appreciate you sharing this post on your favorite social sites.
-Donna