This post was most recently updated on August 1st, 2016
You can absolutely "Drive Traffic To Your Blog For Free" when you know what to do… and then do it.
As a blogger, you just never get over the issue of driving traffic to your blog, right?
Most bloggers don't really like paying for Facebook ads to get more folks to their blogs, though.
Let's face it, you're giving away high quality, free content on your blog.
Should you have to pay so people can find it?
The answer, sadly, is yes for many people.
That's because, try though they might, they just can't seem to get their pages ranked in the first page or two of the Google search results.
If you're in that group, believe me, you're not alone.
Special: FREE Guide… 4 Things I Did To Build My Blog Using Only Free Traffic
You've probably spent lots of time reading about SEO strategies, right?
So, you search for the right keywords for your blog post title.
Then you make sure to use those keywords throughout your article, in your tags, even in your image "alt tags."
That's just for starters.
There's much more to do to make your blog post stand out for the hungry little Google bots that tirelessly troll the blogosphere.
That's just for "on page" SEO.
Then there's things you need to do "off page" to get backlinks, yaddy yaddy.
If none of this works, then you're probably off to the next thing.
That usually means developing your "social media" profiles to share your blog content.
Can You Drive Traffic To Your Blog For Free With Social Media?
Many experts tell you that the best way to get traffic is through social media sites.
Without beating around the bush, I'd say that social media really is one of the best ways to get traffic.
It's not only one of the best "free" methods you can use, it's also probably the best "paid" method.
I'm not going to get into paid ads in this article, except to say that the stronger you build up your social media presence, the more effective your paid ad campaigns will be if and when you decide to deploy them.
So, we get to the issue of how to build a strong social media presence as it relates to your blog.
Special: FREE Guide… 4 Things I Did To Build My Blog Using Only Free Traffic
Be Social
One of the biggest mistakes I see bloggers make on social media platforms is that they're not social.
What's your favorite social media platform?
Facebook?
Twitter?
LinkedIn?
Pinterest?
Instagram?
YouTube?
If you're hanging out on any of these platforms, you know that they are PRIMARILY social.
That means, people are hanging out to meet each other, see what they think about things, share some cool quotes or funny videos or whatever.
Then you come along and say "hey, here's my latest blog post on tracking your site through Google Analytics."
What???
Nobody cares.
Be social, have fun and only share your blog updates to people you know are interested.
But mostly, spend quality time on social media sites just meeting people, hanging out and having a good time.
Special: FREE Guide… 4 Things I Did To Build My Blog Using Only Free Traffic
Share Valuable Information
OK.
Now you want to know how that translates into getting traffic to your blog.
It doesn't unless you can find a targeted group of people to hang out with.
Maybe you're in a Facebook group of people who use Google Analytics… then you could share that post, as long as it's permissible.
Maybe you have blog about photography. Build a fan page that speaks mostly to photographers' concerns and invite people to join you there.
Give them valuable information about photography.
This same strategy applies to all the different social media platforms.
Gather people around you who are interested in your niche topic, and share valuable information with them on a fairly steady basis.
Support Other Bloggers
You don't just want to draw people to you, though.
Find other bloggers in your niche who are active on their social media sites.
Visit them, engage with them, let their followers know that they've got some good information to share.
They'll do the same for you.
So will their followers.
This is how social media becomes "viral."
Everybody sharing, talking, and some of this "traffic" will find it's way to your blog.
Be Consistent
Now, here's the part that you could find a bit challenging.
Nothing happens fast.
Nothing happens "overnight."
Nothing.
Your social media campaigns can be a great way to drive traffic to your blog for free.
Special: FREE Guide… 4 Things I Did To Build My Blog Using Only Free Traffic
To be effective, though, you need to run these campaigns pretty much every day.
Consistency is the key to making social media work for you, in driving traffic to your blog.
If you're not out there daily, socializing, sharing, commenting and adding value for your followers… then they'll soon forget you.
And they'll soon forget about your blog.
Be Efficient
To make your campaigns work, and to keep up with them consistently, you need to put systems in place.
That means that you must have a regular routine that you follow.
You might spend 30 minutes a day on your Facebook page.
Maybe you'll upload 3 videos a week to YouTube.
Whatever your routine is, you need to do it daily and efficiently.
There are plenty of paid tools to help you share your posts and tweets, and interact with your friends, followers and associates.
There are also some good free ones.
One of the best free tools you can use to improve your efficiency is IFTTT.
You can visit their site to create and/or grab what they call "recipes" to automate portions of your social media strategy, and make it work right on schedule with high octane efficiency.
Here are a few sample recipes you will find there…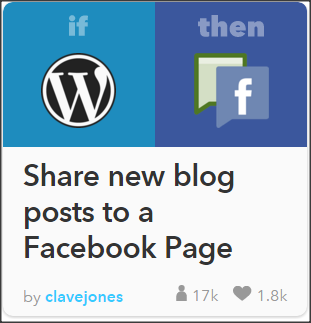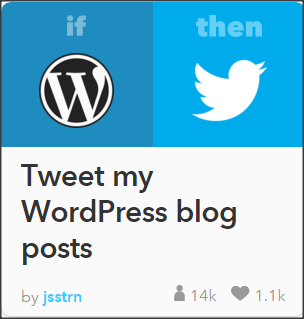 So that's it.
Talking about effective social media, I've just added a basic training for anyone interested in getting started with using Instagram.
Instagram has become one of the most powerful social media platforms for engaging your audience, and involving them in your business.
One of the uniquely effective things about Instagram is that all your traffic is driven to one site only… the one you link to in your profile.
People tend to think that's a detriment in that they can't blast out all kinds of links to all sorts of things.
But it's actually a very inviting thing for users (your followers!) because they're not intimidated by being deluged with links all over the place.
If they like the value you share, they can easily click your profile link.
That makes your profile link an extremely valuable piece of real estate on your Instagram feed… because it's the ONLY one.
If you'd like to see how you can get started on Instagram, and start putting together some highly effective and engaging campaigns that can drive lots of free traffic to your blog on a steady, ongoing basis, get my FREE "Instagram Basics" Training inside of my VIP CLUB…




That's it!

Now, Id like to hear about the methods you use to drive traffic to your blog for free.

Please leave your your comments below, and share this article to your social networks if think it would be valuable to your peeps 🙂

-Donna