This post was most recently updated on August 1st, 2016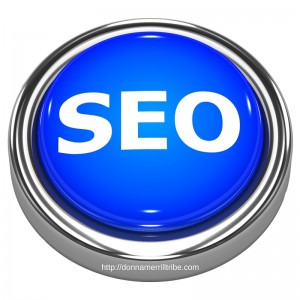 The SEO basics you need to know are really very simple.
I do not pretend to be an SEO expert, but I guide my students through the essentials on a daily basis.
I also apply them on this blog, as long as my green light (for my SEO by Yost plugin) goes on.
I have great back links on this blog.
Special: Start Blogging… Right Here
But I do have other websites and have to rely much more on SEO.
As I build up my e-Commerce site, it will have crickets unless I apply more serious SEO methods.
So, let's get down to the basics.
What is SEO?
First of all, SEO (Search Engine Optimization) is really a coordination of strategies.
They are designed for one main purpose… to get your web pages and sites to rank very high in the search engines.
If you can rank your pages high, you will get tons of free traffic.
That's because search engine rankings are free.
Yet, they unlock the biggest flow of targeted traffic you can find anywhere, even through paid social site and media ads.
Special: Start Blogging… Right Here
Page Ranking
The ranking of your web pages is critical to your business.
When people visit a search engine like Google, they are looking for something.
Maybe they want to buy a baby monitor, or learn how to run Facebook ads.
They would probably type in "search terms" like these…
"best baby monitor"
"how do I place a Facebook ad"
If your web page answers addresses the need for this information, it will be the perfect place for your audience to find your article and maybe even purchase something through your blog or website.
Special: Start Blogging… Right Here
Targeted Traffic
In the above examples, the traffic that would find it's way to your website would be highly "targeted."
That means, they want exactly what you want.
Exactly.
Just think of it.
If somebody does a Google search for "best baby monitor"… don't you think they're probably ready to buy a baby monitor?
If you have an Amazon niche site that is all about baby monitors, there's an excellent chance that you can sell some of them to this kind of traffic.
That's because "best baby monitor" is what we call a "buyer-intent" keyword phrase.
The person who types it into their search is probably intent on buying a baby monitor.
That's great news right?
The problem is, how do you get the traffic instead of your competition.
They want it, too.
The answer, of course, is to do a better SEO job than they do.
Special: FREE Guide… 4 Things I Did To Build My Blog Using Only Free Traffic
On Page SEO
After you've defined the keywords you want to use, put them in your title, in the beginning and end of your article, and
several times throughout.
That's the essence of what we call "on page SEO."
It means, these are the things you can do on your web page to help the search engines know what your article or blog post is about.
That way, when people search for your topic, the search engines can point them your way.
Now, there's a lot of other things that you can do to optimize your web page.
You can bold, italicize or underline your keywords, you can give them "h2" tags and you can use them in your image "alt tags" in you post meta tags and in videos embedded on your site.
There's a lot more, but that's the basics.
Off Page SEO
This is what we usually talk about in terms of "backlinks" to your site.
If people are linking to your blog or article from other sites, search engines interpret that your information is good quality and authoritative information.
They like that.
If you have no backlinks, it reflects poorly on your page and it will nto rank high.
It's not just a matter of numbers, though.
You could have a higher ranked page with 5 or 6 very high quality backlinks than you could with 100 low quality ones.
Special: FREE Guide… 4 Things I Did To Build My Blog Using Only Free Traffic
So, you want to go to some of the best sites in your niche to try to get backlinks.
You can guest post on those sites or you can leave comments with a link back to your site.
You can also go on social media sites and share you link so that people will come back to your site from social sites.
That's a very good way to improve your page rank.
There's more you can do, but that's the basics.
What's really important to know, here, is to NOT buy backlinks to your site.
That's one method that will almost certainly get your page de-ranked so that pretty much none of your target traffic will find it in searches.
What Kind Of Sites Need SEO Strategies In Place
Any blog or website that you want to drive to should be "optimized" in the ways we've mentioned.
The more you've "monetized" your site… that is, built into it methods for making a profit… then the more anxious you'll be to try to get traffic to it.
I've recently started working on e-commerce and am in the process of building an e-com site right now.
That means, it's a site for people to find things they want to buy.
So, I'll be applying some very strict SEO strategies to it.
Special: FREE Guide… 4 Things I Did To Build My Blog Using Only Free Traffic
I intend to create other such sites rather quickly, and all of them will require these strategies.
If you write a "hobby blog," such as a blog about your travels and family events… you probably don't want to be working too hard on SEO.
You're not trying to drive targeted traffic to it, and probably only share the link with a few close friends, family and associates.
If you have a blog, you certainly want to drive traffic to it, so SEO is a key undertaking.
SEO Management
One of the big problems with SEO is that it can be very, very time consuming.
It's not easy to locate and contact a whole bunch of authority sites for backlinks.
It's even harder to get them to allow your link on their sites.
You can spend many hours if not days researching the best keywords.
Then you have to test, re-test, adjust to your competion and even figure out what your competition is using for an SEO strategy.
If you don't have the skills or time for all this, you can hire an SEO manager.
Just do a Google search and you'll find tons of them.
They're not cheap, though, and so it's mostly very successful money sites that hire them to apply extensive SEO strategies.
There's also some plugins like SEO by Yost that are helpful.
I'm actually going to be buying a new SEO software that actually manages your campaigns for you, without the need for high priced management.
Special: FREE Guide… 4 Things I Did To Build My Blog Using Only Free Traffic
It will quickly draw data from your top ranked competitors and apply them to your pages.
It can grab backlinks with a click and help you rank your pages high with a bare minimum of effort on our part.
The software does it all for you.
So, it's a really cheap alternative to the very high priced SEO management teams that your big-shot competitors are probably using right now.
And I'll bet that with this new software available, most of the management teams will simply use it on your behalf and still charge you their astronomical fees.
Anyway, it's not for everyone.
If you're really serious about driving traffic to your sites in a big way, check it out.
If you're just getting your feet wet with your online business, it's probably much more than you need at the moment.
Like I said, I'll be getting in early to take advantage of the special launch pricing.
I'll let you know how it works for me out in future posts.
Meanwhile, I'll give you my affiliate link for it right here since it's in a very short-termed, highly discounted launch period right now, and for just the next few days.
Here's the link ==>
Sorry, This Program Has Closed
Alternatives To SEO
Now, SEO is not essential to having a very successful blog or website.
The alternative is to build your own following without the help of Google or any other search engines sending traffic your way.
That's not a bad strategy, and the traffic you get through your own efforts will probably be even better than search engine traffic.
That's because people will know you a little bit before they even go to your site.
Special: Start Blogging… Right Here
SEO traffic is mostly "cold" meaning those folks have no idea who you are, and are "meeting" you for the first (and maybe last) time when they click your link from a search.
To build your own traffic, social media is probably the best method.
Spend lots of time on social sites interacting with people in your niche.
Give them links to your blog/site every now and then.
Eventually, they may choose to visit your site and become a valued guest and even customer.
Blog commenting works in essentially the same way.
Get a list of blogs that your crowd frequent.
Visit them, comment good and substantial comments over a sustained period of time.
Link back to your own blog/site.
Eventually, some folks will start clicking your link and visit you.
These same strategies can be used in conjunction with forum visiting, writing ebooks, creating digital information products… in each of these instances, always link back to your site to build a bigger following.
The problem using these alternative should be obvious.
It's called time.
Your time.
You have a very limited amount of it, so choose wisely how to use it.

If you have the skills and time to plan and execute your own SEO campaigns and strategies, then you can do that to build your business and drive traffic to your sites.
If you'd rather use your money instead of your time, you can pay someone else to do it.
Consider hiring SEO managers, or you can pay for various plugins or even the software platform I told you about above.
What's your SEO strategy?
Or do you focus on some of the alternatives that I listed above?
I'd love to have your comments on this topic below, and always appreciate you sharing my articles on your social media sites.
-Donna