This post was most recently updated on August 6th, 2016
I want you to see 4 Blogs That Rank High On Google Search.
When I say "rank high," I mean that these bloggers consistently rank their blog posts very high in the Google Search.
That means…
They know what they're doing
They've gotta be doing something right
Google sees that they're doing it right
You can learn from them, and copy what they're doing, so you'll get it right
When you rank high on Google Search, you'll be getting lots of free traffic to your blog.
Not only that.
You'll be getting highly "qualified" traffic.
That means these folks didn't just happen upon your blog by mistake.
They wound up there because you engineered your blog properly, you "optimized" it to attract exactly the targeted audience you want.
In order to get to your blog, these folks must actually type in keywords that they WANT more information about.
When Google Search says "here, I think this is what you're looking for" by ranking your blog post high in the search results, the relationship begins.
These people WANT information you are promising to give.
Special: FREE Guide… 4 Things I Did To Build My Blog Using Only Free Traffic
You make that promise with your headline and with your meta description.
Now, all you need to do is live up to your end of the bargain.
Give people the great results they came to Google Search to find, engage them immediately in conversation and value, and it will be the start to a beautiful relationship.
Here's 4 bloggers who I personally know "get it."
You can learn a lot from the way they run their blogs to consistently rank high in Google Search.
Adam Connell
Here's the kind of thing I'm talking about.
Adam recently wrote a blog post about guest blogging.
Click the image below if you'd like to read it…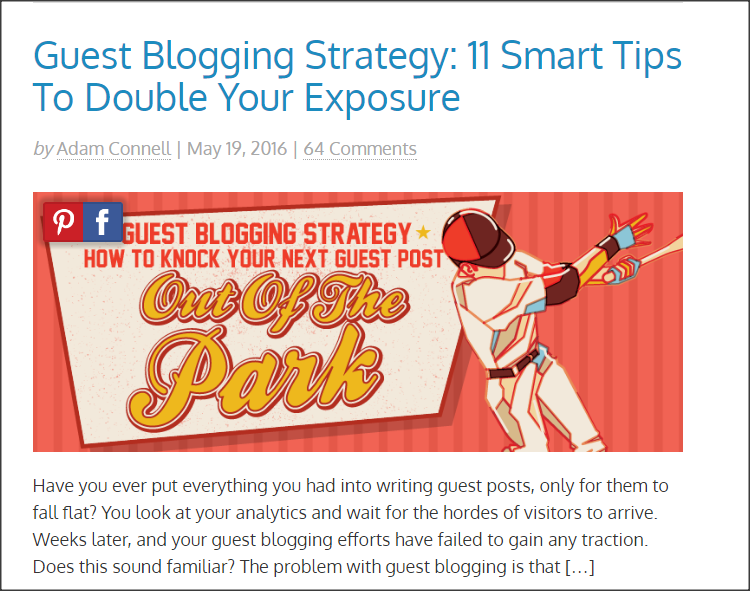 You can see that Adam is trying to rank this post in his title.
His primary keyword is Guest Blogging Strategy.
It's in his title and throughout his article.
His secondary keyword is Double Your Exposure.
In addition to this, he's also written a massively thorough post on the topic, with lots of images to guide you along in your read.
So, Google Search interprets that as being a great resource for folks interested in Guest Blogging Strategy or in how to Double Your Exposure.
The reward?
Google ranks this as a high authority article, and the last time I looked it sat square in the middle of page one for the keyword search "guest blogging strategy."

While you're looking at the high rank listing, notice it optimizes for the terms guest blogging strategy and guest post.
Notice, too, how Adam wrote a compelling meta description.
He starts with a question to pull the searcher into immediate engagement.
Then he takes charge with a solution to their problem…
The underlying, unspoken, but clearly positioned message to the searcher is: "You've said you're struggling, so I can help, but you MUST first STOP & READ my article.  Only then will you get what you came here looking for."
Pretty masterful, huh?
Check out Adam's blog and I know you'll learn a lot about how to write blog posts that rank high on Google Search.
Special: FREE Guide… 4 Things I Did To Build My Blog Using Only Free Traffic
Mike Allton
Here's another masterful blogger who knows how to get it done.
Mike recently wrote an interesting blog post about Facebook Live.
You can click the image to read it…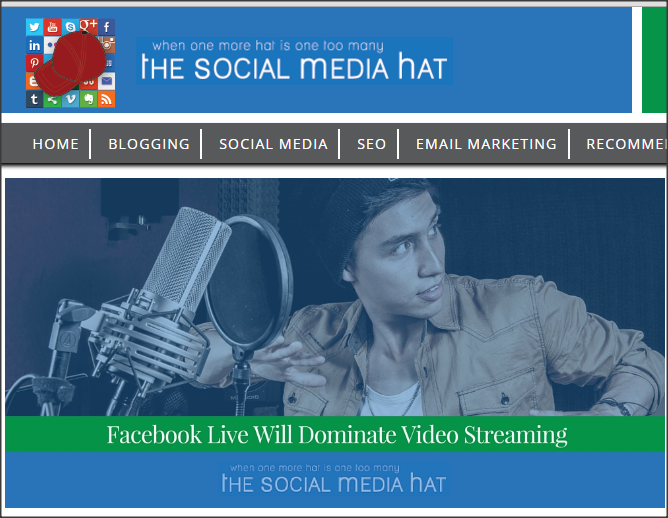 This is another perfectly written, valuable piece of blogging content that Google Search decided it's search-audience would like to read.
So, it's another blog post ranked on page 1 of Google.

Again, you will see the keywords that Mike is optimizing for in the title and body of his blog post, as well as in the meta description.
The meta description is also a call for action: "You need to care about now" means to take action, click this link, read my blog post and start putting Facebook Live into action.
This is particularly relevant since "Facebook Live" is inherently an action-based search.
Nobody wants to just passively sit by and observe what's happening with Facebook Live.
They want to be part of it.
Mike shows them how to get involved.
That's engagement, that's leadership and that's authority.
Mike's got it all going on!
Special: FREE Guide… 4 Things I Did To Build My Blog Using Only Free Traffic
Enstine Muki
Enstine is another terrific blogger who really "gets it" when it comes to ranking his blog high in Google Search.
He also has a keen sense of being in the right place at the right time.
He's always on top of what the latest thing is that's happening, that can help bloggers and marketers get to the next level in their business.
I'm not sure how he does that, but I know I have to make time to ask him about it.
For now, let me give you an example of how he gets his blog posts to rank high.
Again, just click the image to view the article…
Now this is a very timely, hot topic.
The Warrior Forum Vault is a new way for marketers and bloggers to excel and Enstine is one of the first to bring it to our attention.  He writes a wonder, thorough review of The Vault as only Enstine can do.
It has become his signature brand, and he's one of the best in the business at it.
So, it's not a big surprise that when he optimized the keywords Warrior Forum Vault and Warrior Forum Vault Review, he ranked 1st position, 1st page of Google Search almost immediately.
Wow!  That's some smooth operation, Enstine.
Check out the search result and his meta description…
Notice, even, the slick and compelling enticement to anyone searching this term… they will get to not only "meet big names in online marketing" but they can actually "tap into their brains" to see how they work.
That's almost surgical 🙂
Anybody would have to check that out.
So from Enstine, not only top ranking, but wonderful and compelling copy to boot.
Visit Enstine's blog and I know you'll see what he so often ranks high on Google Search.
Special: FREE Guide… 4 Things I Did To Build My Blog Using Only Free Traffic
Ryan Biddulph
Here's yet another great example of how to shine like a star within the blogosphere.
Ryan has been running a powerful blog that, by it's very title, is enticing to budding entrepreneurs.
Ryan ranks his blog posts high in Google Search very often, and for many reasons.
I won't attempt to tap into his brain here (hehe), but I can show you an example of the results he gets.
He wrote this blog post on 20 hours ago!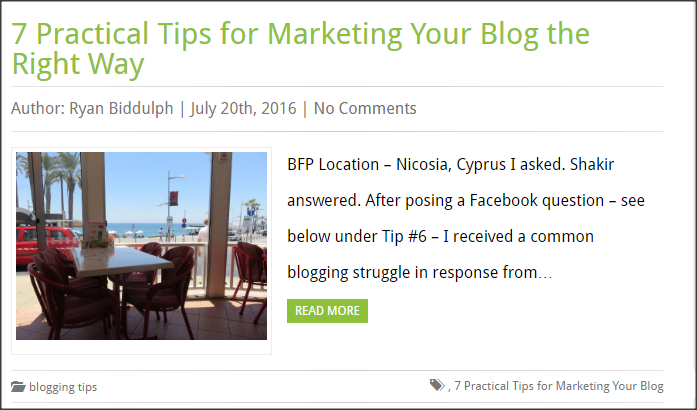 When I did a Google Search for "marketing your blog the right way" … it showed up in the 2nd position on page 1 in the results.

That is some fast track success for optimizing that keyword!
Notice that the meta description takes a different approach than we've seen from others in this article.
It's almost a "stream of consciousness" snippet of an apparently ongoing story that suddenly, subliminally… we are pulled into.
What is Tip #6?
What did Ryan "receive" in response to his "Facebook question?"
It's all quite mysterious, yet… you've just gotta click and read this article, don't you?
That's Ryan's genius.
He's a maestro when it comes to weaving stories into his marketing messages, and people love to read it.
That means traffic.
Lots of free traffic that Ryan is able to pull onto his blog via high ranking on Google Search.
4 Blogs That Rank High On Google Search
So, that's a bit of real world, actual samples of some very astute folks you can learn from, and you can copy.
Check out these 4 top bloggers.
See what they're doing to get their blog posts ranked high in the search results.
See how they're driving free traffic to their sites every single day.

Don't you think you could do this, too?
Don't you think you can rank high on Google Search with your well-crafted blog posts?
Sure you can!
Let me hear from you in the comments below.
What's your story?
What has your experience been in driving free organic traffic to your blog?
Is it a challenge for you to rank high on Google Search?
I hope this has helped.
Please share it 🙂
-Donna