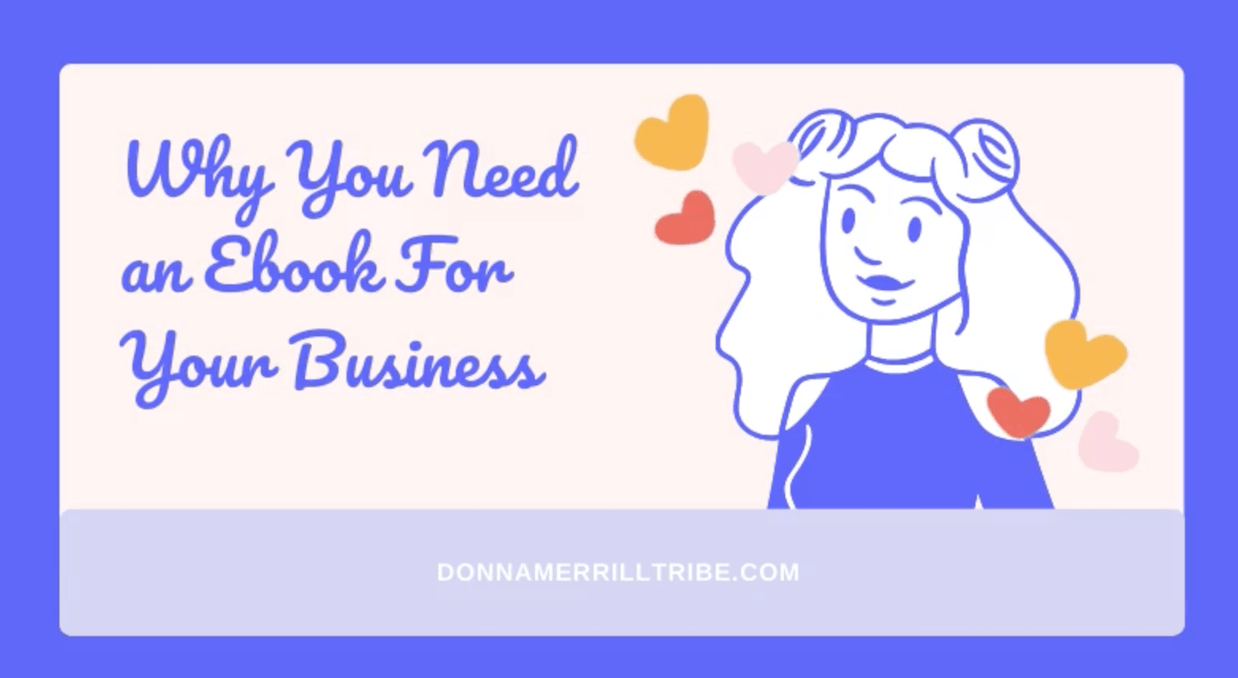 You need an ebook for your business to drive more traffic, leads and sales your way. 
Are you a blogger?
Or maybe you're using a website as a business builder.
Either way, in order to get new prospects, clients and customers, you need to be actively engaged in content marketing.
That means that you need to be offering value to people in your target audience.
If you're a dentist, you want to be creating interesting content for people who might need some sort of dental work.
If you're a lawyer, website designer or trucking firm, you want to be reaching out to people needing those services.
Whatever your business focus is, an ebook is an excellent way to offer prospects something of value.
That's where your ebook comes in.
When you offer an ebook containing high quality value to your target audience, you'll be building a solid relationship with them.
When people who get your ebook, they will be introduced to your brand… the main focus of your business.
Many of those people will end up on your email list, or in your social media following.
They will eventually buy your products and services.
And they could even buy your ebooks.
Now, let's dig a bit deeper into why you need an ebook for your business.
Build your business or personal brand
An ebook is important for your business in order to give real value to your target audience.
It gives you an opportunity to demonstrate the kinds of solutions you offer to people looking to solve specific problems.
Let's say you are a lawyer who specializes in helping people recover damages from auto accidents.
You could write an ebook that shows accident victims how to go about filing a claim, and choosing a lawyer to help them through the process.
This will establish your authority as a someone who knows how to help people. 
It will earn the trust of your audience.
And it gives you an excellent opportunity to lay out your mission statement or core message.
Probably the top reason that you need an ebook for your business, is to share that core message with people.
It will tell them who you are, what your business is, and most importantly… how you can add value to their lives.
That's your core message.
Get people into your sales funnel
Another critical reason you need an ebook for your business, is to pull people into your sales funnel.
An ebook is what I call a "tripwire asset."
It's something you offer people to get them to turn to you for answers to their questions, and solutions to their problems.
Just like a "tripwire" stops somebody from walking down a path, your ebook can grab their attention and stop them from endlessly looking for answers all over the internet.
Instead, they can turn to you.
That's how you get people into your sales funnel.
And it can all start with just a very simple ebook.
People can actually be in your sales funnel the moment they start reading your ebook.
As they're reading the solutions to their problems that you lay out for them, they can click on links to your products or services.
They can click on affiliate links to other solutions that you have gathered for them.
Your ebook can even build your business by linking to your blog or webpage to deepen your relationship with readers.
In all these ways, an ebook is a powerful tripwire asset.
You can use it over and over again, in many different ways, to continually reach your prospects and generate traffic to your site.
List building
An ebook can benefit your business, also, by helping you build a list of followers.
To begin with, it can serve as a lead magnet giveaway.
It's especially important that your ebook addresses one of the biggest problems your niche audience has, because that will give it great appeal.
So when you offer your free ebook to people in exchange for them subscribing to your email list, they will be tempted to join so they can get your ebook.
If it doesn't come across as a big problem solver for them, they may just pass on it.
Don't overlook social media sites for list building, too.
Not only can you use social media to drive people to your squeeze page for building your email list.
But you can also build a list of social media followers with your ebook, too.
It's great to build an email list, but social media lists are another powerful way to grow your business or blog.
Sales
You can sell ebooks as well as give them away for free.
How valuable is your ebook?
Put a price on it and sell it to your email list.
Sell it on your blog, on your Facebook page or anywhere else.
Your free ebooks are a great way to build a list.
But you can convert those prospects into buyers simply by offering an ebook you are selling.
Once somebody buys your ebook, even if it's a low price, they are now a customer.
They will be far more likely to continue to follow you, buy from you again in the future, or become a paying client.
Repurposing
An ebook is a great tool for getting your business in front of your target audience.
Your ebook will usually be broken into chapters or sections.
Each chapter or section of your ebook will explore different aspects of your main topic.
So, each section can be broken down into a marketing campaign.
Repurpose your ebook as a video, a blog post, an image, a flip book or whatever.
Each time you offer a piece of information taken from your ebook, you can link back to your ebook to "learn more."
A single ebook can give you source material for countless marketing campaigns.
And each campaign can link back to your ebook.
That's why I call an ebook an invaluable tripwire asset.
If you've found this information to be helpful, I ask you to share this article on your social sites so others can benefit from it, too.
And, of course… I'd love to hear from you in the comments below.
How can an ebook help you put your core message in front of people who will benefit from it most?
Do you think you need an ebook for your business?
-Donna