This post was most recently updated on November 14th, 2022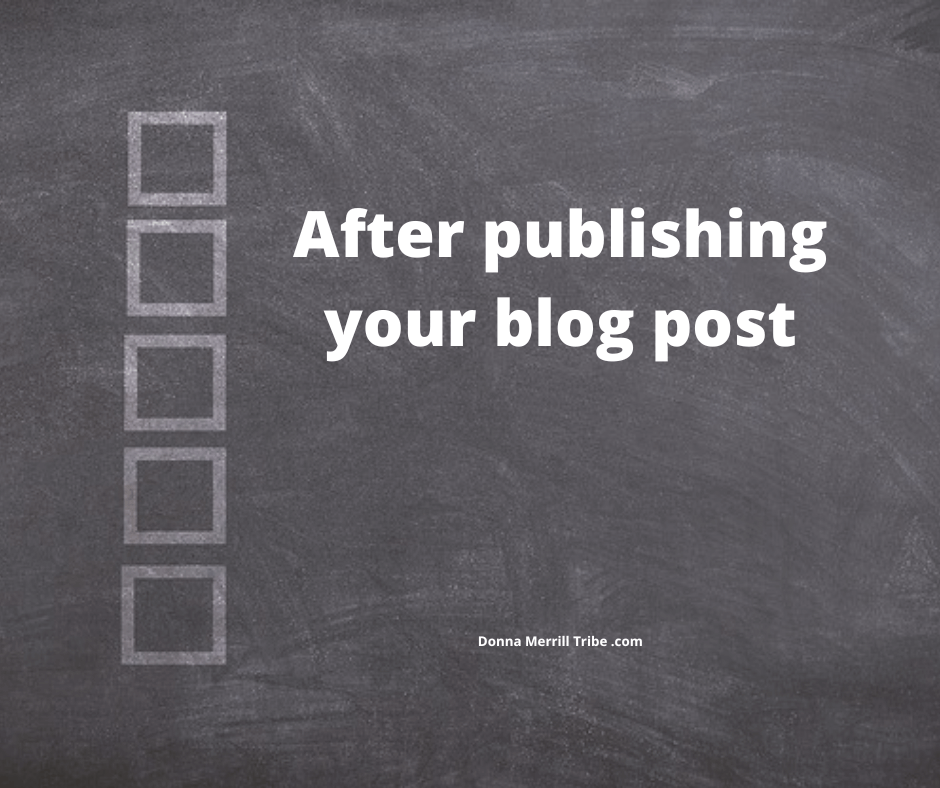 After publishing your blog post, what should you do next?
I have some top-notch post-publication blog post tips for you.
So read on.
If you implement these tips in your business, you're sure to enhance the popularity of your blog posts.
But if you don't, it's almost as certain that your business will suffer.
You see, publishing a blog post takes a lot of time and effort.
It feels great to finally hit that "publish" button and move on to another one.
But not so fast.
After publishing your blog post, it becomes a "digital asset" for your business.
Like any asset, though, you want to maximize its value.
So, considering the time and effort you put into getting blog posts published, you need to put at least as much time and effort into enhancing their popularity.
And a popular blog post is nearly always a frequently-searched, high-ranking and profitable blog post.
Keeping that in mind, here are my top tips for what you should do after publishing your blog post.
Make your comments a priority
Comments are a key factor to the engagement level of your blog.
They also play an important role in your SEO (Search Engine Optimization) ranking.
When search engines see a lot of comments, and engaging comments in particular, they rank your blog posts higher.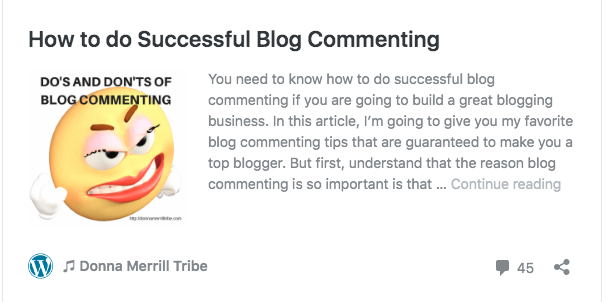 So you need to do whatever you can to make your comment section lively.
After publishing your blog post, make sure to monitor the comments it receives.
And reply to them as soon as possible.
When readers see that your comment section has a lot of robust conversation going on, they'll tend to jump in with their own comments.
Share your articles on social media
As soon as you hit the "publish" button, share your blog post on all the social media sites where you are active.
That might mean Twitter, Facebook and LinkedIn, for instance.
Or, maybe Instagram and Pinterest.
Share links to your articles on any and all platforms that you are active on.
Social media groups
Now, besides sharing your blog posts on your status updates, you should also share them in any groups where you are active.
So if, for instance, you have a regular presence on four or five Facebook groups, or a handful of LinkedIn groups… those are the groups where you need to share your links.
If you are active in those social media groups, your links should get you plenty of attention.
And the same is true of your profile status updates.
As long as you are out there talking with people and joining discussion threads regularly, after publishing blog your post your social media links to it should result in it's increasing popularity.
Schedule your social media updates
In order to develop a consistent social media strategy, you should create a content schedule for your status updates.
I mentioned before that your published blog post is a digital asset.
That means it's something you can use to grow the success of your blog, and of each individual blog post.
But to do this effectively, you need to have a schedule for updating your social media statuses to include mentions of and links to your blog posts.
This process doesn't have to be complicated.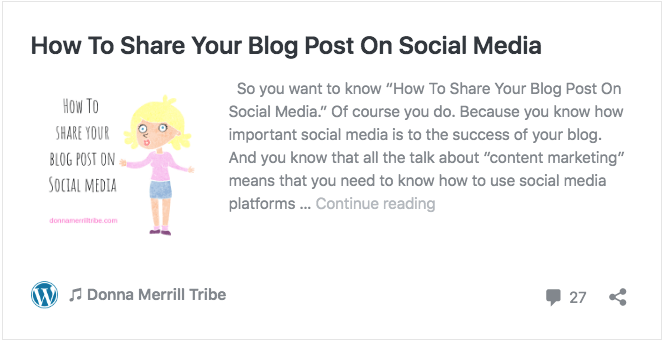 You could do something as simple as to schedule the sharing of your blog post once a week.
Or once a month, every 3 months… whatever seems right to you.
You could, of course, share it even more frequently.
So, this is simple, right?
But what happens after you have 10, 20, 30 or even hundreds of blog posts.
Now it's starting to get complicated.
And time-consuming.
Very time-consuming.
Automate social media scheduling
There are many tools to help you automate your social media scheduling.
Say you want your blog post about fishing to get posted to YouTube twice a day for 3 months, and once a week to Facebook, and once a month to Instagram.
You can do all that manually by just going to each of those 3 profile accounts each time you want, and post them.
But you can see that will take some time, even for just one little blog post.
However, you could also subscribe to an automation scheduling tool.
Then you just set up the schedule you want, and all that social media posting will get done for you automatically.
You don't have to remember or do anything.
Just set your schedule once and walk away.
Manual social media posting
Manual posting takes a lot more time than using automated tools.
But it has its advantages, too.
Most importantly, manual posting can be more engaging.
And that's really important.
The main reason to post your content to social media is to build enghagement with your readers.
If all your posts look like run of the mill, automated copy/paste jobs, your audience could feel like you're more intetested in generating numbers than helping people.
Manual social postings give you an opportunity to be unique with each of your postings.
It also gives you a chance to make current commentary.
And, that's not all.
Many people feel like the major social media platforms will give your posts much more visibility if they are not automated.
So, I'd say this.
After publishing your blog post, put it in your automation cycle if you're using those tools.
But save some time, too, to post it manually from time to time with different headlines, tones and commentary.
Send out email announcements
A very effective tip as to what you should do after publishing your blog post, is to send an email to all of your subscribers as soon as you hit the publish button.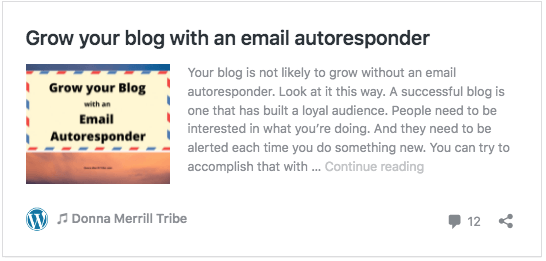 This is especially important to do because your email subscribers have voluntarily joined your email list.
So they're obviously interested in what you do on your blog.
It stands to reason, then, that they'll have some degree of interest in hearing from you each time you publish a new blog post.
I've spoken with blogging students who think they'd be annoying people to email them links to their new blog posts.
But I can't emphasize this enough… the people on your email list want to hear from you.
That's why they subscribed to your list in the first place.
So it's not just smart marketing to email them after publishing your blog post, but it's actually your obligation to do so.
Repurpose your blog posts
Another thing you should do after publishing your blog post is to repurpose it.
Repurposing a blog post simply means putting the same content into different formats.

Poulomi Basu suggests that you always repurpose your best performing content
in the Ignite article outlining 6 of the best strategies for marketing your blog posts.
So, assuming your blog post is all text, you might want to make it into a video.
Or, you could take several parts of your blog post and turn them into different spin-off articles.
You might even make your blog post the basis for an ebook or a digital information course.
There are so many things you can do to repurpose your blog post.
Deciding which blog posts to repurpose
Now you may not have the time and resources to repurpose every single blog post you will repurpose.
But it's a good idea to try to repurpose every blog post in at least some small way.
You don't have to turn each article into an ebook, for instance.
But after publishing each of your blog posts, you could probably do a 3 minute video summary after publishing each of them.
The point is, you're going to have to decide which blog posts to repurpose, and to what extent.
So how do you decide?
Well, it's a pretty simple process, really.
You could repurpose every one of your blog posts to some small extent right after publishing them.
But then, keep your eye on the traffic flow and popularity that each one generates over 30 days or so.
The articles you will want to do some extensive repurposing of are going to be the ones getting the most traffic, comments, and buzz.
When you have something hot, keep fanning the flames for as long as you can.
== Build those blog links
Build those blog links
Link-building is one the key factors in getting your blog posts to rank high in the search engines.
Simply stated, link-building is getting other bloggers and authority figures to link to your articles.
You always want to seek high quality links, meaning links from sites that rank high themselves.'
When you're composing your article for publication, you can embed good outbound links.
That means, you can link out to sites that are authoritative in your niche, and that have good search ranking.
But you definitely want to attract authority sites after publishing a blog post.
The goal is to have those sites link directly to your article.
They might mention it in their own blog post, for instance, with a link going to your article.
Getting people to link to your article
After publishing your blog post, there are a few things you might try doing in order to get links back to your article.
You can undertake some post-publication promotion of your blog post.
Talk about it on social media, for instance, or link to it on a YouTube video.
You should post links to your article any place you can.
The more people that see your article, the more likely you will be to attract some inbound links to it.
Also, you can simply ask other bloggers to link to it.
Just send them an email or private message asking them to.
Of course, you'll want to focus on reaching well-known, or high-ranking bloggers.
That's because their links to your article will have more SEO value and audience appeal than lower ranking blogs would.
Link to your own articles
When you write your blog post, you should include links to other articles you've written.
That's a good SEO practice you should always use.
But even after publishing your blog post, you can still modify it by adding links to some of your other articles.
That's especially good to do as you write new blog posts.
If they have relevance, add post-publication links to other articles you've written, either old or new.
You can greatly enhance the popularity of your blog by keeping it up to date, and by always expanding it's content.
Contact influencers
Who are the influencers in your niche?
Find the bloggers whose sites have lots of engagement, high domain authority and top ranking articles.
And figure out who the social media leaders are in your niche.
These are the people with lots of followers on Twitter, Facebook, Instagram, Pinterest and other major social media platforms.
After publishing your blog post, send these influencers links to it.
Create a dialog with them.
Send them an email or a private message.
Connect with them on their social media profiles.
Let them know who you are and what you're doing.
And promote their content to your followers.
The whole idea is to get influencers interested in your blog posts.
If you can get them to mention you to their followers, or promote any of your links, then your blog will benefit immensely.
This is something you should be doing after publishing any of your blog posts.
After publishing your blog post – what next?
Have you ever wondered what you should do with your blog post after you've published it?
I've given you some good ideas, here, just to get you started.
Now I'd like to hear from you.
What's your post-publication strategy?
And what do you think is the most important thing to do after publishing your blog post?
– Donna
PS: Please share this article on your favorite social sites!