Your blog is not likely to grow without an email autoresponder.
Look at it this way.
A successful blog is one that has built a loyal audience.
People need to be interested in what you're doing.
And they need to be alerted each time you do something new.
You can try to accomplish that with social media.
And, yes, you can do that to some extent.
But the most loyal, consistent readers to your blog will almost certainly be those people who subscribe to your email list.
And for that to happen, your blog must be integrated with a good email autoresponder.
Your email list
Your blog is primarily a vehicle for building an email list.
When you send out emails to your subscribers, you should include links to your blog posts.
Every time you write a new blog post, send out an email.
Your email list exists, primarily, to help you market your content.
It's the best way to promote your blog posts to the people who care most… those who subscribed to your email list.
Your most loyal readers
You work very hard to get people to read your blog posts.
Then, you strive to set up your blog correctly to get some of those readers onto your email list.
Those that do subscribe, are your most loyal followers.
Make sure to use your email list to keep them loyal.
Email autoresponder for your blog
Once you've got a few subscribers on your email list, you have to get down to the job of giving them something worthwhile.
After all, they didn't just subscribe to your list to get promotions.
They're looking for something that will be beneficial to them.
Something valuable.
And something that offers them solutions to their problems.
Create a bond
One of the great things about having an email autoresponder for your blog subscribers is that it's all automated.
This is critically important.
You see, when people visit your blog, they have already entered what online marketers would call your "sales funnel."
A lot of bloggers are confused by this.
They might think, "But I'm not selling anything. I just want to get them on my email list to send them my blog updates."
That's fine.
If you'd rather call it your "information funnel," instead of "sales funnel," then go ahead.
That's not important.
What is important is that you create a bond with your readers.

Ryan Robinson gives you a thorough checklist of what you need to do to run your blog's email marketing successfully.
If you do a good enough job of that on your blog, then the next key step is to invite them to join your email list.
And, when they subscribe, you further cement that bond by immediately giving them some value.
Again, that's why it's so important that they get your first email as soon as they subscribe.
Not the next day, or an hour later… but immediately.
That's only possible when your blog is built around an email autoresponder that's all set up to "automatically respond" to subscribers.
Give consistent value
Now I've worked with a lot of bloggers on their email lists.
Based on that, I'd say these are the typical results you could expect.
The very first email your subscribers get will be opened by a high percentage of them.
Maybe 50 percent or more, which is a very high email "open rate."
That's understandable.
Just think of the process, or what we'll call the information funnel.
The funnel
Your information funnel looks like this.
Your subscribers just joined your list.
They've been reading your blog posts and found them valuable.
Now, they're ready for even more value.
They're excited.
A good many of them will immediately rush to see your first email.
No problem there.
Remember, your email autoresponder will kick it out to them immediately, even if it's 3 a.m. and you're sound asleep.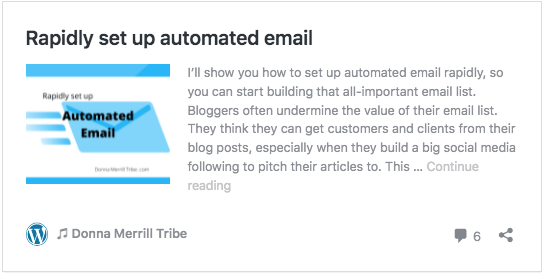 Cool.
Lots of people will open your first email.
But wait.
The second day only half of them will open it, so your open rate drops to 25%.
The third, fourth and fifth day get fewer and fewer opens.
Once this list hits the 30th day, you may only be getting a 5% open rate.
What happened to your funnel?
The answer is… it's leaking!
Earn trust
You see, you can definitely grow your blog with the help of an email autoresponder.
But that's all about automation.
Your email autoresponder gets your blog noticed.
That's because every day, or twice a week, or however often you want your emails to go out… that will happen automatically.
You don't even have to think about it.
That's the power of your blog's email autoresponder.
It's up to YOU
But you have to make sure your emails are really helping your readers.
You have to be sure that they are creating an improvement to their lives.
And you have to write emails that will point out solutions to their problems.
That's why they started reading your blog.
And that's why they subscribed to your email list.
It's because something you did on your blog got you to earn their trust.
But just a little.
In order to earn that trust continually, and long-term, you have to keep delivering quality and value.
Your email autoresponder will help you deliver those emails in a timely, automated fashion.
But it's up to you to deliver the content in those emails that will continue to earn trust.
When you do that, your open rates will improve drastically.
Promote your blog posts
Give value.
Make people feel like there's a good reason for them to open your emails.
Teach them things.
Inspire them.
Share your personal stories to help show them how and why.
All these things will help your subscribers feel comfortable with you.
That's how they gain trust in you.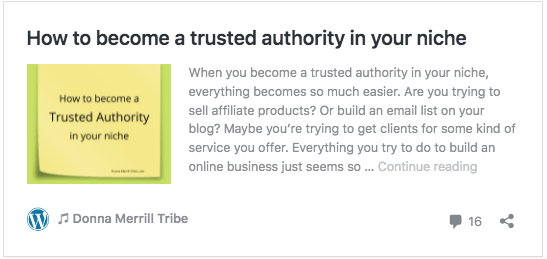 Your emails must actually add value to your subscribers, and in so doing, improve their lives even if in the smallest way.
Now, within that context of trust, add each new blog post you publish to your email autoresponder.
That way, your articles will be seen by the people who trust you the most.
Your email autoresponder subscribers.
Give Added value
Your blog posts should give your subscribers added value.
It's one more reason to be on your email list, and continue opening your autoresponder messages.
Every time they do, they get more value.
And remember, they're not likely to see your latest blog post if you don't send it to them in an email.
Sending out those emails will encourage them to read your latest article, maybe comment on it, and share it on social media.
This is a key way to grow your blog with an email autoresponder.
Each email message becomes like a tiny stone tossed into a pond.
When it hits its mark, it ripples outward to reach more and more people.
As your autoresponder becomes better defined, and consistently developed, that ripple effect will reach wider and wider among your target audience.
Promote products and services
One of the big problems I've seen with bloggers may be an issue you've faced, too.
You want to grow your blog with an email autoresponder.
But you also want to earn a profit from your blog.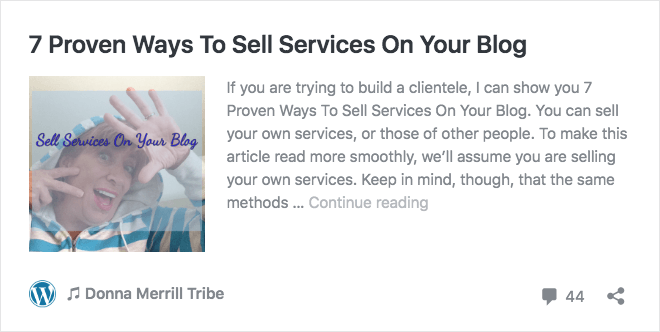 So, at what point does your blog's email autoresponder start earning profits and commissions?
Unfortunately, way too many bloggers decide that they have to promote products and services endlessly with their email autoresponder.
So they start sending out promotional emails.
Have you been down that route?
If so, you probably noticed right away that people stopped reading your emails.
Now, you may have earned a few affiliate commissions or sold a product or two.
But if you just keep blasting your email list with promotions, guess what happens.
They stop reading your emails.
People get tired of just reading promotions all the time, especially when they're not even that closely relevant to their desires.
Your open rate drops and your email list becomes stagnant.
Do it the right way
I'm not saying you can't or shouldn't send out promotional emails.
But do it sparingly.
Maybe 2 or 3 emails out of every 10 could actively promote a product or service.
But, even then, the products and services you promote need to be helpful, not just promotional.
If your blog is about caring for elderly parents, then it's not wise to be promoting things like travel packages or web site hosts.
That doesn't help your readers in any way.
It's only purpose is to get you some quick commissions.
But if you send your list a link to a walker or a humidifier, those things might actually be helpful to your readers.
That's because they pertain to home care of the elderly, whereas travel packages and web hosting do not.
Promoting the right things could be valuable messages and welcomed by your subscribers.
It's not so much whether or not you're emailing promotional links, but whether or not those promotions are added value to your readers.
Grow your blog with an email autoresponder
An email autoresponder is a powerful tool for bloggers.
It helps you to build a strong bond with your readers.
And it also gives you a vehicle for continually promoting your blog posts.
These are essential ingredients to successful blogging.
That's why I always recommend that any new blogger should waste no time in setting up a good email autoresponder for their blog.
And seasoned bloggers should do everything they can to make the best use possible of their email autoresponder.

Now, I'd like to hear from you.
Leave me a comment below and tell me this.
How do you go about building your subscriber list?
Are you growing your blog with an email autoresponder?
-Donna
PS: Don't forget to share this article on your favorite social sites. Much thanks 🙂