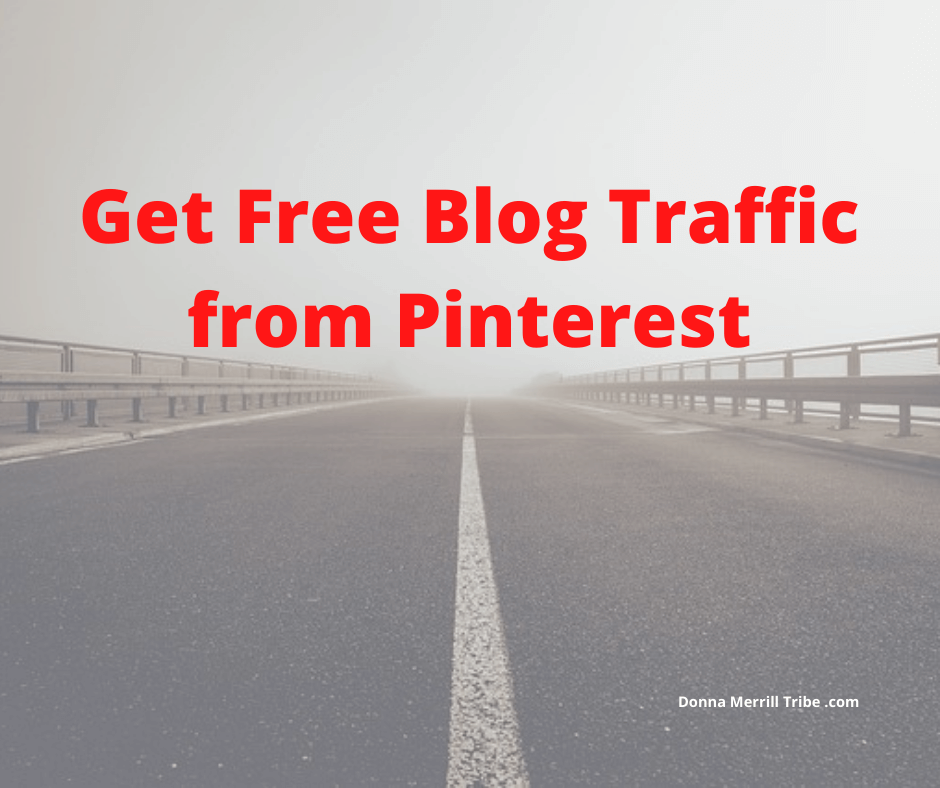 You can get free blog traffic from Pinterest.
It's not difficult, but you have to know how to do it.
When you do, it can become an extremely powerful way to drive lots of free traffic to your blog.
And Pinterest blog traffic can stream in steadily, as long as you stay on top of it.
What's Pinterest?
Pinterest is a visual social media platform.
In other words, it's basically tied to images.
Those images are what you call "pins."
And they can be grouped into categories called "boards."
Where do you get images?
You want to create your own images for the most part.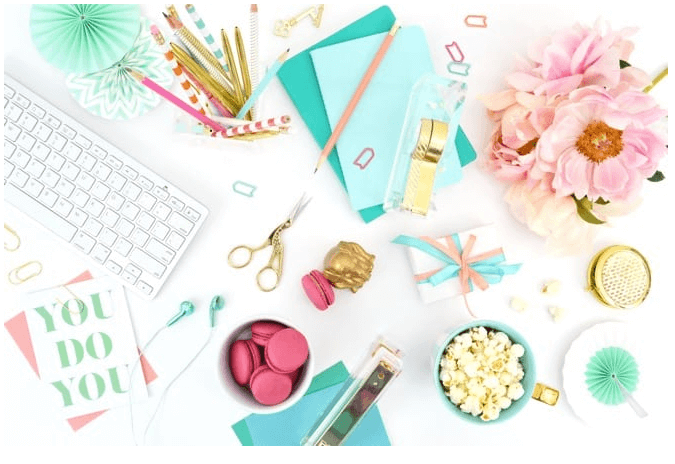 Arfa Nazeer gives you the 27 Best tips to create Pinterest images
that get clicks and shares, at She Means Blogging.
But you can also share images you find on the web.
Just make sure you get the owner's right to do so.
And don't just grab images from "Google Images" because they are mostly copyright protected.
Getting traffic from Pinterest
Add a description and a link back to your blog.
That's how you get traffic from Pinterest.
People are attracted to the image you share.
Then they click the link to your blog to learn more about the subject you have depicted.
Simple, right?
Yet, bloggers get all caught up in the details and make it seem much more difficult than it is.
Stick to the basics and you will be able to drive lots of traffic to your blog from Pinterest.
Set up a business account
If you're looking to use Pinterest for blog traffic, you'll want to create a business account.
It's a free set up, and it gives you a lot more tools to use for promoting your blog.
One of the important things you can do is to set up "rich pins" instead of regular pins.
With rich pins, your images can be connected directly to your website.
That makes them easier to work with and to integrate between your blog posts and pin boards.
And more specifically, they will automatically share your SEO setup from your blog.
If you use Yoast SEO, for instance, you can set up all your SEO right on the plugin.
That means keywords, URL extension and even meta descriptions that show up as snippets describing what your blog post is about.
These are important SEO markers for Google search, but also for Pinterest.
When you set them up on your blog, they will automatically attach to your rich pins.
There is yet another key reason to use rich pins with your business account.
Rich pins allow you to give more information about your image, both above and beneath your pin.
They show your image's title in bold, making it much more impressive in the Pinterest feed.
Setting up your Profile
When you set up your Pinterest profile, the most important things are your photo and your bio.
Your Photo
For your photo, you should use a high quality, professional photo of yourself.
First impressions are always important, so take care to choose a photo that is fitting for your niche and brand.
Your Bio
The bio is a great place to let people know who YOU are, and also what your BLOG is about.
So give a brief but genuine description of the key things your blog deals with.
Always try to make your description benefit-based.
Don't talk so much about yourself or your blog, but how people benefit from your blog.
In other words, tell people what key problems you help them solve, and what you can do to help them improve their lives.
That's what people are looking for.
So show them you care about them, by offering them content that will be highly beneficial to them.
Profile keywords
Be sure to use keywords in your profile.
Naturally, you want to use keywords that will get the attention of your target audience.
You see, Pinterest has it's own internal search engine separate from Google.
So Pinterest followers can find you through your keywords without ever leaving the platform.
Setting up your first Board
Instead of trying to understand everything about Pinterest, it's best if you just set up your account and get started.
Most bloggers set up their first board as a collection of images that reflect what their blog is about.
If you blog about money-saving tips, for instance, then each blog post is going to be a different money-saving tip.
So let's say you write an article about saving money when you rent an apartment.
Create an image that depicts that theme.
Overlay the image with your blog title and some catchy call to action, like "get my free ebook on apartment hunting."
Then pin that image to your board.
That's all there is to it.
Keep pinning to your board
As you start using Pinterest more and more, you'll start learning some nuances about pinning to your board.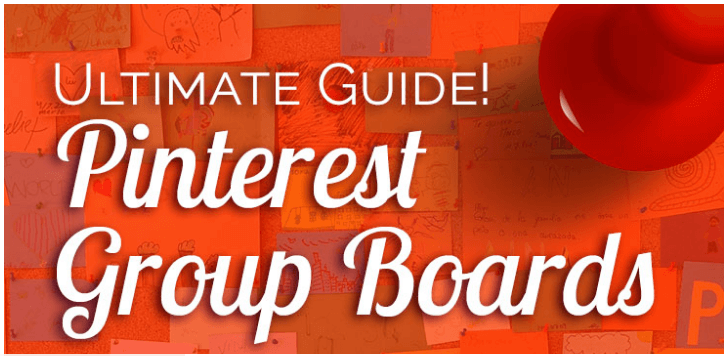 Louise Myers shows you how to succeed with Pinterest Group Boards.
But until you do, just start filling up your first board with images linking back to your blog.
That's the starting point for getting Pinterest blog traffic.
Your Board Description
When you first set up your Pinterest board, take care to give it a clear and accurate description.
This is important because it's the way people will find you.
Remember, Pinterest has it's own search engine.
Take advantage of that.
That's why you can get so much Pinterest blog traffic if you do it right.
Taking advantage of Pinterest search
Think of what you do when you publish a blog post.
You let Google know what it's about, right?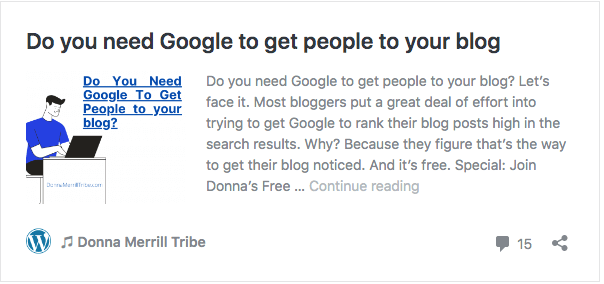 Okay, so you do that with your meta description.
That's simply a quick description of what your blog post is about.
You do that so Google can send you the right traffic.
And your meta description makes use of the keywords and keyword phrase you used.
So, all of that is the same thing with your board description.
Use keywords and hashtags
Use keywords and hashtags when constructing your board descriptions.
It's a powerful way to get your board found in Pinterest search.
And that's the key to building your Pinterest following, and in turn, getting that free Pinterest blog traffic.
Think of which keywords best describe your board.
Using the example of blogging about money-saving tips, you'll want keywords and phrases that reflect the ideas of saving money, getting good deals, etc.
And don't forget to use hashtags, too.
That's another great way to get seen in the Pinterest search results.
Board activity
I think too many Pinterest users think that they need to pin as much as they possibly can.
The more, the better, this strategy suggests.
But, like with blogging, more is not always better.
If you only pinned to your board a few times a day, it's okay if you are creating good quality pins.
The days of just blasting tons of pins, like 50 a day or more, are long gone.
Try to generate engagement and even conversation with your pins.
Pinterest has added lots of features to encourage people to give feedback to your pins.
That means, they're looking for pins that encourage engagement.
Keep that in mind when you're trying to get your pins and boards ranked well in the Pinterest search engine.
Automation
Even if you're only pinning a moderate amount, it can still become a chore.
Generating Pinterest blog traffic requires that you have a steady and consistent presence out there.
Automating the process can help keep you on target.
It also helps you to schedule your content out for days and weeks ahead of time.
There are many common tools like Buffer, for instance, that you can turn to.
Tailwind is probably the most popular one if you use Pinterest for blog traffic.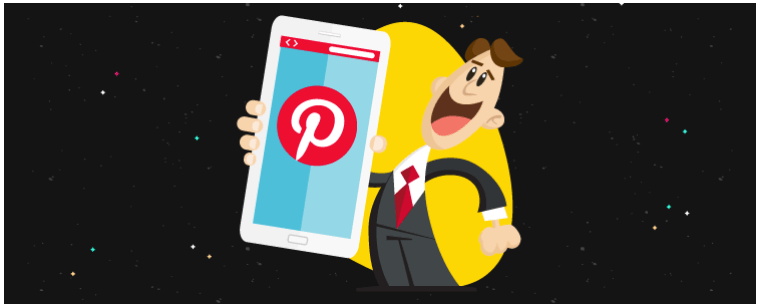 Elna Cain reviews some of the best Pinterest marketing tools at Blogging Wizard.
It's made specifically for Pinterest and helps you not only with scheduling pins, but has many features designed to help you generate Pinterest blog traffic.
Group boards
There was a time when group boards were all the rage.
The idea was that you would get more exposure to your pins if you put them on group boards with huge followings.
But that's not the best way to use Pinterest for blog traffic.
That's because so many big group boards are just playing a numbers game.
They don't exist to foster engagement, or help people build relationships.
So your pins probably won't get a big boost just by being on some huge, faceless group board.
Get free blog traffic from Pinterest
You're really better off to work on your own boards.
Work on them daily, and try to build a small, highly targeted following.
For this to work, though, you need to be very narrowly focused on your niche.
Or better still, focus each board on a specific category in your niche.
You can build several boards to cover all the categories that your blog is concerned with.
So, if your blog is about social media marketing, you might have a separate board devoted to different social media platforms.
Let's say your blog is about "healthy living," and your main topics are "eating right," "exercising," and "meditation."
Then, create a board for each of those 3 topics.
These are the areas you want to start engagement with, so you can send people to specific blog posts you write in each of those categories.
And remember, big numbers of followers and pins and repins are just vanity numbers.
They don't give a direct indication of how well your pins are driving traffic to your blog.

Now, I'd like to hear from you.
Leave me a comment below.
What kind of social media strategies have you found to be successful?
Are you getting free blog traffic from Pinterest?
-Donna