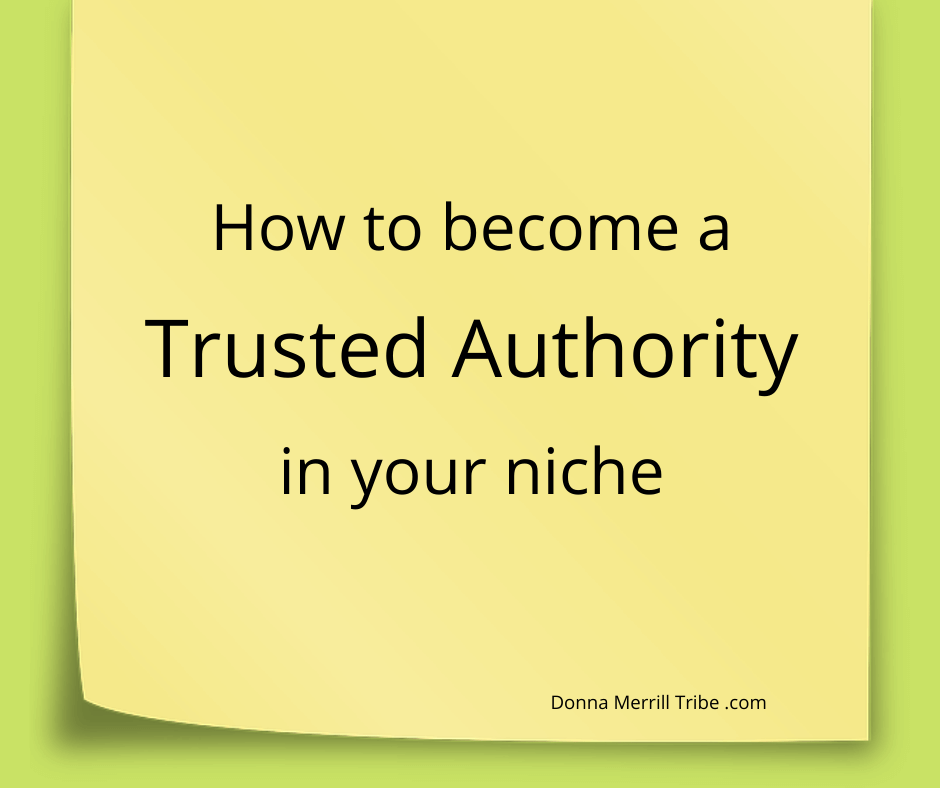 When you become a trusted authority in your niche, everything becomes so much easier.
Are you trying to sell affiliate products?
Or build an email list on your blog?
Maybe you're trying to get clients for some kind of service you offer.
Everything you try to do to build an online business just seems so difficult sometimes, doesn't it?
Well, all that difficulty just disappears when you become a trusted authority in your niche.
And here's how you do it.
Drip feed content
Forget about all the standard operating metrics for a moment.
That includes sales, conversions, subscribers, search ranking, page visits, domain authority and all the rest.
I'm not saying those things aren't important.
But rather, that they are wholly dependent on one thing… publishing high quality content consistently.
You have to create content that people want to consume.
That means, content that will help them in some way.
Content that gives value to your audience and followers.
No content… no business
If you're not doing that, then none of the other things are going to happen.
No sales, no subscribers, no business.
And here's the thing about publishing content.
People only remember your latest feed.
It can be a blog post, a video, an email, a Facebook image.
Whatever.
But every single day, you need to publish some kind of content that will be seen by your crowd.
That's what I mean by drip feeding your content.
You must publish consistently
It would be wonderful to have a flurry of amazing articles, ebooks and training courses.
If you got all that content created over a 3 month period… wow!
People would certainly start noticing you.
You would create a real name for yourself, and for your blog.
Think of this.
If you just create a steady drip, drip, drip of content… then every single day, people will notice that you are doing something.
And after 6 and 9 and 12 months, you will be building a steady following… a loyal audience.
That's what you need in order to build serious, tangible and enduring presence.
And that's what will help you to become a trusted authority in your niche.
But…
If the next 3 months go by and you barely manage a whisper… one blog post, a couple of emails and a few social media posts…
you've lost all your momentum.
People will quickly forget you.
Develop a variety of content
Remember, you are building a business.
Not just a blog, or a social media following.
Those things may be part of your business.
They may even be the primary aspect of your business.
But your real business is to become a trusted authority.
No business can survive without that.
Your blog, social media sites and all that are like kindling wood.
They are absolutely necessary.
But your content is what ignites them, and makes them burst into flames.
And once ignited, you have to continually feed that fire, or it will quickly turn to ashes.
That means, you need to be putting out content.
Every day.
Put out something that will get the attention of someone in your audience.
That's how you become a trusted authority in your niche.
Here are some of the forms of content you should be publishing on a consistent basis.
Blog posts
Blogging gives you a clear home base for putting out content regularly.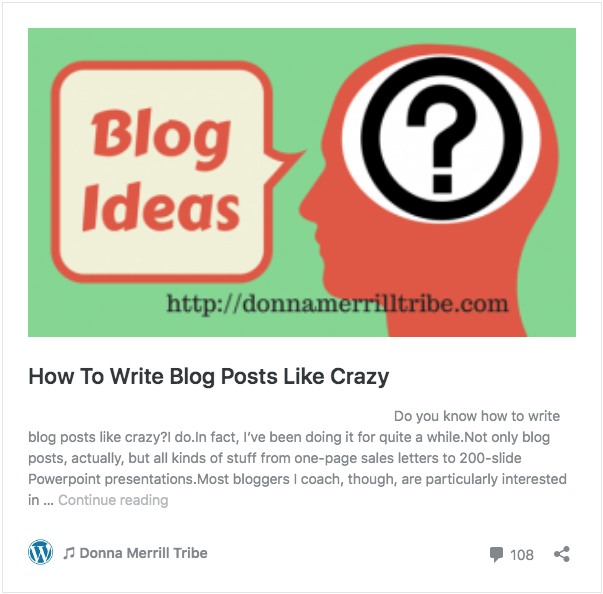 Every time you publish a blog post, you need to promote it.
That means to email a link to your list.
Post it on the social sites where you have established a presence.
Do everything else in your arsenal to get people to take notice.
Now, don't think you have to publish a blog post every day.
But you should try to promote one of your blog posts every day.
Even if it's an old blog post.
The point here is to get people used to seeing you delivering content… old, new, any content you have… share it daily.
People will start regarding you as a trusted authority.
Social status posts
For the same reason, keep posting to your social media accounts.
Don't make the mistake that so many bloggers do, of just posting links to your blog posts.
Link to other people's blog posts, too.
And post things that don't link to anything.
Post your thoughts on a current trend, or on somebody's video, or something in the news.
Try to make your social media posts interesting, provocative, inspiring or even funny.
And you don't always have to post about topics in your niche.
But most of your posts should, in some way, be relevant to things you blog about.
Again, do your social posting consistently.
When you go dark for any length of time, people following you on social media tend to forget you.
So you quickly become irrelevant, old news.
That certainly doesn't help you become a trusted authority in your niche.
Videos
Videos are a great way to keep yourself in front of people.
And when you share your videos on social media, they take precedence over all other content forms.
That means more people will see your video posts than any other types of posts.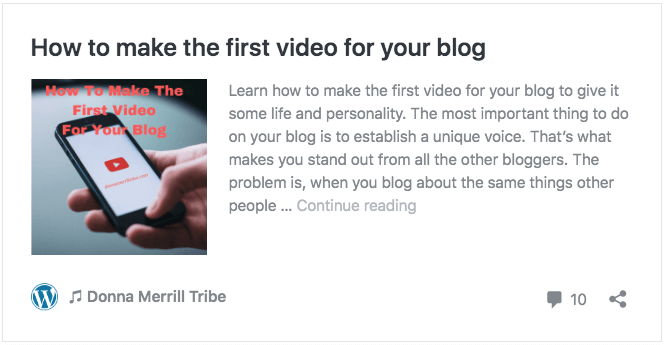 And that keeps you in the spotlight with your crowd.
Not only that, but it helps people to build a bond with you.
Nothing helps you build trusted authority status more than video.
Live video
I mention "live video" as distinct from regular video because it is.
Yes, live video is still video.
But people are so much more taken with a live experience than a recorded one.
Think of yourself.
If your favorite actress, singer, politician or athlete is interviewed "live"… aren't you more excited to see it, than if you know it's just a recording from a week, or even a day ago?
Of course you are.
And, again, when you do a live video, Facebook and other social media platforms will give you priority in the news feeds.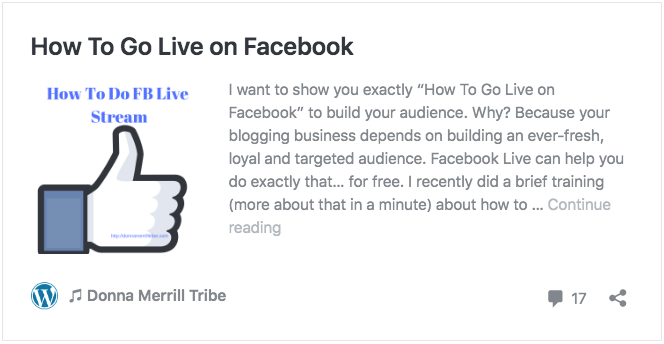 It's one of the very best ways to become a trusted authority in your niche.
Images
Infographics can be a really interesting way to get your content in front of people on a regular and repeated basis.
In fact, if you can create a really good graphic that grabs the attention of your prospective audience, then you could pitch it to other bloggers and influencers to use in their content.
The credits go back to your blog, so you can really get noticed with this technique.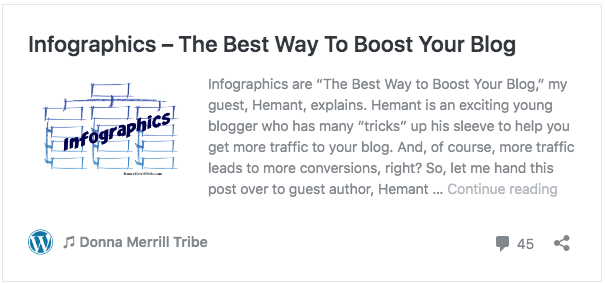 If you don't think you can create a great infographic, then have someone else do it for you.
Even if you have to pay a few dollars to get it done, it will go a long way in gaining you recognition, trust and authority.
Other kinds of images are good, too.
Those are especially nice to get people's attention on social media platforms.
And don't forget to use plenty of good images on your blog posts, too, because they will have a good chance of attracting people in your niche.
Webinars
You may think that webinars are too technical to put together.
They do require more effort, for sure.
But if you can make a good evergreen webinar for your niche, it's so impressive.
It will certainly and very quickly help you become a trusted authority in your niche.
If you'd like to do a webinar but don't know how, you have two options.
Hire a coach to help you get it done.
Or, simply pay someone to do it for you.
Either way, it will be well worth the investment.
E-books
Some people think that ebooks are no longer a great way to earn trust and authority.
Nothing could be further from the truth.
A simple ebook that directly solves a problem in your niche is one of the very best types of content to pitch.
If nothing else, you instantly become a trusted authority in your niche when you write an ebook.
And it doesn't have to be a long and burdensome one.
People don't want your ebook just so they'll have something to read.
They want it to solve a problem.
Create an ebook to solve key problems in your niche, and you're sure to become a trusted authority.
How to become a trusted authority in your niche
People trust content creators.
You don't need to be creating original content.
But you do have to create good content.
A good way to measure the value of your content is to see what others are creating.
Then improve on it.
Ford invented the automobile, but others that came after him did just fine building their own versions of the automobile.
The key to becoming a trusted authority is not that you've hit on something that nobody else ever thought of.
It's that you've made it your business to help other people get what they're looking for.
When you help others to overcome obstacles that are in their way, then YOU become their go-to person.
It takes time to build a business in this way.
You can't just put out a couple of pieces of content and expect everyone to come knocking on your door.
But when you put out high quality content consistently, they will come knocking.

Is your business built around helping others?
In what ways?
Leave me a comment below and let me know.
I'm really interested to see how people are actually running their business in this way.
Do you think, like I do, that this is the most direct path to becoming a trusted authority in your niche?
-Donna
PS: Share this on your favorite social sites, too. I really appreciate it 🙂