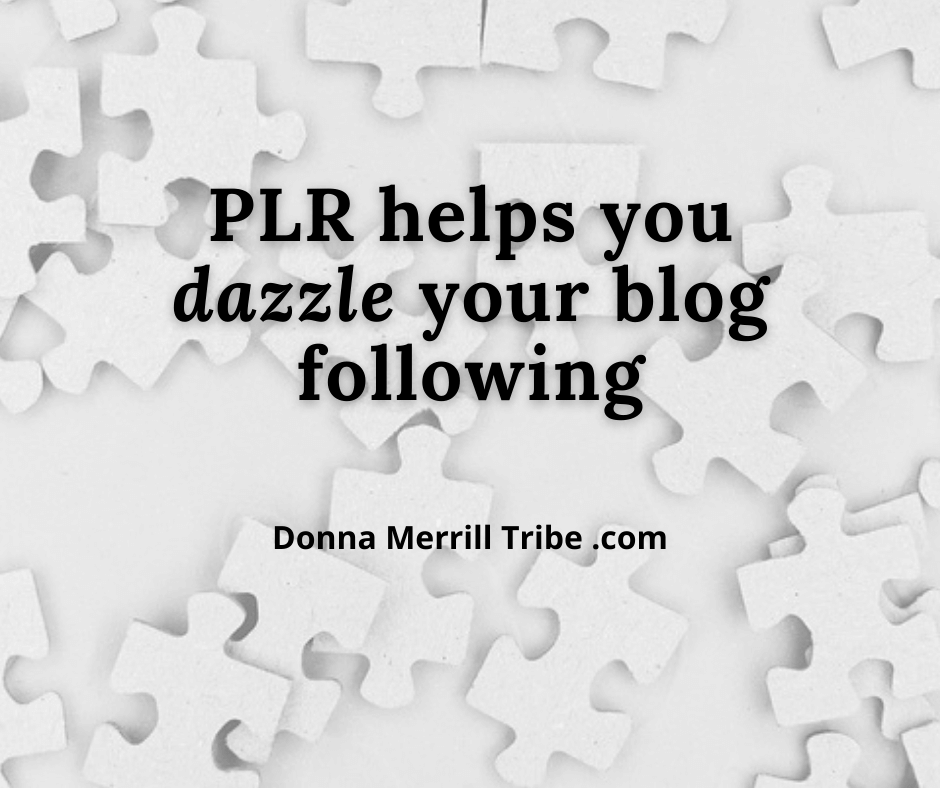 PLR helps you dazzle your blog following by helping you establish a dominant online presence.
You see, your blog must have a steady flow of content.
That's how people will come to see you as a reliable authority.
When they see your content online consistently over a substantial period of time, they will be encouraged to read your blog.
That's how you build a loyal blog following.
But how do you post content online consistently?
And for weeks, months and years?
That's what you need to do to dazzle your blog audience and build your following.
So I'll show you one great way to do just that.
What is PLR?
PLR is the acronym for Private Label Rights.
It is prewritten content.
In the case of video, it is pre-recorded content.
You need to buy PLR articles or videos.

But they're not expensive, as a rule, and they can really help you shape up your content quickly.
Here's an example of a PLR product.
Say you want to write some articles about podcasting.
But you don't know where to begin.
So you review some PLR products you could buy about podcasting.
Then you will know where to begin.
How to use PLR
Now, once you've purchased some PLR, just download it to your desktop and open it.
You might see a list of articles, videos, or whatever.
It just depends on what that particular product contains.
So let's say you want to write a blog post called "Podcasting Basics."
Just open one of the PLR articles on that topic.
The wrong way
Now, here's the really, really important part.
DO NOT just copy and paste the article as it is written.
Yes, you have a legal right to do that.
But, no, you don't ever want to do that.
You see, many people could buy the same PLR on podcasting.
And if everyone just copied and pasted it on their blogs, people would all have the exact same blog post.
That's called "duplicate content."
It's a great way to get in the doghouse with Google and other search engines.
Nobody wants to have duplicate content show up in search results.
So your blog posts will never get ranked high, if at all.
The right way
Here's what you should do with your PLR article.
Give it a quick read.
If it's pretty much what you want to say, then go to a clean document.
Then you write an outline of the points you will cover.
Don't look back at the PLR article.
Just write it from the impressions you got when you first read it.
Then, research your topic from other sources.
Put it all together and write your own article by filling in your outline.
If you want to change your outline at any point, go ahead.
Maybe your research led you in a different direction than you had planned.
That's fine.
Just write your own article, in your own words, interjecting any research you uncovered.
After your article is written, go back to your PLR source article and read it again.
Compare it to yours.
Did you leave out any key elements?
Polish things up and you're ready to publish.
The benefit of using PLR for your blog
Now, you might think… that's a lot of work.
Why even bother starting with a PLR article?
Why not just write the outline, do my research and put my article together?
Here's why.

Read the full article by Brett Helling here:
Should You Use PLR Articles On Your Blog?
If you're going to be putting out lots of content on a regular basis, you can't take the time to constantly come up with good article ideas.
And if you do, then you have to start from scratch figuring out what the key points should be, and how to organize them.
Until you do that, you won't even know where to begin with your research, not to mention the writing itself.
Having PLR articles in front of you is like having a coach tell you, "here's your title, here's the key points, now just put it together."
That's a huge time saver.
And it keeps you churning out content like clockwork.
Don't forget, too, that PLR articles are written on topics that are of keen interest to your specific audience.
So you'll stay on target with writing about things that your readers really want to know about.
What to do with your PLR articles
Well, here's why I'm suggesting PLR for your blog.
Because for your blog to become popular and relevant in your niche, you need to be putting out good content
1. continually
2. everywhere
Sure, that content can be in the form of your blog posts.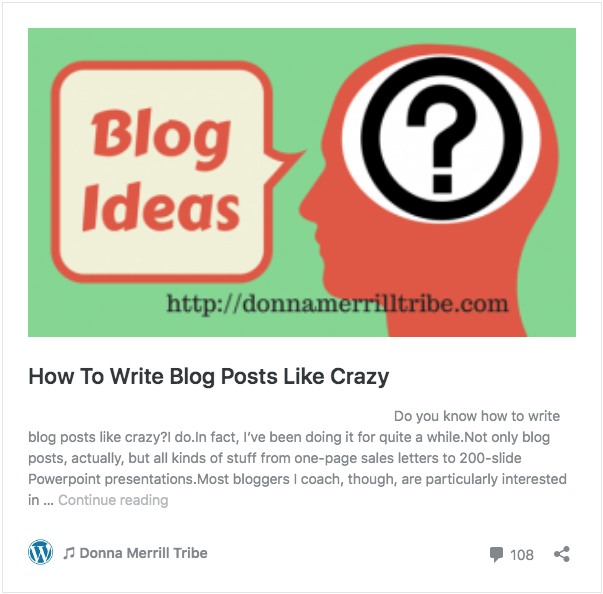 But even more.
Don't forget to develop these forms of content to point back to your blog.
Emails to your list
Do you keep up with fresh, informative and inspirational email messages to your list?
I don't care if you only have 10 people on your list.
They're there for a reason.
It may be to learn something from you.
Or to connect with you.
Maybe to keep informed as to what you're doing on your blog, or with your business.
Whatever it is, you need to be feeding them content all the time, in the form of your email messages.
But what if you don't know where to start?
Did you ever ask yourself…
"What should I tell people on my list about today?"
One single PLR article could give you seed material and ideas for 100 emails!
And that keeps you relevant and visible.
Videos on YouTube
YouTube is a great way to send people to your blog.
In other words, YouTube is a really valuable source of traffic.
But you have to publish videos pretty regularly for this to work.
PLR articles, and even PLR videos and slide shows can give you quick, easy material to develop into videos.
Social Media posts
It's really important to be active on social media platforms like Facebook, Twitter and others.
But what can you post?
Links to your blog posts?
Well, sure, occasionally.
But for the most part, you want to be sharing quality information about key topics in your niche.
One way to do that is to share informational and inspirational posts.
You can get those from your PLR articles!
Blogging platforms
There are good blogging platforms you can use to connect with your prospects and audience.
A few of the better ones to use are Medium, Quora and LinkedIn.
Now, Quora and LinkedIn are not primarily blogging platforms.
But they both allow you to post blog posts in various ways.
If you are trying to reach out to people in your niche, or to find a new audience for your blog… these are both excellent platforms to post blog content to.
Again, the question arises as to time
How much time do you have to be blogging all over the place?
Well, PLR makes it pretty easy to dazzle your blog following, and build a new audience at the same time.
Guest posts
Guest posting is another way to get in front of your followers.
The more they see you guest posting on other blogs, the stronger your authority status becomes.
PLR gives you an excellent way to keep up with guest posting.
eBooks
One of the best ways to dazzle your followers is to send them an eBook you wrote.
Something they'll find very helpful or inspirational.
And you don't have to stop with one.
Maybe you send your email list an eBook you've written every 3 or 4 months.
That's bound to dazzle a lot of folks on your list.
And that will keep them opening your emails.
It's a great way to build a very loyal following.
PLR will help you put eBooks together faster than you ever imagined.
Other lead magnets
Now, eBooks can also be used as lead magnets.
That is, they can be gifts you give people for signing up on your email list.
In fact, they can be the same eBooks you gave to your existing list.
But eBooks are not the only lead magnets you can create with PLR articles and videos.
You can also use PLR to create great "insider reports," checklists, cheat sheets and more.
Training courses
Did you ever think of offering your readers a training course, or Udemy-like class?
It's a lot of work.
But it's a lot easier (and faster) when you get used to working with PLR.
PLR videos are especially nice for this purpose.
Just arrange them to fit your class outline, and you're well on your way.
How PLR helps you dazzle your blog following
PLR is a great help with your blog.
You can use it to schedule and craft your blog content much faster, and in a more organized manner.
But that's only the beginning.
You can use PLR to help you create any kind of content professionally and rapidly.
That's so important when you are trying to keep up with the content demands of the internet world.
You can even create your own eBooks and courses with PLR.
I didn't even talk about how you can create and sell your own PLR for other bloggers to use.
But that's also a powerful way to use PLR.

So leave me a comment below.
Let me know if you use PLR regularly.
If not, why not?
And if so, how has it been working out for you?
I hope I've helped you see how PLR content can help you dazzle and grow your blog following.
-Donna
PS: Don't forget to share this article on your favorite social sites. Much thanks 🙂