It is a good idea to splash your brand across multiple platforms.
That's how you can put your blogging brand in front of a new crowd, each and every day.
So, for instance, I might cross-post my latest blog article on LinkedIn Pulse.
You see, I don't need to have people come to my blog site in order to reach them.
Instead, I can meet them right on the LinkedIn platform.
That's where they are, so why fight to get them to my blog in order to develop my personal brand?
I can do it by catching them wherever they are already hanging out.
Open hand vs. Clenched fist, if you know what I mean.
In the same way, I could do a video and put it on YouTube.
My video may just be a summary of a blog post I wrote.
But instead of having to have people come to my blog, they can find me right on YouTube.
Of course, I always link back to my blog from these platforms to create a circular traffic flow.
People find me on social sites, then they circle back to my blog.
From there, I can redirect back to my social sites, or on to a landing page.
All this activity is what you call traffic flow.
Case Study – My Twitter Chat
I wanted to give you a little idea of what this looks like in the real world.
Just a few days ago I was the guest of a Twitter chat with some really cool new friends that I have found at Viral Content Bee.
So here's how it worked.
The moderators at Viral Content Bee (VCB) opened up a Twitter chat with me.
I was the guest speaker/tweeter.
The topic of the chat was how to build an online coaching business, something I'm considered to be an expert on.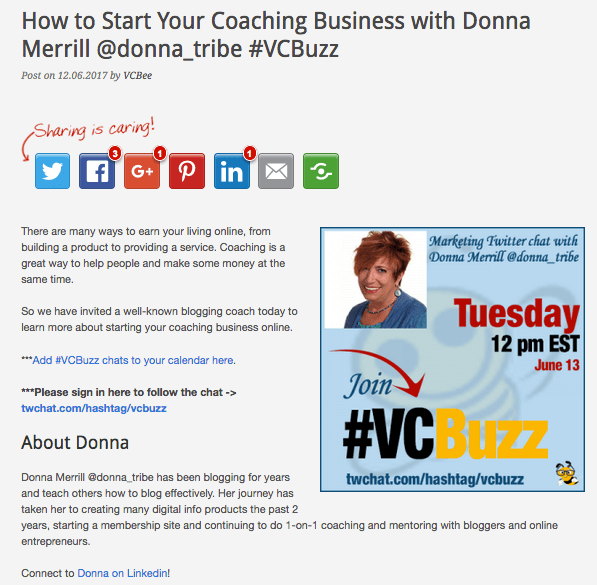 Chat guests from Twitter and the VCB hashtag (#vcbuzz) attended this live event.
They tweeted me questions about how to set up a coaching business online.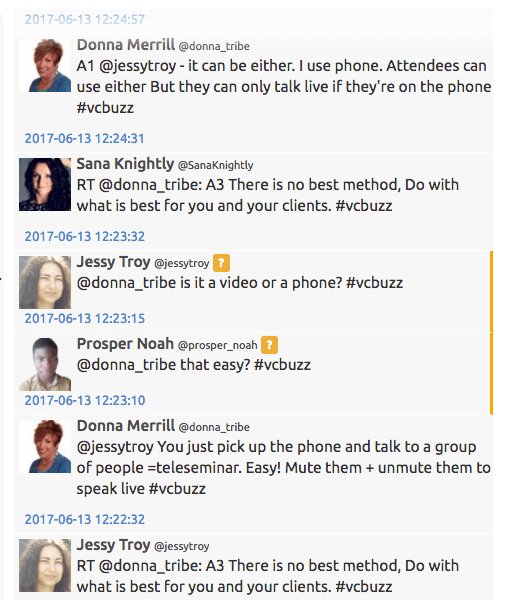 Generally speaking, I talked to bloggers about how to integrate a coaching program into their blogging business…

People would ask me questions and re-tweet my answers to their own Twitter followers.

I hung out with the crowd and answered all their questions throughout the 60-minute chat.
At the end of the live event, VCB linked to a summary page that hit the highlights of the discussion.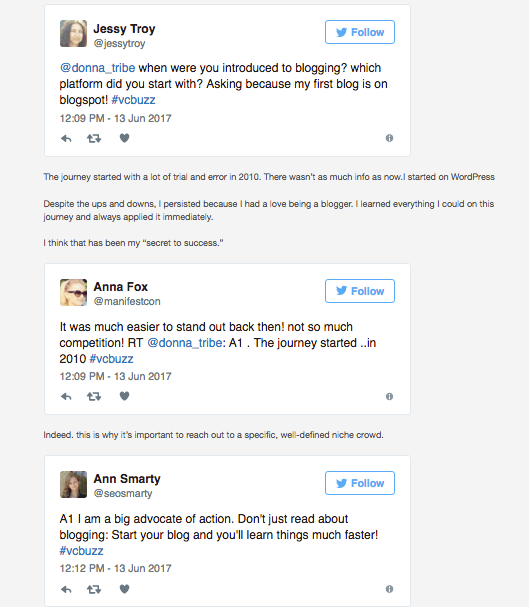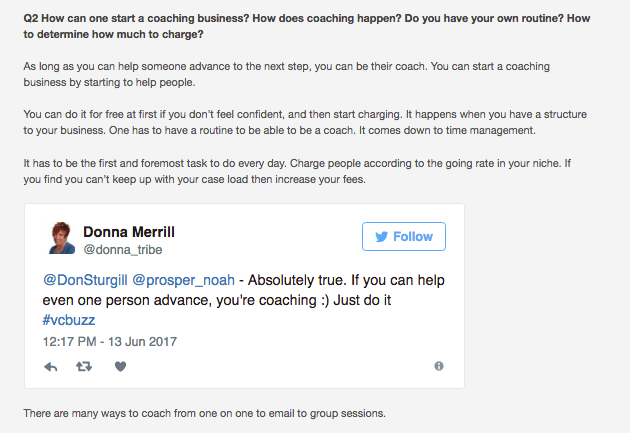 You can find the full summary page of the event here…
http://viralcontentbee.com/index.php/how-to-start-your-coaching-business-with-donna-merrill-donna_tribe-vcbuzz/
So, you can see, lots of new people got to see who I am and what I do.
Just one hour, one little event.
This is a good example of putting your blogging brand in front of a new crowd.
BTW…
Want some of the top apps for putting together your own Twitter chat?
Try these…
You can learn more about doing your own tweet chat here… What Is A Twitter Tweet Chat? 
Put Your Blogging Brand In Front Of A New Crowd
So here's the idea.
Whether you are
getting involved in a Twitter chat,
doing a Facebook live event, or
posting a YouTube video
…you are reaching out to a new audience.
This is the power of social media.
It's not just about dropping links to your latest blog post on social media sites.
Much more than that.
It is to about getting your ideas "out there" where they can be exposed to a whole new crowd of people.
The point is to build relationships by starting and joining conversations.
That way you keep a fresh flow of traffic always heading your way.
This is how you build a reputation or a personal brand for yourself that people will recognize.
They see you on Facebook, LinkedIn, Twitter and Youtube.
Where else?
I'm sure you've got some more places in mind.
The idea is to generate recognition for you and your blog.
People recognize it because they see you everywhere, not just on your blog.
It seems like everywhere they go they are running in to you.
Now, you can go back to Facebook and boost a post for a few bucks… if you want.
That gives you the opportunity to laser target the crowd that you want to mingle with.
People who never heard of you, but are interested in the same things, now get to meet you.
You could even do some retargeting campaigns.
People who have been to your blog, for instance, could be retargeted with your YouTube video.
There is really just endless series of things you can do to promote your blogging brand, and attract new followers.
Here's even more ideas…  10 Top Sources of Blog Traffic That You Are Not Using
Schedule Your Social Sharing
A very important thing to do is to make a schedule of what content to share on a variety of platforms.
Then set out to do it.
For instance, I might choose to take 6 blog posts that I have written in the last 3 months and narrate them for a series of YouTube videos.
Or perhaps I'll take one blog post that says "five ways to do XYZ."
I'll do a video describing the first two methods.
Then I'll link the video to my blog post where viewers can learn the other three.
That's just a few little examples.
What can you do in your business?
What kind of schedule can you make to cross-post your content to different platforms?
Yes, you can do this all manually.
But there are many great tools to help you, too.
I use Post Planner to build powerful influencer marketing campaigns.
It's my favorite.
Want more?
Here are 15 more great tools:
Get Interviewed
Another great way to get seen by lots of new people is to get interviewed.
Find people that do interviewing for their
podcasts,
online radio shows, or even
blog sites.
Ask them if they would like to interview you about a specific topic.
When they do an interview and make it go live, then do everything you can to promote it.
Here is what will happen.
They will be happy that your interview gave them some content to post on their blog.
But they'll be even happier to see that you're working hard to promote their site.
And why wouldn't you?
That's where people will find you via your interview, right?
This is a win-win, to use a way overdone cliche, but hey, if the shoe fits… (sorry, I love shoes)…
Here's an interview I did, to give you an idea of how this works…

The full text of my Amplify interview is here:
http://amplifyblog.com/story/interview-with-donna-merrill-the-blogger-at-donnamerrilltribe/
Now, a whole new crowd (in this case, the "Amplify crowd") will hear about me.
Many will head over to my blog to learn more about what I do.
I'll drive some more interest by promoting the interview and guess what… people who liked the interview will start talking about it, too, on their favorite social media sites.
Donna D'Errico shouted out the above interview on Pinterest 🙂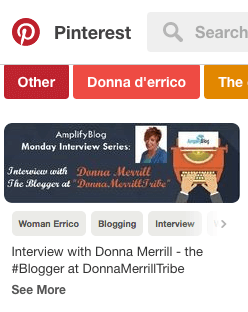 Thanks, Donna.
It just keeps the traffic flowing in that circle I was talking about.
Guest Posting
Guess posting works in much the same way as interviews.
But instead of being asked questions in an interview, you simply write a good article about a specific topic.
And instead of posting the article on your blog, you get it published on someone else's blog.
Many bloggers like to have guest writers because it gives them a variety of voices for their blog.
It also lightens their content production burden a bit.
Find where those bloggers are and ask them if you can write a guest post for them.
This will put you in front of their audience.
New faces, new friends, eh?
If you write a guest post for an influencer or authority in your niche, then you are being introduced to a whole new crowd of people.
This will help build your brand within your niche.
And don't tell me you don't know where to write guest articles.
You can pitch one to me, for starters…
Guest Posting Opportunity at Donna Merrill Tribe
But, you can just click the image below for a whole lot more guest posting resources: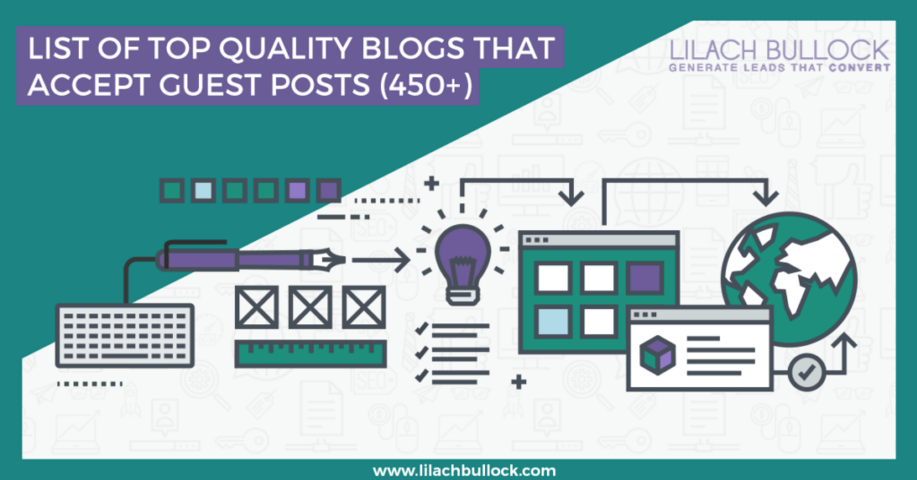 I don't do a lot of guest posting myself, but I do from time to time.
Here's my most recent guest article…
How Do Bloggers Earn Affiliate Marketing Commissions? (on Ryan Biddulph's "Blogging from Paradise")
And again, I'll meet lots of new people on Ryan's blog.
But that's not all.
I even got a personal nod from Ryan that he sent directly to his email list.

Do you have any idea what a "solo ad" costs?
Well, a link inside someone's private email is all that a solo ad is.
And Ryan is just throwing it in for me because I wrote a guest post for him.
This is what you call a joint venture.
Ryan gets some nice content on his blog, and in return, he helps me get noticed in front of his highly engaged crowd.
Pretty sweet, huh?
Expert Roundup Posts
Many bloggers do expert roundup posts.
They may ask you to answer a question for their next round up post.
But you don't have to wait for that.
Find out which bloggers are doing a lot of roundup posts.
Just ask them to include you in their next one.
Most people putting together a roundup post are more than happy to have contributors on file.
Again, like a joint venture… something for everyone.
It's really best to look for roundups that target key topics in your niche.
That way you will be putting your brand in front of people who are interested in learning exactly the kinds of things that you talk about.
This, again, will vastly enhance your personal brand as well as promote your blog.
And sometimes these expert posts will even go viral.
That will get you a whole lot of recognition from people in your niche who never heard of you before.
Here's an expert post I contributed to that ended up on Huffington Post.
For a very meager effort, I got my blogging brand in front of a new crowd that I had never even considered.
Here's my snippet within the article…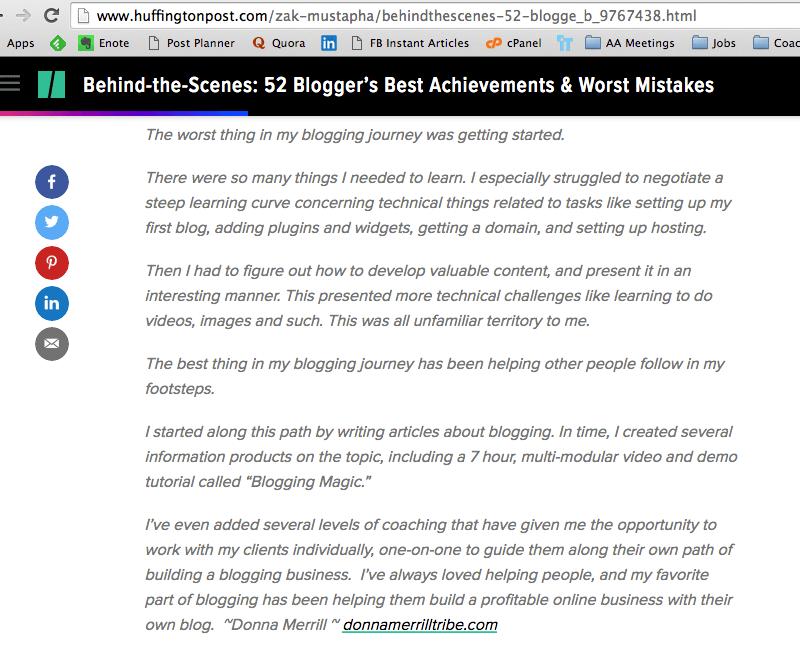 The full article is here:
http://www.huffingtonpost.com/zak-mustapha/behindthescenes-52-blogge_b_9767438.html
I've even had my expert contributions end up in ebooks.
These ebooks are highly promoted and I'm right there in the middle 🙂
Here's a LinkedIn post from David Jenyns promoting a high-profile ebook that I'm included in for this very reason.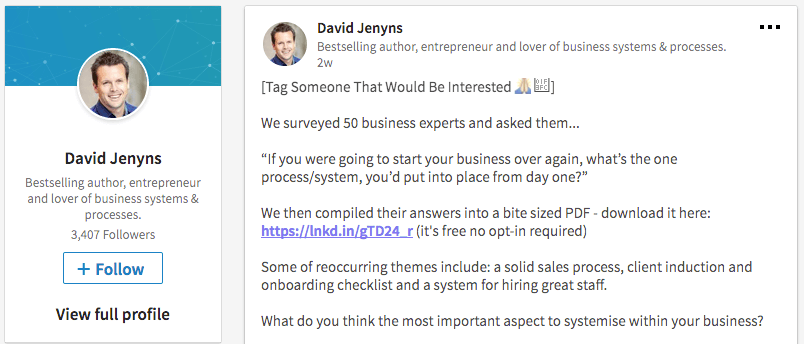 https://www.linkedin.com/feed/update/urn:li:activity:6278051029976252416/
If you'd like to download this popular System Hub ebook, just do it here…
http://businesssystemssummit.com/pdf-download/
Simple, Right?
So this is all pretty simple, right?
Just get out there and do some interviews, write some guest posts and get involved in some expert roundups.
Make sure to promote everything you do by setting up a good social sharing schedule and sticking to it!
Not complicated things to do, are they?
However, I think you can see how any one thing can totally dominate all your time.
And that's okay.
I know people who, for instance, just go around guest posting everywhere they can.
Sure, that's a great strategy to get your brand recognized.
But I actually think it's better to combine several of these techniques.
I think you get more mileage by doing some guest posting, combined with some interviews and so forth.
That way you not only get seen in different circles, but you also get seen on a variety of platforms and in multiple venues.
But, I can't stress enough how important this is…
make a schedule and stick to it on a month by month, week by week and day by day basis.
Otherwise it won't happen.
Sit down and make a list of the different things that you will do to promote your brand.
Now, determine which days of the week you will set aside for each of those tasks.
If you just think about doing all these things, you'll probably do none of them.
But take just one of these ideas, put it on a schedule and stick to it.
Then add another strategy to your schedule.
Do this until you have a few things happening on a regular, daily basis.
Then you'll make some headway and will start getting your brand recognized by an increasing number of people.
Put Your Blogging Brand In Front Of A New Crowd
So what are you doing to promote your brand?
Whatever it is, I hope you are learning to put your blogging brand in front of a new crowd every single day.

I love to hear what your strategy is.
Leave me a comment and don't forget to share this article on your social sites.
People will love you for it 🙂
-Donna