This post was most recently updated on June 6th, 2017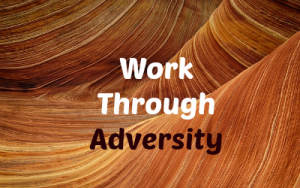 Before you can learn How To Work Through Adversity to become a Successful Blogger, you need to define what type of adversity is blocking you.
You can be confronted with adversity ranging from every bloggers's struggle with writer's block to a total breakdown from some deep grief.
To be a successful blogger, you will need to work through adversity.
Not just now and then.
And not just when you first start blogging.
Because the truth is that you will continually be confronted with situations that threaten to derail your dreams of success.
But they won't always be the same adversities.
Just as you get past one or two, a third and fourth will appear.
And just as you slip past a few minor obstacles, some major threat to your peace of mind and ability to move forward may rear it's head.
The Nature of Adversity
What is the nature of the adversity that challenges you today?
Here are some adverse situations that I'd consider ordinary obstacles that stalk most bloggers…
writing high quality articles
developing a sufficient volume of content
drawing steady traffic
getting enough social shares
pulling excellent guest writers
finding enough time in the day to adequate market your blog posts
But not all obstacles are that straight forward.
Here are some far more serious situations that I've actually seen bloggers beset by…
serious illness
caretaking someone with crippling or terminal illness
long-term unemployment
chronic pain
divorce and/or raging child custody battles
homelessness of self or loved one
debilitating hunger
death of a spouse or child
substance abuse
In "3 Steps to Move through Adversity" Lee Colan suggests that you must accept the fact that adversity is inevitable.
To move past any particular adversity, you need to be grateful for it insofar as it compels you to improve yourself.
Life-Altering Adversity
You can't just wait for adversity to disappear.
And, you can't always overcome it by learning more, working harder or buying some new glitzy software.
I think that self-improvement works wonderfully for the more manageable forms of adversity like not getting enough traffic to your blog, or failing in your bid to attract quality guest writers.
But it's pretty difficult to just "grit and bear it" if your adult child is living in the streets while addicted to opioids, or you are trying desperately to care for your aging mom as she suffers from Alzheimer's disease.
So you really need to take some time to consider your unique situation.
Is the adversity that you face temporary, like maybe you just moved and you're struggling to get back in the groove?
Is it manageable, like if you need to increase productivity to three blog posts a week instead of one?
Is it something you have no hope of overcoming, like a loved one's terminal illness?
Or is it something you have no direct power to control, like your spouse's alcoholism?
Build Your Internal Strength
To Work Through Adversity
Once you've identified the adversities you are facing, you can begin to view them in contrast to your mission as a successful blogger, and the larger purpose of your life.
This can give you the necessary motivation to work through them.

Motivation, of course, will not be enough.
You need to have the internal strength to actually move forward when it can seem like an impossible undertaking.
This comes with discipline.
It comes with the ability to bounce back from the depths of despair; from your failures of the past.
This is the ability to be resilient.
Resilience
The fact is, that you can't control circumstances, but you can decide how to respond to them.
Here are some excellent tips from Emotionally Resilient Living that shed some light on how to build your capacity to manage adversity.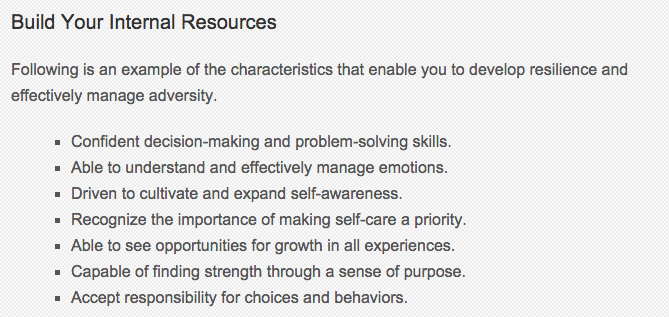 You see, you can't just "work through adversity" if you haven't built some foundation for doing so.
This foundation is based largely on your self-esteem and sense of willingness to do whatever it takes to move forward.
Know that the most important tools you need to work through adversity are faith, hope and trust.
And these are the intangible things that will help get you through the dark nights of despair when all other things fail.
This is what Germany Kent is talking about when she says to "embrace… your divine purpose."
You Need To Be Flexible
Sometimes you are forced to change the way you do things.
You might even need to alter your belief system, philosophy or ideology.
Adversity has a way of leveling the playing field and making us all equal as human beings.
It makes us equally frail, for sure.
But we are also equally capable of discovering the faith and strength to endure all adversity.
That's because we have much more control over our lives than we know, even when we are afraid to take the next step forward.
That control, that next step forward… is a matter of choosing what direction we will take when adversity strikes.
Flexibility to change our direction, and make new choices is a key to working through adversity.
Mike Maddock notes that "choice is the enemy of fear" in his interesting Forbes article on "Three Ways Great Leaders Handle Great Adversity."
Once you have determined the course to follow, you then need to have to courage to start moving forward.
Now, I say "courage" because, truly…
when you are beset by great adversity, your natural response is to curl up and do nothing.
Resist this.
Inaction only leads to further despair.
In times like these, faith, hope and trust, alone, can inspire you to take action.
And it doesn't take great action, just action.
Because any action can start things moving in the right direction.
Saint Francis of Assisi famously said…
Start by doing what's necessary; then do what's possible; and suddenly you are doing the impossible.
(Francis of Assisi quoted in Larry Kim's article on Inc: 19 Short Inspiration Quotes For Overcoming Adversity).
Truly, in order to work through adversity, you must be flexible enough to create new pathways.
And you must be courageous enough to start walking along those pathways.
Not Even
The Successful Blogger Can

Avoid Adversity

No matter how serious or trivial your adverse circumstances are, you know there will always be adversity in blogging.

Even if you overcome all the adversity, though, and have a top pro blog, life itself will have its own challenges.

Things like sickness and disability… either yours or for loved ones… can't always be avoided.

Death, of course, can never be overcome.

I've always taught that to be a successful blogger, you should never have "Plan B."

That's because people with a "Plan B" will too quickly quit when things get tough.

Having no "Plan B" means persevering against all odds, and never giving up.

But life can certainly deliver adversities that force you into adopting a "Plan B," even if you never contemplated one.

Facebook COO Sheryl Sandberg talks about how personal grief led her to a new understanding of what it takes to achieve your dreams when faced with a sudden life shattering loss.

Her Facebook essay was converted into a best selling book, Option B: Facing Adversity, Building Resilience, and Finding Joy.

That book is reviewed in an excellent article by Backchannel… Sheryl Sandberg's Accidental Revolution (excerpt follows)…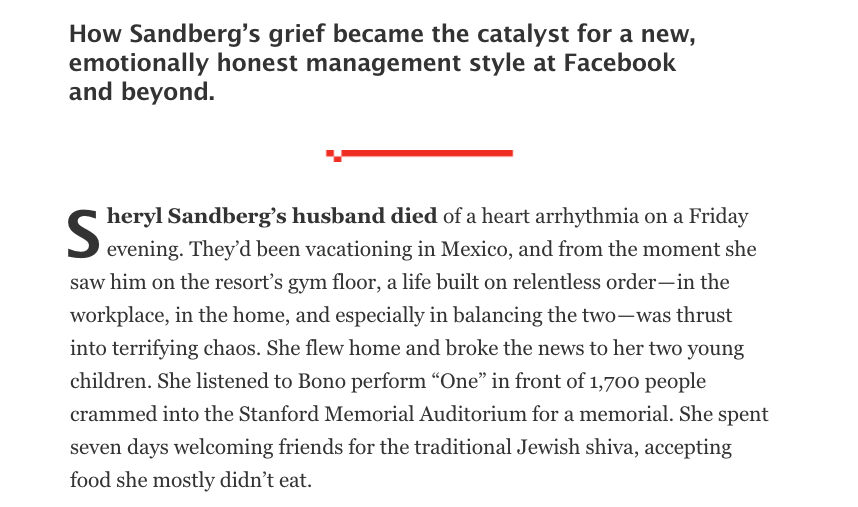 How To Work Through Adversity – Tips For The Successful Blogger
To be a successful blogger, you need to learn how to work through adversity.
That doesn't just mean writing better blog posts.
It can also mean dealing with the devastating circumstances that affect all human beings.
Sometimes, it can even involve coping with grief that will permanently redefine your life.
But even though you will face situations may feel hopeless, it never is.
You must learn to rely upon your personal strength to work through adversity.
Your faith, friends and family will always be the cornerstones of this strength.
Never be too busy blogging to neglect those people and things that mean so much more than success.

What kind of adversity have you faced while working to make your blog a success?
Over the years, I've worked with so many bloggers, with so many remarkable personal stories about the battles they've had to fight in life and in business.
Now, I'd like to hear yours.
-Donna