This post was most recently updated on July 4th, 2017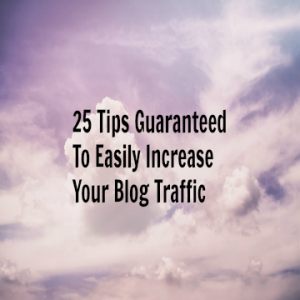 Here are 25 Tips To Increase Your Blog Traffic from my guest blogger, Uttoran Sen.
Uttoran is a master content marketer who is adept in social media strategies.
Getting traffic to your blog is really the life and blood of your business, isn't it?
Of course it is.
To do that requires you to develop wise content marketing and social media methods that will help you increase your blog traffic.
You are about to learn a lot about how to do exactly that.
So, let's get to Uttoran's great guidance on this.
Give this a read-through, then let's hear your thoughts in the comments section at the end of the article.
25 Tips Guaranteed To Easily Increase Your Blog Traffic
Blogging is fun!
But only when your blog is active.
The real fun in blogging isn't about adding a post every day and waiting for things to happen.
Because that process is called passive blogging, which more often than not, leads to a dead blog.
Instead – Take Charge!
Turn your blog into an active, comment generating, social boosting, subscriber magnet and engaging blog.
Because that is where all the fun is – and the money too.
Let's discuss 25 easy and actionable tips to increase your blog traffic consistently.
1) Add More Content – 3 to 5 Posts a Week
Having more content means more options and places to share them.
If you are someone who has been blogging for a very long time and who already has an established reader base, then posting too much content and flooding your readers might not be a very good idea.
At the same time if you are a new blogger, then you won't have a lot of content on your blog to share on the social media.
This is where posting a lot of content makes sense.
2) Comments – Yes, it still works!
Old fashioned blog comments still work.
This is how you network with other bloggers, share their content, subscribe to their blogs and pretty much expect the same things in return.
It does take a lot of time, so you have to do some time management here.
As a blogger, you don't post every day.
So on days when you aren't writing an article, focus totally on comments.
On any other regular day, try to get some comments done whenever you get a little time.
3) Get active on more Social Sites
Facebook isn't the only social site out there.
There's so many of them, for example – Linkedin, Pinterest, Instagram, Stumbleupon etc.
Try to be active on as many of these as possible.
If you are too busy, do what I do.
Mark the Sundays as "Pinterest Sunday" or "Instagram Sunday."
Make full use of each Sunday to get and build up a following.
Life is busy for everyone.
If you want to make a difference, then you have to push yourself further to get it done.
4) Build up a profile on a few select social sites
For bloggers and marketers, there are smaller but very active social sites, for example, Inbound, GrowthHackers and others.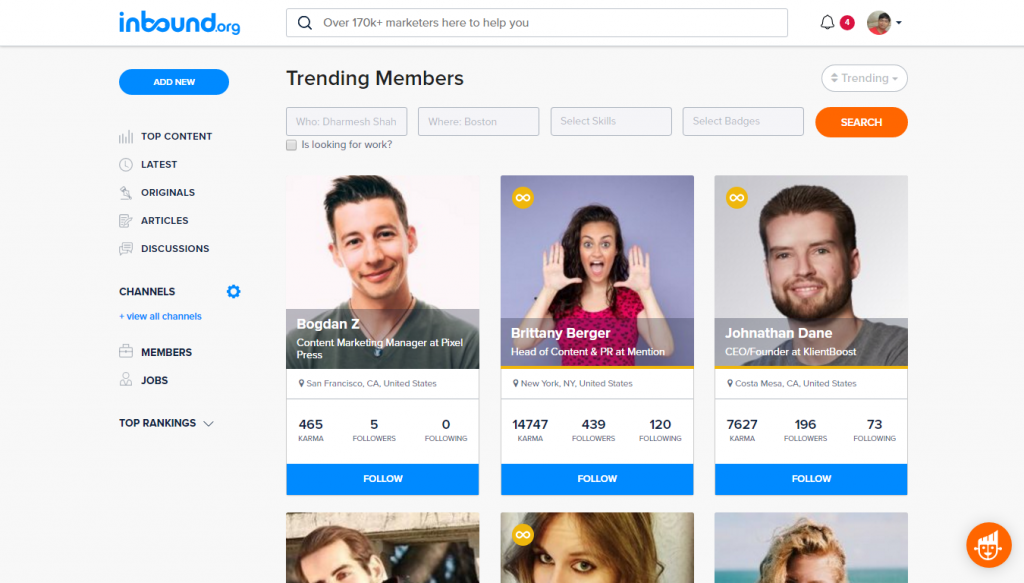 To make good use of these sites, you need to be really active on them.
Follow the 95% contribute and 5% promote yourself rule for these sites.
That is where all the hard work comes into play.
You need to build up a really great profile on these sites.
That means, you need to contribute genuinely good posts, make useful comments and be active.
All of this will directly improve your Karma points on those sites, and keep your profile in good standing.
5) Get a WebHost that Listens to you
When it comes to web hosts, it is always a personal choice.
Everyone has their own favorite host which they prefer and recommend.
But any one of those might not necessarily be a good fit for you.
I remember when my sites got hacked, when we hit Digg front page ages ago and my site went down.
When we hit big on Reddit several years later, my site went down again.
When I ranked for a festival keyword unknowingly – and got several thousand visits from it – my site went down once again.
All in all, on each of these occasions, for whatever reason… the site went down.
Hosting support does get it back live, but the big issue with all these situations was – Time.
The web hosts always take time, and that is why I like hosts that fix issues quickly.
6) Re-Share old Content on Social Media
If you are blogging for some time and you have a portfolio of content already – which can include posts from your own sites, guest posts that you have done in the past, or interviews and features where you have been mentioned – all of these are assets worth promoting.
When you find a new site (for example: FlipBoard, GuestCrew, BlogEngage, DashBurst) to promote your content, use a sharing strategy.
Make a schedule, say 3 posts a day and start sharing these valuable posts.
In time, say a month, when you look at your stats, you will find many of these sites are in the list of your top referral traffic.
7) Influencer Marketing
GuestCrew, JustRetweet, ViralContentBuzz and CoPromote will give you a great basis for a solid influencer marketing campaign.
Once you are registered and logged in to GuestCrew, navigate to your Influencer Dashboard.
In the dashboard, you will get an option to add a status update.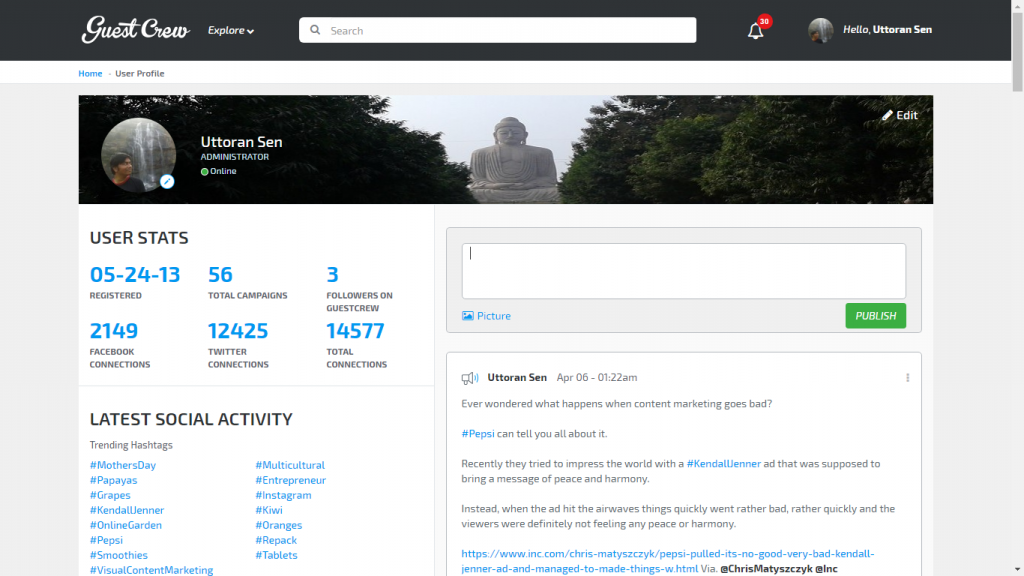 A status update can be anything you wish.
But if you are trying to promote your content, do it this way: Title, hashtag, Link and @Userid.
Then upload an image.
The next step is to boost it.
It will require social coins that can be earned by promoting other people's content.
Once your boost is approved by a moderator of GuestCrew, it will be live in the offers section.
Then, other people can share it and earn coins by doing so.
Additionally, you can check out the community wall of GuestCrew from the "hashtags" section.
That is where all the status updates are posted.
You can follow other members if you wish – network and connect!
JustRetweet is one of my favorite sites when it comes to getting some quick retweets to my posts.
They have a fairly big membership, so when you post to it, you do get a lot of social media shares.
Moderation of JustRetweet isn't that strong.
That means you can get away with content that isn't really top quality.
On the downside, you might want to check what you are sharing if you are strict about your own social timelines.
Viral Content Bee (VCB) is known for its high quality.
It is a heavily moderated community.
If am sharing something off VCB I don't really have to check it, because I know that the moderators of VCB have already checked it thoroughly before approving it.
I like the overall shares that we get when promoting any content on VCB.
The members there have a strong social presence.
They also allow sites like Stumbleupon and Pinterest which brings in additional visitors every day.
I found this just recently!
I have been seeing their ads for quite some time, but haven't really looked into it – until a few weeks ago.
CoPromote isn't targeted to bloggers alone, and isn't limited just to the big sites like Facebook and Twitter.
It includes Youtube and Instagram, which is surely a plus.
The membership base of CoPromote is pretty much the biggest when you compare it with the other sites.
I have received over 100+ retweets on content that I have promoted on CoPromote.
8) Guest Posts:
Guest Posts have always been a powerful medium for bloggers to promote, connect and network with other bloggers.
This method has been beaten to death, though, which has brought up some issues with search engines.
Nonetheless, if done properly this is still one of those methods that work.
I have always considered guest posting as the holy grail of blogging and have been doing it since 2007.
As one of the early trailblazers of Guest Blogging, I can totally recommend this method.
Focus on contributing quality and actionable content that helps.
That is how guest blogging can make a big difference.
9) Use Quora
Quora is much more than just a Question and Answer site.
It has changed into a social site now.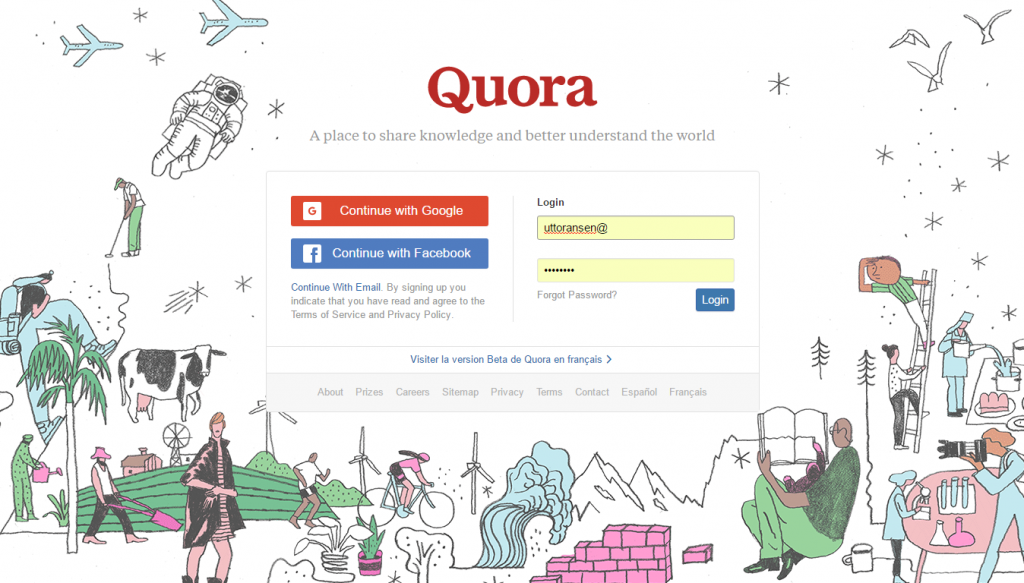 If you spend time on Quora and follow those who are interested in the topics that matter to you, then you do stand a chance of networking with like-minded people and growing your own following in the process.
Active members who contribute helpful answers regularly start to trend in the categories where they are contributing.
This is a good way to build up authority and influence.
As a blogger, if you contribute regularly and drop your links where it is required, you can build up a passive traffic source.
Sometimes your answer might trend and receive a lot of views and traffic.
On average, I have seen Quora become a regular source of referral traffic for me.
10) Reddit
I remember way back in 2008 when one of my travel blogs had hit Reddit in a big way.
It was generating tens of thousands of visitors in a single day.
This was much like Digg, which was perhaps one of the first sites to have this voting and community feature.
Digg was certainly bigger but it is gone now.
At this moment, Reddit seems to be the only voting site that still exists.
If you want to be popular on Reddit, you need to really contribute.
Focus on comments because they are very strict about what links you drop on their sites.
Be careful about the Sub-Reddits and make sure your submissions are relevant.
11) Facebook Groups
We keep complaining that Facebook's organic reach isn't as good as it used to be.
But that is mostly true for Facebook pages.
As far as the groups go, the activity is still there.
Every group is different and so are their rules.
From experience, I've found that some active groups do allow posting of links and sharing content.
Some even allow you to embed your Youtube videos as long as they are relevant to the group's topic.
The basic rules still stand.
Make sure to contribute relevant content and be helpful with your comments and answers.
If the admins, moderators and other members of the group think you are good, then you can get away with a bit of self-promotion.
This is an effective means of taking back some of the traffic to your own blog.
12) Get access to Pinterest Boards
Pinterest always worked for me as long as the images that I chose for pinning were attractive – especially to women.
But the real success from Pinterest depends on where you pin your article.
If you are part of a popular board and you pin it there, then your submission will receive plenty of re-pins and even comments.
In this way, Pinterest can ultimately start sending traffic back to your own blog.
Other than this, just focus on following some related pinner's every day.
It's always good to keep increasing your followers steadily in this way.
13) Work on your Newsletter
Set up an email autoresponder series.
This is something that I find missing on most blogs and sites.
When a new subscriber joins your email subscription, they haven't got a clue about you or your site.
But when you start sending emails to them every day, explaining what you do, what your site is about and how all that can help them – that is where you connect.
Stop looking to sell.
Just start delivering real content.
Think of your newsletter as another place to blog.
Write great content for it accordingly.
If it is helpful, people will stay signed-up.
Otherwise, they will unsubscribe.
14) Chase keywords:
Chasing keywords is helpful.
That is how you build passive traffic.
People search for so many terms related to your niche every day.
Some of them are competitive.
But if you keep digging, you will find 3 to 4-word phrases that are far less competitive, and still totally relevant to your niche.
Start making a note of these keywords and write articles on them.
Use these keywords in the title.
But make the title catchy, too.
There's no point making it sound like a keyword stuffer.
15) Be Helpful and Share Other People's Content
Blogging is always about contributing.
The more you share other people's content, the more shares you will receive in return.
When you visit a blog and drop a comment, take that extra moment to share the post with your Facebook group, Twitter account, Pinterest board, Linkedin account and anywhere else that you are active.
You can only be active on as many sites as you have time for.
But your connections might be active on different social sites.
It can be FlipBoard, Scoop.it, or some you might not even have heard of.
So when you share a post where you are active, your connections might share it where they are active – even if you are not.
That is how it gets blasted on social media.
16) Post on Web 2.0 sites
The thing about Web 2.0 sites is that they may have a small audience, but there is often a sense of community built up there already.
Another feature I like about those sites is the access to posting.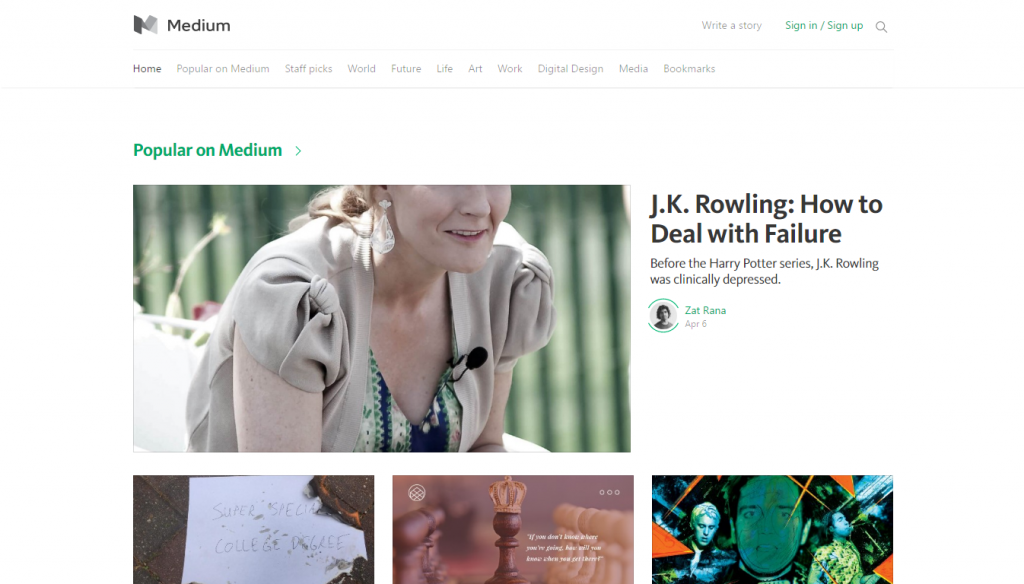 Your posts on most of these sites get published without moderation.
That way, in a real sense, you are maintaining a blog outside of your own domain.
There are many such places where you can blog, such as Linkedin Pulse, Quora, and Medium.
Some of these sites even allow do-follow links, some referral traffic and a good following that keeps building with every post that you publish there.
17) Testimonials
We use several products, tools, and services that are very helpful for us.
Visit the testimony section of their sites and see if you can add yours.
This is a good way to build link because you are vouching for a product that you like, while the product receives a thumbs-up from someone who genuinely uses and likes it.
The end-user benefits by finding helpful testimonials.
There are plenty of low-quality products with super high-quality testimonials out there.
So, the only way for a good product to stay on top is to leverage sincere testimonials from people like you who are glad to support it.
18) SlideShare
SlideShare is yet another social site and it is owned by Linkedin!
That in itself makes this site worth checking out.
Convert your valuable posts into slides and upload them on SlideShare.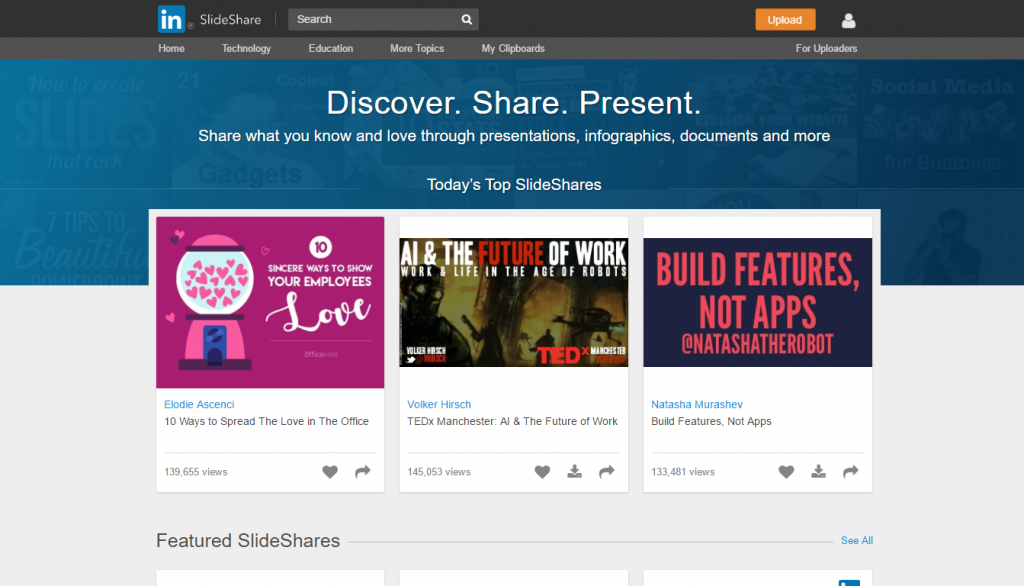 This is one of the reasons why Content Repurposing is so much in demand.
You don't have to write a new article.
Any of your top performing posts will be a good fit for SlideShare.
And since these are just slides, there won't be any duplicate content issues.
19) Write on Trending Topics
If any topic that is relevant to your blog or niche is trending, make sure to cover it.
Do note that while festivals or holidays trend a lot, that does not necessarily mean that people only do their shopping at those times.
Many shoppers like to do their shopping early.
For a blogger, that means that if you are targeting certain festivals or holidays, you can get sales throughout the year!
20) Do Interviews:
There are many sites that do interviews.
Search for those sites, look up your favorite bloggers and check where they have posted their interviews.
See if you can manage an interview as well.
Here are some sites where you can score an interview opportunity as well!
BloggersIdeas.com of Jitendra Vaswani
BloggingPro.com Via. Christopher Jan Benitez
SylvianeNuccio.com of SylvianeNuccio
NotNowMomsBusy.com Corina Ramos
21) Take part in Roundup posts and Host them as well:
Roundup posts are always in full swing.
Some of our most popular posts from GuestCrew are roundups and they end up getting 3k to 5k shares.
Since roundups include so many people that even after a long time, if someone shares it, it gets picked up by the social media again.
Sort of like evergreen social content.
Contributing to roundups is easy and fetches you a quick link and a mention.
But the real fun is in hosting one, which also involves a lot of work.
The results easily make it worth it.
Here are a few quick things to note for a successful roundup:
Choose the roundup topic carefully. It should be related to your niche and your audience.
Target those bloggers who have contributed to a roundup previously. Look for new faces as well.  That is how you get unique answers and target influencers because their shares matter.
Once the roundup is published, email them the link to share the roundup on social media. Don't ask for shares in the email, just thank them for their participation.
22) Host a weekly Bloggers Interview on your own site
Blogger interviews are always actionable.
When bloggers share their experience on how they made it this far, it also becomes sort of a roadmap for new bloggers who are starting out.
People look out for these interviews and they keep an eye out if you are able to maintain a schedule for it.
If you run a weekly column for an interview, say #MondayInterview – or something like that – it will attract a lot of eyeballs.
23) Look for local festivals
There are just so many countries in this world with so many festivals of their own!
You don't even need a niche site for the festivals if you market your content properly.
You can rank for a number of these festivals with your own blog.
24) Do competitor analysis
Make a list of your competitors and look them up.
There are many tools for it but I like the one that is there for a very long time.
Yes – Alexa.
Check their keywords and see what they rank for.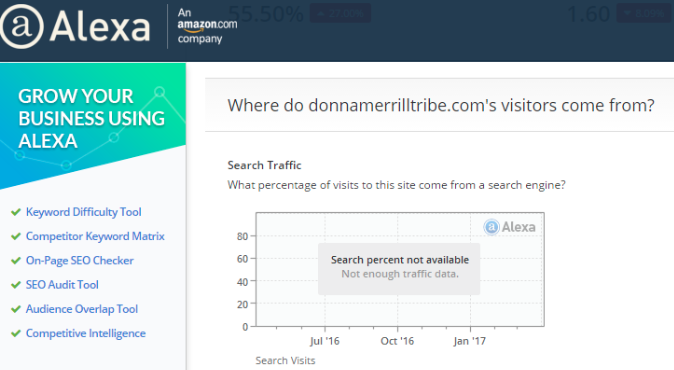 In the free version, Alexa only shows the top 5 results.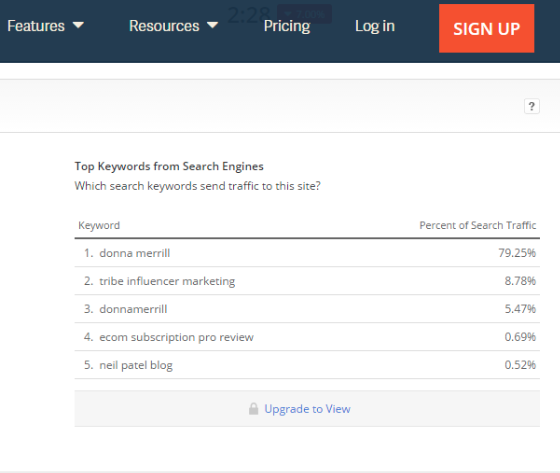 Those are still good enough to get a general idea of what terms they are ranking for and what their top sources for traffic are.
25) Just Do It
This post was supposed to be written somewhere around next week, but I decided to kick myself and I sat down on my laptop for the last 3+ hours and got it completed.
Quit procrastination.
That is a real bad thing.
If you listen to your heart, it will ask you to do the easy tasks first.
Because it is just too easy to leave the difficult ones for later.
Before you realize it, the difficult things will start to drop down further on your to-do list.
Look for the task which is the hardest, most difficult and provides very little fun in doing it – then Just Do It.

So, now I'd like to hear from you in the comments below.
What do you have to say about my 25 Tips Guaranteed To Easily Increase Your Blog Traffic?
-Uttoran Sen
About The Guest Author

Uttoran Sen is a full time blogger and the CEO and co-founder of GuestCrew – an Influencer Marketing platform.
You can connect with him on Facebook and Twitter.