This post was most recently updated on March 1st, 2017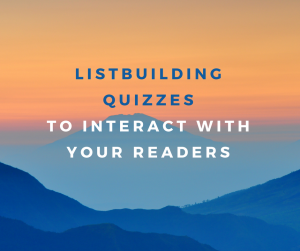 Bloggers, you can now use "Listbuilding Quizzes To Interact With Your Readers."
Here's how it works.
Lead Generation Quizzes
Kissmetrics has featured an article by JP Misenas in which he declares that using quizzes are among the most underrated types of content.
I don't know about you, but that's a pretty big statement because it I'm always looking to get the jump on my competition, aren't you?
Even more importantly, you can uselistbuilding quizzes to interact with your readers.
Because lead generation quizzes are so effective for both listbuilding and interaction, I think the time to use them in my business is now.
I mean, why would I want to spend tons of cash on Facebook ads to drive a stead flow of traffic to my blog, when I can do it with some simple quizzes that I don't need an advertising budget to promote?
Answer: I wouldn't!
Quizzes are Engaging and Shareable
Buzzsumo, likewise, agrees that quizzes are content marketing's secret weapon.
The 2 big reasons that Buzzsumo makes this assessment are…
Quizzes are Engaging
Quizzes are Shareable
That means they get people enthused about your content, interested in what you're doing, and so much so that they are motivated to share your content with others.
Where do they share?
Facebook Quizzes
Well, mostly on social media, and particularly on Facebook.
So we're back to the point about spending a lot of money on Facebook ads, like so many people tell you to do.
Why not leverage the power of Facebook for free, with your own quizzes that people just love to take and love to share?
Consider, for example, that Buzzsumo reports, in the same article, their finding that an average quiz gets shared 1,900 times!
Now, who wouldn't find that exciting?
Pinterest Quizzes
PS: I think you'll find that Pinterest is a pretty cool spot to place your quizzes too.
In fact, whatever you favorite social media platform is… give it a try and see if you can add this listbuilding strategy.
That's right, just try making a few listbuilding quizzes to interact with your readers.
You just might surprise yourselves, y'all.
Listbuilding Quizzes To Interact With Your Readers
Getting people to take your quizzes is cool, you know, engaging and fun.
With a good quiz, you really build some serious interaction between you and your readers.
It's one of the big reasons that Facebook is so effective for getting lots of shares and even making your content go viral.
Facebook is all about people interacting with each other.
And quizzes are perfect to get that interaction rolling.
People just love sharing quizzes.
Marketing Zen shows you so many great ways to build engagement into your Facebook marketing, and on top of the list are things like creating polls, asking questions and humanizing your posts.
Well, nothing accomplishes so many of these "engagement tactics" more than a fun quiz.
Quiz Funnels
But let's not forget that what we're really trying to accomplish with our quizzes is to build an automated, ongoing, day by day lead generation machine.
That means, you need to see your quiz as a "top of the funnel" lead generation tool.
So, here's what your quiz funnel will typically look like.
1: Build you quiz
2: Share it with your readers and social media crowds
3: Collect names and email addresses (listbuilding) from people who want to learn the results of the quiz they just took.  Now, how easy is that for creating a lead magnet?  Say goodbye to writing ebooks and all the other standard "lead magnet" stuff that never happens because it takes so dang long to do, right?
4: Now that people are on your "list," you can pull them deeper into your funnel.  Just do a good job of email marketing to mix up really good and valuable emails for you niche, with some highly pertinent, killer offers that they'll just love you for.
That's how to use quizzes to convert prospects into subscribers, and subscribers into buyers or clients.
Yayyyy…
It's what I call a quiz funnel, and it's one of the easiest and fastest techniques for building a list and at the same time, growing a profitable business.
Other Resources
See some live Marketing Online Quizzes to get an idea of how some of the pros are using quizzes:
Best Online Quiz Maker
Sure, you can make your own quizzes on Buzzfeed, but only as a community member.
You can't use them to promote your blog.
There are a few online quiz creator services, but the best one I've found is Interact.
It's so simple that I had my first quiz set up in just a few minutes.
This article is not intended as a tutorial on how to set up and use Interact, but I will give you just a quick glimpse of how to use it so you can see how really easy it is.
First of all, take a peek at the plain and simple, yet powerful dashboard inside of Interact…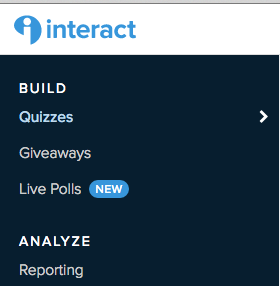 You can instantly build Quizzes, Giveaways and Live Polls.
Not only that, but you can get reporting analytics to see how your quizzes are doing.
One click of the "Create New Quiz" button let's you choose between templates for Assessment, Personality or Score (Tallied) quizzes.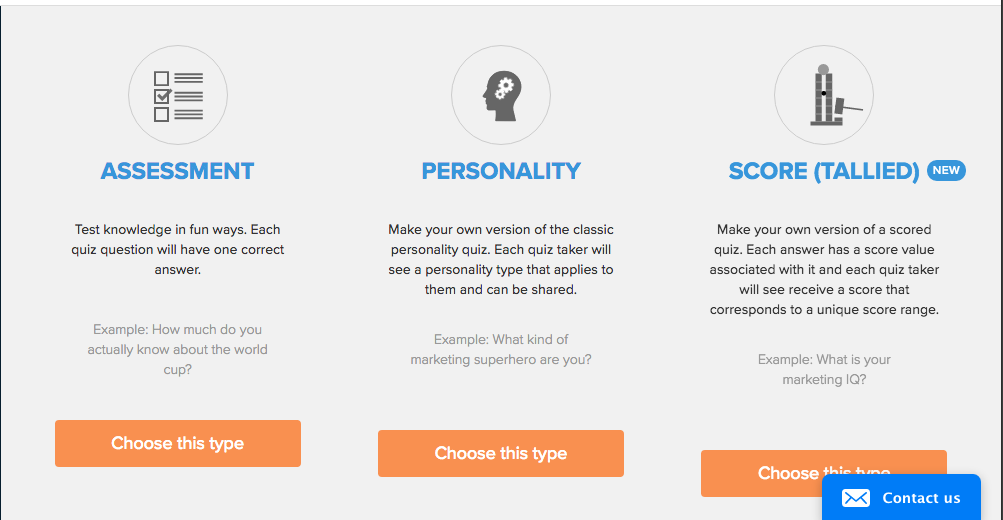 Finally, you can build out these quizzes to be serious, entertaining or some combination of serious and entertaining.
The idea is to make quizzes that will attract the attention of your readers or social media crowd.
Whatever type of quiz you choose to create, you have a choice between selecting from many templates, or creating your quiz from scratch.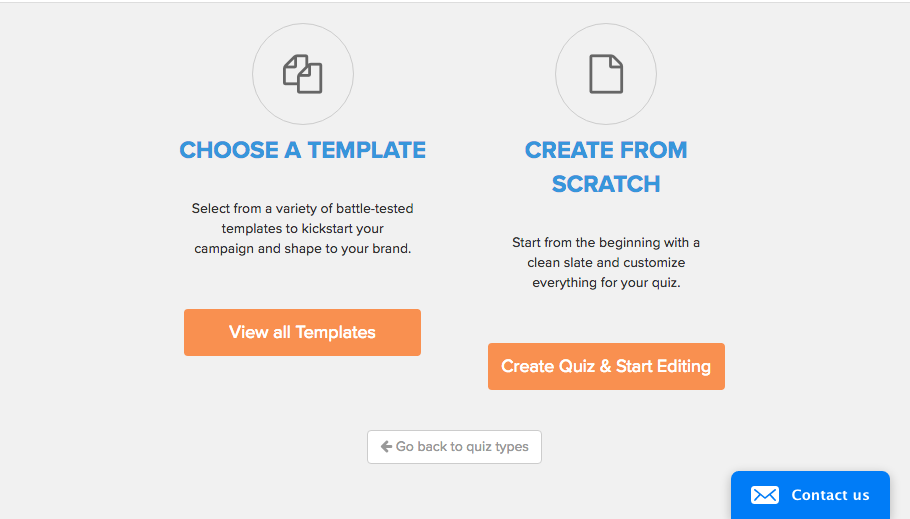 I'm going to give you a live quiz I created in just a few minutes below.
It is a template that I customized to my own target audience.
Constant Customer Guidance
NOTICE, by the way… that you always have a "Contact Us" help feature (the blue button in the lower right corner).
During business hours, this is a Live Chat feature that I love… totally love.
As you're working away on crating your quiz, just talk live to the helpful folks standing by to make sure you get everything set up and operational.
You can't screw this up… hand holding all the way 🙂
After business hours, you get the email icon on the blue button, as you see in the above image.
That means, Live Chat is not available, but you can still send an email and someone will get back to you by email.
I'm not that patient, so I just wait until business hours to set up my campaigns.
That way I know someone is always handy to help, and the wait time is pretty close to zero usually.
Now, see just a few of the many, many templates for Personality quizzes…
These allow you to probe what kind of person your subscriber is.
People love learning what their personality is because, hey, it's all about them.
Most people find it pretty hard to pass up a chance to see how the stack up on personality traits, especially when it only takes a moment of two of their time.
See a few samples of the Assessment templates…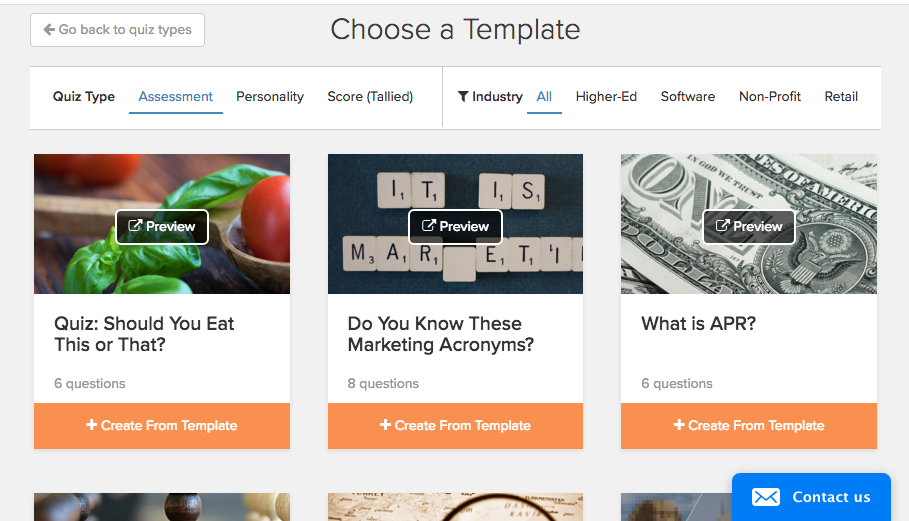 This is another thing people love to do… assess their knowledge or understanding of a certain topic.
It's really, pretty irresistible when people see an opportunity to take a quick quiz like this from your blog, or your Facebook post.
Interact: Software To Build Your List On Autopilot
So, here's the thing.
Every single online business… every one… requires a steady flow of prospects and sub
Now, that's basically it.
Each quiz has standard questions for people to answer.
You should re-word or change these questions to meet your own needs.
In addition, you can have lots of questions, but it's most effective to keep it to somewhere between 5 and 10 questions.
Everything is so easy to customize with Interact.
Just let your creative juices flow and create quizzes that pull exactly the kind of subscribers you want on your email list.
Remember: No matter what kind of business you run online, there is one thing that you MUST have. A steady, rolling, inflow of new, fresh leads subscribing to your email list.
Without that, you have nobody to sell products and services to, and that means… you have no business.
You may have a business structure, like a blog or a Facebook page… but you have NO business without the ability to build your list of followers.
That's why it's a great strategy to use Listbuilding Quizzes To Interact With Your Readers, and pull them into your business.
Let me mention,too, that you can check out a very quick quiz that I just created with Interact, at the end of this article.
To learn more about how Interact can help you do the same thing, click on my affiliate link right here…

When you sign up through my affiliate link, I will work with you to create an online quiz campaign designed specifically to drive a steady flow of traffic your way.
Take My Quiz
Finally, here's a quiz I put together using Interact in just a few minutes…
I bet your social media crowd would like to take this little quiz.
Maybe they'd even like to learn more about how to make a personality quiz like this for themselves.
So take a moment to share this article with them 🙂
Now… I'd love to hear from you in the comments section below.
Have you ever used listbuilding quizzes to interact with your readers? If not, what is your main listbuilding strategy?
-Donna