This post was most recently updated on July 8th, 2017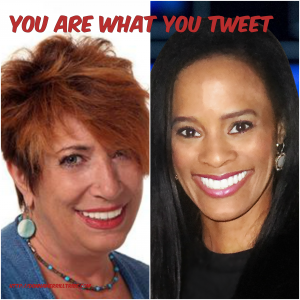 "You Are What You Tweet"… That's who your customers and clients will come to know.
In other words, your tweets will shape and form your "personal brand."
So, you want to make sure that your tweets portray exactly the kind of personal brand that you want it to.
The Soap Box Effect
Every time you stand before a microphone in a crowded room, people listen to what you have to say.
I call this the "soap box effect."
It makes you stand out in a crowd, for sure, but that can either help or hurt you.
You see, it's one thing to stand on a soap box or grab a mic and make people listen to you.

But it's another thing to make your "speech" count.
If you're a blogger, you want that to be presenting yourself as someone helpful and positive, and someone who people will want to know more about
The Twitter Truth
It boils down to this.
Or at least your world… your personal followers.
But of course, your tweets can also be seen by your followers' followers.
So your world can get kind of big, pretty fast.
So… don't be too casual about what you tweet.
Don't get lackadaisical.
Your brand and your image are at stake, every single time you tweet.
You Are What You Tweet
To help you build better Twitter practices, I've spoken with world-renowned author and speaker, Germany Kent.
Also known as the "Hope Guru," Germany has released her latest book, "You Are What You Tweet."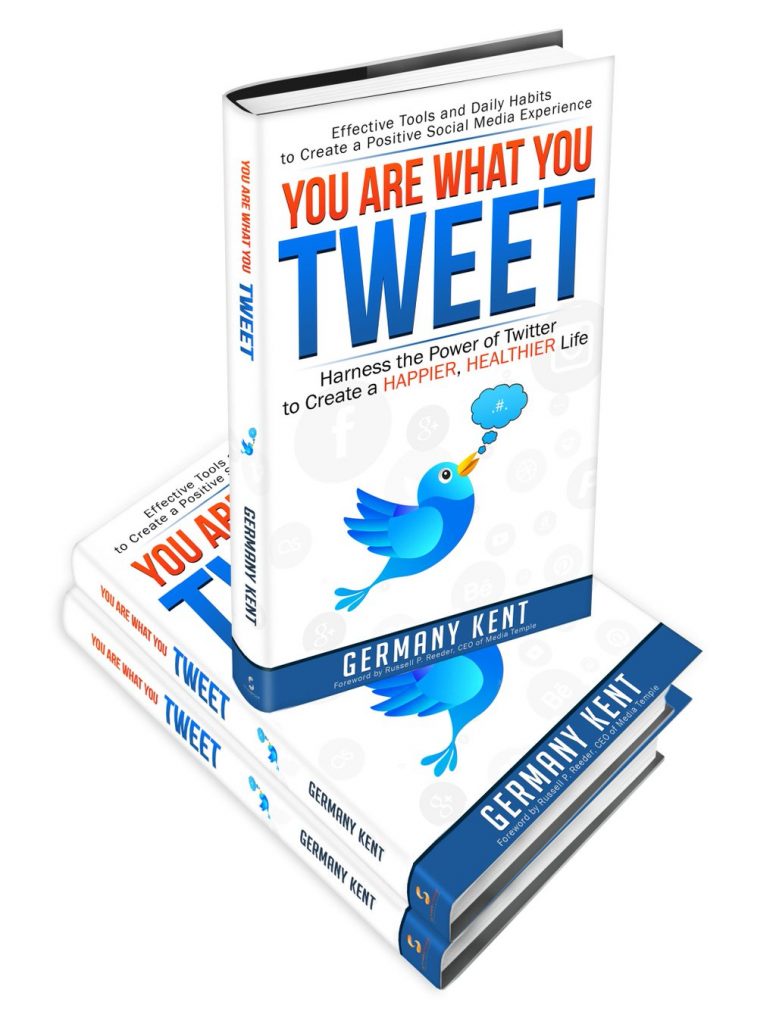 In this book, she not only tells you why Twitter is such an important social and business tool to use, but she shows you exactly how to use it in the most beneficial way.
And, here's what I love…
She has written it in a workbook style with tons of checklists.
I love checklists 🙂
They give you a thumbnail recap of what's most important so that when you finish reading a chapter, you can just find it all condensed into a short list of actionable tips or resources.
Just by reviewing the checklists, you get a quick recall of the major points made throughout the chapter.
Now here's the thing about Germany Kent…
She is such an awesome person.
She's so sincere and caring, and her loving nature just shined bright and clear when I talked to her.
She's a wonderful author, but even more…
just a wonderful person.
I so much enjoyed getting to hang with her for a little while.
About The Author: Germany Kent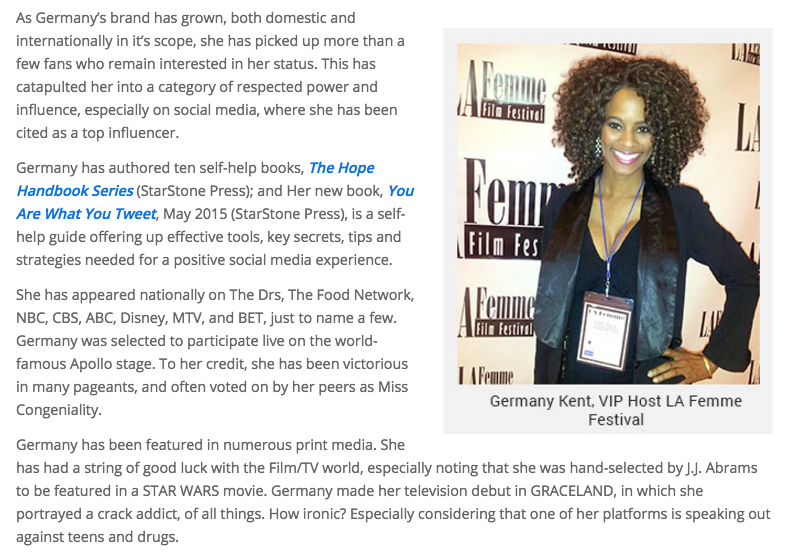 Why Twitter?
So what's so special about Twitter?
Why is it so important to deploy Twitter to portray yourself as the positive and helpful person that folks will want to follow?
Now, if you've been reading my blog for a while, you might remember that I've taken some shots at Twitter from time to time.
Things like…
"I don't get it," or…
"how is a rolling ticker tape of 140 character statements supposed to help me build my business?"
Part of this thinking was that I just really didn't like using Twitter.
I didn't know what to say, how to say it, or even who I was really saying it to.
I was like, why bother?
And truthfully, I didn't bother…
for a long time.
But all that's happily changed 🙂
I've been using it a lot over the last 3 or 4 months and now… I'm a believer!
Here's the thing.
Of all the social media platforms you can be using, Twitter is probably the one that reaches more people and in a more personal way than all the others.
That, actually, is the point I never could "get."
But, now, I do.
You see, on Twitter, you're able to use short snappy sentences (like that illiteration, eh?) that really get to the heart of who you are.
People like the "old me" think that 140 characters is kind of a silly way to communicate with people.
But don't be like the "old me."
Twitter has has become probably the most powerful platform on which to build trust, and formulate a strong personal brand.
And really, that's the most important part of building a successful blog or online business.
But you can't do it with long diatribes that bore people to death.
They just don't have time to read through long articles, or listen to hour long videos, or attend long webinars… not anymore.
But when you connect with people on Twitter… within just a few words, they get the essence of what you are all about.
Because your tweets are on an endless loop, you get to be constantly and continually in front of your audience.
Now, that's a soap box.
You've always got the microphone in your hand.
And you always have an audience.
You get to paint a picture of yourself that is composed of tiny little pixels.
They make little sense in isolation.
But as they begin to bleed together, the full picture, the portrait of "you" begins to form.
Your steady stream of tweets are the pixels.
Your personal brand is the portrait.
I've come to see that Twitter really is an unparalleled method for connecting with your audience, your readers, your prospects and your customers.
How To Put Twitter To Work For You
In "You Are What You Tweet," Germany Kent shows you exactly how to use this powerful social media platform to build your personal brand.
Within its own universe, Twitter allows you to get more mileage from your tweeting strategy than you could from a high-paid public relations firm.
After all, a public relations firm is simply a team of professionals dedicated to putting your message "out there."
But, with Twitter… you don't need a public relations team.
You just need to develop a proper tweeting strategy, and you can do it all yourself.
You can easily be your own public relations firm.
In fact, you'll probably be doing what the public relations firm would do… develop a strong and effective tweeting strategy.
Twitter Etiquette
One of the problems that bloggers and online marketers have in developing their Twitter strategy, is it they simply don't know how to behave or what to say.
Questions arise…
What is it the people want to see?

What can you write in 140 characters?
What are the do's and don'ts?
"How" should you act… is there a Twitter etiquette?
Germany answers all these questions, and shows you exactly how to resolve every Twitter issue that arises.
She shows you what to do, what not to do, how to act and how not to. 
While Twitter can make you a blogging star or marketing sensation overnight, it can also bury you just as fast.
My Interview With Germany Kent
I think you will get much better sense of precisely how to use Twitter most effectively when you get it straight from Germany, herself.
Here is my short interview with Germany Kent on the topic of her new book,"You Are What You Tweet" …
So, now I'd like to hear from you.
Do you use Twitter and your business?
Do you use it in your life?
Do you really know how best to leverage Twitter?
I'd totally love to read your comment, so just drop a note in the comment section below.
Remember, too… don't go away without sharing this post on your fav social media sites, so all your friends can benefit from it.  They're sure to appreciate you giving them the tip-off about Germany Kent's "You Are What You Tweet."
Thanks much.
-Donna