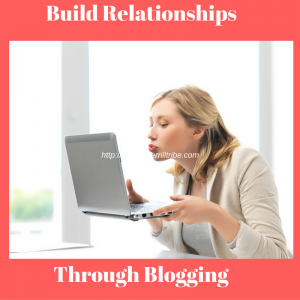 Do You Know "How To Build Relationships With People Through Blogging?"
Ravi Chahar is today's guest blogger, and he's going to share his wisdom on this topic right now.
Take it away, Ravi Chahar…
So are you thinking about connecting with more people?
Do You Know "How To Build Relationships With People Through Blogging?"
Would it be beneficial for your social reputation?
There are many questions that arise when it you seek to build relationships with people.
In the field of blogging, people are anxious to connect with more and more bloggers.
You think of it like a need.
There are many benefits of having friends in the blogosphere.
But the point is "how would you conclude your approach to others?"
Everyone is trying to build connections to get more exposure.
What are you going to do?
Have you ever felt that happy moment when someone shares his/her story with you?
It's because trust is a key thread in a relationship and you have to nurture it.
Let Me Provide You The Guide To Build Relationships With People Of This Blogosphere
When you read the term "blogosphere" what does come to your mind?
Is it about the blogs, blogger, blog posts or something we call human bonds?
Well yes, the blogosphere is full of the people who have human bonds with each other.
The feeling of joy when you share something about your "blogging journey" and you see the comment from a person who helped you during your starting days.
Wouldn't it be beautiful?
Here's A List Of How To Build Those Relationships.
#1. Believe In Giving.
This may seem strange to the beginners because they start to learn that blogging is a profession and to become a professional blogger they should focus only on their work.
Well, it doesn't mean you shouldn't help others.
People like to get help.
Do you remember the days when you struggled to solve the problem of starting a blog?
Did you meet someone who helped you?

Can you forget that person? I think no one can and no one should.

Why don't you become that special person for someone?
Yes, that's what we call giving.
It means to help your fellow bloggers without greed.
You don't need to ask for anything, time will provide you the butter and sweet.
I remember how I used to spread my stupid words using an unstructured theme and then one day, I noticed an email in my inbox.
I was thrilled as if I found the key to the magical door.
You would be surprised to notice the growth in your list of followers after showing your polite side to the world.
Just keep helping.
#2. Blog Commenting is the Key To Build Your Online Reputation.
Blogging is about writing, spreading the word, connecting and blog commenting.
Blog commenting is one the most effective activities to build relationships with people.
Do you remember your first blog comment?
It may be a little bit hard but you can't forget the person who used to comment on your blog posts.
You would get the same response from other people.
Never miss even a single chance to show your presence on someone's blog.
It doesn't matter if the blog has a high authority or not.
Don't be that arrogant blogger who only thinks about getting the backlinks.
Spread some love, comment on others' blogs, connect with them.
How would you feel when you get a comment like this?
Hey Angelina,

I was going through Donna's blog and saw your comment which brought me here. I am glad that I could find another quality blog.

You have shared one of the best blogging guides I have read in the past few months.

I would love to read some more articles from you.

Hope to see you again.

~Anna.
Did you notice something?
The main reason for such appreciation is because of your comment on Donna's blog.
The point is that blog commenting can help you to meet new people.
You can spread your words to everyone.
Blog commenting is the master key to build relationships with people.
#3. Show Some Gratitude By Mentioning.
Don't you like to get mentioned?
We all do.
And this is what you can do to make your readers feel special.
Whether you write a separate post or add the name of your fellow bloggers in the middle of the article, it would make them happy.
This kind of sweet gesture can improve your bonding with those bloggers.
Building human bonds means to show some kindness towards your online friends.
In this blogosphere, people work hard so that they can see their name among the famous bloggers.
And if you help them to take a step in that direction, then why not?
Suppose you are writing something related to online marketing, blog traffic or anything.

Just add the names of the bloggers who are good with these things.
If you are talking about writing ebooks then you can mention someone like Ryan Biddulph from "BloggingFromParadise."
Try to find the ways to appreciate your readers.
#4. Request For The Guest Post.
This is one of the coolest methods, and it's a two-way thing.
Wouldn't you be excited to post content on other blogs even if it meant spending a few hours?
It's not about the time or effort you invest, it's about building relationships with other bloggers and sharpening them.
You can get the chance to meet many new people because of the different audience.
The bonds with the bloggers will be stronger.
If you know a blogger and think about guest posting then don't hesitate, just go for it.

It would help you to build a special bond with that person.
You know when someone allows you to display yourself to his/her readers then it means that blogger has faith in you.
No blogger can introduce any random person to the audience of his/her blog.
But please, don't make those stupid guest post mistakes.
Respect the guidelines and always provide quality content so that more people want to connect with you.
#5. Interview Other Bloggers.
Well, this is another strong step which can increase the chances to build relationships with people.
Have you ever thought about spending some time to create a list of interview questions for someone?
It may be time-consuming but you would be happy to see the results.
People like stories and when we talk about the success stories then damn, that just blows them away.
There is a special bond between bloggers and the blogging journey.
If you grab the opportunity to interview someone on your blog then it would be wonderful.
Can you imagine yourself how you would feel if someone asks you to share your story?
That's the proud moment.
Why don't you be the reason for someone's happiness?
Ask your list of interview questions to a blogger who has done some remarkable things in his/her blogging career.
And it would be beneficial for you too.
You will get to know more people through the influence of that reputed blogger.
Are You Ready To Build Relationships With People of This Blogosphere?
You may have many offline friends.
But have you ever tried to find out the mutual benefit of friendships?
This may sound suspicious but everything has a reason.
When you build relationships with people of this blogosphere, both of the bloggers get the benefits.
Both will try hard to maintain that strong bond.
It's not greediness, it's what we call the mutual contribution.
Have you tried to connect with someone and got nothing?
Well, don't get disappointed, sometimes people don't realize the value of human bonds.
From my personal experience, I can say that making friends through blogging is way more useful than anything.
You may work with the SEO, content quality, post frequency… but how would you get support if you don't have anyone around you?
So build relationships with people through your blogging skills and enjoy your journey.

Please comment below and let me know about your blogging journey.
I appreciate you sharing this post on your social sites, and don't forget to visit me on "BloggingLove.com" …
I hope this has increased your understanding of "How To Build Relationships With People Through Blogging."
-Ravi Chahar