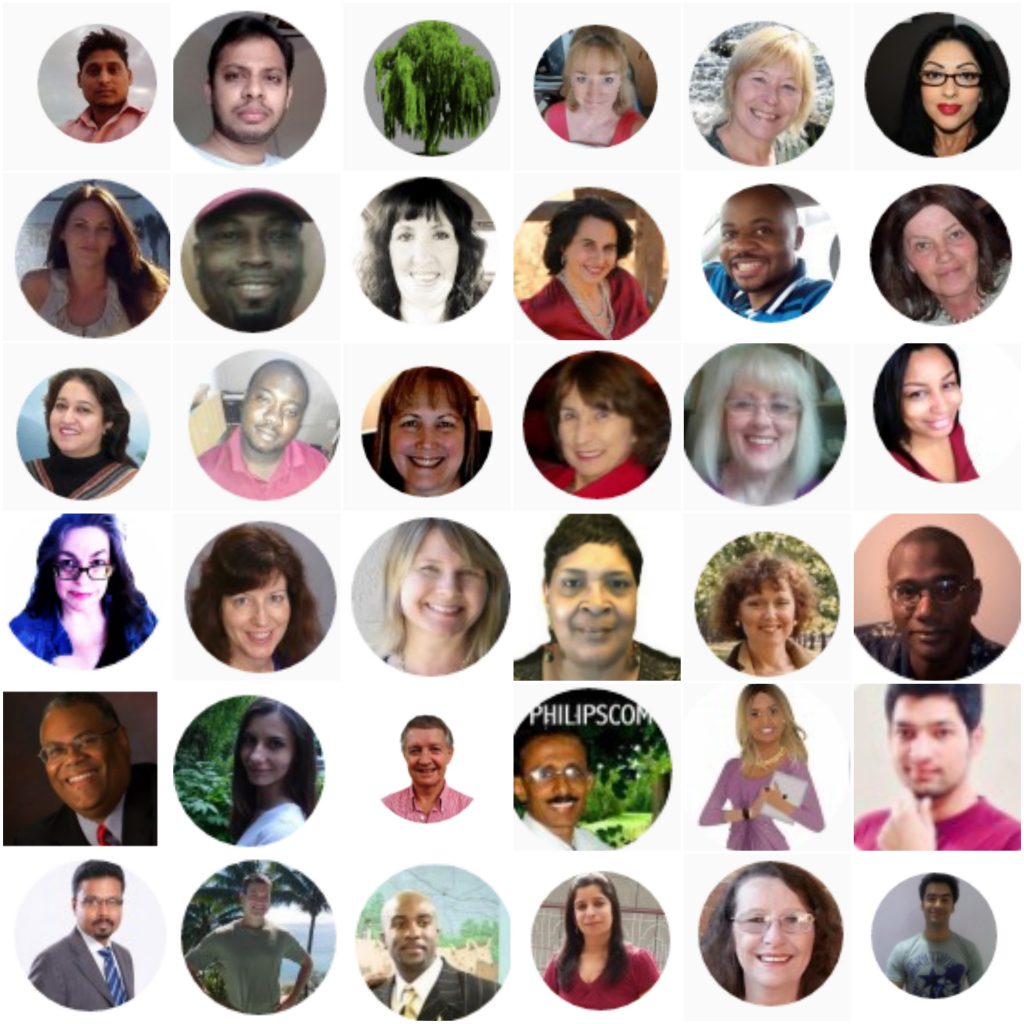 I have chosen only 36 Loyal Readers of Donna Merrill Tribe from amongst my many, many loyal readers and contributors.
I couldn't possibly thank everyone, so had to choose among the many people who come to my blog just about every week and engage with me.
I wanted to take time out from my regular, content-based blogging, to show my appreciation for all of you.
These bloggers are among the best people you can every meet online.
If any of these names are unfamiliar, please connect with them.
Unlike most "roundup posts," this is specifically a "Thank You" one.
I appreciate each and every person that visits me.
These are but a few of my top loyal readers and consistent contributors, listed alphabetically by first-name.
My Top 36 Loyal Readers and Consistent Contributors
Amar Kumar  Of Temok, where you will find articles on Web Development,  Web Hosting, Domains, Marketing and Entrepreneurship.
You can connect with Amar here…
Atish Ranjan of TechTricksWorld  is one guy I admire.
He can write things to lift your spirits while keeping you up-to-date on the latest and greatest Tech tools…
https://www.techtricksworld.com/
Ben Carter  will always give you a "lift" when you visit his blog. 
He is a father, husband and wellness consultant.  Also a massage therapist that believes there are better ways to stay healthy than drugs or surgery.
You can connect with him here: 
http://www.getwealthyinwellness.com/
Bren or should I say "Virtual Bren" and I met a long time ago on Facebook.
Now we have become blogging buddies and friends.
Her blog is a lot of fun, and you can find it here:
Chery Schmidt  Her tag line is "Love what you do and do what you love."
She is a very supportive person and you'll be inspired when you visit her blog…
http://successcoach.chery-schmidt.ws/
Cori Ramos will always say "Blog Like a Boss" and she shows you many ways to work from home. 
She is a great blogger and you can connect with her here: 
Dana Gore has a blog that is a lifestyle community about healthy living, creativity and personal development. 
You can connect with her here: 
Darrell Harris – Author and Internet strategist. 
He is the owner of Making Big Cash Online.
Connect with him here: 
http://makingbigcashonline.com/
Deborah A. Ten Brink blogs at Selective Moments In Time.
You will find her fine art and wise words when you connect with Deborah here:    
https://selectivemomentsintime.com/
Dr. Elise Cohen Ho has a background in sociology and psychology coupled with various degrees and certifications including Nutrition, Herbalism and Holistic Health. 
She is a wellness coach, research scientist and so much more.  I
know you will find her interesting. 
Enstine Muki has been online since 2005 creating websites and web applications. 
He is a Warrior Forum Influencer, Writer, WordPress Installation professional and so much more. 
If you want to connect with this major Influencer just click here: 
Erika Mohssen-Beck  wants to help you transform your dreams into reality.
Reading her blog will help you do just that. 
She is a kind, gentle person, and so easy to get along with. 
You can touch base with her here…
 http://www.erikamohssen-beyk.com/
Harleena  Singh is the owner of the well known Aha!Now Community. 
There are so many writers there sharing inspiration, self-improvement, blogging, making money online and so much more. 
Check out her blog at: 
Ikechi Awazie blogs at A Light To The World.
That pretty much says it all. 
He can inspire you to transform your gifts into action. 
Ikechi has his own unique gift as a blogger to lift your spirits up all the time, even while teaching you so many things. 
You can find my friend here: 
Joan Harrington operates a blog for business owners interested in learning how to brand themselves and establish authority through the power of blogging. 
Visit Joan at…
http://www.successwithjoan.com/
Joy Healey is the owner of Blogging After Dark. 
A great name for those who are working part-time blogging. 
Joy is living proof that it can be done.
Connect with her here…
Kathryn Maclean can help you develop social media and blog/website presence and visibility. 
She is a coordinator with Power Affiliate Community (PAC), a wonderful group (that I belong to) of bloggers . 
Connect with Kathryn here…
http://marketingofflineonline.net/
Lea Bullen of the Leading Edge Advocate offers you so much assistance in rising to the next level, the leading edge.
You can connect with her here… 
http://www.leadingedgeadvocate.com/

Lesly Federici and I go back a long way. 
She is now not only a blogger, mentor and affiliate marketer, but also owns and operates PAC….The Power Affiliate Club which I encourage you to check out (even though I'm not an affiliate 🙂 ).
It is a community of bloggers who respect reciprocity and always have something new for your learning and growth as a blogger. 
You can reach Lesly on her blog… 
Lisa Sicard is the owner of  Inspire to Thrive.
That's the name of her blog, which focuses largely on social media strategies. 
So much so, that she has become my Twitter go-to gal. 
But she also does a lot more than that.
Learn some social media tips and strategies from her…         
Lisa Thomson  is a wonderful Huffington Post blogger and featured columnist for Divorced Moms. 
You can connect with her here… 
 http://www.lisathomsonlive.com/
Lydia Brown Masters degree in Psychology and both Nationally and Internationally certified as an alcohol and addiction counselor, as well as a Masters Addiction Counselor.
Her blog is absolute purpose-driven. 
It provides resources and information for the addict and families affected by the disease. 
It is a wonderful blog to follow…  
http://addictiontreatmentnews.info/
Mark Newsome  uses proven direct-response type of marketing strategies for small businesses and individuals working either online or offline. 
His blog is full of information, case studies, and real-world strategies for all entrepreneurs. 
You can find him at…
http://www.youcanmarketonlinenow.com/
Marquita Herald is a long time blogger and author of some amazing books.   
Marquita will show you many ways to build your personal strength from the inside out  
You can connect with her here… 
http://www.emotionallyresilientliving.com/articles
Mitch Mitchell  holds back nothing. 
On his one-of-a-kind blog, he always tells it like it is. 
Mitch's tagline says it all:  Blogging, Social Media, Motivation and General Stuff.
This guy has so much experience offline and online he will blow you away. 
Find his blog here… 
Minuca Elena is a professional blogger, social media and SEO strategist. 
But most of all she can create expert roundups that provide quality content, drive huge amounts of traffic and generate high quality back-links. 
If you want to do a huge roundup blog post, she is your go-to gal. 
You can reach Minuca on her blog… 
Peter Beckenham is an Aussie blogger and internet marketer living in a remote little Thai village. 
As a baby boomer, he believes that age is not a barrier to online success. 
He is known as that "remote Thai village marketer who cares." 
Connect with Peter here…  
Philip Verges 'Ariel is an amazing  writer and blogger who features some amazing roundups.
I do have to give Phil a huge shout out here because I am in many of his roundups and truly appreciate all the work he puts into them. 
He is a fascinating person and you can connect with him here…
Rachel Lavern is an amazing blogger who can really help you get your business off the ground. 
She states that "When you focus on the RIGHT things, business doesn't have to feel so darn hard." 
You can reach Rachel here… 
http://workfromyourhome101.com/
Ravi Chahar of Blogging Love is often the first to comment on my new blog posts.
I want to take this time to thank him for that, but also for being such a great resource of top information. 
Ravi writes about Blogging, WordPress, SEO, Social, Web Development, Web Design and so much more. 
Connect with him here…
Reji Stephenson is the founder of "DigitalDimensions4u." 
That's where you'll find so much information about blogging, social media, digital marketing and making money online. 
You can reach him at: 
http://digitaldimensions4u.com/
Ryan Biddulph is a professional blogger that has travelled the world for the past five years. 
He is a highly productive blogger who has also written over 120 eBooks on the topic.
His blog is amazing as he spends most of his time "Blogging From Paradise."
He'll show you how you can do the same…
https://www.bloggingfromparadise.com/
Sherman Smith and I go way back. 
His blog is what his tagline says:  "Helping you make the most out of the little time you have for your home business."  
It's really a valuable resource for all bloggers and online marketers.
You can check him out here…
http://www.shermansmithblog.com/
Sonal Talwar  is great to connect with to find out about health, fitness, nutrition, beauty and relationships.
You will find a potpourri of topics and information when you visit her blog…
Sue Bride has been on her blogging journey for many years. 
She can teach you so much about digital marketing – "Putting all the pieces together." 
There is so much Sue has to offer, you really should visit her…
Umesh Singh On his Curious Blogger blog, Umesh aims to teach people easy and actionable tips to generate leads and improve their website's credibility.
He also focuses on the many ways you can earn money on the internet. 
Connect with Umesh here…

So there you have it.
I urge you to connect with those you don't know.
I have  been around for a long time now and these are only 36 of Donna Merrill Tribe's loyal readers.
I know there are so many more of you, and I love you all.
You've all had a part in my awesome success here, so I really thank and appreciate each and every one of you.
As always, please leave your comments below.
Blessings,
-Donna