I'm going to share with you 3 Ways To Build A Massive Blog Following in the form of lessons from Jon Morrow of Smart Blogger.
I've been talking a lot, lately, about how important it is to build a community as the base for your business.
There can be a trillion people in your niche.
You might think you should be writing blog posts that will appeal to most of those trillion people.
But, I'm convinced, it's not so important what those trillion people want, as it is to connect with the 100 people on your email list.
Maybe it's 1,000 people.
We might be talking about 10 or 10,000 on your Facebook page, or 10 visitors a day to your blog site.
Think about YOUR audience.

Who is following you now.

What are their problems, challenges, dreams and passions?

That's your community!

You don't have to go find one, you've got one.
Your job now is to grow that community into a flourishing business.
I could give you my thoughts on this, but instead, I decided to turn to a real expert at building a community.
Jon Morrow is the creator of Smart Blogger, one of the top blogs in our industry.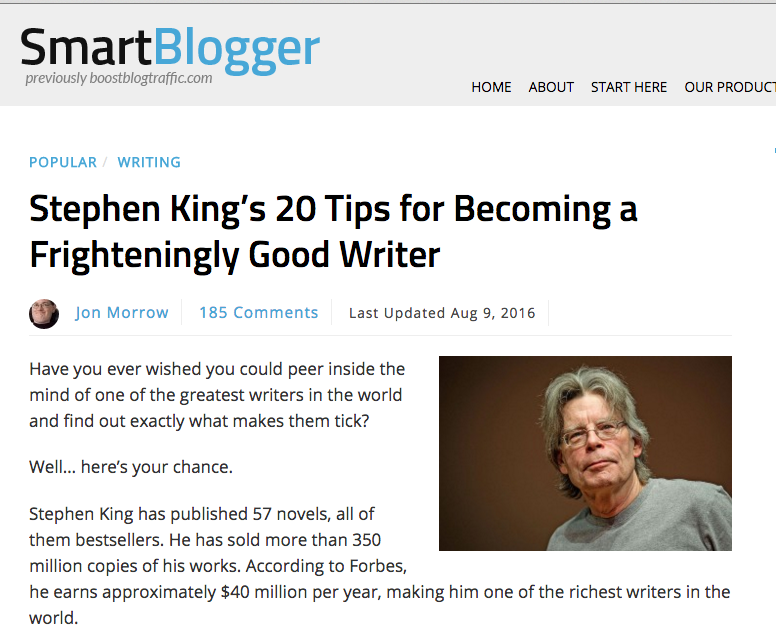 He knows a few things (as the commercial says)… because he's seen a few things.
His Facebook page has over 23,000 engaged followers ("likes").
Now, that's a community!
Here's the mission statement of his Facebook page…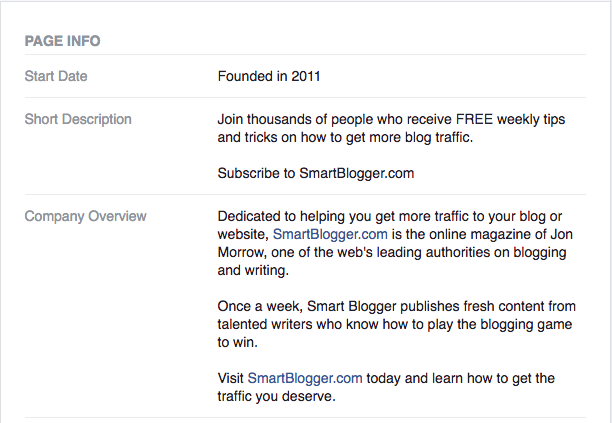 I think you get the point.
Jon knows how to move people, probably, I sense, because he's allowed himself to be moved by them.
Growth is reciprocal.
It's dynamic, not linear… a two-way rather that a one-way street.
Jon's got it all going, as you'll see right away when you visit his blog or Facebook page.
So, now let me share with you what I've learned from him about community building, and what I'm boiling down to this:
3 Ways To Build A Massive Blog Following
1. Get Over Your Self
One of the first things I've learned from Jon is that "it's not all about you."
It's great to have self confidence, and without it you'll get nowhere.
You want to be a leader, a teacher, a coach, an authority or an expert.
People must look up to you, I get it.
But pay very careful attention when Jon tells us that "The secret isn't getting. It's giving."
Sure, you want traffic, subscribers, sales.
Special: FREE Guide… 4 Things I Did To Build My Blog Using Only Free Traffic
You want a business.
But that's all about "you" isn't it?
Now, you probably want to know: how are you supposed to set goals to build a massive blog following without it being all about "you?"
Jon's answer is simple.
"By asking yourself this one simple question: How can you give people an experience so life-changing they will feel indebted to you forever?"
That's what will really drive your business.
Not your "information" or "wisdom" or "knowledge."
Those are things you have.
Building a loyal and raving following is about giving up those things.
Hand them over to your followers.
"Create content so incredibly good," Jon continues, "that people feel indebted to you."
The result will be their loyal to you, and their eager sharing of everything you do.
That's what we once called (old school)… word of mouth.
I think they call it social proof, now.
Either way, Jon's advice here is clear.
Get over yourself, and give of yourself to those you want to follow you.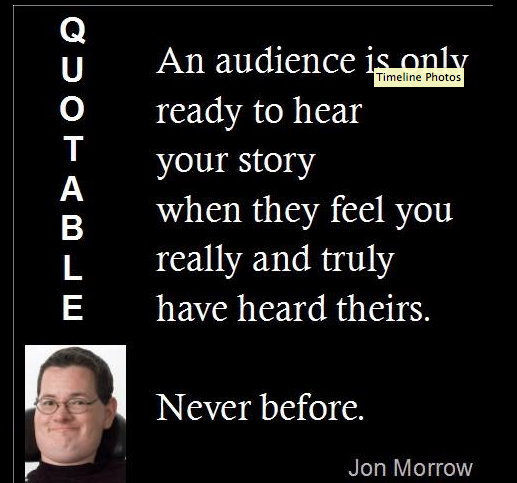 2. Seemingly Pointless Stories
Another really cool thing I learned from Jon is to spend some time "off-point" with people.
Note: You're writing your blog for "people" right?  Not "readers" or "visitors" but people.
Treat them like people and they'll look to you as someone they want to spend more time with.
So, here's the way Jon frames the point.
"Some people tell you a story always needs to have a point, but I disagree.  Sometimes, you tell a story with no other purpose than bonding with your audience."
Don't always be lecturing people.
Don't always be informing, teaching and coaching.
It's like the guy at the party that keeps telling everybody how smart he is… and of course, he ends up talking to the catering staff because nobody else is listening any more.
Special: FREE Guide… 4 Things I Did To Build My Blog Using Only Free Traffic
Instead of always coming up with some stellar lesson, or erudite perspective on the nature of everything… get real.
"Ask yourself," Jon suggests, "What have you experienced that your reader has also experienced but cannot put into words?"
Now your task is clear.
Write a story about it.
It doesn't need to have anything to do with your niche or your authority subject or anything at all other than… it's a story that helps you bond with people because you've revealed part of your humanity.
Stories are wonderful ways to engage and bond with people, not because they have a point, but because they are pointless.
This puts you on a common ground of feeling and emotion and familiarity with people.
Those are the very psychological foundations you must set to build a massive blog following.
They are the essence of any community.
3. Master "The Formula"
Jon talks about copying success formulas.
The best compliment you can pay your competition is to copy their success.
One of the things he learned was that the surest way to successfully communicating with people, is to carefully follow a proven formula.
Talking about writing list posts, he notes how they're popular to do because they follow a simple to follow formula.
Just make a list of things to talk about and then fill in a paragraph after each number on the list.
"It's like making a Caesar salad," he says.  "It's not complicated to prepare, but…"
and here we get to the heart and soul embedded within the formula…
"the quality of the lettuce and dressing," he continues, "are going to make or break the salad."
So, sure, go ahead.
Find the top bloggers in your niche and imitate them.
Don't "copy" them, but imitate their style, their flair and mostly… their "formula."
After all, you know the formula works.
Now, you have to give it some real high quality "lettuce and dressing" in order to inspire people to follow… not a formulated recipe… but follow you, because of who you are, what you are saying and doing, and mostly… because of how their lives can be improved by being part of it all.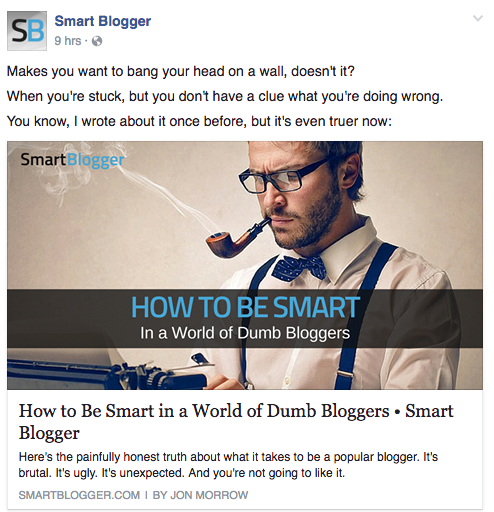 Where will you build your massive blog community?
On your blog, of course, but by extension, that could include your Facebook page, your email list, your coaching program, or your information course.
It's not so important on what platform or in which format they follow you.
It's only critical that they do.
That's how you build a massive blog following.
Special: FREE Guide… 4 Things I Did To Build My Blog Using Only Free Traffic
I have learned a lot about building a massive blog following, not just by what Jon has written, but by how he has built his own business, and how he operates it every day.
I hope you have learned, too, from these 3 Ways To Build A Massive Blog Following from the sage teachings of one of the true masters of our industry… Jon Morrow of Smart Blogger.
I'd love to have your questions and comments below, and of course, I'm always excited to see your social shares.
-Donna