This post was most recently updated on November 21st, 2016
Learn How To Write A Roundup Post To Drive Traffic and Build Blog Engagement, and then make it happen.
If you're not quite sure what a roundup post is, or how it can help your blogging business, then this article will be a big help.
I've written before about methods for driving free traffic to your blog, and this is one method that ranks near the top.
I've also written about how to build engagement on your blog, and again, writing a roundup post is one of the best ways to do it.
So if you want both benefits… traffic plus engagement, consider writing a roundup post.
People have been asking me, "What is Roundup Post?"
So, I came up with two answers.
Here's the quick answer.
A "Roundup Post" is when you round up or gather a group of people or ideas, typically other bloggers or thought leaders in your niche.
You round them up for the purpose of discussing the topic of your "roundup post."
Beyond that, though, it gives you an opportunity to showcase, or introducing them to your readers.
Here's the more difficult (but more instructive) answer.
I did my very first roundup post last week on this blog.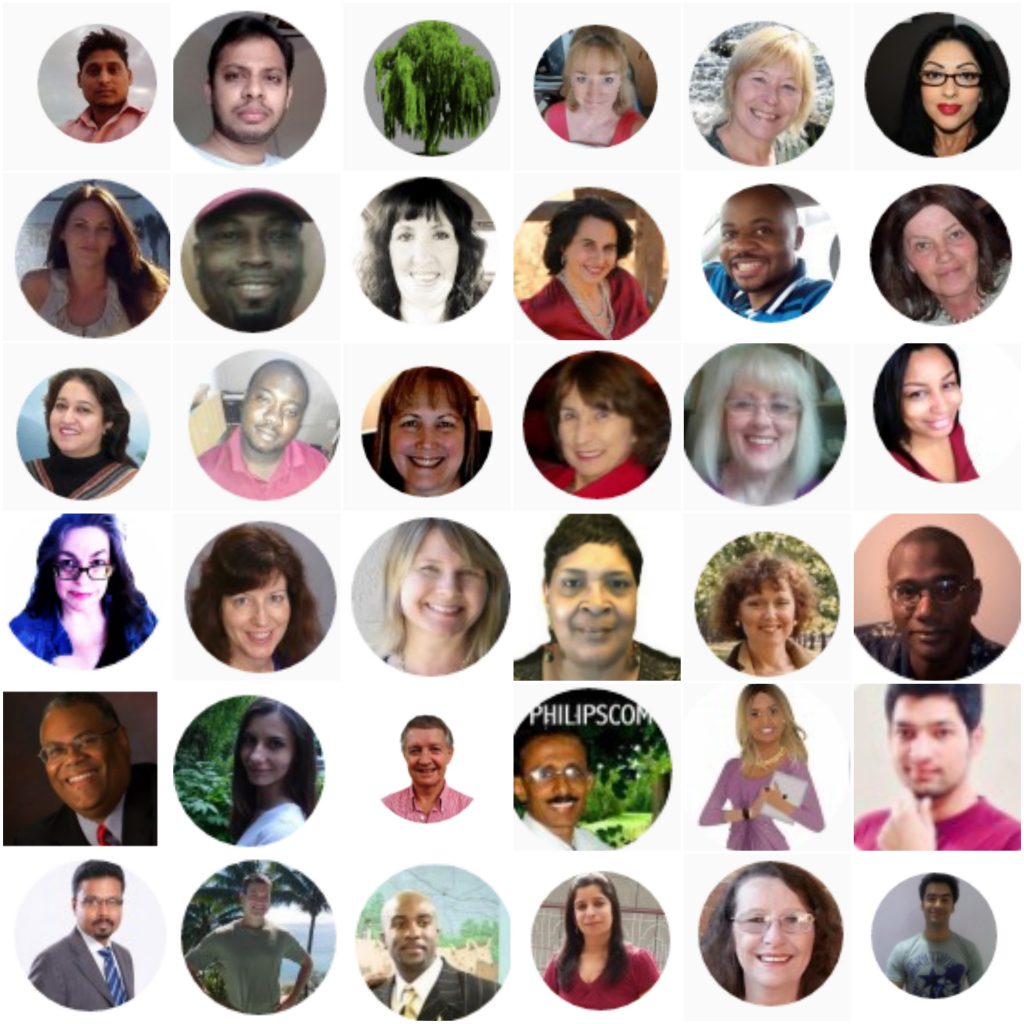 You can take a peek and it will show you exactly what a roundup post looks like.
Keep in mind, this is a particular type of roundup post, which you'll read about a bit more down the page.
There are other types.
I'd like you to look at that blog post before you read the rest of this because it will make it all so much more clear.
Hands on.
Real world.
A picture's worth a thousand words.
Yea, all of that.
Why Should You Do A Roundup Post?
People do Roundup posts for many reasons.
Often they do them to create buzz and recognition for their blog.
They use them as a way to create good will with other bloggers and influencers.
In other words, it gets them noticed, and on the radar of folks they'd like to hang with.
Maybe not their favorite movie star, or anime character…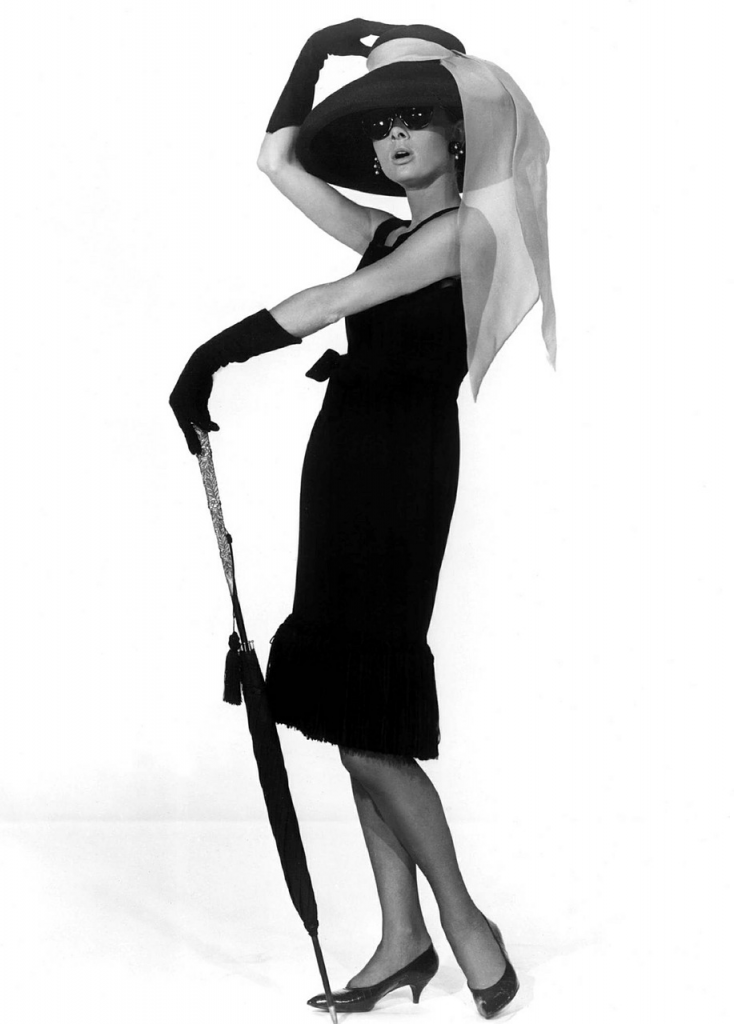 …but other bloggers anyway.
By far, the most important reason that you wanted to do a roundup post is to drive traffic to your blog.
Not Only Traffic, But New Traffic
When you blog regularly, you typically see the same people over and over again from within your crowd.
But when you do a roundup post, your traffic grows exponentially.
That's because each person who participates in your roundup post, will share the article with
all their readers,
people in their social networks,
friends,
followers, and of course,
candle-stick makers (really?).
That means that not only your usual crowd will be reading your roundup post, but you'll get visitors that you don't even know.
That's because their friends will drop by…
and the friends of the friends…
and that grows the amount of traffic to your blog immensely.
Who Should You Include In Your Roundup Post?
I think one of the mistakes bloggers often make when they do their first roundup post, is it they just want to get a whole lot of people involved.
Anybody… everybody.
Or, at least, anyone they think will contribute.
But it's not just a matter of getting a whole lot of people.
You need to be a bit more strategic in designing your roundup posts.
Roundup Your Crowd
Now a great method is to simply feature your followers.
That's what I did in my first roundup post.
When you include your followers what you're trying to do is to get their friends and followers to be introduced to your blog, often for the first time.
But it's a two way street.
You also want your readers to go check out the blogs you feature because that will increase traffic to their blogs, and make them even more enthusiastic about following you in the future, as well as participate in future joint ventures (like roundup posts) with you.
This will certainly improve the traffic flow to your blog.
Moreover (I love starting sentences with that word, seems so smart of something)… Moreover, it will come with a hearty recommendation from the roundup participants, because they already know, like you and trust you.
They will pay forward (another cool quip) this know-like-trust thingee to their readers and followers.
So not only are you getting new traffic, but you are getting high quality, well targeted, people to your site who have probably never been there before.
Don't forget, too, that they come on the personal recommendation of one or more of the people who participated in your roundup post.
Roundup Some Experts
Another strategy is to center your roundup blog post around experts on a certain topic, or experts in your niche.
Now, it's likely that these experts do not know you very well, if at all.
So you won't have as much of a personal recommendation from them as you will with your own followers.
On the other hand, they will usually have a much larger following, and therefore probably drive even more traffic to your blog than your regular followers.
Including experts can also do a great job of enhancing your personal brand.
Hussain Omar recently did a wonderful expert post that had rave reviews, page one Google ranking, and brought him tons of social shares.
It's a perfect example of what an expert post should look like…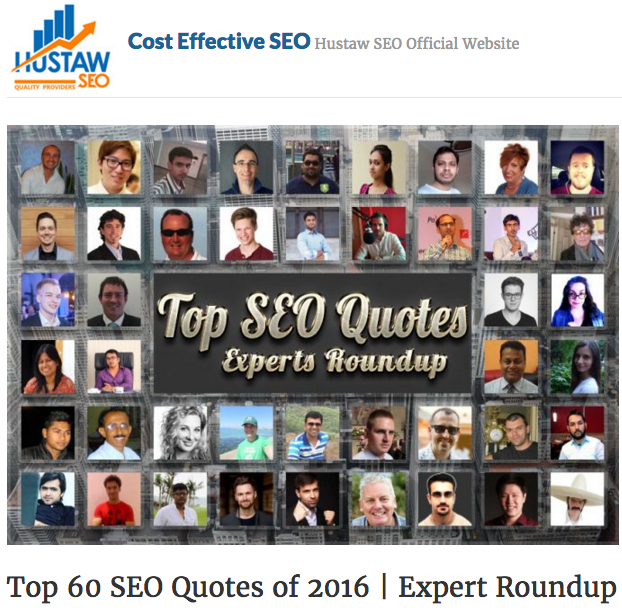 When people see you rubbing shoulders with experts in your industry or niche, they will tend to think of you as more of an expert.
I guess we could call that "expert by association."
Oh yea, let's make a retweet for that one…
Roundup Brand Reps
Another group of people to include in your roundup post would be brand representatives or owners.
Brand participants will be associated with particular products, maybe software or specific systems or tools that people in your niche use.
If you're a social media blogger, for instance, you might like to include a rep from Hootsuite or Follower Wonk.
Your audience will probably already be familiar with those brands, so it will lend credibility to your own brand.
Brands will offer to have their spokespersons participate in your roundup post because they want to increase the visibility of their brand, just like you would use experts to include to increase the visibility of your own brand within their social networks.
One hand washes the other, right?
Another nice thing about including brand reps is that in a break-away or follow-up blog post, you can do reviews about those brands that you affiliate in order to increase the revenue of your blog.
If you don't know any brand representatives, it's not a bad idea to start following their blogs.
Most brands now have blogs on their websites.
Leave some comments, share their blog posts, "friend them" on social sites and basically, just get to know them.
Invite them to tea 🙂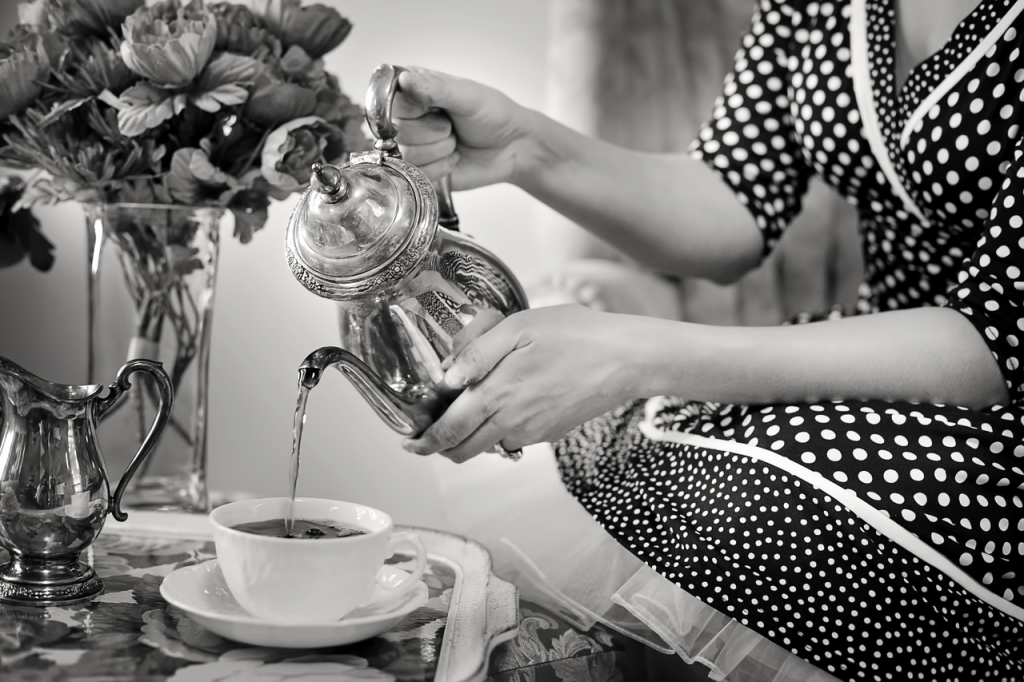 After a while, you can ask them to take part in your roundup post.
By that time, they will know who you are and they'll be much more likely to get involved.
What About The Content, Itself?
What should your roundup post be about, or focus on?
There are usually two general choices to make here.
One delivers information.
The other builds relationships, engagement or community.
Information Posts
Roundup posts that include information might look something like this… "48 experts tell you how to get traffic to your blog."
If people are interested in getting new traffic to their blog, they are looking for information.
That information can be extremely valuable to your readers.
Information is probably the most common type of roundup post because it addresses a major concern.
It often solves a typical problem your readers have, as in the example I just used.
People need more traffic to their blog… that's a problem for them.
You bring together "48 experts" to inform them of ways to do that.
Your roundup post just became a solution to their problem.
They like that, and will share 🙂
Relationship Posts
Building relationships is also a great way to deliver your roundup post.
The purpose here is to build up an relationship with the people who visit your blog.
What you're really doing, is building community, and including new people in your growing blog community.
You are also building engagement.
When you use the relationship as the basis for your roundup post, you are going to start connecting on a deeper level with people who have just discovered you for the first time/
Building a relationship with them right off the bat, will greatly enhance your ability to get them on to your email list, get them to join you on Twitter, be your Facebook friend and all that sort of thing.
People always like to feel like they're part of a community.
Use your roundup post to accomplish that feeling.
Instead of giving your readers information, ask your post contributors to answer engaging questions like "What was your greatest challenge as a newbie blogger?"
This gets your contributors to open a conversation with your readers.
How Long Does It Take To Write A Roundup Post?
Well that depends on how many guests you have, what your topic is, how tight you are with your prospective guests, and how organized you are with your follow-up system.
I don't mean to tell you that it's a big hurry to get your roundup post published, but on the other hand don't get stuck doing what I see so many bloggers do…
They think and over-think the process.
The result is predictable.
The roundup post just never happens.
Once you have your participants lined up, give them a short deadline for responding to your question.
This will motivate them to take fast action.
Don't for instance, tell them that you need their answer 3 weeks down the road.
Many of them will forget it and you will have to reconnect with them all over again to remind them that you have a roundup post coming up.
Preferably you will contact them once to ask them to participate, and as soon as they say "yes"… you will give them something like a 24 hour deadline for submission of their answer to your question.
Once you have collected all your responses, just get the blog post written.
Don't make it perfect.
Again, I've seen so many bloggers collect information and then drag their feet on the project because they wanted to make sure it was perfect.
Newsflash… it isn't going to be perfect.
Moreover (ha)… it doesn't have to be perfect.
It just has to get done.
In my roundup post, for instance, I didn't have the proper plugins to help me embed images with text wrap-arounds.
So, I didn't have a photo to put next to the bloggers I included.
That's not a good way to proceed.
However, I did proceed because I strongly believe it's better to get something done then to wait for it to be done perfectly.
Hopefully, the next time I do a roundup post, I'll have my act together a little more and it'll look a bit spiffier.
But looking spiffy is not the goal… Publishing your roundup post is.

Now You Know: How To Write A Roundup Post To Drive Traffic and Build Blog Engagement
So, I'd like to ask you 2 questions.
1. Have you ever written a roundup post, and how did it go?
2. Are you ready to tip your toe in the water and write your first roundup post?  (and what concerns might you have about doing it?)
I'd love to have you leave me a comment below, and of course, you've just got to share this article on your social sites 🙂
-Donna