Did you think there was a magic formula, that if you followed it to a tee, you could become a successful blogger?
You won't be surprised for me to tell you there is no such formula, will you?
First, let me bust that little bubble for you.
There is no magic formula you can follow, step by step, and expect to duplicate somebody else's' success.
But there's good news, too.
It's not really such a complicated thing to become a successful blogger.
I'll show you right now:
3 Crazy Simple Ways To Become A Successful Blogger
Notice, I said "simple" … not "easy."
So, the day to day stuff may be a bit of a chore, especially when you've got to learn something new like coding your WordPress widget or getting your video to autoplay when someone opens your landing page.
Yea, there's technical stuff.
In fact, you'll probably have to stare down new obstacles every day.
And because your head is spinning in so many different directions, you find yourself half way through one thing when you decide to start another.
You see, this whole business is simple IF you let it be.
It's all a matter of whether or not you've got your head on straight, and your heart ready to follow.
So, let's talk about getting your head on straight.
Meet Marquita Herald
Marquita Herald is a pro blogger that I had the pleasure of interviewing on the topic of breaking through those invisible boundaries and often very evident obstacles that stand between you and your blogging success.
Why don't you start by listening to this short (20 minutes) interview I conducted with her…
Now you can see that Marquita has her head on straight.
She knows what she wants to accomplish, she plans her success, then implements it with skill and persistence.
She has run her own very successful blog for some time now.
It focuses on helping people stay focused on their goals for achievement, no matter what obstacles arise.

I'd like you to click the image below and visit Marquita on her blog, Emotionally Resilient Living.

3 Crazy Simple Ways To Become A Successful Blogger
Marquita talked about the fear of finishing what you start.
Well, she's right on target with something that most bloggers experience from time to time.
It's called a roadblock, an obstacle or a hurdle.
It's a challenge.
You can either let yourself get stuck when you run up against these obstacles, or you can just put your head down and go right through them, or around, under or on top of them.  Do it your way.
But get past them.
If you don't you'll never become a successful blogger.
Here are 3 ways to make sure you don't "stay stuck."
This simple plan of action will break through the obstacles you will run into.
3 Crazy Simple Ways To Become A Successful Blogger
1.
 

Plan Goals You Can Reach

I know you've been told to "set goals."

When you set goals that "reach for the stars" (another thing you've been told to do), though, you often set yourself up for failure before you even get started.

Why?

Because when you reach for the stars, are you really going to grab them?  Really?

Sometimes.

Maybe 10% of the time, even, only because I'm being charitable.

Obviously you will fail 90% of the time.

I know…
failure is good
failure is a stepping stone to success
failure means you're one step closer
embrace failure
etc
Break The Failure Habit
But failure can also become habit forming.
Learn to break through obstacles consistently and effortlessly by simply getting in the habit of succeeding.
Flip the script.
Train yourself to succeed 90% of the time and only fail 10%.
So, when you set goals for yourself, you can reach for stars with your 5-year plan or even 12-month plan if you want.
But then chunk your goal down into smaller, 30 day and 7 day sub-goals, or tasks or whatever you want to call them
Those MUST be attainable.
And they MUST be attainable according to strict deadlines.
So if you say that your "reach for the stars" goal is to have the best fashion blog on the face of the planet in 3 years, or 1 year… fine.
But your 7 day chunk must be something concrete and doable.
Something like, record a 3 minute video each day this week and post it to Instagram.
That's not a 7 day job, but it's ONE thing you can complete on schedule
Add other tasks to that one to fill up your 7 days, focusing always on your big goal of building the best fashion blog.
2.
 

Persistence

Now, here comes the biggie.

Persistence.

Stick to your work schedule each and every day.

Don't work 14 hours Monday, 3 on Tuesday, 8 on Wednesday, 1 on Thursday and 10 on Friday.

Whatever those hours add up to (I really don't want to open my Calculator app right now)… divide it by 5.

That's how many hours you need to work every single day.

When you do that, you will accomplish your step by step, day by day tasks and more importantly…

You will be training yourself to be successful because you keep succeeding at task after task, day after day.

You just don't build failure into the equation.

It will happen from time to time… but 10% instead of 90%.
Create A Success Habit
This is how you establish the habit of
completing things you start,
moving steadily forward no matter what, and
crossing the finish line.
Now you are developing yourself into a successful entrepreneur who is persistent, handles obstacles effortlessly instead of in a panic, and can easily put occasional failures into the context of a largely successful week, month, quarter and year.
Editor's Note:
Once you start implementing your plan, do it every single day… without fail.
3.
 

Focus on Your Audience, Not Yourself

The third thing appears to be the easiest, but you have no idea how many bloggers I work with who keep slipping off the curb on this one.

It's so easy to say, "I blog for my audience,"

But do you?

Do you really?

Make it a habit to ask yourself, every time you offer an affiliate product, or how-to instruction… every time you tell a story on your blog… ask yourself how it all boils down to improving the lives of your readers.

If you can honestly say it does, then you're on the right track, and you will certainly find the success you're working so hard to achieve.

If you find, though, that a lot of what you're doing is helping you, making your blog more popular, earning your commissions, getting you a lot of social media buzz or whatever… if you find that a lot of what you're doing isn't really addressing the concerns that your audience has… stop it!

Get back on track.

Always focus on helping others.

In the long run, it will help you to become a successful blogger.
3 Crazy Simple Ways To Become A Successful Blogger
I want to thank Marquita for the wonderful interview (click on the above video).
Listen to it carefully and you'll have the foundation for success.
Then implement each of the 3 Crazy Simple Ways To Become A Successful Blogger, and you're on your way.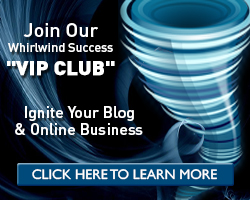 I'd love to hear what you have learned here today from both Marquita and me about becoming a successful blogger.
I am also interested to see if you have some of your own suggestions to add.
Leave me a comment below, and remember to kindly share this article on your social sites.
-Donna