An often overlooked issue in our industry is that of functional and inspirational workspace design for bloggers.
Is your home office or workspace conducive to your blogging creativity and productivity?
Many bloggers just take for granted that the space they are working in is limited to whatever it just happens to be.
But you don't have to be limited to "what is" do you?
How about trying "what can be."
Here's the thing…
Working from home can have many distractions for bloggers.
It isn't as easy as many people think it is.
We need to ask ourselves the question of how our home offices contribute to our productivity needs.
One thing to keep in mind is that bloggers do not all have the same requirements when it comes to workspace that is conducive to creativity.
That's because bloggers all have different personalities and styles.
Let's consider some of these.
The Minimalist
A home office needs to be neat and free of clutter for the minimalist blogger.
A clean desk and some office furniture will suffice.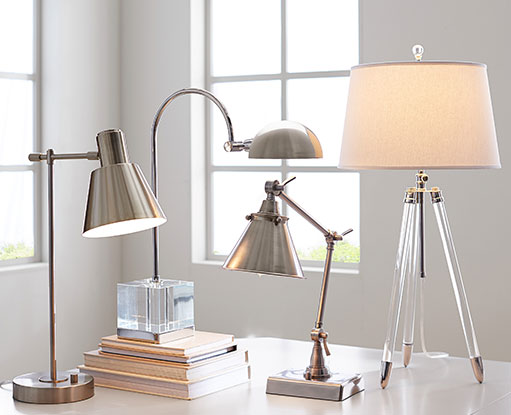 Image Source: blog.potterybarn.com/
Anything that doesn't belong there will be distracting, thereby decreasing productivity.
A nice streamlined couch and chair would be a perfect added touch for her to take a break kick off her shoes and relax.
To be productive, she cannot work without taking periodic breaks.
She sits back, looks around the room. and is soothed by that perfect blend of colors.
It gives her pause to take a deep breath, finding peace and calm in an otherwise hectic day.
The Collector
Maybe you are one of those bloggers who loves to keep every book you have ever read.
You have memorabilia from athletes, entertainers, family or to just about anyone or anything you love.
As a collector, you will be happy to be greeted when you enter your office, by a sea of papers and cluttered walls, even stacks of books piled high in a lonely corner.
It might overwhelm and confuse another blogger, but you're a collector.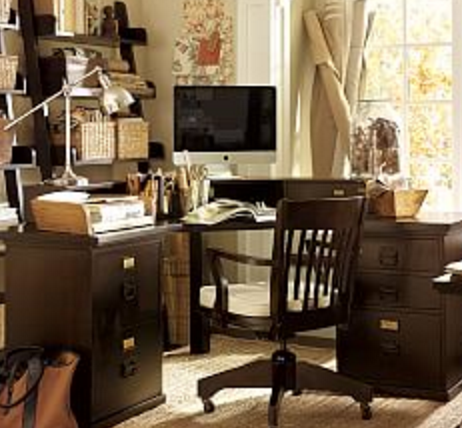 Image Source: www.potterybarn.com/
You can concentrate better and produce more effective work in the sea of clutter you've created.
The collector loves to gaze at all the books she has read in her life.
She will take a break from her efforts and dwell on happy memories provoked by the memorabilia she has collected.
Then back to work she goes.
The Juggler
Are you a juggler?
Many bloggers are stay at home parents who need to juggle childcare, home keeping, yard work and errands along with their work from home responsibilities.
Oh boy… where oh where can she go to find a place to work?
Maybe that extra mother-in-law room can be turned into an office space.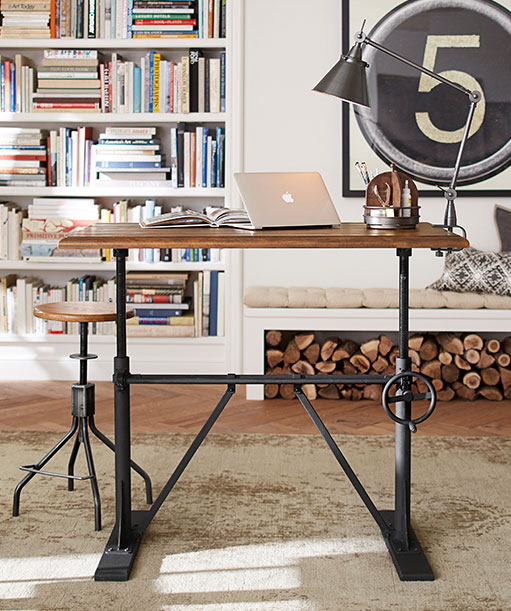 Image Source: blog.potterybarn.com/
There could even be a desk with a futon within reach to relax on… cool.
When mother-in-law comes over to visit, just open the futon up and there is a bed all ready for her.
The Juggler needs to slip in and out of her office and work in "productivity chunks."
The City Slicker
Picture a building in New York City.
The space is tiny so everything must fit just right in order to have a small desk facing the window overlooking over the street view.
The City Slicker blogger may work on her blogging business within a limited amount of space, but she still needs a highly functional, designated spot to run her home-based blogging business from.
She can take breaks and gaze out her window for some open space and fresh ideas.
Ah, that desk fits just right against the window, allowing her to turn her back on the distractions of her otherwise tightly packed apartment.
No window space?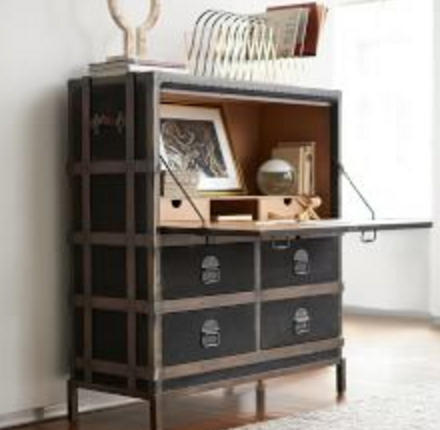 Image Source: www.potterybarn.com/
Facing the wall or even a quiet corner works to put some distance between yourself and visual distractions.
The Beach Babe Blogger
Whether on the beach or not, this gal needs to have an office that screams ocean.
It is decorated with a beach motif because that is what soothes and keeps her at peace.
A nice window with plenty of light coming in gives the illusion of staring out to the sea until the horizon disappears.
Different shades of blue and green adorn her home office.
The furniture is rattan …something a beach property would showcase.
As she gets up from her glass desk, she will pace up and down with eyes shut smelling the ocean (or even an ocean-scented candle).
This perfect office environment gives her incentive and insight.
It affords the beach babe blogger the focus she needs for creativity as well as productivity.
The Star Blogger
Want to be a star blogger?
You just might like to imitate some of the celebrity workspace tips I've recently discovered.
You never know…
Some of that "star" magic just may rub off on you 🙂
Workspace Design For Bloggers
Bloggers are well advised to be authentic in their content, and to build deep relationships with their readers.
They are also well advised to be true to themselves and connected enough to their feelings to design the kind of space that they are most comfortable with, and is most conducive to their creative impulses.
Remember, bloggers, when you design your "work" space, you need to be mindful of the "break-away" space you'll need, too.
Helpful Tip: Take a few moments to learn the basic elements of designing your own workspace.
Blogging is an intense activity and the recess from your creative efforts is as important as your productivity.
It's a time to relax and enjoy your environment, but also a critical period of rejuvenation.
Working from home can be something that slows you down if you are not in touch with who you are.
In order to be productive, you must create a space for yourself where YOU know you can perform to the best of your ability.
This will be a place where you can truly focus and create… whether it is an entire room or just a scented candle in the middle of the kitchen.

So, what kind of workspace do you have?
An office?
A kitchen table?
A corner desk?
What kind of Workspace Design For Bloggers works for you?
I'd love to have your comments below, and of course, I double-love it if you'd share this article on your social sites 🙂
-Donna