This post was most recently updated on July 30th, 2019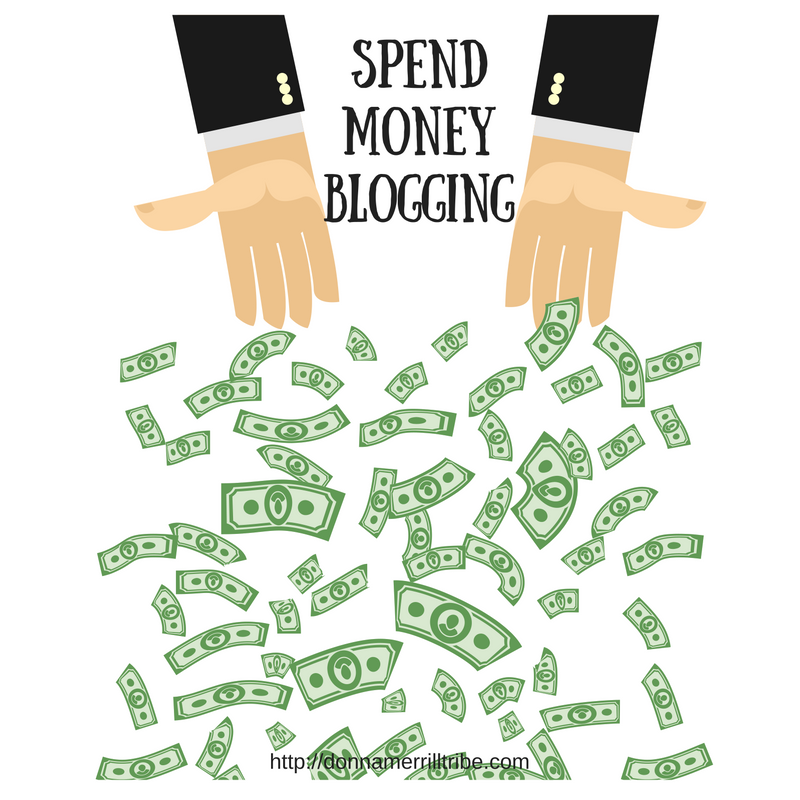 I am going to twist things around a little bit and ask you "how do you spend money blogging?"
The more common question, of course, is "how do you make money blogging?"
Many of my clients want to know how much money is it going to cost them when they first start blogging.
That's always an important question.
But the big one is "how do you make money blogging?"
In fact, that's a question I get all the time from my email subscribers, students and readers.
But I always change the conversation.
One of the things that will determine how you make money blogging, I explain, is how you will spend money to set up your business.
In other words, "how do you spend money blogging?"
So let's talk about what kind of financial investment is involved in starting your blog, in maintaining your blog and even in raising it to a new level.
How Do You Spend Money Blogging?
Blogging For Fun
How much money you invest in blogging depends largely on what kind of blogging you want to do.
If you're just a casual blogger, then you certainly don't want to spend too much money.
You might be better going with one of the free blogging platforms like Blogger or Tumblr.
With a free platform, though, you won't own your blog because it's hosted on somebody else's site.
You have to, therefore, obey all their rules.
One of those rules is usually that there's a great limitation on the kind of commerce you can conduct with your blog.
The free platforms usually ban you from selling products or services, or embedding affiliate links into your articles.
If you're just a hobby blogger, though, this shouldn't matter to you.
Blogging For Profit
Let's focus on those people who do want to make money blogging.
If you're in this group, you will certainly need to invest in different aspects of your business.
The problem is that a lot of bloggers don't expect to spend any money on their business.
They want to know how they can spend as little as possible on their business.
I don't know why this is, maybe because they're on the internet and they think that everything on the internet is free.
That's not true.
If you're not willing to invest in your blog then you probably are not going to have a very successful business.
Instead of focusing on spending as little as possible, think of spending as much as possible.
Why?
If you spend very little on your blogging business, you'll probably profit very little.
If you can find ways to spend more, you'll profit more.
Generally speaking, the more you spend, the more you will probably prosper.
I know bloggers who think their biggest achievement online is that they never spend any money.
That's certainly no way to run a business, and of course, the bloggers I know who think that way don't earn hardly anything at all.
Laura Williams, writing for Jon Morrow's Smart Blogger, warns bloggers to get clear on just how serious they are about blogging, and to what extent they are willing to invest in their business…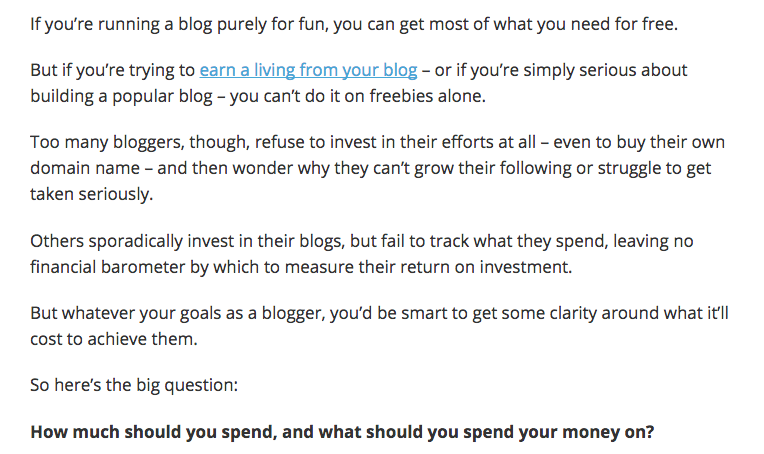 So get some clarity.
Know what level of risk and investment you are prepared to undertake in order to fund your dreams of running a successful blog.
Invest wisely.
Invest purposefully.
Have a plan for investing.
Write out a list of things that you're going to have to do to build a blogging business.
Line by line, write out the cost of each item on your list.
Give yourself a budget.
How much will you spend per month, or per quarter or year to sustain and grow your business?
Budget a specified amount of money that you can afford, that won't make you fall behind in paying your rent or your car payments.
Budget funds that you can reasonably use as seed money for starting your blogging business.
If you've been blogging for a while already then consider how much money you'll spend this year on growing your blog to a new level of success.
The point is to have an idea of how much money you are going to spend.
Plan on it.
Then, just let go.
Don't hold on to your money.
Don't try to economize on everything.
Don't look for free free free.
That's the best way to condemn your business to failure right from the start.
Remember this…
So what should your budget look like?
You'll have to decide that for yourself, of course, but let's see how you might go about this.
Harsh Agrawal of ShoutMeLoud is certainly a very successful blogger.
This is how he describes his budgeting process.

Now, I personally think this is a great way to go about budgeting.
Harsh shows you right from the beginning that if you're starting a blog you need to plan on making an initial investment.
He suggests that $100 to $1,000 is what you need to get your blog up and running.
Once you're making money with your blog, then you can take 40% of that profit and put it back into your business.
So what would you invest in once you're are actually running a successful blog.
Well, as Harsh suggests, your budgeted investment will go mostly to tools and services.
Now I know some bloggers think that it's wasteful to always be out there spending money on the latest software, the latest tool, the latest automation service for social media… and so forth.
All those things are just shiny objects, they tell you.
If you keep "falling for" all those shiny objects then you suffer from what they call the shiny object syndrome.
But if you accept the wisdom of putting 40% of your income back into your business, then you NEED to look for the right way to spend that money.
Here's the thing…
Many of these so-called shiny objects are not shiny objects, they're helpful objects.
They could even be essential objects.
They only become frivolous shiny objects if you don't know what you're doing.
You can't be buying tools and software and services that you really don't need or that you're really not ready to use.
A big part of running a business is to know when you need to upgrade your tools and services.
When you do, then you should spend the money.
Holding back because you believe in spending as little money as possible is a fool's errand.
You'll save money at the expense of starving your business.
That's why you need a sensible and pro-growth budget.
It gives you permission to spend a portion of your earnings.
It's called business investment.
What's Your Overhead?
It's called overhead.
People don't like overhead.
They think they have to reduce overhead.
If you're thinking along those lines then you're setting the groundwork for destroying your business.
You should be thankful to have overhead.
Overhead means you have systems and tools in place that can help you grow your business faster and bigger.
As you profit more and more, you should seek to increase your overhead… not decrease it.
Spending wisely means growth.

Keeping your profit in the bank means stagnation.
It Takes Money To Be Taken Seriously
I consider Ryan Biddulph (Blogging From Paradise) to be one the premier bloggers in my particular niche… blogging and online marketing.
I've known Ryan for years and have watched him develop his business into something really special.
He's not wasteful and he's way beyond "falling for" shiny objects.
Yet, here's what he says about investing in his business.

While we've all heard that "it takes money to make money"… the more accurate way of saying this in terms of your online business, Ryan tells us, is that "it takes money to be taken seriously online."
You can see that Ryan is not shy about the fact that he has spent thousands of dollars on his business.
That's not a bad thing.
In fact, that's a prudent thing.
In fact, it's a necessary thing if you're going to have a business.
Any business – offline or online – has a balance sheet.
There are expenses and there is revenue.
Without expenses you don't have a business.

As your business grows, your expenses grow.
You don't grow your business to a certain point and then say "things are going great now, so I'm going to cut back on my expenses."
That's the wrong kind of thinking.
As you cover your expenses and make increasing profits then you should be increasing your spending.
So, really, this is a good thing.
It's only bad if you're throwing good money after bad.
Don't be spending money on a business that is not bringing in money.
Don't be spending money on a particular strategy, tactic or campaign that is not increasing your profits, either directly or indirectly.
You can do this for for a while to get things rolling.
But if you've gotten to the point where your blogging business is going smoothly but not profitably, then slow down on the spending.
Focus, instead, on whatever it is that's stalling your business.
If everything is going well, though, and your profits are getting higher all the time, then plan out a buying schedule that can expand your growth and increase your momentum.
Look for the smartest ways to spend money for tools, services, coaching/consulting or anything else that will help you drive your business to the next level.

How much money do you spend on your business?
Are you prepared to spend more as your business grows?
Do you feel guilty when you spend money on your business?
Do you believe the better you are in business, the less you will spend?
Do you like spending money in your business, even though your profits don't justify it?
All these things are important considerations in deciding how much to spend on your blog.
The key, though, is before asking how you can make money blogging, you must ask…
"How do you spend money blogging?"
I'd like to know.
Please leave a comment and tell me what your spending habits are in running your blogging business.
I love reading your comments, and of course, I'd also love it if you'd take a moment to share this article on your social sites.
-Donna