This post was most recently updated on July 7th, 2017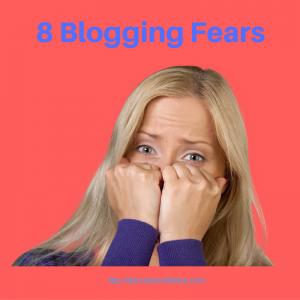 I've identified 8 Blogging Fears You Can Overcome when you understand how.
Are you letting any of these fears block you from building a spectacular blogging business?
Isn't it time you overcome these fears and unlock your full potential?
Now, I'm sure there are blogging fears other than the 8 I've chosen to talk about.
But these are some of the biggest ones that I hear from my blogging clients.
If you are a new blogger, or even an experience blogger, you may very well harbor some of these fears.
So, let's see how to address them so that you can overcome them.
Blogging Fear #1
I Need Tons Of Traffic
Almost every new blogger will tell me that they are afraid that they can't get traffic.
This is probably the most common of the 8 blogging fears.
If this is one of your fears, it's probably because you think that you need "tons of traffic."
People sell courses, record videos and write blog post about how to get tons of traffic.
Because you see all this chatter, you may think that you need tons of traffic.
But, you do not.
You just need very well targeted traffic.
You need only to tap into a small crowd of people who really like what you're doing.
This is the crowd that is happy to come back to your blog over and over.
Because they do, they get involved, comment and share your blog posts.
These are your most devout readers.
Because of their commitment to what you do, they lead the way for others to follow them onto your blog.
So, don't be afraid that you might not be able to generate tons of traffic.
Share those articles within a small, well-targeted circle of people who want and need those solutions.
Because they need their problems solved, they will value the information you publish.
This will open the door to steady traffic flow to your blog, which will build increasing momentum over time.
Blogging Fear #2
Put Ads Everywhere
Did you think you need to put ads everywhere on your blog in order to monetize it?
You've probably heard that one of the best ways to make money on your blog is to sponsor ads.
When people buy from the ads, you receive a commission.
That is a decent model for building revenue from your blog.
Still, I don't believe that it's the best one.
It's far better to use your blog to help people solve their problems.
When you get your readers involved in what you're doing to help them, you begin to build trust with them.
Once you've done that, you can get them to join your email list.
You can introduce them to your products, services or even to your affiliate products and services.
This is a far better way to monetize your blog than simply plastering ads up everywhere.
So, if you're afraid that you don't know how to get sponsored ads on your blog, don't be.
You don't need them to monetize your blog.
And further, you may be better off without them altogether.
Tons of ads on your blog simply tell people that you're desperate to get their money.
They believe that your focus is on selling and promotion rather than on sharing top and valuable information with them.
Blogging Fear #3
Create My Own Digital Information Course
Have you heard that the only way to make money blogging is to create your own information or training course?
Yes, I'm sure you have.
And so now, you're afraid that you must learn how to do videos, or write tens, even hundreds of page of content.
You fear that it's going to take you weeks, maybe months to do.
Then you will have to promote that course.
And worse yet, what if you do all that work and nobody buys your training or course?
How do you get affiliates to promote it?
No, I'm not going to tell you that creating your own course it is a bad idea.
I've created dozens of them myself.
They certainly help to enhance your authority and build trust with your readers.
They also pull buyers into your sales funnel.
While all this is true, it is still not necessary to build your own course.
You can be very successful blogging by affiliating other people's courses, strategically and consistently.
If you want to create your own course, then that's great.
But on the other hand, if you're afraid to do it, just know that it's not essential.
If you're afraid, but still want to do it anyway, I've outlined some very simple products you can build pretty easily.
Blogging Fear #4
Run Paid Ad Campaigns
Are you afraid to run paid ad campaigns?
I'm talking about Facebook ads and other PPC (pay-per-click) models.
Your paid campaigns might also include media buys, solo ads and other types of advertising.
I'm a big believer in paid ads.
I think there's no faster way to build a business than to pay for well targeted ads.
And they can bring the right people into your sales funnel.
However, you do need a budget to run ad campaigns.
But, don't let anybody tell you that you must spend a lot of money on ads in order to drive traffic to your blog.
There are many ways to build your blog for free or at least for a minimum of investment.
Sure, it's a slower way to do it, but it's if you're just getting started.
And it fine to use free approaches to build your blog if you don't have a budget to do costly advertising.
I will say to that in the years that I've been blogging, I've always found that organic traffic is always better than paid traffic.
Even though it takes a lot of time to develop a blog following by using free methods, it will usually be a better following.
That's because people have been given a chance to develop trust for you when they've already seen what you do.
With paid traffic, even though you may get big numbers of followers initially, many will prove to be of little value.
That's because they have not come to follow you because of your content or because you've demonstrated that you can help them solve their problems.
Instead, they have been lured into your funnel or onto our list from a well designed, compelling advertisement.
They have no reason to trust you simply from an advertisement.
Therefore they're not nearly as likely to convert into loyal customers or subscribers.
So, don't be afraid that you must start running paid advertising campaigns.
They can be great, but they are not essential to building a successful blogging business.
Blogging Fear #5
Build A Huge Mailing List
Everyone will tell you that the real money for blogging is in having a huge email list.
But, while it's important to have an email list, it doesn't need to be a huge one to make you a highly successful blogger.
In fact, it's often to your advantage to stop growing your list, and take steps toward shrinking it.
I know people with very small email lists who do very well monetizing their blogs.
Think more about building relationships and getting the right people on your email list.
It's about having a well-designed sales funnel for them to enter when they join.
You want to offer your subscribers a range of price points from low-to-mid-to-high cost.
Even if you have a small but devoted following, then you can build a great business from your blog.
Don't focus on numbers, focus on the quality of your following.
Blogging Fear #6
Write Great Posts
Everybody wants to write great blog posts.
The truth is that the content you put into your blog posts is what will make people trust you.
It is what will build your authority as a blogger.
Furthermore, it is what will brand you as a unique blogger.
The quality of your blog posts can make you stand out in the crowd.
But writing great posts is very scary to many bloggers.
It is a fear that is actually well founded.
That's because unless you are writing great blog posts, you'll find it hard to succeed.
However, this is not a fear that should stop you.
Don't think that writing great posts requires you to have a spectacular writing style, or an exceptional command of the written word,

All you need to do is write clearly in a way that people can understand.
You don't need to be literary, you need to be conversational.
You just need to write like you talk.
Most of your readers prefer to read content written on a fifth grade level…
..or less.
That's not because they lack sophistication, but because it's easier to learn things that are presented in plain and simple language.
You don't need to be a literary genius to write great blog posts.
What you do need is to fully understand what your readers want.
That means, you must know exactly what their problems and challengers are.
Do you have solutions to their problems?
Are your solutions uniquely positioned?
Are they clearly present so people can act on them?
That's all you need to do.
Solve the problems that readers in your niche have.
When you give them those solutions, you will be writing great blog posts.
I think many writers are afraid they can't write great blog posts because they don't know that great writing is simply problem solving.
Most readers are not looking for great writing.
But most of them are looking to get solutions to their problems.
If you help them solve their problems, overcome their own fears and move beyond their pain points… then you will be improving their lives.
Now, that's a great blog post.
Blogging Fear #7
What Social Media Strategy?
We all hear that you need social media in order to have a successful blog.
Actually, I think that's true.
However, many of my students get so confused as to where to begin, how to begin, whether or not to start spending money on their social media strategy… that they just build a huge wall of fear about this part of their business.
Remember this.
Social media is primarily social.
All that's required of you is to be out there, be friendly and approachable, and let people know about your blog.
I always recommend that you choose just one or two social media platforms to work with.
It could be Facebook, Twitter, YouTube or any other platform that you like.
Focus on just one or two of these platforms and post to them regularly and consistently.
Find your target audience.
Then, get involved in their social groups and in their chat threads.
You don't need a fancy social media strategy or a virtual assistant.
There are many automated programs that can help you be consistently active and visible on social media.
That's certainly a good investment.
Other than that, though, it's just a matter of getting out there and connecting with people.
Focus on letting them know who you are and what you do.
Develop your personal brand.
Don't overcomplicate it.
That's when fear takes over your thinking.
Blogging Fear #8
Lack Of Clarity
Now, the last fear that I want to talk about is the biggest one of all.
It's probably the one thing that blocks people from success more than any other.
It is people's fear that they can't do everything required to build a business.
Fearful bloggers think they have to be on 10 social media platforms, that they have to build a list of 20,000 people and that they have to write a great blog post every day.
Even more, they set up big expectations for themselves and believe that they must meet them in order to be successful.
But, none of this is essential to your success.
Get over the fear of trying to do everything.
First of all, you can't.
Second, if you try to do everything, you'll crash and burn in a sea of overwhelm and confusion.
You need clarity in what you're doing, in what your message is to your readers and why it's an important message to deliver.
If you have a lack of clarity on these it key foundations, you will find it very difficult to build momentum in your business.
So, before trying to overcome any of the other fears surrounding your blogging business, I suggest you spend some real time on developing clarity in your business.
Know your audience and what they need.

Then focus on how you can deliver it.

Finally, just do it.
Do it in tiny chunks, step-by-step.
Don't try to do everything at once, or allow yourself to get overwhelmed by big numbers or big goals.
Just wake up every day and ask yourself how you can help your readers to solve their key problems.
Then just do it.
The next day… do it again.
That's the formula for overcoming your fears.
Speaking of formulas
Speaking of formulas, join me in my 30 Day Challenge to get your business of to a fresh new start for 2017.
We'll work together to develop the exact formula that will work for you.
Live training begins January 10.
So, if you'd like to push the reset button on your blogging business… if you're ready for a 2017 reboot… click the link below for all the deets 🙂

8 Blogging Fears You Can Overcome
So tell me now, are you a new blogger or an experienced one?
Which of these "8 blogging fears" speaks to your situation?
Which one resonates most strongly with the challenges you may be having in your own blogging business, right now?
I'd love to know what you think, so use the comment section below to tell me.
And… don't forget to share this article on your fav social media sites 🙂
-Donna