This post was most recently updated on July 18th, 2017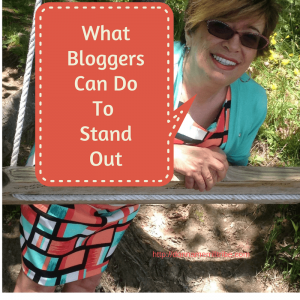 Bloggers can stand out in a crowd by doing things just a bit differently than everyone else.
Just a bit.
It's amazing how much you can improve your results by tweaking just a few little things.
Look at some of the top bloggers in your niche and notice what they're doing to be different and unique.
You could try some of those things.
But, even more, you could take things a step further and come up with your own ideas to stand out in a crowd.
Once you've determined the top sources of traffic for your blog traffic, you have to learn how to tap into them.
That's how you to get noticed by your ideal prospects, which I like to call "your crowd."
SEO Is Not The Only Way To Make Your Blog Popular
Well, what I'm suggesting here is kind of like SEO.
There are both "on page" and "off page" SEO tactics you can use to make your site more attractive to the search engines.
Same thing here.
Only I'm taking this a step beyond SEO.
You see, there are many things you can do on your blog (what we call "on-page") that will help make your blog stand out from the rest.
But there are also things you need to do off your blog (what we call "off-page") to distinguish yourself.
Use a combination of these tactics to build your unique brand.
This can make you just a bit different than all the other bloggers in your niche.
And, of course, these are the same things that will make your blog popular.
This can result in vastly improving the results you get from your blogging business.
Who Is In "Your Crowd?"
The first thing you need to discover is just who your crowd is.
This depends, of course, on what your niche is.
But even more, it reflects just who your target audience is within that niche.
Let's say my blog is in the "wellness" niche.
Well, my audience could be in one of many sub-niches or micro-niches.
Notice, for instance, from this "Women's Marketing" data, how many directions I could take my blog into within this very strong niche…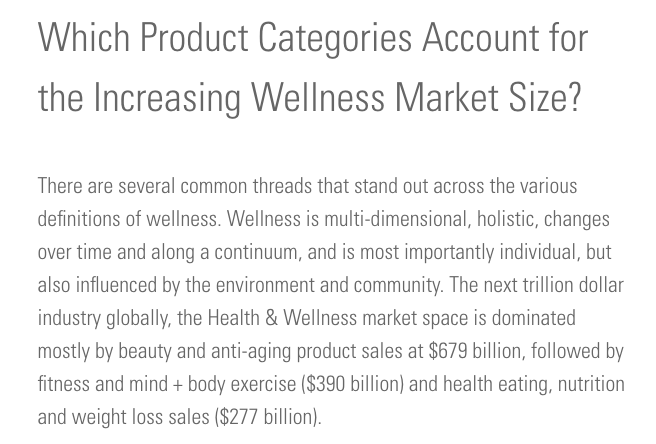 Read more at Women's Marketing… Health & Wellness Is The Next Trillion Dollar Industry
You can see from the data that "beauty and anti-aging" is the strongest micro-niche.
That is followed by "fitness and exercise" and then "nutrition and weight loss."
So, if I decide to focus my blog on "health drinks," I'd be looking to connect with a target audience consisting of people interested in "nutrition and weight loss" or even just "nutrition."
My crowd, then, would be the people interested primarily in nutrition.
But secondarily, they'd be interested in my special interest: health drinks.
This is the sort of process I might go through to determine who, exactly, comprises my target audience… who is in my crowd.
How To Get Your Blog Noticed
Now that you have defined your niche or, better yet, your micro-niche… it's time to get to know your target audience.
That means, you'll need to find out where they hang out.
Then get out of the comfort zone of your own blog, and start hanging out with them.
That's how they'll find who you are and what you do.
And also, that's how you'll get your blog noticed by exactly the people you want to notice it.
3 Things That Will Make Your Blog Unique
Now, any time you are connecting with your target audience, you need to keep three things in mind.
What is their biggest problem or challenge
Then, what is their 2nd biggest problem
Finally, what is their 3rd biggest problem
These are the things that you need to keep talking about in your conversations with your audience.
Let them know they can find solutions to these problems on your blog.
It is what will make your blog popular and get it noticed.
And beyond that, keep in mind that, really, very few bloggers ever deliver on their promise to deliver the solutions their readers are looking for.
At least, very few ever do it well.
So, you be the one who does.
Know what the big problems are for the majority of people in your crowd.
Then promise them solutions to those problems.
And here comes the biggest part of this…
Fulfilling your promise to deliver these solutions is what will make your blog unique.
It's also what will make you different than all the other bloggers.
Help Solve Problems
Your biggest challenge as a blogger is finding innovative and unique ways to solve the problems your readers have.
I mean, that's what you're promising.
Time to deliver on that promise.
How will you do that?
You might
write amazing blog posts,
curate great content
use compelling images
have a flair with video
Whatever you do is fine, as long as it is actually helping the folks in your crowd (your target audience) to solve their biggest problems.
That is the best of what you can do to really stand out in a crowd.
Building Trust
Finally, everything you say and do should make your readers trust you as an authority.
They must get the sense that you are well qualified to solve their problems and improve their lives in the process.
And they'll get that sense when you give them reason to trust and believe in you.
Most of all, they'll get the sense that you really care about them.
If people feel like you really and truly are dedicated to helping them, you will stand out in a crowd.
Now, as I said earlier, you can do this both "on-page" and "off-page" tactics.
So let's take a quick look at that.
What Bloggers Can Do To Stand Out In A Crowd
On-Page Tactics
There are some very simple things you can do to make your blog unique.
Zac Johnson talks about using custom themes and blog designing to make your blog stand out.
Certainly, you can give your blog an edge by making it look really appealing to your crowd.
If people visit you blog and immediately like the look and feel of it, they are probably going to think of you as a credible authority in your niche.
Sathish Arumugam suggests some important steps to take in an article he contributed to BeAMoneyBlogger.  
These include…
Using Infographics
Adding an FAQ section or page
Embedding "memes" (cleverly captured images) – you can learn more about memes from this Lifewire article: "What Is A 'Meme'?"
Speeding up your blog site
Using a user-friendly comment system, especially one that ties into a social media network.
Off-Page Tactics
Now, you have your blog set up to showcase yourself as a professional and reliable authority.
Next, you need to make sure your blog is getting noticed by your target audience.
You need to get the word out on social media sites like Facebook and Twitter.
Look to get involved in conversations with people in social media groups.
That's your primary goal.
Facebook and LinkedIn groups, for instance, are excellent places to find your crowd.
Reddit is another great place for group interaction, via their "sub-reddits."
Twitter chats and Forums are yet other places to interact with your audience.
I don't know your niche, so hey, you've got to do some of this research to find out where your particular crowd is hanging out.
The point I'm trying to make is that once you find them, then you've got to stick with them so they see you.
This is how to make your blog stand out from the rest.
This is how to get your blog noticed by Google because they see you've got a popular blog that is getting the attention of your unique crowd.
Oh yea, one more thing (just an aside, here)…
Don't forget to put a link to your blog in your "signatures" on forums and in your emails.
Heidi Cohen outlines 31 Ways To Make Your Blog Stand Out.
These include some excellent off-page tactics like…
Add your blog's URL to your social media profiles
Include links to your posts when you email your newsletter subscribers
Share links to your posts on social media sites each time you publish
Comment on other leading blogs in your niche
Answer questions on Q&A sites like Quora
BONUS: Neil Patel shows you How To Become A Highly-Rated User on Quora
What Do You Do To Stand Out In A Crowd?
In the information age we are in, it is imperative that you make your blog unique and distinctive.
That's how to become a recognized authority within your specific niche.
And it almost goes without saying… it's one of the best things you can do to stand out in a crowd.
Now, let's face it.
The name of the game is to get more traffic that will eventually convert into more subscribers, customers and clients.
This is what blogging is all about.
So I hope you're spending a good portion of your effort on this.
This might be a good time for you to stop everything you're doing and take an hour… just an hour… to write down exactly what you do every day to get seen and heard in your niche.
If you're doing everything you can, then keep at it.
If not, then map out a new plan for yourself and start implementing it today.

I'd love to have you drop me a note in the comments section below.
Now that I've shared some tips on "What Bloggers Can Do To Stand Out In A Crowd," I'd like to hear what you are doing to make sure your blog doesn't get lost in the crowd.
-Donna