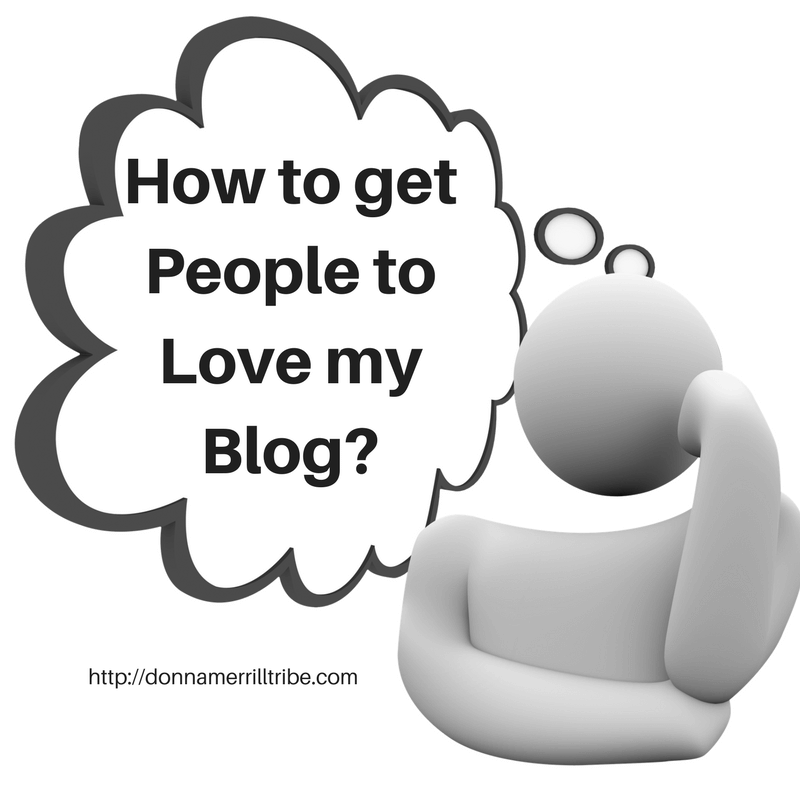 "How Do I Get People to Love My Blog?" you, and so many other people ask me.
People will love your blog when they see it as a place that can make their lives better.
That means, that they are convinced it can solve one key problem they have in their lives or in their business.
So your job is to get them to identify your blog as a problem solver.
But not just any problem solver.
A specific problem solver.
Maybe your blog helps people find discount air fares, or more Youtube views.
It doesn't matter what problem your blog solves, only that it solves an important problem for a very specific audience.
So get out of that little blogging bubble you so easily get trapped in, and start solving people's problems and changing lives.
People Need To Identify Your Blog's Brand
Did you ever catch yourself singing a jingle from a commercial without thinking? 
Then you wonder why you're singing it?
Or how about craving chocolate while you were binging on your latest T.V. series?
Then you wonder why you're binging.
Sound familiar?
Yep…we all do it at one time or another because of some commercial we saw or heard. 
And it doesn't mean that it's the last thing we heard, either.
We can be humming a "jingle" of a commercial we heard years ago because, somehow, it just stuck in our mind.
We can run to the corner store to purchase chocolate late at night because the conversation we're having while watching t.v., or a certain smell through an open window reminds us of a commercial telling us to eat chocolate… even if we haven't seen that commercial for many years.
Solve One Problem for One Niche-Audience
I'm not shy about admitting that these things have happened to me many times.
So you're probably asking yourself right now why I'm even talking about jingles and chocolate… right?
Easy Peasy, my friends. 
I wanted to paint a picture of how product branding works on the most subtle levels. 
You could say it's sort of hypnotic.
Another way to think of it is that you are pretty much forced to react to it when the thought of it rises to a conscious level.
That's because it sets you up with a compelling impulse to do or consume something particular.
This is how you connect with your audience.
It's how branding works.
And when it works right, your brand will remind people of just one key problem that your blog solves.
People won't take you seriously, and they certainly won't love your blog if you try to solve every problem for every person.
They love a blog that specializes in solving one specific problem for one niche crowd.
Position Your Blog To Stand Above All The Others
Now what about YOU? 
Are you branding your products/services or blog in such a way that it makes people feel like they need to do something? 
Do you brand yourself strongly enough that your blog or name instantly calls to mind your core message to your audience?
These are the things things that will help your blog stand out in a crowd.
Now I'm not telling you to do any black hat marketing whereby you are somehow hypnotically influencing people to buy some junk that they really don't need.
I am telling you to consider if your branding is doing it's job… positioning your blog to make sure people know exactly, clearly and without a moment's hesitation…
WHAT key problem you solve for them

WHY you are the best person to solve it

HOW your blog is distinct from all the others… and

WHY they love your blog
That's how to properly position your blog within a crowded blogosphere.

Read the full article, Why You Feel Like an Idiot When You Talk About Your Blog... (by Amy Dunn Moscoso, Smartblogger)
You have to "position your blog" to stand above all the others in your niche.
Bottom Line: make sure people know why your blog is just what they were looking for… and why you are the blogger who can help them the most.
It's Not About What YOU Want…
Lets be honest…we all want to sell something. 
That's why we blog.
We want to sell products, or maybe we provide services to people, or perhaps we have some sort of professional practice and we're looking for new prospects.
The only reason we market our blog online is to find those customers, clients and prospects.
Now, we may have taken a course or two that shows us how to use suggestive language to make people buy our stuff.
If you are marketing well, you know that you basically just offer your product/services up front, and wait for people to make their purchase. 
It is the best stuff you can do or sell because you know it has helped you.
Therefore, you know it will help others, too, so you are coming from the point of honesty.
But the trick is to make sure your prospects understand your sincerity, and your ability to to help them.
Make sure they know that you are writing your blog for their benefit… not yours.
How Do I Get People to Love My Blog?
So how can you, or your blog… become that jingle in their heads? 
…the jingle they've come to love because it solves one key problem for them?
How do you get people to love your blog for the same reason?
Answer: You have to brand yourself wisely, so there's no other conclusion they can draw.
People need to know exactly what you're about… your niche, and your main purpose for being online.
Don't make them work hard to figure this out.
They need to know instantly, as soon as they see your gravatar, hear your name, or see you on Social Media sites.
And they need to know instantly… HOW you can help them have a better life, a better business, or whatever else you're doing for them.
Your Blog Needs A Perfectly Clear Message
When people understand how you can help them, that means you have crafted and delivered a clear "message" to them.
You see, your "message" is essentially your mission.
It's the key ingredient to what some people call your "manifesto," or your "core message."
Your message is effective when it makes cystal clear to people that your blog…
is congruent with what they want and need

puts their dreams and desires within their reach

engages them honestly as real people… not as "buyers," "subscribers,"

 

"traffic" or whatever impersonal label you could think of
So tell me this.
Do you know what your message is?
If you do… what is it?
If you don't…
stop blogging right now… and

start writing exactly what your blog and your business is really about, who it is for, and what solutions it offers to your readers.
Clare Lancaster, writing for Problogger, suggests this…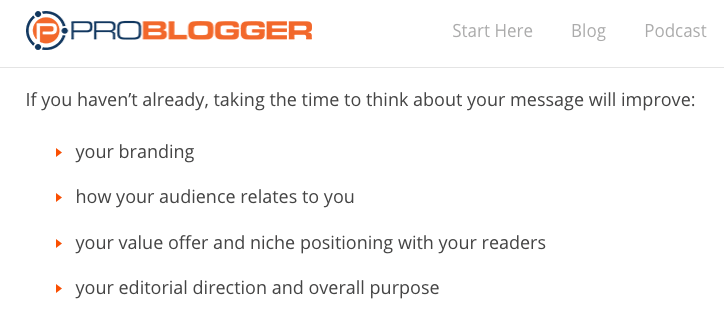 Read more… How to Use a Manifesto to Spread your Blog's Message (by Clare Lancaster, Problogger)
So I ask you:
What's your message?
How does your message help your readers?
What's going to make them share your message across their networks?
Spread Your Blog's Core Message… Everywhere
Once you've got your message, make it the centerpiece of everything you do.
Don't just get your blog noticed, reiterate it's core message all the time.
When you schedule and write your blog posts, make sure each one of them reinforces and highlights your core message.
If you publish social media posts, videos, images… use them to deliver that same core message in one way or another.
Whenever you are contemplating any piece of content, consider whether or not it reflects your core message.
If not, you've still got some work to do in  positioning that content to reflect the message.
Do everything you can to get your message everywhere. 
That's how it gets stamped indelibly on the minds of your audience.
Core messaging is the essence of branding.
Need more ideas for branding?

Read all 15 Personal Branding Tips for the Aspiring Blogger (by Alex Gomez, on Right Mix Marketing)
How To Find Out If People Love Your Blog
How do you know if people love your blog?
Here's a novel idea… Ask Them.
For instance…
Ask people who read your blog, or know about it from your videos or social media presence…
"what do you think my blog is about?"

"how would you expect that I could help improve your life most?"

"what do you think the main message or theme of my blog is?"
Ask them in the form of a survey.
Or ask them on social media threads, emails, PM's or in blogging comment sections.
You could even make it easy on them by offering some A, B, C multiple choices to select from.
It doesn't matter how… but it does matter that you do ask them.
How else will you know if your audience is understanding what your brand is?
And how else will you know if your audience loves your blog?
Remember, if your blog's main message is not perfectly… I'll repeat… perfectly clear to you… it never will be to anyone else either.
Spread Your Message Daily
Get your message out with a daily FB Live broadcast.
Tweet every day about something you've written or done (current or past), or just a "message of the day" from you.
Do the same on Facebook, Pinterest, Youtube and everywhere else where you have established a social presence.
And do it every day.
When people have one Key Problem that it's your mission to solve… they should think of you first.
And they will when you deliver your message clearly, consistently and relentlessly.
That's when they'll come to love your blog.
Learn More About Donna's Popular Top Tier Coaching Program for Bloggers


So Tell Me This, Now…
Does your blog have a perfectly clear message?
What is it?
Did you ever ask yourself "How Do I Get People to Love My Blog?"
I hope this has given you a better idea of how to accomplish this.
I'd love to hear from you in the comments section below, and naturally… I'd be thrilled to have you share this article on your social sites.
-Donna