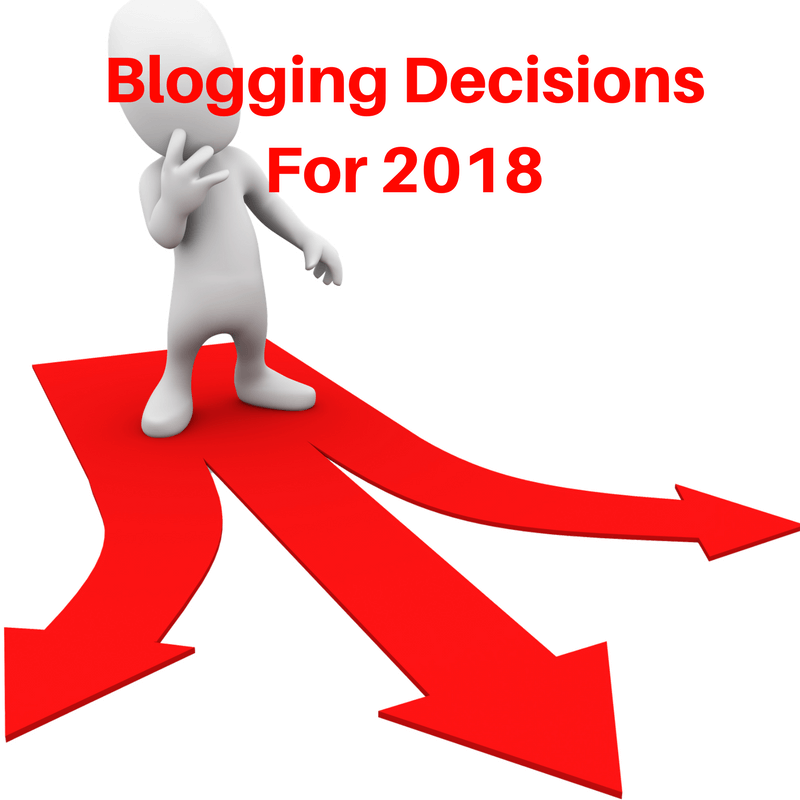 What are the critical blogging decisions you need to make in 2018?
You make decisions every day, whether you acknowledge them, or not.
For instance, you decide when you should get up in the morning, if you should take a wake-up walk, and what to wear for the day.
You decide what to eat.
Will it be something healthy or decadent… lol.
But then come the decisions you need to make in your blogging business.
Some of these will be ordinary, everyday decisions.
But others will be critical to the very life and success of your business..
The ones I've outlined below are the critical blogging decisions you will have to make.
They can't be avoided.
Your blogging success in 2018 will depend on the decisions you make in these key areas.
I would like to focus on these areas in this article.
Critical Blogging Decisions: Time Management
You have to decide on how to manage your time.
Time management done correctly can lead to your success.
When done on a whim it can lead to frustration and even worse, failure.
You have to map out your business strategy carefully and realistically.
I've seen so many people decide to plan out an unrealistic business strategy.
You know, do a million things each and every day for the next 365 days.
It's never going to happen, but you make it your plan for the year because you're just determined to reach your goals.
That only leads to anxiety.
When making decisions about how to manage and allocate your time, you have to account for those little things like eating, resting, spending time with family and/or friends.
And you have to make sure that most of your time will be spent on those things that can help your business grow the most, and the fastest.
Critical Blogging Decisions: Investment
You need to decide on the financial investment you will be making in your business.
How much money can you spare to make your business really work?
Making a list of the many things you need to run your business is imperative.
From setting up a good working blog, to creating good social media accounts.
Many of those things will require money.
Figure out what you can spend and then prioritize.
Is it more important to spend $10 a month on an autoresponder service, or for some social media automation?
And figure out what you will avoid spending, too, since it's easy to get caught up in spending too much for too little return.
Coaching
Then comes the most important investment of all and that is coaching.
If you want to learn the "free way" it will take tons of time.
Plus there will be no structure or order to learning something that you can actually apply to your business.
I say this with passion because I, myself, have spent plenty on coaching and mentoring.
When I first started blogging, I paid for group coaching.
This gave me the knowledge I needed to start blogging correctly.
Then there was the decision to create my first digital information product.
I can tell you I was fearful at that time because I didn't know where to start.
There was so much information I wanted to share that I was writing in circles.
That's when I realized it really would be far wiser to hire a knowledgeable coach to whip me into shape.
I had to concentrate on one message and one message only.
Also, I was given a precise production schedule for completing one thing at a time.
At first it was grueling.
I wasn't used to working like that, but it was one of the best decisions I have ever made.
Nothing… and I have to repeat this… nothing… is more valuable than good coaching.
It is definitely the difference between, "giving it a try," and "making it happen."
How serious are you about the success of your blog in 2018?
It may be time to invest in your success instead of just wishing for it.
Critical Blogging Decisions: Operational
When it comes to business decisions, well, like I said earlier, you are already making them every day.
You decide what topic to write about for your next blog post.
The you choose images for it.
And what about spreading the word with social media posting?
Are you doing it strategically or just haphazardly?
I mean, and I'm sure I don't have to tell you this… but I will… You can be on every stinking social media platform and get nothing in return.
That is, if you simply hang out without real purpose or design, you can absolutely drown in your time spent there.
In operating your business, the trick is to do things effectively and productively.
Not to just do them because you heard somewhere that they should be done.
A good business operation means that you test things you are doing to see what's working and what is not.
For instance, if you are running a specific social media campaign… try it and see what is getting you the best response.
Narrow it down to 2 or maybe 3 social media platforms and decide to give it your all.
When you see something is working, then put more effort into it.
If you see it is not, then back off.
Those are the kind of operational decisions you should be making.
Critical Blogging Decisions: Intuition
Now what about your intuition?
Somewhere inside you there is a little voice telling you to do something. 
Listen to it….even try it and see where it leads you.
You all have intuition and it is a powerful energy that propels your passion.
You might have a passion to be a writer, but think of a thousand excuses why you can't be one.
Nonetheless, your intuition can push you forward in the direction of your true passion.
But you need to listen to it, and act accordingly.
Give it a try.
You may find this awkward or scary at first.
But once you start tuning in to your intuitive inner voice, you will give yourself a chance to go beyond your self-imposed limitations.
You can truly morph into someone very special.
I did a little video for you on a split second decision I had to make while traveling.
It's not long, but it will give you a sense of how to use your intuition and logic at the same time.
Critical Blogging Decisions You Need To Make in 2018
So what are the key decisions you are facing this year, as a blogger?
I'd be interested in hearing what you are struggling to get under control, or to improve on in 2018.
Drop me a message in the comments section below.
And, of course, be sure to share this article on your social media sites 🙂
Be Blessed,
-Donna