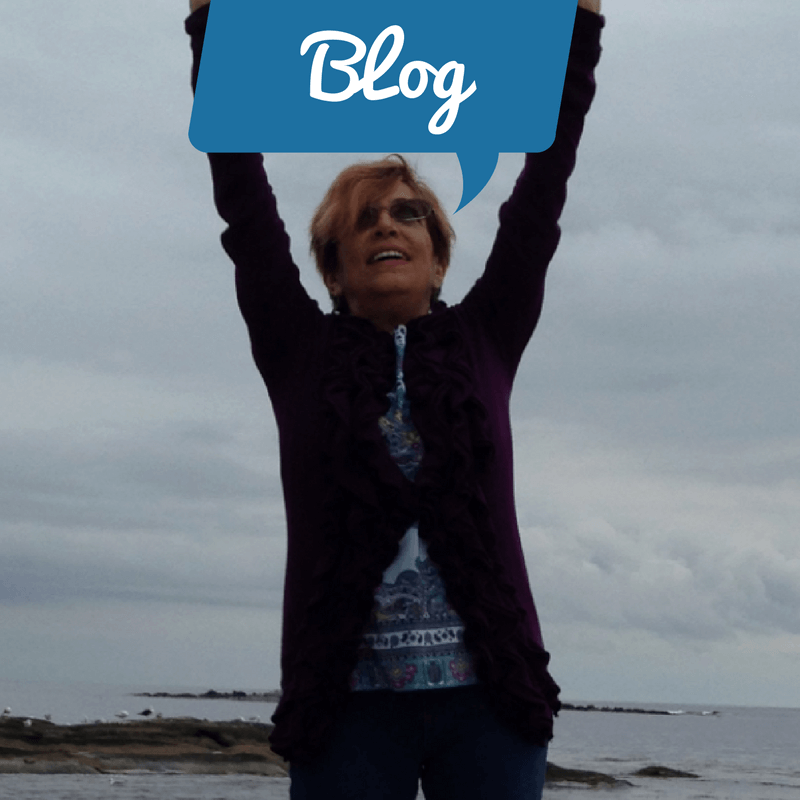 I originally started to write this blog post because a new blogger who is in one of my training groups asked me what was the best way to get her blog noticed.
Now, a lot of times when I think about how you can promote your blog posts or your blog site, I think of some rather complicated strategies that advanced bloggers might use.
But for new bloggers, I wanted to keep things especially simple.
I came up with what I believe are the best 3 ways to get your blog noticed.
And not only are they good for starters, but these are things that really every blogger should be doing.
So, as it turns out, these are advanced strategies as well.
The only difference in the advanced version, is having an extended network of contacts to make these things work faster and better.
If you are a new blogger, you are going to have to establish your blogging network.
But this is the way to do it.
So it's kind of a two-for-one deal.
It's the best way to get your blog noticed, and it's also the best way to build and expand your audience and blogging network.
So let's get down to what I consider the three best ways to get your blog noticed.
The Best 3 Ways To Get Your Blog Noticed
Blog Commenting
Blog commenting is always my very favorite method for getting your blog noticed.
I don't really think there's any better way to start establishing a network of blogging pros within your niche.
The method is simple.
Be Active
It just requires that you find key blogs in your niche and start commenting on them.
And, keep commenting on them regularly.
Share articles from these blogs on your social sites.
Reciprocation
And watch to see which bloggers are reciprocating.
See which ones are coming to your blog to share comment on your articles.
Sincerity
When you leave a comment it's important that it is a sincere one.
Remember, this is establishing contact with other bloggers.
You don't want to come across as a phony.
That won't get you anywhere in the long run.
So just leave a sincere comment that will add value to the conversation.
Depth
You can leave your one-liners home.
They're not going to do add anything to the conversation.
Just think if you were asking people to respond to specific questions on your blog, and someone gave you one-word answers all the time.
They're not going to do your comment thread any good, and they're not going to do other bloggers any good.
They certainly won't do readers any good if they are looking for an interesting conversation on the blog.
Think of ways to give some depth to your answers, and add value to the conversation when you comment on blogs in your niche.
Be Engaging
If you don't resonate with a blog post that you're reading, then just don't leave a comment.
Or, if you want to show support to the blogger… then share the blog post on social media.
Some of your followers may find it interesting.
The main thing is to show that you are engaged and interested in the blog you are visiting, even if the topic is not perfectly aligned with your niche.
Don't Be Self Serving
Don't just leave comments as a way of getting a link back to your blog.
I see these kinds of bloggers all the time.
I called them link chasers.
They're not really interested in what's going on with your blog.
They just want to get a link back to their own site.
And, of course, they spend all their time chasing links from blogs that have a high domain authority, top search engine ranking, or whatever.
In fact, I do not even accept comments like that, so you probably won't see them on my blog.
I send them straight to spam which is where they belong.
Be Everywhere
Now, it's not easy to be everywhere.
But that's certainly the way that you're going to get noticed.
So do your best to let people know that you're out there.
I will usually boost my posts on Facebook.
It cost a few bucks, but it's well worth all the eyeballs that you can get your articles in front of.
Now, the goal here is not for everybody to click on your links and come back to your blog.
It's certainly not to get them engaging with you and leaving comments.
It's simply about building a blogging brand.
Just like on TV when you see a commercial, the advertiser is not looking for you to take some immediate action, like "call now to order this product." t
They're simply letting you know that they are a big player in their industry, they selling a certain product and are making you aware of their presence.
It's called brand awareness.
You want people in your niche to be aware of your blogging brand.
That's why it's important to try to be in as many places as possible.
Ryan Biddulph is a top pro blogger who you have probably seen a lot of.
His Blogging From Paradise has become a widely recognized brand name.

Why?
Because he has mastered the art of getting his blog noticed virtually everywhere… from his entertaining, daily Facebook Live videos to his numerous guest posts… you'd have to be living under a rock to have missed seeing him.
Check out Ryan's 10 Tips To Go From Blogging Low Life To The Blogging High Life for his superb advice for getting your blog noticed…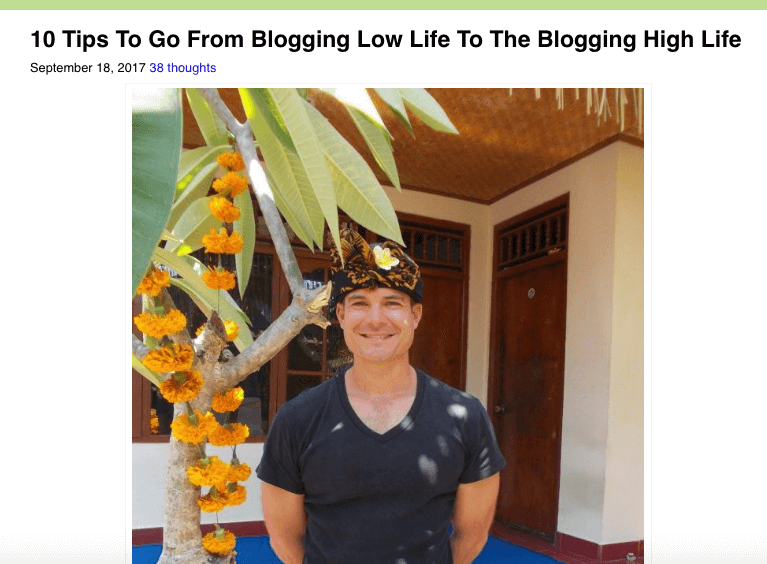 Guest Posting
Speaking of that, it's a great idea to do some guest posting.
That way you get in front of other people's audience in an authoritative way.
Ask people in your niche if you can write a guest post for them.
But don't do that until after you've established a relationship with them.
There again is the beauty of implementing a brisk program of blog commenting.
When people see you commenting on their blog, then they know who you are.
Or, when they see you on social media sharing their posts, they know who you are.
And, when the time comes to ask if you could write a guest post for them, then they already know who you are and are therefore more likely to give you the nod.
Now guest posting is a lot of work.
I certainly don't want you to think it's a quick and easy thing.
When you write a guest post, you always want put your best foot forward.
So you can't just through the process and deliver any old thing.
You want to produce a great guest post, not some ho-hum, ordinary dribble.
But there are things you can do to accelerate the process.
One of the things you can do to get your ideas moving forward is to look at some of your old blog posts.
Simply repurpose them.
I'm not suggesting that you do a watered-down, boring version of them.
Many times, a repurposed blog post can be much more detailed, up-to-date and far more valuable than the original one.
So, if you're stuck for topics to pitch to other bloggers that you want to guest write for… I suggest you start with some things you've already written in the past.
Publish Readable Content
I want you to take it very seriously that your content is readable.
Keep it simple.
Typically, I suggest that people write on a 3rd to 5th grade reading level.
Include everybody in your conversation.
One of the biggest mistakes I see new bloggers make is to try to impress people by talking over their heads.
The idea is that if you can use big words and complicated sentence structures, people will think you really know your stuff.
Maybe people will think you really know your stuff.
But they probably won't be interested in reading too much of what you write, either.
Not too many people go to blogs to get wowed by literary style.
They're typically looking for solutions to their problems.
That's all.
They don't care how smart or clever you are.
They just want answers and guidance.
So know your niche.
Know what problems people in your niche have.
Solve those problems in a simple, straightforward manner every time you write a blog post or shoot a video.
This is sure to keep most people interested in what you're doing because after all, they just want a solution to their problems.
That's why they come to your blog.
That's what you should give them.
When you do this consistently day in and day out… your blog will get noticed.
Learn More About Donna's Popular Top Tier Coaching Program for Bloggers

What Is Your Favorite Way To Get Your Blog Noticed?
So now, I would like to hear from you.
What do you do to make sure that your blog gets noticed?
Are you engaged in blog commenting?
Do you do everything you can to get your blog seen everywhere?
And do you keep things simple and for your readers?
What's your favorite strategies or tactics?
Do you agree with me that these are the best 3 ways to get your blog noticed?
Leave me a comment below and get your voice heard!
Then share this article on your social sites.
Sharing helpful information like this is a sure way for you to get noticed 🙂
-Donna