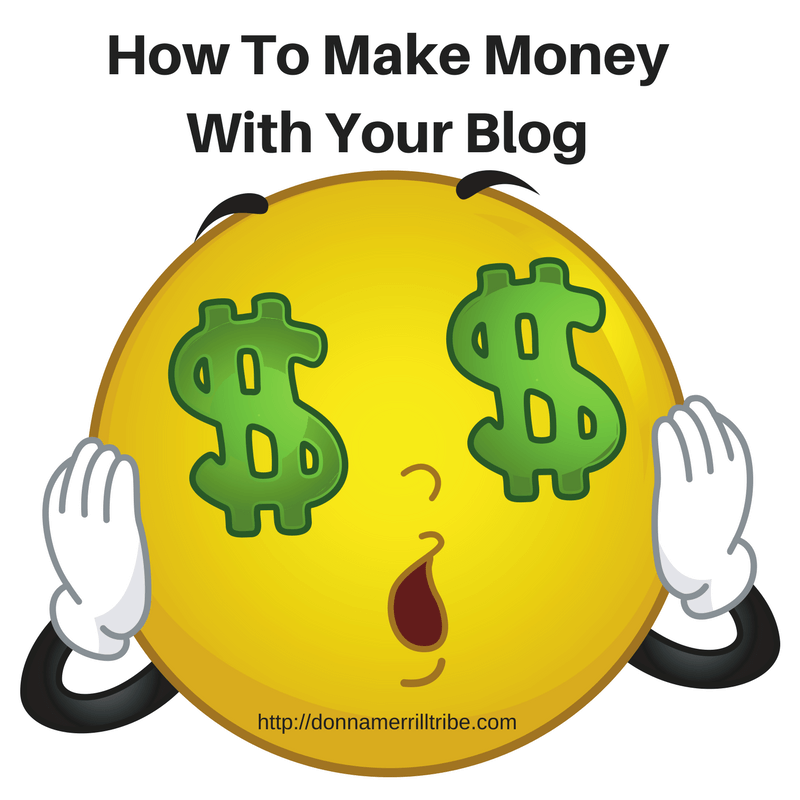 Top bloggers often share their ideas about "how to start making money with your blog."
We can learn a lot from them.
But of course we have to distill what they have to say into our own concrete business plan.
Otherwise we just have general ideas of what we need to do without specific direction.
If you've been reading this blog for a while then you know that I'm very big on actionable advice.
So I'll try to give you some of that today.
You must toggle the audio to "ON" to hear the video
The Anatomy of How To Make Money With Your Blog
Yes, there is actually a structure that you need to understand to start making money with your blog.
Here it is from Jon Morrow, one of the top bloggers in the business.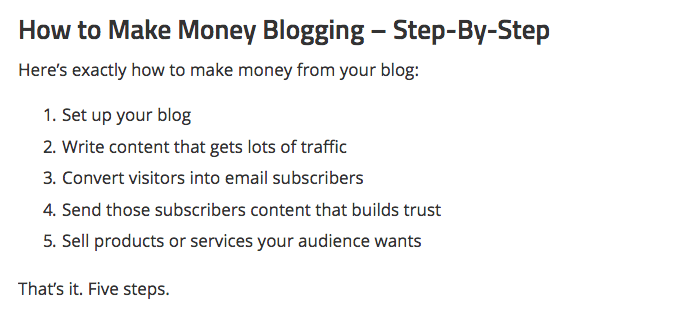 Read the full article, "How To Make Money Blogging…" on SmartBlogger.
Okay, so that sounds cool.
If you're wondering how effective that five-step plan might be, then consider this from another top blog…


Read the article, Make Money Blogging on ProBlogger
Sounds pretty similar doesn't it?
Well, that's because it is.
In fact, the anatomy of how to make money with your blog is pretty much set in stone.
You need great content.
You need to find people interested in reading that content.
And, finally, you need to tie that content to some kind of stream of income.
That's pretty much it.
But as John Morrow says… "It's freaking hard to do."
Yeah, that sure is an understatement.
If it was as easy as just going through the five steps, then why wouldn't everybody be doing it right?
Bring Happiness To Your Audience
Well, the truth is that everybody does try to do it.
Most bloggers go out there and try to find readers for great content and then sell them something related to it.
But, you know, that's pretty basic stuff.
Everybody knows that's what you have to do.
And we know that all we've got to do… is do it.
So, why doesn't it work for everyone?
Well, it might help to read something one of my readers recently wrote to me.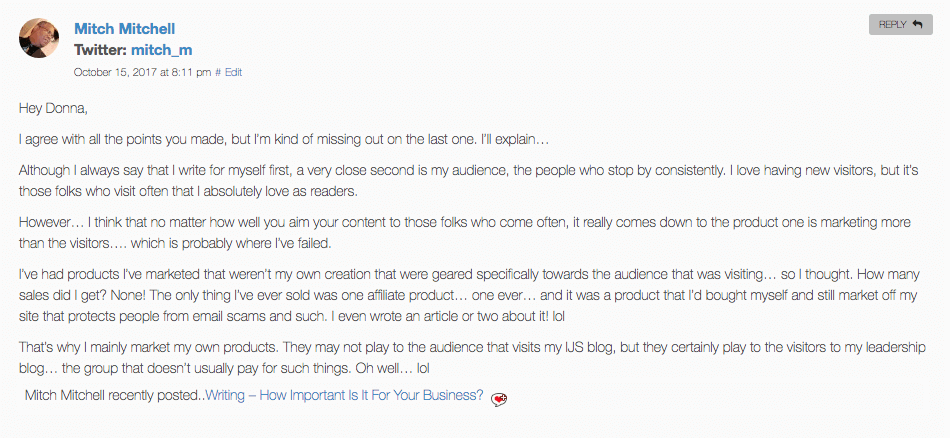 Obviously, Mitch is adhering to the anatomy of how to start making money with your blog.
But he knows he's doing something wrong, because he's not getting the sales results he's shooting for.
What could he be doing wrong?
And, more to the point…
What are you doing wrong?
Maybe you'll get some idea of where I'm going with all this by reading how I responded to Mitch's clear frustration…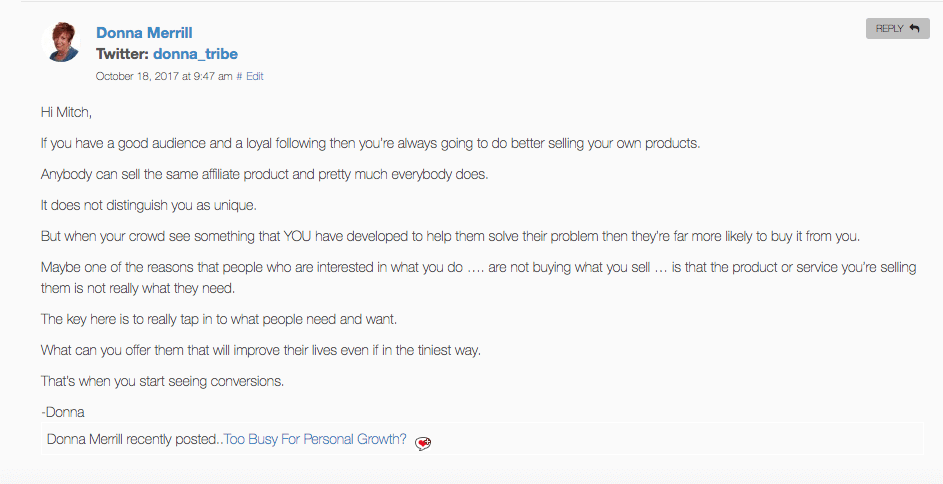 You see, just doing things the way you're supposed to doesn't always give you the results you are after.
And, it doesn't always give the results that you see other people getting.
For me, the answer is always in bringing happiness to your readers.
Now, I'm not talking about happiness in general.
I'm talking about making people happy with something that they read on your blog.
And what makes people happy?
Well, anything that solves a problem they are having in their lives, right?
Recently, I was shocked to find that we had a mouse in our attic.
So I immediately went to some blogs to see how to get rid of it.
I got some great advice and actually even bought a product from one of those blogs.
Did this make me happy?
You bet it did.
So you see, the old idea of making a better mousetrap still works.
People have problems.
And they have challenges.
When you help them solve their problems, you bring happiness into their lives.
You make their lives easier.
Even if it's something as simple as getting rid of mice in their attic.
When I tell people to go out there and improve people's lives, they often think it means something really really big.
But it does not.
It just has to be some little thing that helps them get through something they are struggling with at the moment.
Something that they can't get past today, and you can help them with it.


Read "Why You Can't Make Money Blogging" on Copyblogger
Is Blogging Success "Beyond Your Reality?"
I've written before about how important it is to see your success in order to make it happen.
It's really true.
I recently read a really interesting article on ShoutMeLoud (one of my very favorite blogs).
It says a big reason "Why You Can't Make Money Blogging like the Probloggers" is that "being a problogger is [simply] beyond your reality."
When you don't see yourself as a serious or successful blogger, you don't do the things it takes to become one.
Instead of trying to build a business by giving value to your readers, you look for quick profits and commissions.
It's critical that you steadily acquire the skills you need, or methodically develop a process that works.
But you really have no idea how to start making money with your blog, so you never get off the ground.
Eventually, you crash and burn in frustration and false expectations.
Related Case Study: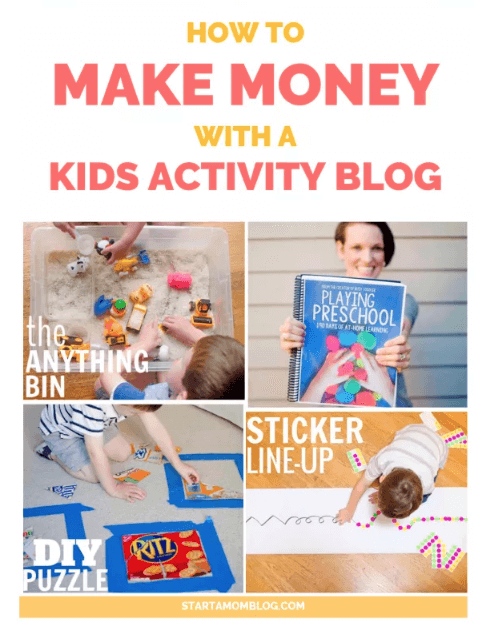 Read the full Case Study:
How To Start and Make Money with a Kids Activity Blog (Start a Mom Blog, by Suzi Whitford)
So, You Ask: "What is stopping me from making money blogging?"
Okay, so let's cut to the chase.
Following the right steps to success just doesn't work for most people.
Related: Proven Step By Step Systems For Bloggers Suck
Why is that?
Because making money with your blog requires more than techniques, tactics and strategy.
If you've been struggling to make money from your blog, here are some key, intangible things that may be standing in your way.
It involves
commitment,
persistence,
resilience, and
the grit to get out of your comfort zone to take action.
Not being able to fully commit to your success, no holds barred
Successful bloggers develop a deep sense of commitment.
They commit to publishing great content, engaging with their readers and sticking to a strong work ethic.
And they commit to overcoming new challenges as they occur.
Indeed, blogging means showing up to work, each and every day.
But your commitment cannot be to just to create content.
It must be to do those things that will make your content the centerpiece of a profitable business.
That means, you must remain committed to using your blog to converting readers into customers and clients.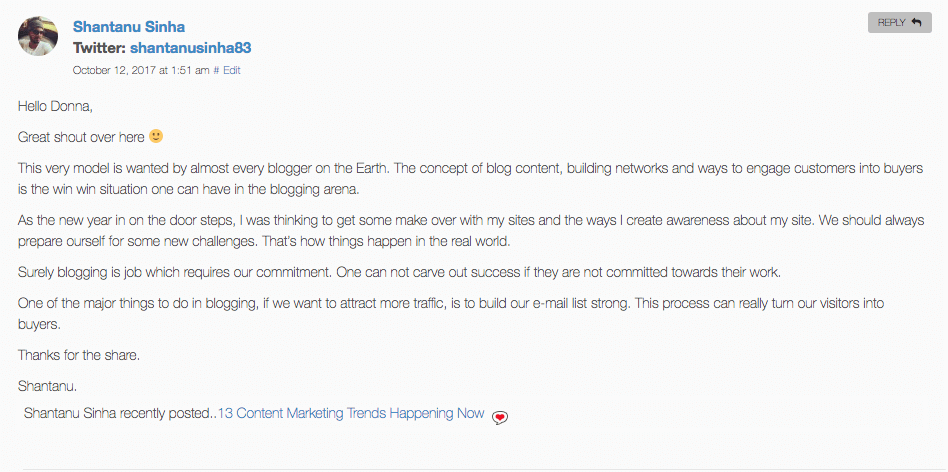 Failing to take action
It's great to prepare an outline for your next blog post.
Go over your SEO checklist.
Research some great titles to attract just the right readers.
Of course, you have to do all that.
And you have to know what you're doing.
So you have to do some studying and preparation.
But you have to get beyond the planning and preparation stage.
At the end of the day you have to actually write and publish that blog post, right?
Then you have to promote it.
And naturally, you have to reply to people who have commented on it.
In other words, your business can't be based just on learning and preparation.
In order to make money with your blog…
you're going to have to implement a strategy for getting customers, clients and list subscribers.
Don't get lost in the learning just for the sake of learning.

Engage in the implementation of those things that will lead to a profitable blog.
And implement those things consistently and persistently.
That means, implement those things daily.
Now, I'm sure you go on your Facebook account every day.
And you certainly open your email every day, right?
Don't you think it's just as important to implement… each and every day… something that can actually bring you profit?
As a blogging coach, I can tell you that there are many, many bloggers who stop themselves from making money blogging.
They stop themselves by simply failing to implement profit-centered activities.
Or at the very least, they don't give them much attention.
And they certainly don't do them with the same intensity, gusto and persistence that somehow drives them to create content.
Creating content is a major part of blogging, and most bloggers get that.
But implementing a sound profit strategy for your blogging business is just as important, and maybe more.
Especially if you want to know how to start making money with your blog.
Isn't it funny that the same bloggers who spend tons of time creating great content, give so little attention to implementing a profit strategy for their blog?
Related: 4 Productivity Tips for Bloggers
Being afraid to "pull the trigger"
"Pulling the trigger" goes one huge step beyond action taking.
I'm talking about your ability to do things that you perceive to be risky.
You know you have to give something a try.
It's a big step toward taking your business to the next level.
But yeah, it requires doing something that you've probably never done before.
It requires that you try something that might not work.
You know that you'll probably fail a few times before you can get good results from this.
So, you're up against a real challenge here.
Do you have the grit to get out of your comfort zone and take chances?

Or will you retreat, and just keep doing what you've been doing all along…
even if though you still have no idea how to start making money with your blog?
Case in point…
I had a client who was convinced that buying solo ads was the best strategy for building an email list.
Because an email list gives you a targeted and engaged audience for your blog, this was a sound and proven strategy to pursue.
So, this person did their research.
they found the best solo ad vendors in their niche,
monitored their track record for a while,
corresponded with them about the particulars of buying and placing their ads,
wrote some ads to use in their solo ad campaign,
wrote some email messages to send to new list subscribers…
And even more.
They actually undertook a pretty massive "study" of the whole solo ad strategy.
But after all was said and done, they never pulled the trigger.
They just couldn't bring themselves to
put some money on the table,
give it a try,
risk possible failure, and
just see how things work out.
In other words, they totally got cold feet.
Lots of "good" excuses
They made excuses for why they couldn't spend the money on ads until they were "sure" they would convert well.
I could go on and on with this story, but I'm sure you get the idea.
In order to start making money with your blog, you've got to get out of your perceived safety zone.
That doesn't mean that you must run solo ads or use any other specific strategy.
Every blogger has to follow the strategy that makes most sense for him or her.
If you need help with this, I have a program designed to get you to that next level.
The point is this, though…
If you're not willing to give something a try, even something that might be risky…
You are going be your biggest obstacle to making money blogging.
Success requires taking risks here and there.
After you've developed a sound strategy…
close your eyes, take a deep breath and just pull the trigger.
Make it happen.
If it fails to get you the results you want…
Go back to the drawing board,
Adjust your strategy, then
Pull the trigger again.
Rinse and repeat until you get it right, or decide it's time to try something else.
Learn about one-on-one mentoring with Donna…

Start Making Money With Your Blog
Okay, so now you're ready to do some implementation and build up that profit base to your blog, right?
I hope you've learned a few things about how to start making money with your blog.
Now, let me give you a couple of action steps to take right now.
Leave me a comment below. Tell me what you might be struggling with in terms of making money with your blog.
Then, share this article with folks on your favorite social sites who might like to learn how to start making money with their blogs.
-Donna