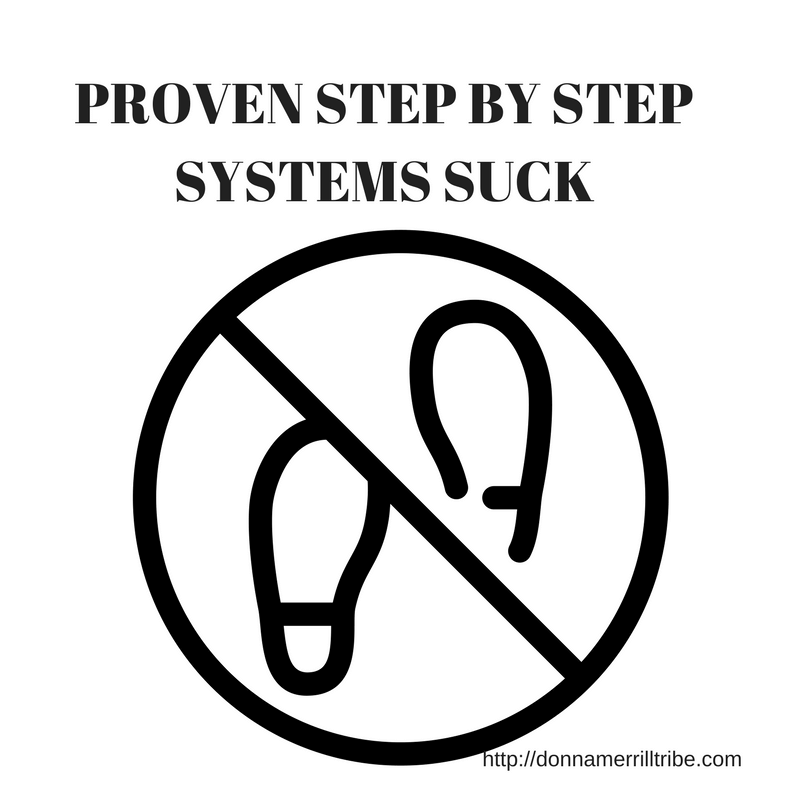 Proven Step By Step Systems For Bloggers Suck because they can't be duplicated.
They really can't.
Oh, I know… the folks who create those step by step systems swear that anybody can duplicate them.
"Even a total newbie."
Are they liars?
Maybe these are just online scams, you know, the ones everybody always talks about?
Hey, hold on a minute.
Let's understand a few things about Scams, Systems and Stuff that Sucks.
Scams
Sure, there are a lot of people who devise some kind of step by step system without having any idea if it will work.
It might look something like this.
Title:
"My Amazing 7-Step System For Bloggers"
Outline:
Choose a winning niche
Buy a domain name
Get a good web host for your domain
Optimize your blog to get email subscribers
Publish great content on your blog
Market your content to your target audience
Convert your email subscribers into buyers
Here's the good part about this.
This system has been proven to work.
Great results are possible if you just follow the system, step by step.
Here's the not so good part.
The people who got great rests with this system may really know their stuff.
But… they may have lots of things in their business already up and running smoothly.
You might not have all those things working for you, though.
Maybe they have a huge email list.
They might have a Facebook page with thousands of loyal fans.
So your ability to succeed is already compromised to some extent.
It may even be doomed to failure.
An Even Worse Scenario
Now, anybody could write a blog post detailing the elements of this "Amazing 7 Step System."
Many people have created and sold digital programs that reveal similar step by step systems.
This one is no different.
It works like this.
The people offering you this great system may have never had any direct success with it.
They might have just copied down those 7 steps because they have learned enough to know it can work.
It has probably even been proven to have worked many times over.
What makes this a scam is not the information, but the misleading expectations, and even the guarantee.
True: the 7 step system outlined above has led to the success of many bloggers.

False: it is therefore guaranteed that if you do each of the 7 things listed, you will have equal or at least profound success.
You see, giving people good information is fine.
But when you promise them predictable results, duplicate success… that's when you're moving into scam territory.
The reason people make that promise or guarantee is that it leads to a lot more sales.
I think it sucks, though, when people are not told the full truth about what they'll have to do to start seeing some good results.
Or when they are not given the clear pitfalls of the system, like maybe
you have to spend a thousand dollars a week in advertising costs to make it work
having an email list of 10,000 subscribers is essential
it only works if you are in tight with lots of influencers in your niche
etc.
Had you known these things up front, you might have steered clear of this "Amazing 7 Step System," right?
But you didn't.
Systems
I love systems.
Figure out the step by step system that you need to achieve blogging success.
Then convert it into a checklist.
Each day, check off everything you have to do.
Then you've got a great, workable blueprint to guide you.
So, let's look at the sample "The Amazing 7 Step System For Bloggers" a little more closely.
Is it going to lead to your blogging success?
Let's be honest, here.
While this system is very simple in structure, it is far from easy to implement.
For instance, how do you "choose a winning niche?"
Some of the most successful bloggers I know have spent tons of time and money testing various niches.
Many of their "test runs" are flops.
Failure is very common, and really, should be expected.
Now, the good bloggers use those failures to navigate their way to success.

But the ordinary blogger just gives up after one, two or three failed attempts.
This is one reason why this system cannot guarantee your success.
Not by a long shot.
Even if you do everything you're supposed to.
Nonetheless, the key is to having a system that you can use day in and day out with predictable results.
So, we'll talk about that system in a moment.
But first, let's talk about systems that rarely work.
Stuff That Sucks
You can't just copy what somebody does and expect to get the same results.
It sucks that it's not that easy.
But it's true.
You see, everybody brings something different to the blogging table.
If somebody built a great photography affiliate blog, I only seeing the surface of that business.
I see that the blogger wrote a lot of cool reviews of photography equipment.
Then, I notice that she integrated Amazon links for readers to buy the equipment from that blog.
Finally, I know this blogger is getting big profits, so hey, I guess I could just do the same thing.
Right?
Wrong.
Because, here's the thing.
What works for one person won't necessarily work for you.
In fact, it probably won't, or at least not to exactly the same degree.
Or, in exactly the same way.
There are so many reasons that the photography blogger is successful.
The proven step by step system she works from is probably the least of those.
There are some other things that are far more important to successful blogging.
Things like…
Having a good plan
Implementing the plan
Overcoming failures
Breaking through obstacles
Persevering against all odds
Being consistent
Truly caring about your audience
Doing everything possible to improve the lives of those you encounter along your journey
Being grateful every day for everything and everyone in your life
Trusting in a power bigger than yourself
Now, that may not be a complete list.
But the point is this.
Any step by step system may have proven results, but that doesn't guarantee that they will succeed for you.
You have to take into account all the factors I just listed.
And believe me, they are way more important in determining your success than some cookie cutter system that anyone and her uncle can copy and paste.
The reason that most "proven step by step systems for bloggers suck" is that they fail to take into account all the intangible factors that lead to success.
So, if you're just grabbing a system or method or tactic that worked great for someone else, it's gonna suck if you think you will automatically get the same results.
And if you don't get those anticipated results, you might think you've been scammed, or that the system really doesn't work.
But please, don't jump to that conclusion.
It's not fair to judge someone else's success by your inability to duplicate it.
Bonus: Stuff That Works
Okay, so now you might feel like you have nowhere to turn.
If you can't find success by following somebody's "proven step by step system," then what's left to do?
I think there is something that works.
You need to take stalk of yourself.
What are your strengths and weaknesses?
Write them down.
What is already work for you?
Do you have a Big Goal for your business?
And what specific milestone goals do you need to accomplish to achieve it?
So, yeah, take stalk of yourself.
Figure out what you have in place vs what you need in place.
Then develop your own system to achieve it.
I know that's not the answer most struggling bloggers want to hear.
But it's the one that works.
If you need help designing your tailor made system, then get some good coaching.
Find a mentor you can work with, and who knows how to put you on the right path.
Learn More About My Popular Top Tier Coaching Program for Bloggers
You will then come away with a workable blueprint, your own system.
And you won't need to chase your tail anymore, just hoping that something will eventually work.
Stop investing in other people's "proven systems" and create your own.
Implement it.
That's the true way to success.
So, how about it?
Are you ready to stop looking to catch lighting in a bottle?
Have you given up on watching other bloggers build great businesses, while you just sit and watch?
Are you done with copy cat systems and follow the leader "strategies?"
Do you understand why I say that "Proven Step By Step Systems For Bloggers Suck?"
I'd love to hear what you think.
Share this article on your social sites.
Leave me a comment below.
Let me know your thoughts about this.
-Donna
Learn More About My Popular Top Tier Coaching Program for Bloggers