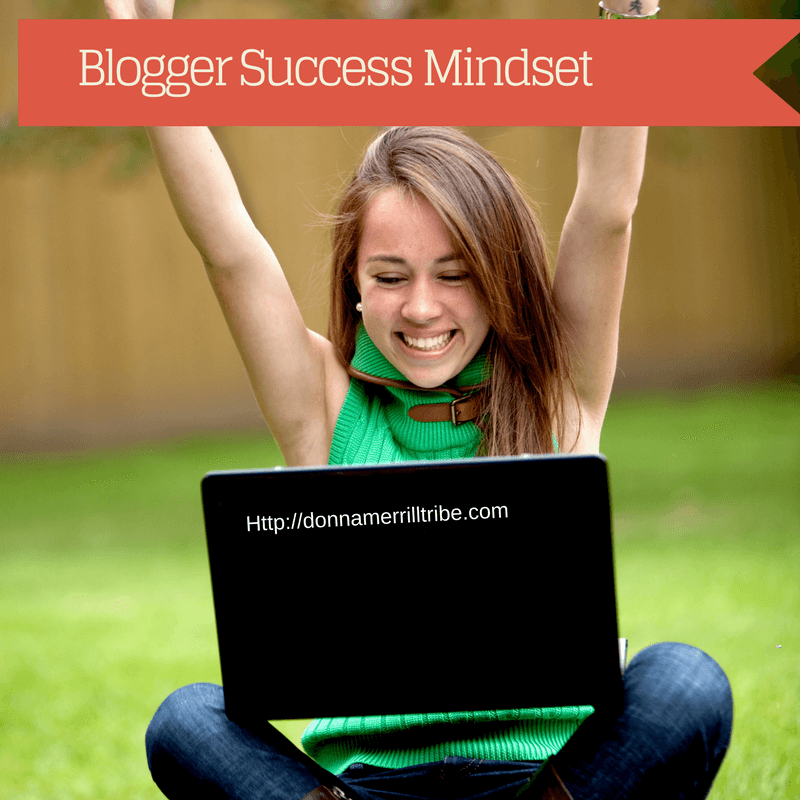 Do you have a Blogging Success Mindset?
Or do you find it a difficult, uphill struggle to reach the success you've always dreamed about?
All bloggers have to work through adversity to build a successful business.
But not all of them know how.
I know that many of my readers, students and clients struggle to put all the pieces together.
You see, over the years I've taught many people how to blog and how to run an online business.
I've taught many techniques and many methods.
Many of these are captured in my courses and trainings.
Others are in ebooks and video tutorials.
But more and more, I've been getting away from teaching people how to run a successful blog.
Instead, I've been showing them how to develop a blogging success mindset.
Until you develop the right mindset, all the techniques, tactics and strategies in the world are not going to take you where you want to go.
You may be doing all the right things, but with the wrong mindset.
Blogging Success Mindset
First things first.
Successful people always begin a venture fully believing it will succeed.
It may or it may not, but if your mind is focused properly, success is just a matter of mechanics.
Successful bloggers need to develop a blogging success mindset.
Otherwise nothing else is going to matter.
So, let's talk about your blogging success.
Can you actually do it?
Yes, you can.
But remember, all the "how to" and "proven techniques" in the world mean little if you don't operate from the right mindset.
What is the right mindset?
One that is confident and assured.
One that knows (even if you don't) that yes, you can do it.
But before you gain that confidence, you might need to adjust some things in your thinking.
Retrain Your Brain – You Can Do It
Okay, so here's the thing.
You might think that it's all great and well to think positively.
Perhaps telling yourself "you can do it" is a good affirmation.
But is that all there is to it?
Well, no.
It's not.
You need to actually retrain your brain to BELIEVE that you can do it.
Just telling yourself you can, is not good enough.
You have to believe it.
You have to get beyond some of the common limitations that people often put on themselves.
When you do, everything changes.
But first, let's see how to get past those limitations.
Is This You? "I never succeed at anything"
If you've tried to succeed at things other than blogging, and failed… then you're likely to believe your blogging efforts are doomed from the outset.
But understand this.
It's not that you never succeeded at anything, it's just that you feel like you do.
And because you feel like you do… you tell yourself, not that you have had failures in the past, but that YOU are a failure.
That's a big limitation, and it's very difficult to overcome.
When you tell yourself that you are "a failure," you are programming yourself to fail.
You don't even give yourself a chance to succeed.
If you've been blogging for a while and have not had good results for your effort, you may feel this way.
What you need to understand, though, is this.
Just because you have had past failures, it doesn't mean that today won't be the beginning of your success.
Your past failures do not doom you to perpetual failure.
As difficult as it may seem, your job is to focus on today.
And if you're really honest with yourself, you will sit down right now and make a list of all the things you have been successful with.
Maybe you haven't had the results you want, but I'm sure there is a list of things you have accomplished.
For instance, your blog might not be profitable right now.
But maybe you've learned how to do videos or write good emails.
Write down all those smaller accomplishments.
They are the stepping stones to your success.
Yes, you can do it.
Or This? "I'm not good enough"
If you really believe you're not good enough, then you do not have a blogging success mindset.
What you have is a self-fulfilling prophecy that you will fail because you must.
And you believe you must because you are convinced that you simply are not good enough to be successful.
In order to start turning this thinking around, I want you to start telling yourself this…
Yes, you are good enough.
I want you to also start rewarding yourself for any accomplishments that you have had.
I don't care how small they are.
Every time something works, even a little bit…
Every time you learn something new…
Every time you implement something in your blogging business that you couldn't do before…
Every time you succeed in little ways like these, stop and give yourself a tiny reward.
Maybe a cup of coffee.
Perhaps a walk in the park.
Maybe you just write yourself a quick note telling yourself what a great job you've done.
These are all tiny little rewards that can get you to start believing in your ability to succeed.
Why wouldn't you believe?
After all, look at all the things you've rewarded yourself for.
This steady drip of rewards for jobs well done are essential to building your blogging success mindset.
Maybe This? "My friends and family think I'm a failure"
It is difficult to become a success at anything if you surround yourself with people who don't believe in you.
If people in your life don't respect you for what you are doing, then you need to find a way to share your accomplishments (and setbacks) with people who do.
You need to have people that can understand how your failures are stepping stones to your success.
They can help you figure out how to improve and grow.
Instead of having people tell you
that you're just not good enough and
that you'll never make it and
that you've never been good enough…
Instead of that, surround yourself with people who are supportive of your efforts.
Forget About All That… Don't worry about your accomplishments
Success today does not derive from your accomplishments of yesterday.
Your efforts alone are enough.
So just stay true to the process you've committed to.
Even in the face of doubters.
I know this is the hardest thing to do if your close friends, family and loved ones are the people who are convinced that you are a failure.
But you cannot control other people's perception.
You cannot convince anybody of anything.

Don't even try.
Just stay focused on the process of your growth.
If you don't know what your process should be, I can help you out with that…

Just remember, you cannot convince anybody except yourself that you are capable of success.
So focus on convincing yourself.
Only yourself.
Nobody else.
This is the blogging success mindset that will take you beyond your failure.
I Hear This One A Lot! "I just can't catch a break"
You don't need a "break."
You don't need "good luck."
You don't need a lucky charm, rabbit's foot or horseshoe hanging over your doorway.
In fact, you have already outlined things you've succeeded at, right?
You just need to keep building on that.
You need to keep growing your success to the point that you can leverage it into great results.
Again, this is what I do as blogging consultant.
I help people figure out how to leverage their small successes into great big ones.
You can work with me on this, or you can find another coach, or do it yourself.
But whatever you do, you must stop trying to "catch a break."
Special: FREE Guide… 4 Things I Did To Build My Blog Using Only Free Traffic
Don't look for some "secret sauce."
Forget about a push-button system or "miracle" software.
You already have what it takes to succeed in your blogging business.
You just need to unleash it.
The Blogger Success Mindset
So here is how you can unleash your success mindset.
Connect with people.
Make sure they know who you are and what you do.
In other words, market yourself.
When you do this, you will start to believe in yourself because others will start to believe in you.
Become a winner
Don't dwell on defeats.
Focus on your wins.
Make a list of everything that you've accomplished.
That doesn't have to mean profits or any specific goals.
Just list everything that you have learned to do, or that you have implemented.
These are wins.
They may not be big wins.
But when you get used to having little wins each day, you start training yourself to think of yourself as a winner.
This can often be a big shift toward developing your blogging success mindset.
Take stock of your talents
We often hear that you need to address your weaknesses.
But part of developing a winning mindset is to run with your strengths.
People always do better at things that they're good at.
So take stock of your talents.
List all your strengths and abilities.
Then figure out ways to integrate those into your business model.
That will help you stay on the winning side.
Develop gratitude for all the things you have
Be a winner, not a whiner.
Don't focus on the things that you don't have.
Stop fretting about the goals you have not achieved, or the results that are less than what you expected.

Forget about the failures of your past.

Be grateful everyday for the things you do have, right now.
To do this, list them.
It's a great exercise to wake up every morning and add at least one thing to your gratitude list.
You'll be amazed how long it will get.
More importantly, you will start to really appreciate yourself.
That's when you truly develop the attitude of gratitude that is so foundational to the blogging success mindset.
Achieve one goal every day
Make sure that you are reaching at least one goal every single day.
In fact, make sure you reach that one goal before you do anything else.
In order to make this achievable, you need to set goals that are realistic.
And they need to be small enough that you can get them done in one sitting.
Every day should begin with tackling a goal that you can accomplish in an hour or two.
Start your day by completing that.
When you accomplish just one little goal each day, you are on the way to achieving your Big Goal.
So if, for instance, you have an email list of 100 people, your next milestone goal might be to grow that list to 1,000.
But you can't do that today.
So while you're working a bigger strategy, make sure you write an email to the 100 people on your list today.
That's a goal you can and should attain.
So do it.
After you do, get back to your bigger strategy.
This keeps you in the habit of accomplishing things instead of just dreaming about it.
It also keeps you in the habit of being successful.
This will go a long way to helping you achieve the results you really want.
Blogging Success Mindset | You Can Do It When You Believe It
The standard adage is that seeing is believing.
It is also true that believing is seeing.
Either way, you need to see what your blogging success looks like.
That will train your brain to actually believe in your inevitable success.
It's just a matter of time.
Believe it.
Because no matter what anybody tells you…
You Can Do It When You Believe It.
Rehearse your future success
Success doesn't just happen because you want it, though.
You must take time every day to clearly  focus on your success.
The only way it will happen is if you can see it happening.
Call this visualization or mapping or whatever you like.
It is a rehearsal for the main show.
Several times a day you need to carve out 5 to 10 minute "breaks" from your routine.
Use this time to sit quietly and "watch" or visualize yourself being a successful blogger.
Visualize the growth of your daily traffic.
Watch your email list grow by leaps and bounds.
See lots of your subscribers and readers converting every day into buyers and clients.
Have a clear vision of what this looks like.
And replay it in your mind over and over and over.
How does it feel that successful blogger?
And how does it improve your life?
Acknowledge that you are the person of your vision.
This will set you on the right track leading to your success.
Then, when you actually get to implementing things in your business, each thing you do will fall in line with your success visualization.
Now you have attained the ultimate blogger success mindset.
The more you practice it the easier it becomes.
Get Help Designing Your Unique Path To Your Own Blogging Success…

So now it's time for you to prove it to yourself.
There's no need to struggle.
That's a negative force in your life and in your business.
Just start being the blogging success you want to be.
Now…
Take a moment to share this article on your social sites.
It will help others to hear this message.
Then, leave me a comment below.
Tell me what what you think about my advice that "You Can Do It When You Believe It."
Do you have a Blogging Success Mindset?
-Donna