One of the hottest things in blogging and online marketing is live stream video.
That's because people are always searching for a better way to stand out in a crowd.
Aren't you?
Cutting edge bloggers have been involved in this trend for a while now.
And if you think this trend is going away anytime soon, think again.
All forecasts indicate that live stream profits are about to skyrocket over the next 5 years.
This is just the beginning.
It is only the ground floor, not the ceiling.
I think of it like this.
The First Reality Series
HBO broadcast what is widely considered to be the very first reality tv show in 1983… "An American Family Revisited."
It was thought to be a bit weird and out of the mainstream.
But some people thought it might be the launchpad for a new genre of entertainment.
Well, those people were right.
Then there were those who thought it would be only a flash in the pan – a quickly passing fad.
Well, nearly 35 years later, I think it's safe to say that the reality trend is still soaring high with no end in sight.
Online Reality
But reality is trending for more than just television shows.
The online world is just beginning to experience a similar phenomenon.
And again, only a short time into the live stream revolution, there are those who think it's about to peak.
But cutting edge bloggers are only beginning to reap huge live stream profits.
It's a trend that is almost certain to escalate tremendously in upcoming years.
The Lure of Reality
Here's why live stream video is so hot and why it's not going away.
First of all it's live.
That means it is real.
Like a reality TV show, it captures real people being imperfect but, after all, being real.
People like people.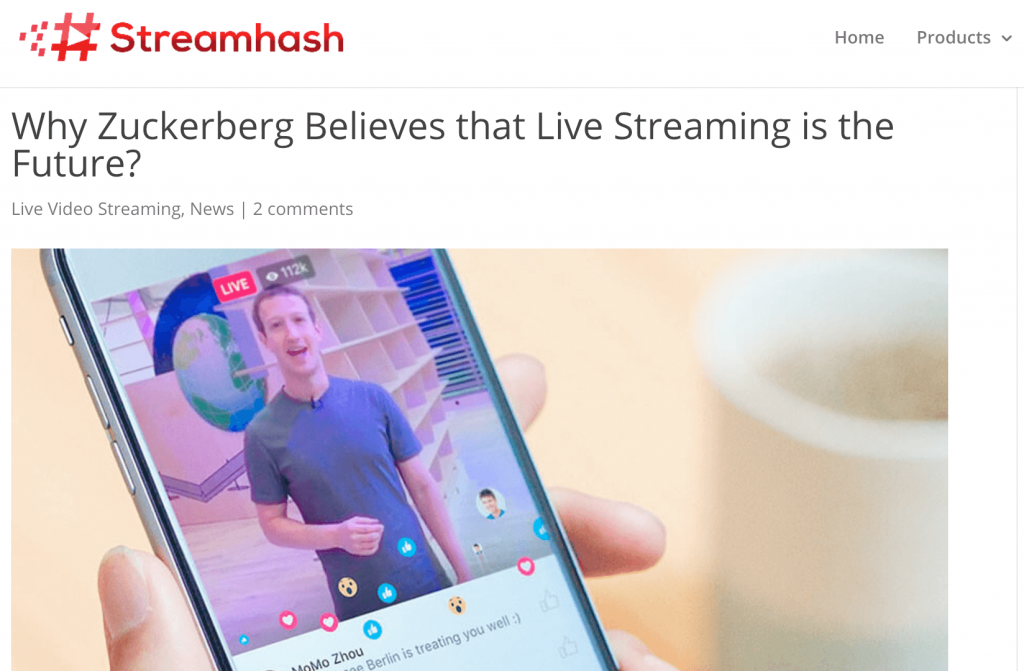 They cluster at sidewalk cafes to watch people walking down the street, as they sip on tea or a glass of fine wine.
What's so fascinating about folks passing by?
Well, only that instinctive aspect of human nature… people have an innate fascination for watching real people caught in the act of doing real things.
As the above Streamhash article about Zuckerberg and Live Stream describes it, Live Stream video introduces all these benefits to your blog and online business…
Live Stream video is the new information medium, and it
gives a sense of reality
is accessible to all
makes 2 way communication possible
is ideal for business, and most important…
gives you an emotional connection with your audience
Engagement and Interaction
Bottom line… People love reality.
So there is the kind of fascination that I just described.
But in addition to that, reality video or live stream video gives bloggers and marketers an opportunity to engage directly with their audience.
And they actually get to interact with their live stream attendees.
They get to talk to them in both text chat and live conversation.
They can even see them, and invite them to join the streaming video.
And all the while, others in attendance get to watch, observe, offer their own input, ask questions and be part of the experience.
This is better than the early days of telephone, when people could eavesdrop on their neighbors via the infamous "party line" (a telephone line shared by multiple subscribers).
Anyway, here's the ultimate power of live stream video.
It breaks down the wall that has existed since the beginning of the internet…
the communication wall that separates bloggers from their readers, and marketers from their prospects.
But now, with live stream video, all that has changed.
Are You Ready To Reap Live Stream Profits?
The collapse of the communication wall means there are new ways for entrepreneurs to do business.
Top bloggers and marketers in the world have been paving the way to live stream profits for some time now.
They've shown us many methods and tactics that convert guests into buyers and clients.
In this way, they have demonstrated how live stream video is the wave of the future.
With so many people already enjoying live stream profits, I just have to ask… why not you?
Why Not You?
Good question, eh?
Why haven't you gotten in on this hottest trend in blogging and online marketing?
Whatever the reason, the good news is that it's not too late.
You just have to learn what tactics and methods are working for others.
Then you have to set forth a blueprint of what will work best for your blog, your business.
It's really that simple.
This is not magic.
There are no slick tricks or hidden secrets.
Live stream video is a solid business tool and strategy that you should be putting to use right now.
Awesome Live Stream Profits For Cutting Edge Bloggers
So how are you going to get involved in this, all you cutting edge bloggers?
Where do you begin getting some of these live stream profits.
Well, you might have noticed that in the past year or two, I have been immersed in live stream video.
I've been using Google, YouTube, Periscope and most recently Facebook for live streaming.
And I have been conducting private webinars and teleseminars for some time now.
So I'm not new to the whole idea of being interactive with my customer base and my clients.
I love engaging with people.
It's what makes my business distinct from a lot of others.
So for some time now, I've been thinking of teaching other people how to get on board with this.
So many people think it's such a difficult thing.
But it's not.
You just need to be taken by the hand and shown the ropes.
So I've designed a "Live Stream Profits" 30-day Challenge.
It is a paid product that I was just on the verge of launching.
But then my good friend, Sameer Joshi, invited me to preview a really cool training course about live stream video.
I was so impressed that I decided to offer it as an affiliate product, and throw in my "Live Stream Profits" 30-day Challenge as a free bonus… just during his launch.
Now, you very rarely see me offering affiliate products.
I'm not really a big affiliate marketer.
But I'm so excited about live stream video that I just had to make an exception in this case.
Sameer is a top-notch marketer and leading educator in internet marketing.
The "Live Stream Profits" training he has put together is so well done, and so timely.
So, if you're at all interested in using live stream video in your business, I highly recommend that you jump on this.
Step 1
Just sign up for Sameer's training here…

Again, this is my affiliate link, meaning I might earn a commission.  That in no way effects the cost to you, however, and it does entitle you to enroll in my free bonus (see Step 2).
Also, please note: This special launch offer ends on September 5, 2017.
Step 2
After you have signed up for the training, check out the details of my Free Bonus here…
Live Stream Profits – 30 Day Challenge with Donna

Simple as that.
"See you on the inside" as marketers always say 🙂
Now, it's your turn.
Do you use live stream video?
Have you been thinking of it?
How would it feel to spend the next 30 days in my challenge group, putting this into real action?
-or-
Are you already earning live stream profits?
I'd love to hear from you.
-Donna