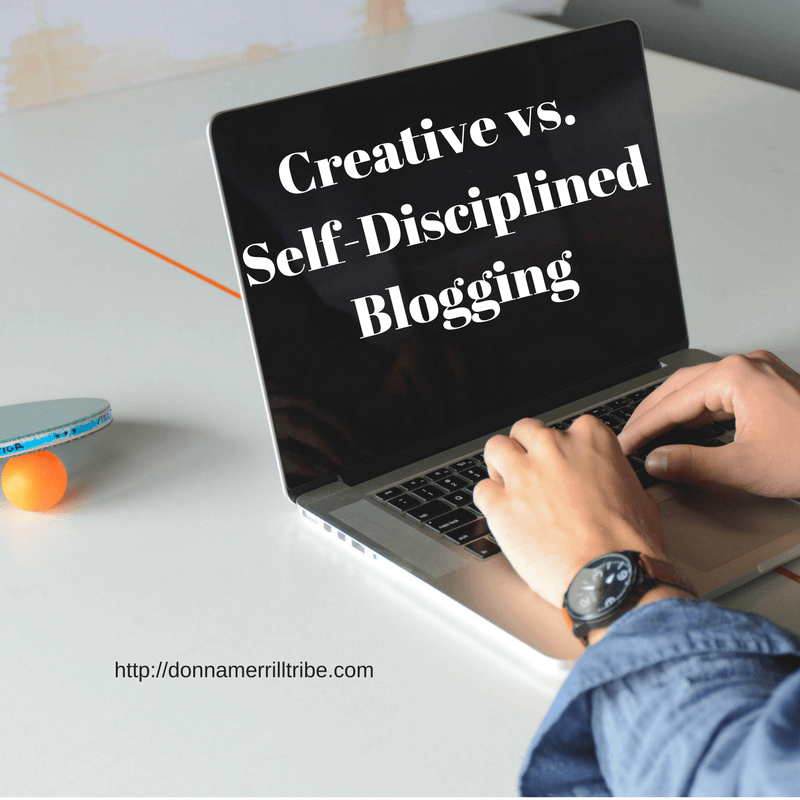 Did you ever stare at a blank document because you have to write a blog post?
Is your mind so creative that you come up with many ideas and go around in circles?
Do you consider yourself to be a creative thinker?
Well if you do, this post is just for you.
1-In + 1-Out
On Saturdays I like to do some reading. 
I came upon Derek Halpern's article, How To Be More Creative and Unlock Your Best Ideas on Social Triggers.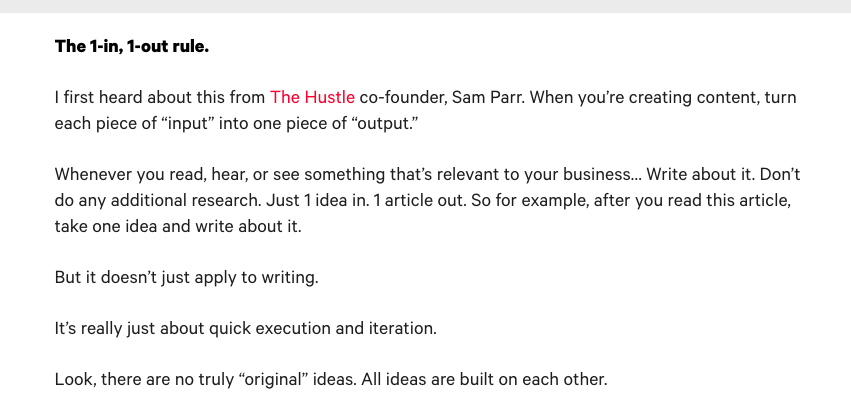 You can read about the 1-in and 1-out rule, and more…
in How To Be More Creative and Unlock Your Best Ideas (Derek Halpern, Social Triggers)
It's an article about being creative.
I was inspired by Derek's article to write my own article on creative vs. self-discipline blogging.
It's all in keeping with the "1-in and 1-out rule."
Creative Blogging
Now, I am convinced that I have a creative mind. 
For instance…
It takes me forever to get dressed because when I try on my clothes… either the color doesn't agree with me on that day, or a new idea of what to wear suddenly pops up in my mind. 
So yea, just getting dressed in the morning takes time when you're too creative, my friends 🙂
When it comes to blogging, this creativity actually feeds my passion for blogging…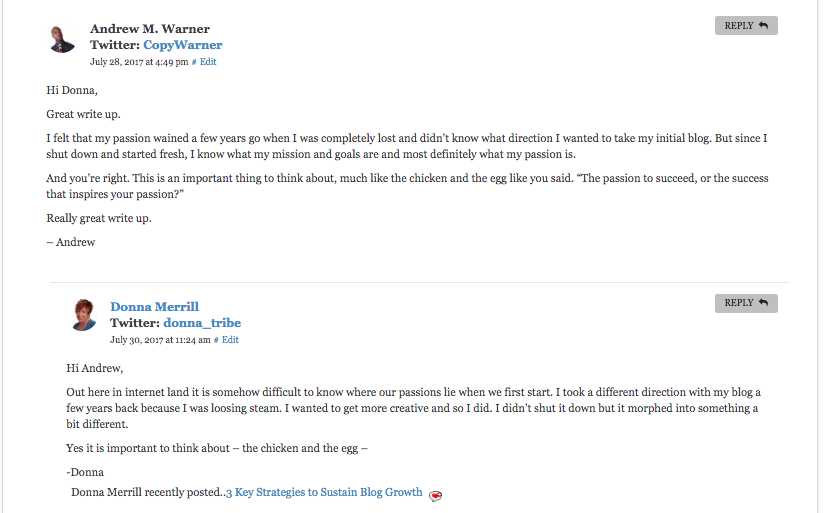 Read more about how critical passion and creativity are for blogging in How Passion Impacts Your Blogging Business
Self-Disciplined Blogging
I have already written about 4 Productivity Tips For Bloggers.
They are all critical for self-disciplined blogging.
And self-discipline is at the root of all productivity.
I go about my morning routine and try to stay with my DMO (Daily Method of Operation).
For each day of the week, I actually have a list of all my to do's, be it business or personal stuff. 
If I didn't have that list, my mind would spin out of control.
Spinning out of Control
Yes, I can stare at a document like you do, and have so many ideas when I start writing, it turns into several topics. 
Then I have to take each one when I'm editing and it all turns into multiple blog posts.
This kind of activity, instead of leading to greater productivity, actually contributes to a drowning sense of blogger overwhelm.
It's true!  
I have done this so many times. 
Until…..
My Daily Method of Operation (DMO)
I created my DMO. 
This may sound tedious, but I do struggle to write about one subject at a time. 
I can start writing and then check my Facebook, get into a conversation via PM, and end up losing half my day.
Then comes dinner time and I want to cook something healthy, but I'm so starved by then that I jump for something frozen. 
Not a good way to do things, eh?
However, with my DMO, it keeps me constrained. 
It keeps me in my box instead of drifting out of it.
Creative vs. Self-Disciplined Blogging
You see my friends, I naturally think out of the box and that's a good thing, except when it comes to actually getting things done.
Back to Derek's article…
He makes several great points by conducting little experiments (which I've done).
He illustrates how the creative mind has no limits. 
Sounds great, but actually… This is where we get ourselves into trouble.
The freedom of the creative mind is appealing, but it can lead us down the path of distraction and loss of focus.
That's why we have to stuff our creative urges back into the box in order to get things done.
Indeed, we thrive on creative blogging, but can only become productive when we practice the art of self-disciplined blogging.
My Story
So let me share with you how I get things done myself.
1.
 

Working with my clients is the number one thing I create time for, first and foremost.

 

Then I get down to the basics… teaching, customer service and all that is imperative to my business. 

I spend a lot of my time on those things.
2.
 

One of the most important things I work on is product creation.

 

If I left it to myself, there would never be a product. 

But product creation is a key part of my business.

So instead of making it a major headache, I hire a coach to help me get it done.

My coach give me an unbiased perspective and a professional advisor to bounce my work off of.   

There are time limits, too. 

My coach helps me set and stick to a production schedule.

My production schedule helps box me in… I have such and such done by Monday, and I focus on that. 

Otherwise I'm throwing my money out the window.  

Same process, different stuff to do on Tuesday… Wednesday… etc.

With me so far?
3.
 

My blog is very important to me.

 

I need to write content. 

Good content.

Engaging content worthy of my great audience.

So I have a special day in the week that I sit myself down to do that (Part of my DMO). 

If I'm off focus, lacking self-discipline, no content would get produced.

Finally, I have to spend every day answering comments and going to the commenter's blog to reciprocate. 

Time consuming hugh? 

Not really, when you break it down inside of your little box, scheduling a certain time of each day to do what you've gotta do (More of my DMO).
4.
 

Social Media:

  

It is critical that we spend time on a few of these platforms.

 

That helps us build our target audience and our following.

We have to choose the ones that get us the best and the most traffic. 

All the while being social and not pushing our products/services. 

So I may share a funny story, make my own image, and then some. 

Yep…this can take time.

But with my DMO, I limited my activity to only a certain amount of time each day for hitting up my social media sites.
5.
 

Getting away from my computer.

 

This involves time at the gym. 

Time to take a ride in the sunshine, or to read a book.

I also have created time in my day to do nothing at all.

That might be the most creative part of my day 🙂

Again, it is all part of my DMO.
6. Getting dressed/personal care.
Sure, it takes time to shower, put on make up, do my hair and pick out my outfit of the day. 
Yep, we all gotta do it don't we? 
So I prefer to do this before I sit down and start working. 
When I'm dressed for work, I feel better. 
Working in my p.j.'s makes me feel lazy and I find I can't get as much done before fizzling out.
These 6 examples I'm sharing with you are part of my actual day. 
They are "my story."
Of course I have long term goals, too, but they have to be met one day at a time. 
And each day, each little activity is important (yes, even doing my hair lol).
So I have to confine this creative mind of mine into a box. 
Nothing wrong with it, but it is the only way I can get things accomplished.
I do pride myself for always thinking out of the box, but my time being inside the box is when productive things get done.
Learn More About Donna's Popular Top Tier Coaching Program for Bloggers

What about you?
Do you have that creative mind that woo's you toward so many random things? 
Or… are you self-disciplined by nature? 
Drop me a comment below and share because I would really like to know.
-Donna