This post was most recently updated on July 26th, 2017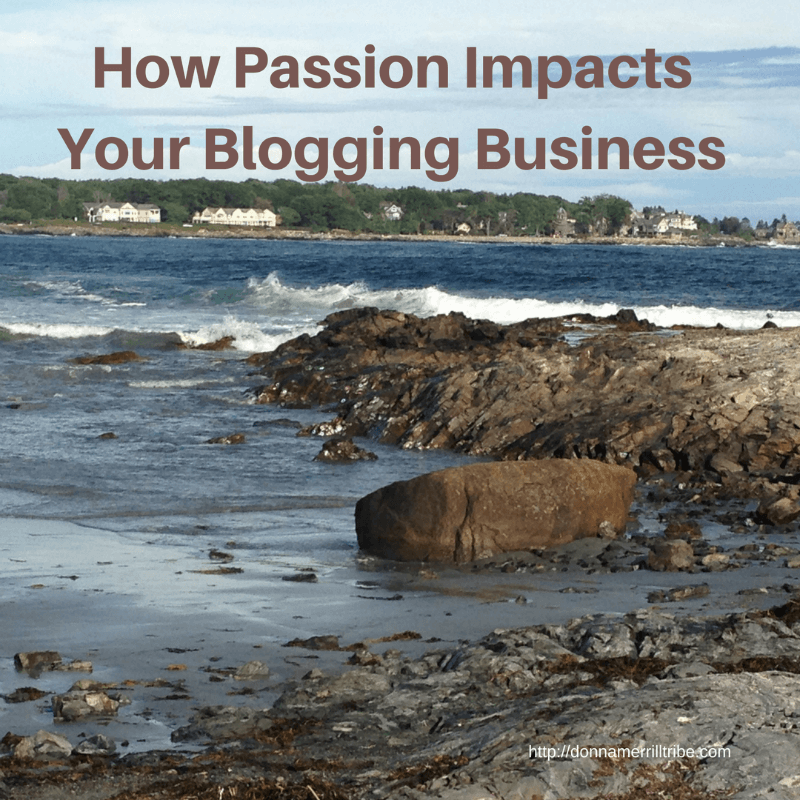 Have you ever thought about how passion impacts your blogging business?
Bloggers often struggle with what seems to be endless failure.
One of the first things I usually tell them is that they must understand what their passion is.
This should be the basis of everything you do in your blogging business.
It's important to understand exactly how passion impacts your blogging business, even for established and accomplished pro bloggers
And it is certainly helpful when you hit those snags, and must figure out how to work through adversity.
But just determining what your passion is doesn't tell the whole story.
In fact, you may be passionate about many things.
But you're not going to blog about many things.
That would spread your message too thin.
Target Your Audience
You can't be talking to too many people, too big of an audience.
One of the tricks to blogging is to define your market very, very narrowly.
It's what we call a "highly targeted audience."
That means… determine a passion of yours that you will make the central focus of your blog.
Then, you can address the specific crowd of people that share that passion.
Blog About Something Marketable
Now don't misunderstand this.
Some people think that they can only blog about something they're totally passionate about.
That's not necessarily true, though, as you will see later in this article.
It may not even be a good idea to blog about your highest passion.
That's because it may not be marketable.
Most people I work with are blogging for-profit.
And simply put, not every passion is marketable or profitable.
So, in other words, many things people are truly interested in may have a very weak profit picture built into it.
Find Your Passion
The key is to find something you are passionate about.
But something that also can be marketable.
When you do this, you'll be on the right path to learning exactly how passion impacts your blogging business.
That's my perspective of how passion impacts your blogging business.
Now, let's see what some other leading bloggers have to say about this.
1. Amy Lynn Andrews
Amy Lynn Andrews makes the point that you need to be blogging about something that you're "passionate" about, not just "interested" in it.
Otherwise, she believes that you're really killing your business before you even get it started.
That's because it takes a lot of work to develop and run a blog.
If you're merely "interested" in your topic, then the chances of you doing all that hard work consistently are slim.
That's especially true when things get tough…
having to come up with content all the time,
promoting it consistently
and all the rest.
That is just the beginning.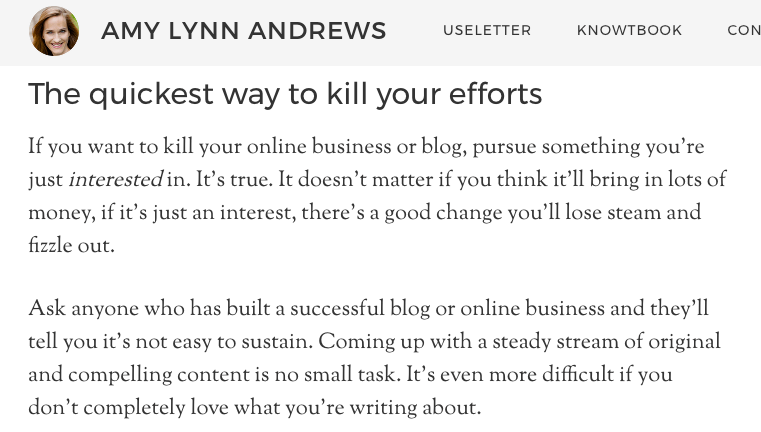 Read more… https://amylynnandrews.com/how-to-find-your-passion/
You're not going to want to do that with something that you have only a passing interest in.
Amy challenges you to find a list of things that you are truly passionate about.
That requires you to dig deep into your dreams.
She challenges you to dream of all the things that you would be totally excited about to work on.
Then, from that list, settle on the one you think would have a strong enough profit potential to make it the foundation niche of your blog.
As Amy says… "you like an interest, you live a passion."
So, start dreaming and find your true passions.
2. Crew
On the Crew blog, Belle Beth Cooper tells us that you don't have to start with your passion.
You only need to cultivate it.

Read more here… https://crew.co/blog/hack-your-passion/
The point is well taken.
Sometimes, we can't just jump into our dream blog.
It simply may not be in a good enough niche to build a profit base from.
But if we cultivate what we're already doing, or what we have a natural talent for… it can certainly develop into a passion.
It might be that the passion derives more from the fact that you've found a way to help people, regardless of the niche or topic.
3. Smart Blogger – Jon Morrow
On his Smart Blogger blog, John Morrow talks about how you have to become a… smart blogger (what else, right?).
Now, he's not talking directly about passion here.
He's talking about being a smart enough blogger to learn how to give value to your readers.
He's talking about re-orienting your life, your habits and your thinking processes in order to accomplish that.
In other words, your passion is not so much your topic or your niche… but your passion is you… yourself.
It's you that your readers want to learn from.
How many times have we heard the people don't buy products, they buy people?
So true.
Will you become the best smartest and most helpful blogger you can be?
Whatever the niche?
Whatever the topic?
When your passion becomes part of your own self growth, then your blogging business will show the results you're looking for.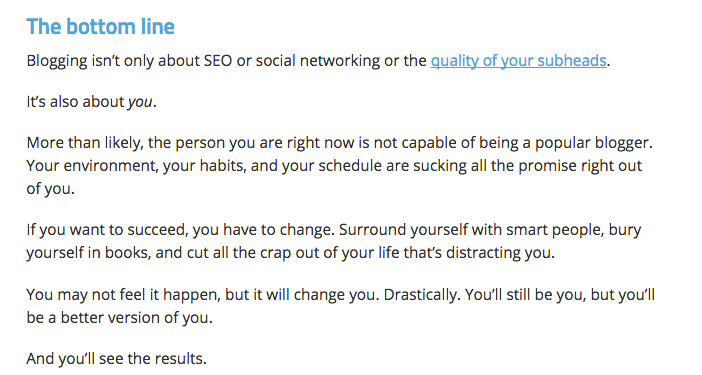 Read more… https://smartblogger.com/smart-blogger/
4. Problogger – Darren Rowse
In his Problogger podcast, Darren Rowse Talks about how to maintain inspiration and avoid blogger burnout.
When you're passionate about your topic you tend to want everything to go smoothly.
I think many bloggers assume that because of their passion about a topic, people will just magically gravitate to their blog.
But it takes work.
This is why it's important to be passionate.
Because you will need to get down to work.
Darren talks about ways to avoid feeling overwhelmed and burnt out from all the many tasks that blogging requires.

Listen to the podcast… https://problogger.com/podcast/how-to-stay-inspired-and-avoid-bloggers-burn-out/
I think what it really gets down to is this… develop a feeling and conviction that you're in the right place when you're blogging.
Talking about the burdens and business part of blogging, Rowse observes that "I find it easier when I am in a groove and a rhythm with my blogging."
That "groove and rhythm" is not easy to find when you blog purely for profit instead of passion.
5. Duct Tape Marketing –
Jon Jantsch
At Duct Tape Marketing, Jon Jantsch agrees that doing what you love is important for bloggers.
But getting good… really good at it… is what turns it into a passion.

Read more… https://www.ducttapemarketing.com/love-your-work/
I think that's so important to understand.
I've known people in many walks of life who only started getting really passionate about something when they started achieving success in it.
Blogging is no different.
While I don't think that you should blog primarily for profit, many bloggers do.
And those that start achieving good results often experience unexpected levels of enthusiasm.
As even more success accrues, they actually start getting pretty passionate about it.
I think people need to know they're doing something well.
Call it positive feedback, good vibes or whatever.
But as you start getting good at something, you just start feeling better about yourself.
It's kind of like biofeedback.
As you start seeing positive biometric feedback, your mood and then, even your health, can begin to improve.
That's because you are hard-wired to seek improvement, I believe.
As you begin to experience it, your passion level increases.
Your desire to do even more, and rise to even higher levels is stimulated.
I call that passion.
And I see it happen all the time with bloggers.
6. John Chow
John Chow hosted an article that talks about "the strange relationship between passion and success."
It describes the fact that passion does not lead to success, but rather ==> success leads to passion.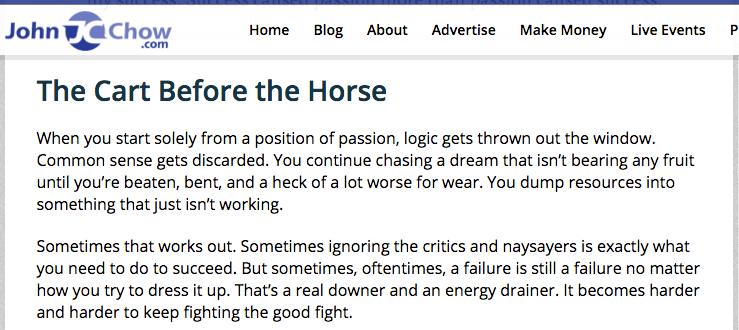 Read more… http://www.johnchow.com/the-strange-relationship-between-passion-and-success/#
I think this is similar to what Jantsch was getting at when he said  "I love what I do, but I get paid for what I finish."
As the Chow article explains, you don't want to just be a quitter.
You don't want to simply quit every time something is not going the way you hoped.
And certainly, you can't just keep jumping to a new thing every time you meet resistance.
But you should focus your efforts on "building momentum where there is momentum to be built."
And again, like the biofeedback example I gave you… "Follow the positive trends on the projects that are seeing success."
Another way to say that is the marketing cliche…  "follow the money."
IQ Matrix –
Adam Sicinski
On the IQ Matrix blog, Adam Sicinski talks about passion a bit differently.
He describes it as a lifestyle and mindset rather than a targeted inspiration.
In other words, it may not be so much that you are really passionate to blog about dog training, or health or financial security.
Instead, it may just be that you are a passionate "type" of person.
You tend to be passionate about everything you do.
In fact, Sicinski even gives guidance for developing a passionate personality if you don't already have one.

Read more… http://blog.iqmatrix.com/living-with-passion
The IQ Matrix article then goes on to describe several things you can do to increase your capacity to be passionate about the things you do.
For bloggers, this points to the importance of finding out how to help people solve their problems.
When you are helping people solve their problems, you instinctively improve your level of passion.
So again, we see the script is flipped.
Instead of being passionate about helping people, as most bloggers tell me they are…
you develop passion for blogging as you start getting good at helping people.
It may sound like a play on words.
But really, when you think about it…it's a major shift in your thinking about how you can earn a living by blogging from your passion.
Shout Me Loud – Harsh Agrawal

Now, if you're beginning to wonder whether or not you are passionate as a blogger, it might be good to take a peek at this Shout Me Loud article posted by Harsh Agrawal.
Five factors which shows passion for blogging
According to this quick checklist, you will see that you are passionate about your blogging if you…
Are keen to learn new things
Feel like you're in a different world when you blog
Don't care about time when you're blogging
Consider money to be only a secondary goal to blogging
Refuse to take shortcuts to achieving success in your blogging business.
Do you see yourself, here?
Are you beginning to see how important it is to start developing some of these passion traits and habits?
How Passion Impacts Your Blogging Business
You have now gained many great insights into exactly how passion impacts your blogging business.
So what's your personal takeaway from all this?
What does this mean to you as a blogger?
What do you think comes first, the chicken or the egg?
The passion to succeed, or the success that inspires your passion?
I'd love to hear from you in the comments below.
People so often tell me that they enjoy reading my comment threads as much as they do my blog posts.

So stand up and be counted.
Share this article on your social sites.
And then leave a comment below.
I'm anxious to hear how passion impacts your blogging business.
-Donna