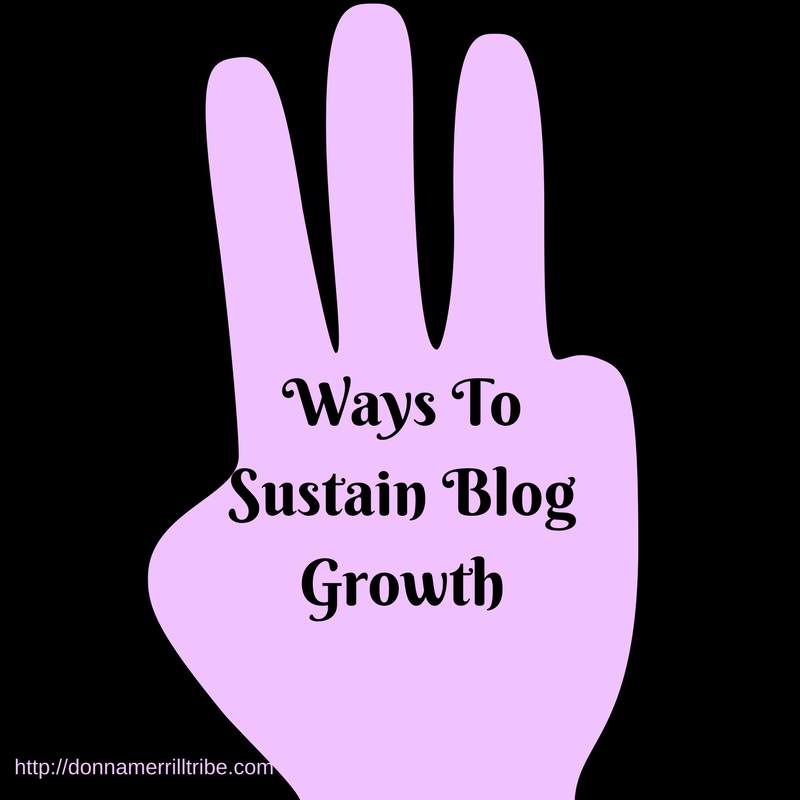 People start blogging.
Then they stop.
The problem is usually about their struggle with productivity.
Many of those who got lost on their blogging journey, actually "get back on the horse" at some point in time.
Then they go crazy with it.
They figure that's the way to muscle their way through to the top.
But the most successful bloggers have strategies in place to consistently do things to sustain blog growth.
You need to be using these proven key strategies, too.
So here are some things you should be doing.
3 Key Strategies To Sustain Blog Growth
Time Management
One of the biggest problems bloggers face is finding the time to get everything done, right?
But time management is not just about making a to-do list.
I know, some people get into really complicated things when they talk time management.
Well, good news.
Focus on your next big goal.
You can simplify everything considerably by first establishing a clear goal.
Write it down.
Jot down all the steps it is going to take you to reach that goal.
l you have to sit and think, "okay, I need to do this, then I need to do that. I need to learn this software or that strategy right at this time."
Whatever it is, okay, so you make your list of steps to reach your goal.
Each step.
They can be like the most insignificant things.
But they are all pieces to the puzzle.
Even what you choose to wear.
I know it may sound trite, but it's very true.
You need to bolster your self-esteem to feel good.
Whatever that takes.
Step by Step
Make a list.
Then just start doing things on that list.
One at a time.
Just strike them off every time you do something.
And as you strike things off your list, you feel really, really good.
So then, I like to treat myself as I accomplish little things
Whether it's an extra cup of coffee for the day, watching a TV show or whatever little insignificant thing I can do for me when I cross things off my to-do list.
You need to celebrate every little step.
It helps get you into the momentum of doing things and getting your priorities straight.
As you do this more and more, it becomes much quicker because, you know, like anything else… when you learn how to do a behavior it starts to become part of you.
People ask me "how come you get all this done?"
It's like… I have a strategy put in place and whether I like it or not, I have to do it everyday.
But when I strike things off my list, I give myself a present or sticker or something.
So, the main thing I want to tell you is to put in some extra time to write down your goals, because life happens, okay.
There's going to be interruptions in your life.
You may catch a cold or it could be something much more serious.
Maybe you lose someone in your family, or lose your job or whatever.
Things like this happen in life, so you need to be prepared.
Always give yourself time to those things, what I call miscellaneous time.
Yea, you have a schedule, but you need that miscellaneous time, too.
Challenge yourself to succeed.
I really like "challenges" to get myself to the next step.
Things like a 30-day blogging challenge.
It gives you the structure and impetus to do something every day.
Make it really simple.
Things like…
"I want to get 'x' amount of visitors to my blog."
So I'll focus on doing just one little thing as my challenge.
When you keep your activities small and focused, you get much more done over a sustained period of time.
Best of all, when you keep things simple, and do just one little thing a day… you start to form a habit of achieving success.
Build momentum
You eventually find, it's not that you need more time, you just need to form that habit of achieving success.
And you get used to that momentum.
It starts becoming part of you, and just keeps picking up steam.
So you don't have to obsess about achieving your goals.
It just becomes part of you like anything else.
So pick a challenge that will really help you achieve your next goal, and stick to it for the next 30 days.
New habits will form, and you'll start making time to achieve success.
Create An Endless Flow of Content
Coming up with content every day is a big challenge for most bloggers.
This is something that I've been hearing so much about lately.
I've seen it in many blog posts… methods for coming up with content every day.
I actually wrote an article that shows you ways for writing more blog posts faster.
But every day?
That can be really difficult if you're trying to keep your head down and your nose to the grindstone, working hard and long hours.
That's a difficult path to follow, and one that doesn't usually work too well.
But you still need to come up with content every day.
That's how to finally get seen and stand out in a crowd.
So let me clear up for you the main thing.
Coming up with content every day doesn't mean that you have to write a blog post every day.
If that's not easy for you – you don't have to.
I know that's not me.
I don't want to do it.
Some people do, and that's great.
But you can create content in a different way, too.
So I create a short blog post.
Then maybe a quick video with cute little frog images or whatever.
Sometimes, content has nothing to do with blogging.
Maybe I'll just shoot out a quick video for my daily content.
Then I put it up on my Facebook page or whatever.
So I create the content and I put it out.
Now, I watch carefully how people respond to it.
You see, you have to stay in touch with your target audience.
This is why it's important to create content every day.
Share it on social media.
You can put content on YouTube.
Or, you can do it through LinkedIn.
Where do you like to post content?
What works for you?
There are many ways to do it.
Sometimes I just put another blog post up, something very similar to another one I've already written.
I might post it as a LinkedIn or Quora blog post.
The exact content is not so important, but keeping the same issues involved.
Then I observe the concerns and questions my readers have from those various platforms.
Because, to develop content every day, you have to know the concerns and questions that your audience has.
Know your target market
A good way to do that is that to look around look around on other blogs in your niche.
Post comments there, and read other comments.
Look around on social media.
There's lots of questions out there.
This is all great material for the creation of your content.
There's lots of questions out there.
You can even go see what the influencers in your niche are talking about, because they're usually keyed in to your same target market.
It's good to share your struggles
People want to know that you're not just shooting from the hip.
Show them that you've walked in their shoes and understand whatever place they're in right now.
I did that recently when I was struggling to get into the Facebook Live action.
I just jumped on it, and told people how I didn't really know what I was doing.
And you know people understand that.
They resonate with that.
Also, they may be struggling with the same thing.
Or maybe something similar.
They like watching you go through the struggling process because it helps them learn how to go through it themselves.
Generate Conversation
This kind of thing generates a lot of conversation.
And that's what you really want.
That's the whole purpose of creating content to begin with.
I would say read blog posts in your niche and you'll get plenty of ideas.
Take Note of Your Ideas
But the main thing is that when you get those ideas write them down.
Otherwise they just fly out of your mind.
I know they do with me.
Write down ideas that maybe inspire and intrigue you.
Write down ideas that you can now integrate into your own blog posts.
This is how you come up with new blogging content every day.
Share Your Content Daily
Sharing your content daily is a key strategy for building your blogging momentum.
Besides blogging, another way to create content is to quickly shoot a video about something.
You can do a face-to-face video or just an audio track talking about something.
Maybe a one or two minute video.
That's all.
This will remind you of the ideas and information that you want to explore.
Then take these snippets of content and share them.
Share them all around.
Put them on all your social share sites and explore new ways to share it, too.
These might just be raw ideas or tidbits of information.
But eventually, they can be the basis for more substantial content like a blog post.
Meanwhile, you're building a community and developing your own following.
Community
You need a community if you're a blogger.
Don't try to go it alone.
That never ends up pretty.
You can't just put up a blog post by yourself and expect things to happen.
Okay so you need people around you.
So how do you do that?
You can join
Facebook groups
LinkedIn groups
Google+ Communities
Sub-reddits
Forums
Watch carefully, though for interaction.
If there's no reciprocity going on, you're in the wrong place.
But when there is… when people are sharing and communicating… that's where you want to be.
You will learn something everyday, and people will start sharing your content.
That's the power of building a community.
You need other people.
Ok, if you have a blog, you start gathering your own community, too.
You do this by going to other people's blogs and leave them comments.
In time, people start to reciprocate.
You can also build your own community on your blog.
Just post great content that people are interested in.
They will start comment threads on your site.
Reply to their comments, go to their blogs and you have an active community going on 🙂
Rule of thumb here is to engage with people in your own niche.
Always get involved in comment threads.
Leave meaningful comments.
Not one-liners that make you look like you're just dropping a link.
Be interesting and engaging, and people will reciprocate.
Just use your common sense.
Be polite and show people you really care about what they're doing.
Send start compiling a list of people in your community.
Put them on some sort of list.
I use Feedly for that purpose.
Use whatever you want, but start collecting a list of people that you engage with regularly and who you can rely on to reciprocate.
This is your community.
Don't ignore it.
Visit your crowd often and they will visit you back.
Engage them and they will engage you back.
That's called relationship-building.
Now you have a blogging Community.
I can't tell you how important comments are in blogging.
Whether it's you commenting on somebody's blog or whether they're commenting on yours.
Remember this…
Comments are content.
Comments are content.
A lot of your readers are more interested in reading your comment threads than your blog post.
That's because they like to see what other people think.
They like to see how other people react.
It's because they are part of your community and that's how communities are.
Nobody just stands there and lectures.
Everybody gets involved.
People even get together and form joint ventures and life-long friendships after meeting in comment threads.
So this is your calling card.
This is your challenge if you want to sustain the life and flow of your blog.
Get involved with other people.
Social media and comment threads are great, great places to do that.
I was pretty lucky years ago, that I got involved in a community.
I read about tribes and learned how we all form connections in our blogging circles.
So, I jumped in and got involved.
That's what you need to do, too.

Now, I'd like to hear from you.
Tell me this in the comments section below…
What do you do to sustain blog growth?
One more thing…
Be sure to share this in your social circles 🙂
-Donna