This post was most recently updated on January 22nd, 2018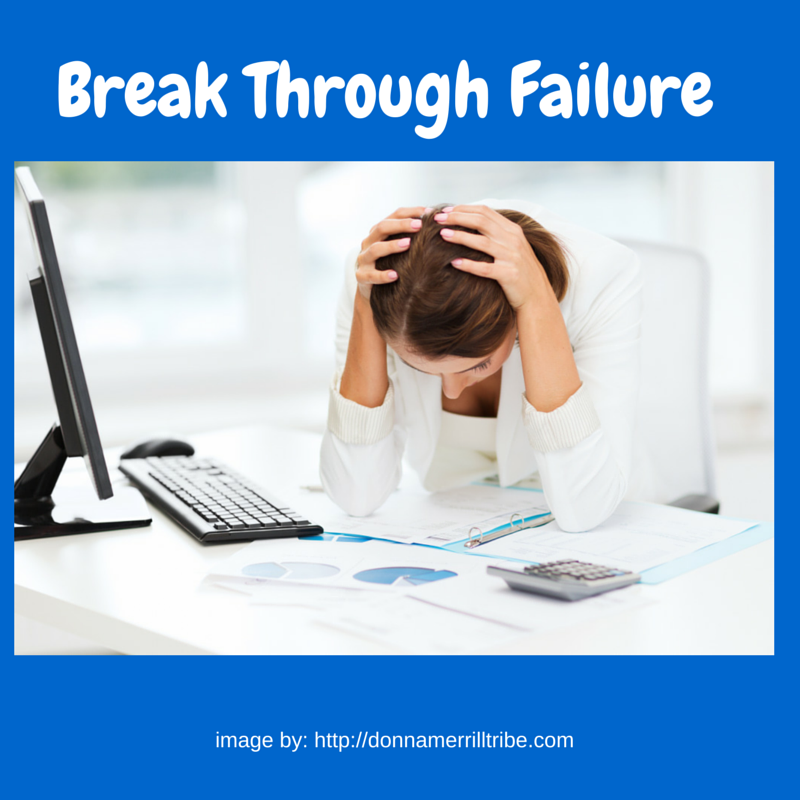 Clients often ask me "how can I break through endless failure?"
Many people simply cannot seem to get past certain obstacles that have been holding them back.
I've listed three of the main issues they have to deal with before they can create a breakthrough.
Fear
Fear in general is a major issue, here.
People are afraid of many things.
In the case of someone who has a well defined history of failures, the fear is actually confirmed by their experiences.
But the root of the fear is usually a fear of failure.
It can so hamper their ability to take positive and sustained action, that they're really doomed to failure before they even get started.
When they force themselves to take steps forward to reach their goals, those steps are timid, haphazard and unsustained.
That's because they've already bought into their fear of failure to the extent that their actions only reinforce their conviction that they can never succeed.
So their serial failure becomes a self-fulfilling prophecy.
The J.O.B. Mindset
Another common issue I see is in people held back by what I call a "J.O.B. mindset."
These folks want to be entrepreneurs.
They want the freedom and financial rewards they know are possible.
They see other people enjoying this lifestyle and they want in.
The problem is, they're emotionally invested in their job or career.
That means that even though they want to break out of the "rut" they find themselves in, they also are totally comfortable with being told what to do, when, and for how long.
In other words, they like somebody leading the way.  They have an innate inclination for being followers rather than leaders.
But to be an entrepreneur, you really need to take responsibility for your own actions, and for the results whether they be good or bad.
For those with a J.O.B. mindset, though, taking that kind of responsibility causes great anxiety and stress.  They'd rather do what they're told for 5 days, and pick up a check on Friday for the time they put in.
The last thing they want is to tie their earnings into the results of what the work they performed.
So, the problem is… you can't have it both ways.
If you want the freedom and unlimited earnings/profit potential, you must accept the full responsibility of achieving it.
Too many people want the internet lifestyle, but without taking the necessary risks.
So their attempts to "succeed" online just lead to one failure after another.
"What If" Paralysis
Other people worry themselves into failure.
They won't finish the ebook until it's perfect because "what if" somebody doesn't like it.
They won't put up that new blog because "what if" they can't drive traffic to it.
They never get around to doing that video because "what if" they look foolish.
There are many things that can go wrong when you're running an online business.
But if you focus on all those possible problems, issues and failures, you can't develop the vision of success that really shapes your online destiny.
What you believe is what you get.
Or, as I like to always say, "believing is seeing" (a quote from a movie called "The Santa Clause").
If you can't believe you will succeed, then you probably won't.
When you focus on "what if" scenarios, you are just making excuses for inevitable failure. That's what you really believe, so that's what will materialize from your efforts.
How Can I Break Through Endless Failure?
So is there any way that people so subconsciously intent on failure can ever break through endless failure?
I say that because I've helped many clients do exactly that.
The key is not the system or method they're using.
All of them will fail if they continue to be locked into a belief that "they just can't do it."
The first thing they need is a new mindset.
I call it the "Breakthrough Mindset."
I'll be presenting a training on exactly how to do this.
If you're interested in achieving some real breakthroughs in your business, or even in other areas of your life (relationships, health, career, etc.), I'd love to show you the way.
You can register here for my premium training event….
"Breakthrough Mindset"
Now, I'd like to hear from you.
Have you struggled repeatedly to reach a new plateau in your business or life?
Have you repeatedly failed to get to "the next level" of success?
Everyone experiences failures in their lives and business.
Indeed, failure is the path to success when you learn how to overcome them.

I'd like to hear what steps you take to overcome your failures.
Please leave your comments below.