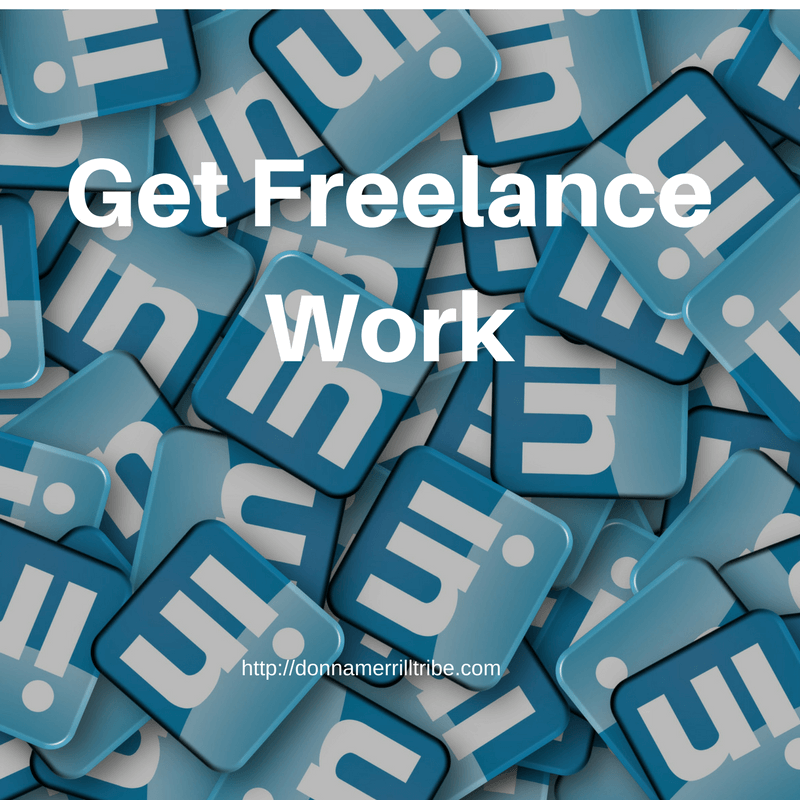 LinkedIn is one of the best platforms for locating and landing freelance work.
So many of my blogging students hunt for side hustles while they're building an online business, that I knew this would be an interesting topic.
Richard Rowlands, in How to Find Freelance Writing Clients on LinkedIn (WriteWorldwide), calls LinkedIn a "goldmine" for landing freelance writing gigs…


But, of course, it's not just a goldmine for writing gigs.
It's really a fantastic resource for any freelancer in any niche.
Now, I use LinkedIn a bit, but I wanted to reach out to someone who is really active on the platform.
Ravi Chahar is not only only an excellent blogger, but somewhat of a LinkedIn star, too.
He has built a great following and network on the platform, so I asked him to share some of his "secrets" of success here.
Get Freelance Work from LinkedIn: It's Easier than You Think
by Ravi Chahar
Ever since I started using LinkedIn, it seemed too easy but people are worried as if they can scale just like other LinkedIn influencers.
If you look around, more than 70% of the freelancers are striving to have some work on the websites like Feverr, Elance etc.
Have you ever thought to get freelance work from LinkedIn?
It may sound a little bit crazy to the people who haven't tasted LinkedIn's user engagement juice.
Yet, over the last couple of years, many professionals have become totally dependent on this platform.
You should know that it's one of the biggest professional networks right now.
Whether you want to amplify your business or build your personal brand, LinkedIn is the best place to be.
As Donna asked me to share how it is possible to get freelance clients without spending money, I thought I might just share my own experience.
Does that sound promising?
Having 22K+ followers and dealing with the many LinkedIn changes, the platform has made me learn a lot.
Basic Requirements of Freelance Networking on LinkedIn
There are lots of things freelancers can do on LinkedIn to find those lucrative side hustles.
Some of those methods can become quite advanced.
John Espirian has collected many of them in his LinkedIn Advanced Tips article.
You can click on the following image from his article to review these advanced tips…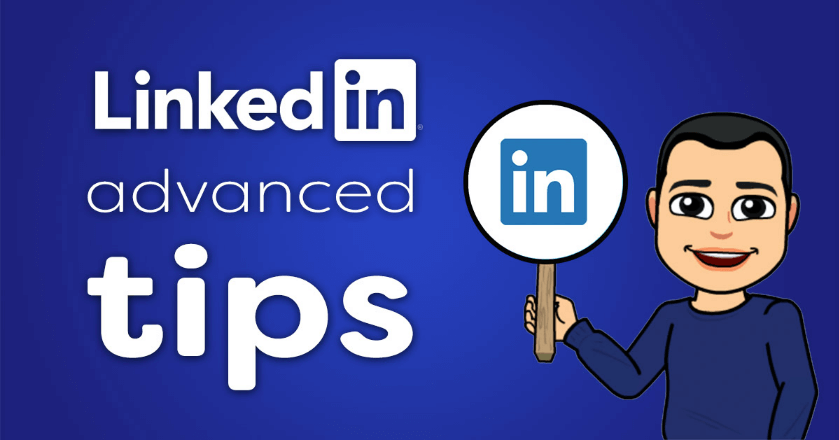 But if you're just starting out on this path, I suggest you focus first on these 5 Basic Requirements.
1. Having a Professional Profile is the Must
Most of the people ignore the fact that people don't check all the little things you might think make your profile appealing.
They want you to be professional in every aspect.
If you're a selfie lover having different poses and filters, LinkedIn isn't for you.
So stop acting like a teenage girl dreaming about Barbie dolls and sparkling clothes.
There are many things which reflect how much attention you are going to get.
The profile picture
The Experience
Listed Skills
Recommendations you got
Endorsements
Professional Headline
I have noticed that more than 75% users don't focus on building an influential profile, they just keep it "a profile".
But in 10 ways you can use LinkedIn to find freelance clients (Talented Ladies Club) we learn this…

Do you want followers or fans?
Speak your mind and start building something people can appreciate.
I never open a profile with no picture, a party pic, a group photo, and similar.
It's not just me, no one does.
Be sure that your face is clearly visible.
More than 80% of the image should cover your face.
Just like having a Passport photo.
Now, don't forget… once your profile is done, you can' t just let it sit there.
Laurence Bradford discusses ways to promote it, too, in 11 Ways to Get Freelance Clients to Come to You (Creative Live)…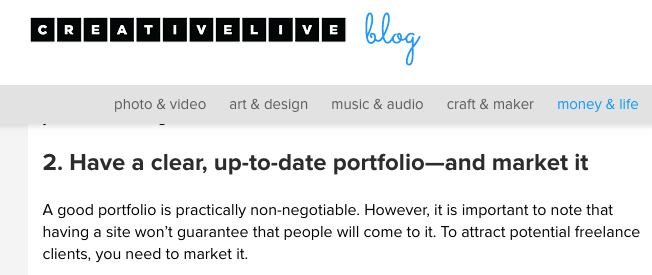 2. Never Ignore When Someone Endorses You
LinkedIn provides an amazing feature to endorse your connection to the skills they have.
Whenever someone does that for you, always send them a "thank you."
The platform automatically gives you an option in the notification section.
It's given for you to use.
And now, you may be wondering how this can help you get freelance work from LinkedIn.
Well, it's called showing your gratitude which later will help you build strong human relationships with your connections.
And everything is dependent on your engagement techniques.
People appreciate when someone understands the value of being treated well.
Do you even keep that in your mind?
3. Comment on Others' Status Updates
If you don't know, then let me tell you that LinkedIn has a strong algorithm which tries its best to show your activity to your connections.
You can either like or comment on any status.
Your connections will come to know.
It's the best way to showcase what you have expertise in.
Suppose someone is wanting to learn about the current digital marketing trends.
You should share your thoughts.
Maybe someone will feel it would be valuable to contact you.
The lead generation can happen at any moment.
You just need to engage more and more.
I remembered when one of my clients approached me to transform her website just because I wrote an amazing suggestion on someone's status.
It happens.
So never be lazy or afraid to share what you have learned so far.
4. LinkedIn Groups are the Ultimate Networking Places To Be
I have talked to many LinkedIn users and most of them don't use the groups.
They consider them just like Facebook groups (brainstorming).
When you are hunting to get freelance work from LinkedIn or any other platform, you should try every possible way.
Right?
There are many CEOs, entrepreneurs, digital marketing consultants, real estate brokers are there who regularly need the people to complete their projects.
Maybe your one post can help you get a client.
Let them know you're a freelancer.
Use the actual term "freelancer" like you would any keyword…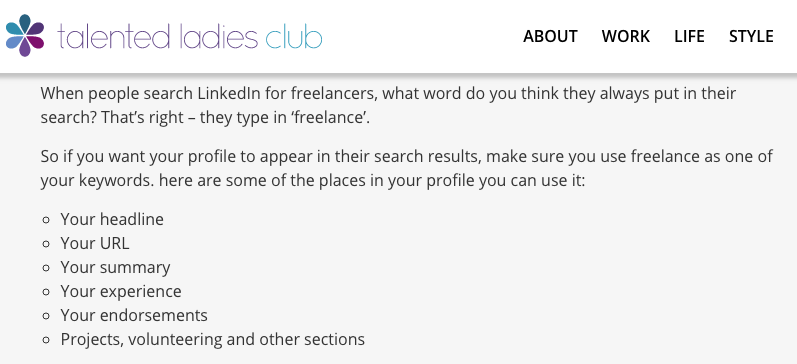 You can read the full article, 10 ways you can use LinkedIn to find freelance clients (Talented Ladies Club).
I remember when I had a chat with the COO of a Europe based company last month.
It happened just because I shared something related to website security.
Many experts recommend that you can target your client by joining the same group he/she runs or frequents.
5. Consistency is the key
I hate it when people say they didn't get any kind of client after trying for a month or more.
It's a world where millions of people are chasing the same as you do.
How can you expect the success within a few months?
Nicole Slaughter-Graham talks about some of the ways she builds up her LinkedIn network in Flying Under The Radar: How to Use LinkedIn to Find Writing Jobs (The Write Life)…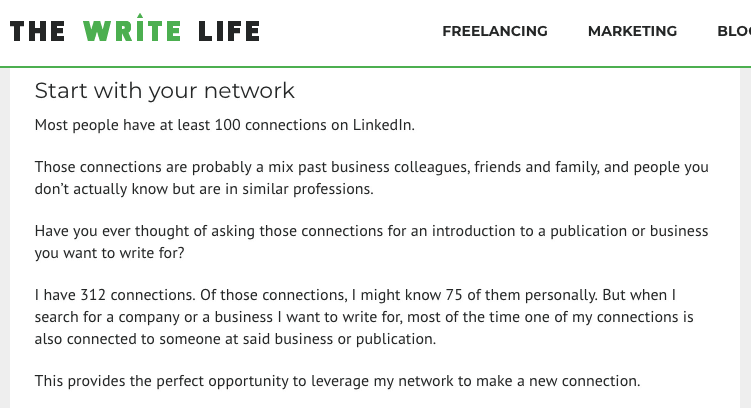 Does this look like something that can be done in a month or two?
It takes time.
You have to keep going.
Giving up is never a thing you should add to your list.
"Success Kisses Those Who value Consistency"
Whether its LinkedIn, Twitter, Facebook or any other platform, you can't expect to make your first million dollars as quickly as you dream about it.
It took me years to build my personal brand on LinkedIn.
You will also have to invest the time.
Do you even listen to me?
Clear your mind and start today.
What Are the Things You Think Necessary to Get Freelance Work from LinkedIn?
I am not the only one who uses LinkedIn.
There are millions of people making a fortune out of it.
Why is that so?
They believe in what they do.
While talking to someone, the ways you elaborate your knowledge, your skills and your expertise matter a lot.
People aren't going to fall for your pretty face or the likes you get on Instagram.
I have seen people mixing up other platforms with LinkedIn.
And this is the biggest mistake anyone can make.
LinkedIn is a totally different platform with a professional perspective.
If you want to get freelance work from LinkedIn, you have to show your professionalism.
Now, I encourage you to share your thoughts.
I would like to hear from you in the following "comments section."
And, I appreciate you sharing this post on your social sites.
-Ravi Chahar
"Get Freelance Work from LinkedIn- It's Easier Than You Think"
---
About The Author

Ravi Chahar is a WordPress professional and LinkedIn Influencer.
He is a coder by passion and a blogger by choice.
WordPress theme development is his forte.
He is your WordPress guy to teach you how to solve WordPress errors, WordPress security issues, design issues and what not.
Connect with Ravi on his blog… BloggingLove
---