This post was most recently updated on August 7th, 2019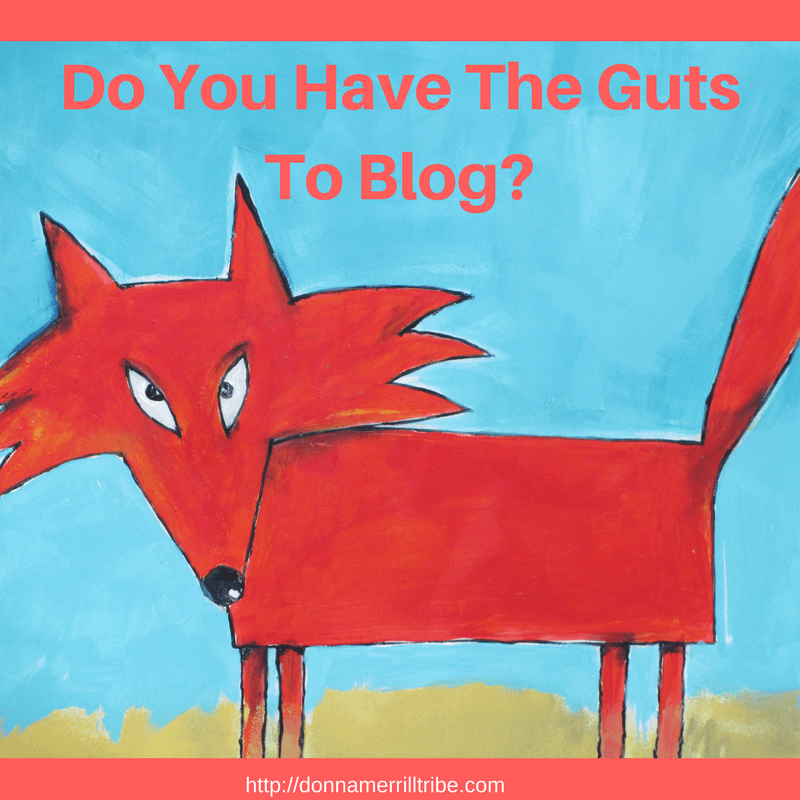 People usually get indignant when I ask "Do You Have The Guts To Succeed In Blogging?"
But it's really not just about being tough-minded.
It's more about knowing how to Unleash Your Inner Potential.
Have you ever considered the very idea of Your Inner Potential?
Well, it really does exist.
We all have inner potential, whether we know it or not.
If you've never tapped into it, though, you are probably unaware of it, at least in your own personal experience.
I've talked about ways you can break through endless failure in your business.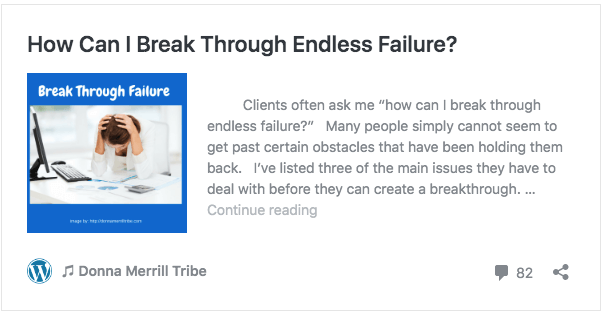 And I've told you about developing the right mindset for blogging success.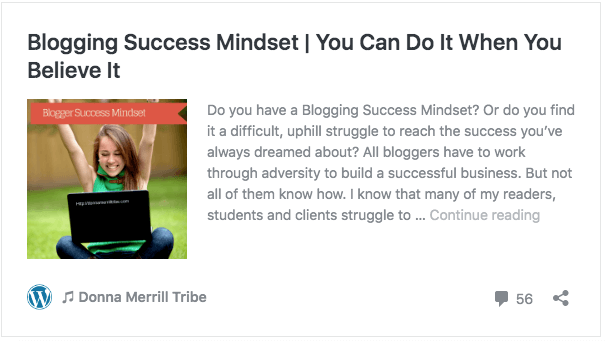 But today, I'd like to go a step beyond your "mindset" or "blogging strategy."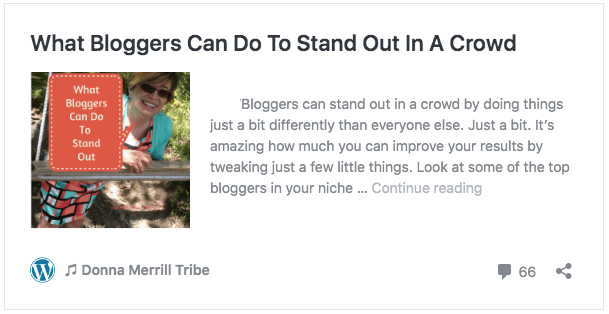 I'd like to talk briefly about how to rouse and unleash your inner potential.
And you'll see why this how you can find "the guts to succeed in blogging."
Your Inner Potential
Your inner potential is what you are capable of, but may not be tapping into.
It is what you could do if you only had certain qualities necessary to make that happen.
So you might be wondering where is that inner potential?
Is it located somewhere in your body or your mind?
Well actually your potential is in your gut.
That's where most of the neurotransmitter called serotonin can be found.
Serotonin and Your Blogging Success
So I'm not going to try to get all scientific on your here.
I don't really even have a great grip on the science but I do know the effects of tapping into your inner potential.
But just briefly, serotonin is a neurotransmitter that actually stimulates happiness and well-being in your brain.
It's not the only one, but it is one that is easily stimulated by things that you can do.

Read the full article "Hacking Into Your Happy Chemicals…" (by Thai Nguyen, Huffington Post)
When you stimulate the flow of serotonin to your brain, you are in fact, tapping into your inner potential.
Why?
Because your success depends largely on some basic human characteristics.
Success Traits
Some of the key traits you need to develop in order to achieve blogging success include…
Determination

Resilience

Confidence

Assertiveness

Goal oriented (vs results)

Leadership

Problem solving
These are some of the very same traits that define your inner potential.
The bad news is that people often find it very difficult to develop these traits.
They really don't know where to begin.
They come to believe that they either have them or they don't.
But the good news is that these are the very traits your brain is more than capable of developing and delivering.
Right now.
Without any advance degree or years of experience.
You see, there does not have to be a complicated process to making these things happen.
It all begins by getting the serotonin flowing from your gut, to your brain.
Serotonin stimulates your brain to build each of these traits that are key to your blogging success.
So how does that happen?
My Story
Years ago, I was contemplating what to do with my life.
One of the possibilities was to open my own business.
I had been doing private intuitive consulting on and off for several years, but never really had an established practice with regular hours and steady clientele.
So, I gave it some thought.
The Rational Approach
I looked at the pros and cons and pretty much decided it was not a good idea.
Why?
Determination – I wasn't really determined to do this.  It was more like "maybe," but on the other hand, "maybe not."
Resilience – I knew that if things didn't go right immediately, I was going to throw in the towel and admit it was a mistake to have tried.
Confidence – I had never rented my own office space and committed to the structure and investment this would require.  Plus, what if I couldn't attract enough clients to make it work?  I wasn't at all convinced I could do that.
Assertiveness – Well, I didn't consider myself to be terribly assertive.  I'd try my best, of course, but if things weren't going well, then I'd just have to close shop.
Goal oriented (vs results) – I was definitely looking for instant results.  I wanted to cover my rent the first month, or that was it.  I had not goals beyond that.
Leadership – Okay, I knew that I had pretty good leadership skills.  People had been coming to me for advice and consultation on personal and business matters for a long time.
Problem solving – I also knew that as an intuitive consultant, I was always good at helping people solve their problems.  But I wasn't so sure how good I'd be at solving my own problems if things got tough.
So you can see why I decided against starting my own private practice.
It just made no sense for me to stick my neck out and try something I didn't really believe would work out.
Brain Blocked
Well, it seems like I was just doing my due diligence, right?
But if you look closer, you'll see something else was happening.
I wasn't really interested in making a big, bold move.
I just didn't have the "guts" (remember, serotonin begins in the gut).
Instead, I was back pedaling to avoid what my brain considered to be a threat to my well being.
You see, if your brain is not being flooded with serotonin, it's probably because it IS being flooded with the effects of cortisol.
Cortisol is the substance that signals your brain that you are in danger, or being threatened.
When people are taken out of their comfort zone, their brain will typically protect them by shielding them from the perceived danger… by emitting an abundance of cortisol.
So, faced with this big looming business decision, something was telling me to run and hide.
Protect myself from uncertainty and possible failure.
In fact, when faced with this kind of "danger"… it's very easy to let your brain take you into an abyss of negativity.
So instead of being excited and happy to face my new challenge, I fell into…
Fear of failure instead of anticipating success.
A sense of overwhelm instead of being in control.
Growing "certainty" that this could never work.
Hoping to avoid making any decision at all, I simply got exhausted and despondent.
In other words, I hid my head in the sand and try to avoid doing anything at all.
Those are the things that happen in your brain when you are flushed with cortisol instead of serotonin.
My brain was blocking me from being able to make any clear, coherent or forward thinking decision.
I was just pretty much paralyzed.
Intuition Intervention
Given my inability to think clearly on such a big decision, it made no sense to move forward.
Or at least, that's what my rational analysis told me.
Still, though, something in my "gut" was telling me to go for it.
Forget the pros and cons.
Forget the carefully thought out rationale.
In the end, I went with my intuition.
And my intuition told me that if I would just step off the cliff and give this a try, I'd be okay.
So you know what?
I signed the lease for my office, against all odds, and stepped into my new practice as an intuitive consultant.
The Serotonin "Guts" Effect
As soon as I made the final decision to start my new practice, I had a sudden sense of calm.
It's funny, but all the fear and sense of doubt that preceded my taking action, suddenly evaporated.
I now know, that this is a typical serotonin effect.
When you actually take action in your life, or in this case – business… your brain does not decipher whether or not it's the right thing to do.
It does not undergo a rational evaluation.
Instead, it receives an instant gush of serotonin which results in you feeling calm and validated.
Not only that, though… it also results in a sudden feeling of confidence.
As soon as I took the scary step of going ahead with my new business, all my fears evaporated and were replaced with an unexplained feeling of confidence.
And that turned out to be the very same confidence I relied on to create my long term success!
Somehow, in my gut, I knew I was doing the right thing.
I sensed that I had a clear goal, now.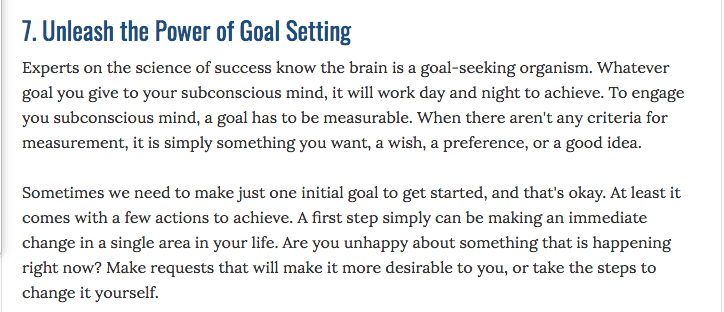 Read the full article 7 Steps for Creating the Life YOU Want (Jack Canfield .com)
And I felt that even if things did go wrong at first, I would be able to ride it out and turn things around.
If I encountered problems, I would be able to solve them.
Again… confidence.
Reinforcement
As my business evolved, I did run into challenges and issues.
But I was constantly reinforced in my conviction to move deeper down this path.
This reinforcement came in the form of a continual, steady pattern of tiny successes that resulted from learning to manipulate the serotonin effect to my advantage.
This was not just luck.
It was a determined effort to use the hidden power of my brain to continually help me unleash my inner potential.
Do You Have The Guts To Succeed In Blogging?
Serotonin makes you feel happy.
It makes you feel like you can do anything.
Do you have the guts to succeed?
To stop whining, complaining and making excuses?
That question is really not nearly about your personality or fortitude as it is about your ability to control your own brain.
How Is Your Brain Wired?
While serotonin comes from your gut, it's the effect it has on your brain that is so important.
When your brain receives a flow of serotonin, it puts you at ease, in control, organized and capable of handling great things.
Your brain is what can unleash your inner potential for blogging success.
But you need to know how to stimulate that critical flow of those brain chemicals that can actually get your brain to open those doors for you.
There are actual brain-training exercises that can be done to make this happen for you.
This is something I help people with, when they are in private coaching or consultation with me.
It's really amazing to see the progress they make when they get their brain working in the right way for them.
You Can Do It
So, for now, if you find yourself on the down side of your emotional spectrum…
If you find yourself complaining all the time, not trusting others, blaming gurus and high ad rates for your inability to move your business forward… understand that you're working against yourself.
You're working against your natural gut inclination to enjoy the abundance and success that is already hard-wired within your hidden, inner potential.
Don't let yourself fall prey to this negative brain conditioning.
Determine to get your brain working for you, not against you.
Re-structure, re-wire, re-program your brain to do what you need.
It may not be the path of least resistance, but it's the one that leads to the greatest rewards, and most fulfilling life.
And… this is the most effective thing you can do to unleash your inner potential for blogging success.
Learn More About Donna's Popular Top Tier Coaching Program for Bloggers

So what about it?
Have you "got the guts" to make a positive impact on your business this year?
Or will you be stuck in thoughts of
"I can't do it"
"It's all a scam"
"People will laugh at me if I fail"
… and all that.
There really are ways to "get the guts."
That's the secret path to unleash your inner potential for blogging success.
What is your experience?
Have you tapped into your inner potential?
How does it feel when you do… or when you don't?
In other words… do you have the guts to succeed in blogging?
Talk to me, in the "comments section" below.
-Donna