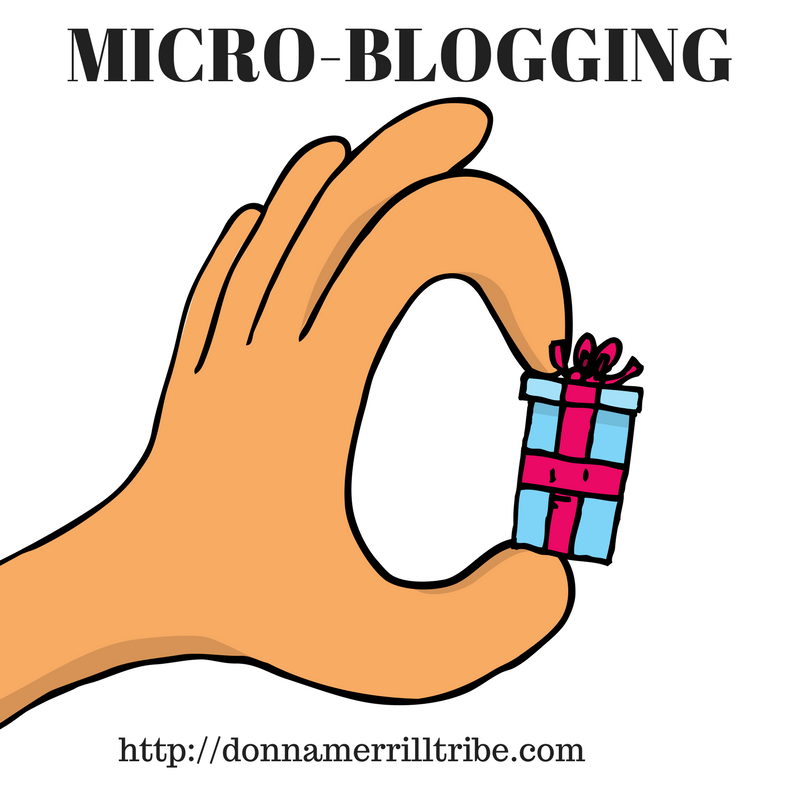 Microblogging is a proven method for blowing the roof off your blogging business.
And in fact, microblogging promises massive results to all those smart bloggers who weave this strategy into their business blueprint.
Now, you may not be familiar with the term microblogging, but it has actually become one of the most popular forms of blogging today.
In fact, assuming that you are a blogger looking to maximize your impact in Web 2.0, you've probably been engaging in microblogging without even realizing it.
Microblogging is especially popular since people spend so much time communicating on mobile phones.
It's the perfect mobile phone blogging companion.
What Is Microblogging?
As the name implies, micro-blogging is a tiny, condensed version of blogging.
The big difference, though, is that you don't conduct microblogging from your own website.
You do it from social media sites.
Microblogging is a powerful method that smart bloggers are using to get their ideas and thoughts across in an increasingly overcrowded world of ideas.
When you do microblogging right, you go way beyond tapping into your followers and friends.
You actually get to stand out and shine in front of a whole new world of readers within your target audience.
Microblogging vs Blogging
Microblogging is the art of grabbing the attention of your target audience by dropping short, quick messages.
It's a lot easier, faster and spontaneous than stopping your world to research and craft an incredible, lengthy blog post.
We bloggers have heard for some time now that long-form blogging is preferable to shorter blog posting.
Well, that kind of gets to the heart of the difference between microblogging and traditional blogging.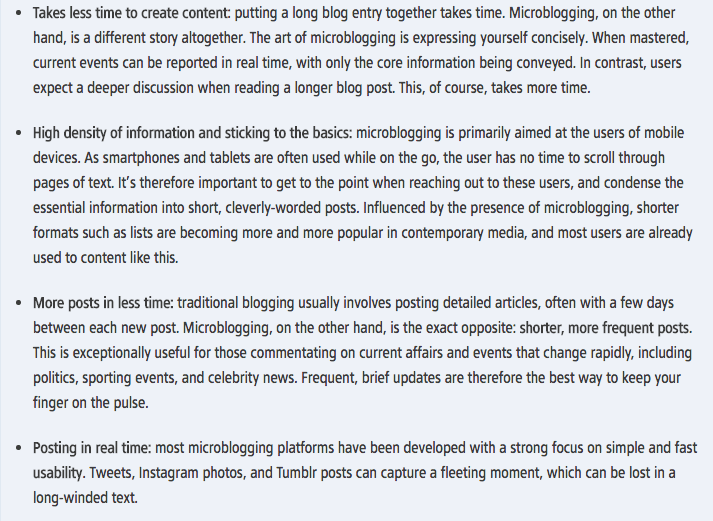 Read the full article… Microblogging: A New Way To Blog (posted on 1&1)
Blogging
So, let's put this into perspective.
Long-form blogging is a great way to get ranked on the search engines.
Search engines are looking for detailed material that satisfies their consumers.
People act as search engine consumers when they post queries… what we all call "Googling" to get information.
Google and all search engines, build their entire business around delivering the best information possible when a search request is registered.
You want your blog post to be that "best information possible" piece, right?
That's because you want people finding you high up on the search engine results for your specific topic.
And that is certainly important because, hey, it's all free traffic to your blog.
So here's how that works.
If you write a blog post about email marketing, the idea is to write everything in the world that you can think of about email marketing.
Leave no stones unturned.
Link out to other authority sources on the topic.
Add some key images, infographics or videos.
Hopefully, when somebody goes to Google and puts in a search for the term email marketing… the Google bots refer them to your article within the top handful of search results.
And why not?
After all, Google wants them to learn everything they possibly can about email marketing.
If your blog post does a great job at supplying this information, it might qualify as the best information possible.
That's the rationale behind writing long-form blog posts of 2000 words and more.
Microblogging
On the other hand, you can get some of the most important ideas about email marketing across by microblogging with just a few words.
Or with an image or infographic.
Maybe just a 2-minute video.
That's microblogging.
Microblogging does not replace blogging.
It complements it.
But whereas even the best blog post you ever wrote will probably never go viral, any random microblog post could easily do so.
And even if your microblog post doesn't go viral, it can easily muster up far more attention than your incredible long-form blog post.
That's because microblogging is done on social media, not on your private blog site.
Social media sites are where your target audience is!
I know, I know.
You'd like them to all be going to your blog every day.
But that's not going to happen.
Not in the way it does on the huge social media sites that are undeniably integrated into their every breath.
So, the idea behind microblogging is to grab the attention of people in your niche crowd with great social media posts.
When that happens, a lot of those folks will click the link to your blog to see more on the topic, or even because they want to learn more about you and your blog.
So microblogging is a powerful, proven way to mine for traffic and drive it back to your blog.
How To Microblog
Bring attention to what you do.
Make it interesting, humorous, profound, astute… whatever.
Do it with social media posts.
But we're not talking about simple little "read more about this on my blog" posts.
We're talking about engaging, even instructional posts that get people's attention.
Start playing with social media posts that actually deliver results… clicks to your blog.
Then do more of them and do it often.
That's microblogging.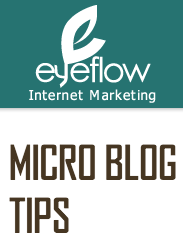 Find the above Micro Blog Guide To Success and Microblogging Tips (posted on Eyeflow)
And remember this, too.
You don't even have to get people to click to your blog.
Even if they become your social media friends and followers, you have made that all-important connection with people who are tuned in to what you are doing.
Your microblogging activities can lead them to your products and services even if they never visit your blog!
An Example of Microblogging
Twitter is one of the best places for microblogging.
Especially now that it features of 280 characters instead of only 140.
So, for instance, let's say you want to write a blog post telling people how important email marketing is for bloggers.
You'd probably want to create a great deal of detailed information about that.
So, that's your blog post.
And to deliver big results to that blog post, you can do some microblogging on Twitter.
Simply tweet something compelling like "every blogger needs to build an email list… that's where they can best convert visitors into customers, clients and buyers."
Now that's a lot shorter than a two or three thousand word blog post.
And it's obviously not as detailed.
But it quickly conveys an understanding of just what email marketing is all about for bloggers.
You can then link that microblog to your wonderful, long-form blog post… the far more detailed article that you've written on the subject.
Your microblog doesn't just have to be a clever post, though.
It can be a video, an infographic, a mindmap or a slideshare.
So, without ever going to Google and doing a lot of SEO work to try to convince them that you have valuable content on the topic of email marketing… you simply go to a social site like Twitter and post your microblog post.
In that way, you can attract a ton of people to your business.
You see, one of the main reasons people blog to begin with, is to showcase their authority on a topic or within a specific niche.
In that way, they're able to attract a targeted niche audience to their products and services.
With microblogging, you can get that whole ball rolling with just a few words and a captivating image.
Sure, you may send them over to the more detailed article on your blog.
Or you may send them to one of your webinars or videos.
But the point is that you're able to get their attention and show your authority in very short order, instead of constantly writing tons of blog posts.
Where To Do Microblogging
So, where do people microblog?
Let's quickly go over some of the more common places to do this kind of microblogging.
Twitter
I've already given an example of what makes Twitter such a perfect platform for microblogging.
You can use images, videos and text to get strong messages across and send them to your target audience.

Read Ways Bloggers Can Use Twitter (by Susan Gunelius, posted on Lifewire)
Instagram
Instagram is great because you don't need to write much text at all.
With just a picture you can show people what your interest is and what your expertise is in.
The key for microblogging is to make those images compelling enough to draw people into your business, or onto your blog.
Pinterest
As with Instagram, Pinterest gives you the opportunity to showcase your expertise visually.
And one of the nice things about Pinterest is that it is actually a search engine unto itself.
There are many people who look for information using Pinterest as its primary search engine.
That makes it easier for you to connect with your target audience.
YouTube
Most people don't think of YouTube as a prime microblogging site.
I include it here though because I think it's actually one of the best.
It's so easy to make one and two minute videos that express your knowledge with a certain topic in your niche.
Because it's video, it gives you an opportunity to connect with your audience in a more personal way.
This really helps you develop your blogging or personal brand in your own unique voice.
And because YouTube is the second biggest search engine next to Google, you get lots of direct traffic from it.
YouTube videos also rank very high on Google itself.
So take some time microblogging inside of YouTube's video world.
Just a 1 to 3 minute video can teach people a lot, and save you from always having to write long blog posts on every little topic.
Plus, you can get a whole lot more juice from it.
People are much more likely to share a 2-minute video than a 3,000 word blog post.
They know their friends would like to learn things in a short amount of time and not have to spend a half an hour reading some dry article.
Facebook
Of course, Facebook is great too.
But people aren't primarily looking for information on Facebook.
They're looking to socialize and get all the latest "news," ie., gossip, haha.
So it's not really the best place for microblogging, in my opinion.
However I do include it on this list because if you're making Facebook Live videos, then you can use them in much the same way that you do with a YouTube video.
In fact, the very same video that you produce for Facebook Live can then be repurposed as a YouTube video.
Quora
Forums have been widely overlooked in recent years.
However, they are powerful platforms for meeting people who are looking for exactly the sorts of things that you offer.
Find forums that people in your niche frequent.
Start posting some microblog content inside of those forums.
Quora is one of the best forums.
But there are many.
And remember, when you're responding to a question in a forum you are offering solutions that your crowd is looking for.
Those solutions are a form microblogging.
Use them to your advantage and build a huge following in your niche.
Tumblr
Tumblr is an exciting place for microblogging.
Even though you can write full blog posts on this platform, you can also write very brief articles of 200 words or so.
Tumblr has a very active community, and if you connect with your niche, your microblogging can be quite effective.
Microblogging Promises Massive Results To Smart Bloggers
So, think of ways that you can use microblogging in your business.
I don't propose this strategy as an alternative to blogging, but rather a complementary outreach strategy.
But I think many people get carried away with just trying to blog more and more and more to build a bigger audience.
Then they add guest posting to their bag of tricks and it just gets them all tied up in knots.
Guest posting is very demanding and drains a lot of your time.
I find that most guest bloggers just tend to write more and more and more guest posts to get bigger results.
But it doesn't always work that way.
And you often don't even get a real grip on the effectiveness it has in terms of driving more business your way.
So, I suggest you just stop in your craze to turn out content everywhere all the time.
Take a deep breath.
Back off and do some microblogging.
Do it consistently for a few months and see for yourself how it makes your business grow.
It's really about doing less writing, and consuming less time, while getting more of the results you struggle to achieve.
Learn More About Donna's Popular Top Tier Coaching Program for Bloggers

Now… Let Me Hear From You
What kind of microblogging do you do?
Does this article give you some ideas of how to do it more effectively?
Do you agree with me that microblogging truly promises massive results to smart bloggers?
Leave me a comment below so I can get your thoughts on this.
Don't forget to spread the word by sharing this article on your favorite social sites, too.
-Donna