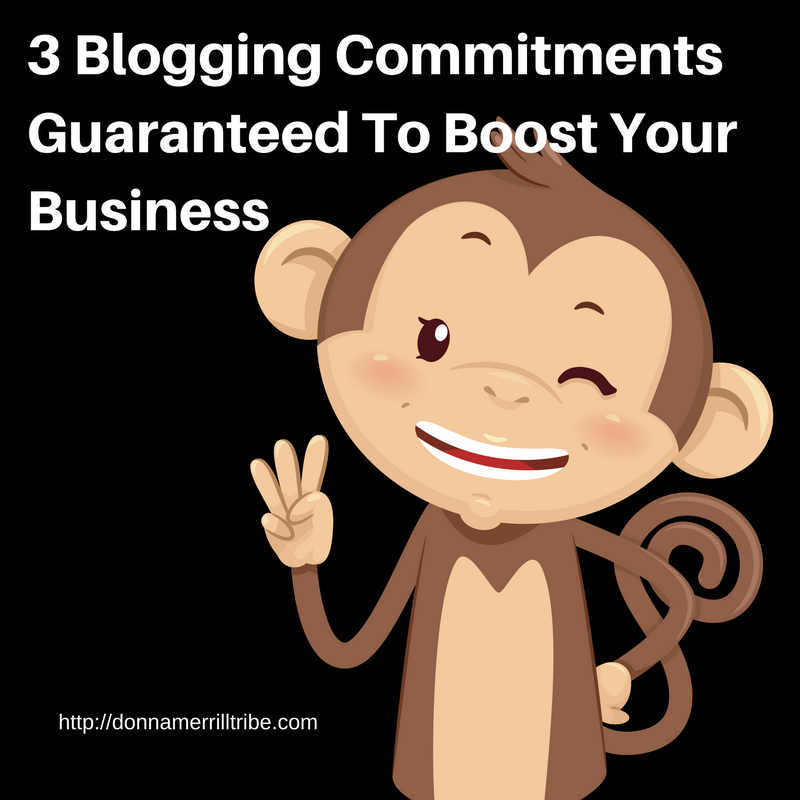 I am going to show you 3 Blogging Commitments Guaranteed To Boost Your Business.
These are commitments that you will want to stick to.
After all, the success of your blogging business depends on it.
How To Boost Your Business
First of all, what is your business?
The sweet thing about blogging is that it doesn't really matter.
Blogging can help boost any business.
Blogging Business
Online Marketing
Professional Practice
E-commerce
Toggle the AUDIO to "on" (lower right) to listen in…
Any business that needs clients and/or customers can get a big boost from blogging.
That's because blogging gives any business the opportunity to educate and entertain their prospects.
Way back in the 1970's, legendary retailer Sy Syms ran a series of clothing commercials boldly announcing that "At Syms, an educated consumer is our best customer."
The idea was this.
Instead of trying to trick people into buying, why not educate them into HOW to buy?
Syms built a retail clothing empire applying this simple principle.
And you know what… it still works.
Build An Audience
People don't like to be "sold to."
They want to be respected and listened to.
People want to know that YOU know what THEY want.
Even more, they want to know that you can deliver it to them.
That's really what makes blogging such a powerful business model for any business at all.
It puts you above the "selling" hype and lets you be an educator or entertainer instead.
You give people information to improve their lives, and they become a loyal audience, readership or following.
Building and nurturing an audience can boost your business to far greater heights than
brute force lead generation
traffic driving campaigns
list-building tactics
landing page promotion
3 Blogging Commitments Guaranteed To Boost Your Business
Remember when you made your New Year blogging resolutions?
They probably included some variation of these things…
Blog better and more often
Get more blog traffic
Convert more blog visitors into subscribers and buyers
Well, here we are.
Today.
Early on into the final quarter of the calendar year.
How are you doing with keeping those New Year commitments?
Related: 6 Steps To Improve The Conversion Rates Of Your Blog Posts (Forbes)
For my Indian followers, we're just about up to Diwali.
That's another time for new starts and new commitments.
New Years and Diwali are two exciting times of the year.
They both mark a time when you make new or renewed commitments to building your business.
So whether you're starting your new commitments or trying to wrap up your old ones, here's what you need to know.
It's Time For You To Get This Right
There are 3 blogging commitments guaranteed to boost your business.
You have to be working on all 3 of these.
Now is the time to get focused on these 3 things, if you haven't been sticking to them.
If you've just been too overwhelmed or fearful to be getting this right…
Or, if you've simply been less than determined in your efforts…
It's time to get this right.
Related: Increase Sales In 2017 (Big Commerce)
You see, this is how you get from your "Point A" to the dream goal of "Point B."
But don't get lost along the way.
You can't just start drawing a line from Point A until you are perfectly clear on the exact path to Point B.
Get Some Help Along The Way
If you don't know how to do each of the 3 things I'm about to outline, then get some help.
Do some research or even buy some courses to learn the things you don't understand.
If you want to get to your Point B faster, without all the expense and frustration of figuring it all out by yourself…
Hire a coach.
I always tell people this is the fastest way to accomplish your goals.
And it's the best way to make sure you even reach them.
Find someone who knows their stuff and is good at teaching it.
Sure, I do this kind of coaching and mentoring.
It's not critical you hire me for your coach, but I do urge you to work with someone that can help you get from your Point A to Point B.
Doing it all by yourself is just not a great way to go, and more often than not it simply ends up in failure.
So, now, let me tell you about those 3 blogging commitments guaranteed to boost your business.
1. Blog Content Planning
Many bloggers get preoccupied with producing content.
Writing blog posts is a major part of blogging, of course.
But you can't just write a lot of "stuff."
It's not just about blogging once a week, or 3 times a week or whatever.
Don't focus on the quantity of blog posts you are publishing.
I say this partly because new blogging clients and students of mine commonly want to know this more than anything else…
"How often should I blog?"
Related: Blogging To Convert (Browser Media)
Not a big question.
And it's not the big kind of commitment you need to concern yourself about.
You need to focus your blogging authority, not quantity.
Build Authority
I want you to think of your Point B, your end-game, your Big Goal.
What do you want people when they get to your blog?
Buy something?
Join your team?
Subscribe to your list?
Hire you to do something?
Make an appointment to come see you?
Something else?
Well, you can be sure that they're not going to do any of those things unless they first come to regard you as an authority in your niche.
So, you first need to think about what you want people to do.
For example…
Let's say you are a personal injury attorney.
Do you want people to call you about their auto accident injuries?
Okay, so here's the thing about that.
Nobody wants to call you about auto accident injuries unless they think you're a legal authority.
Question: So, what are you going to blog about?

Answer: Anything and everything that positions you as an authority in personal injury recovery.
That's how you get to be seen as an "authority" on the topic.
By writing about it every which way, inside and out, upside and down.
Planning Your Blog Content
Now that you know what you need to be an authority in, you can plan your blog content.
Every blog post you write should point to some aspect of your expertise.
To use the above example, you want to plan each blog post to address some aspect of personal injury from a legal perspective.
What kind of injuries might people have?
How did they get them?
And, how can you, as a lawyer, help them get compensated for their injuries?
Now, just think of what YOUR niche is.
Consider what YOU want people to do.
Finally, plan your blog content to illustrate
that you are an authority,
why you can be trusted, and
good reasons for your readers to take the actions you want them to.
Don't just fill your blog with content.
Fill it with strategically planned content.

Read the above article on ProBlogger… https://problogger.com/creating-blog-content-plan-2017/
2. Content Marketing
"Audience Building" has replaced "Lead Generation" as the main purpose of blogging.
You don't need leads anymore, you need audience.
Even more, you need a loyal audience.
You see, getting "leads" and "prospects" isn't the big deal it once was.
You can buy leads with Facebook ads, or pull them in from YouTube videos.
But it means nothing if they don't become part of your audience.
When I talk about you "audience," I'm talking about people who are really connected to you.
I'm talking about people who are eager to
read your next blog post,
open your email messages,
download your ebook, and
jump on your webinars or live streams.
These are not people just sitting somewhere on a "list" in the shadows of your business.
They are people who have come to know and trust you.
So, they are interested in everything you do.
Related: Psychological Principles That'll Improve Your Homepage Conversion Rate (Neil Patel)
They are not "a target audience"… they are YOUR Audience.
And as such, they are the basis of your entire business.
These are the people who will hire you, consult with you, and buy from you.
Get In Front Of Your Audience
But where do get this audience from?
Well, you need to put your blog right under their nose.
Make sure they can't miss it.
Remember, you have carefully planned your blog content to showcase your authority, right?
So now, you have to get that message in front of your audience.
But first, of course…
Find out where your crowd is.
Then, make sure they see your content.
Link to your blog posts inside of carefully targeted Facebook groups.
Publish videos on YouTube that encourage people to visit your blog.
Post Pinterest images that tease people into wanting to learn more about you by visiting your blog.
Be Persistent
Content marketing does NOT mean linking to your blog post once a week.
It DOES mean, referring people back to your blog every single day.
Don't soft pedal it.
Go full steam ahead.
Make sure you are putting out your content
all the time,
as much of it as you can, and
everywhere you can reach the people most likely to be interested in what you are doing.
Be Consistent
Don't just engage in this kind of content marketing sporadically.
Do it according to a clearly defined schedule.
That's right.
Make the commitment to share your content at specific intervals of time.
Then, stick to your commitment.
If your audience only sees you here and there, now and then, they won't take you seriously.
And they won't follow you.
That means, you lose the opportunity to build a loyal audience.
What's your favorite television series?
The Walking Dead?
Law and Order?
Something else?
I'll bet you can't wait until the next week's episode airs, right?
Well, what if the producers only broadcast episodes once in a while, whenever they felt inspired to?
What if they aired 3 episodes on week one, then 1 on week two, then took 3 weeks off, then came back with 2 more?
They'd probably lose you as a fully engaged, loyal audience member, wouldn't they?
Same thing goes here.
Make a content marketing schedule designed to build your audience and keep them engaged.
Stick to your commitment.
3. Convert Visitors Into Buyers and Clients
So, here's where so many really good bloggers just drop the ball.
They publish great content and marketing it ferociously.
It actually results in lots of people going to their blog and reading it.
Many of those people read every single blog post, join their email list, and become regular visitors to their site.
But there's one problem.
And it's a big problem.
Their blog does not do a good job of converting visitors into buyers or clients.
Related: Improve Your Conversion Rates (Jeff Bullas)
Now, let's talk about television again.
You know that there's only one reason that broadcasters create TV shows at all.
To air commercials, right?
I mean, the whole purpose of entertaining an audience is to be able to sell something to them… a brand, a product, other television shows… whatever.
A problem that too many bloggers struggle with is that they keep entertaining their readers…
but don't know how, when or where to place the commercials.
Conversion Rate Optimization
What they are lacking is a good CRO (Conversion Rate Optimization) plan for their blogs.
Well, what I'm finding more and more is that the "beat the clock" method of conversion is old.
In fact, it's pretty much dead.
Now, what I mean by "beat the clock" CRO is this.
We have all heard that people only spend so many seconds on a site before they click away.
So, in order to have a chance to convert visitors into buyers or subscribers is to keep them on your site as long as possible.
In other words, you need to grab their attention before they leave.
You have to "beat the clock" and intrigue them before they bounce.
I know there is some truth to the Bounce Rate concerns many bloggers have.
But, again, I think it's outdated blogging model.
Play To Your Audience
When you keep trying to get casual "click-ins" to stay on your blog, you are playing up to desperation.
You are sucked in by fear.
Fear of losing a prospect, a reader, a subscriber and a customer/client.
But stop playing up to desperation.
Play to your audience, not to fleeting browsers.
When you get used to blogging for your loyal audience, you don't need to stand on your head to get them to stay on your blog.
You don't have to employ tricks and tactics to try to get them onto your email list, or to click on an affiliate or sales page link.
They are your loyal audience.
You don't need to "convert" them into anything.
Just live up to your promises to help them solve their problems and improve their lives.
They'll take the actions you need them to.
Not because you convinced them to.
But because it's in their own self interest to.
Complete your promise by delivering and over-delivering.
Replace your "conversion" thinking with a "completion" mindset.
Buying, subscribing, joining and all the other desirable actions your readers take will be a natural response, not a forced "conversion."
This all requires, of course, that you have a loyal audience.
So, we have come full circle, haven't we?

Learn about one-on-one mentoring with Donna…
Now, I'd like to hear from you 🙂
What are your biggest blogging commitments?
And, of course… are you sticking to them?
Are they boosting your business the way you want?
Let me know.
I'm anxious to hear from you in the comments section.
Hey… don't forget to share this article with your social media crowd!
Thanks much.
-Donna