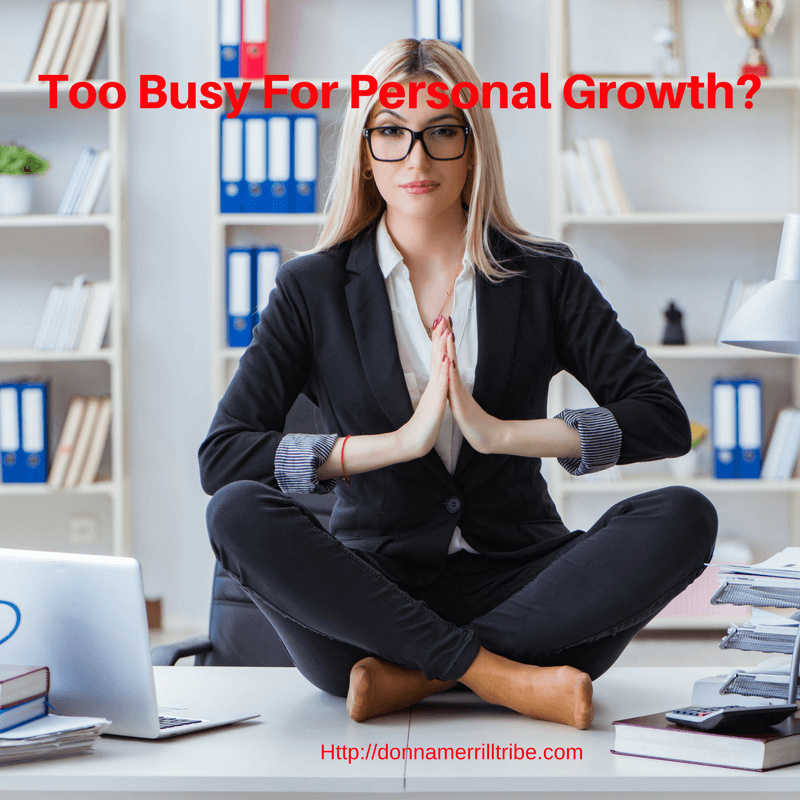 Are you too busy for personal growth?
Many bloggers tell me that they just don't have time for the personal growth aspect of their business.
You see, here's the problem with personal growth.
Successful people make time for it.
Unsuccessful people are too busy for it.
That's just a fact.
I see it all the time.
If blogging keeps you so busy that you don't have time for your personal growth, then I suggest you make some changes.
You see success doesn't come from learning "the right technique" or mastering "the best strategy."
It doesn't come from that "proven step by step system."
Those things can be important.
But there's something far more critical going on in the background.
That is you.
It is your vision.
Your ability to see your growth before it even happens.
It is more important than your blog, even.
Because far more important than any blog is what's going on inside the mind of the blogger.
And that brings us back to your personal growth.
Are you working everyday to be the best person you can?
Let's take a quick look at what personal growth is.
Toggle the Sound Slider on to Listen to the Live Stream above
What Is Personal Growth?
I think personal growth is all about aligning your life with your sense of satisfaction.
Are you…
happy being a blogger?
thrilled every day to get out there and meet people in your niche?
grateful to be able to have the opportunity to help people solve problems in their lives?
dedicated to improving the lives of your readers?
Are those the things that bring you a deep sense of satisfaction?
Now, if you could answer "yes" to all of those questions, then you probably have the right mindset to be a successful blogger.
But, if you answered "no" to any of them, then you are probably struggling, right?
Being a successful blogger means always improving yourself.
And that in turn means always being add more value to your readers.
That's the ultimate goal in personal growth for any blogger.
Related: The 3 Personal Development Goals Successful People Pursue Habitually (from Entrepreneur)
Strength vs Weakness
Many people will tell you that personal growth means to shore up your weak points.
Make yourself strong where you are weak.
To accomplish that, bloggers will attack their personal weaknesses.
They struggle to make up their lack of knowledge or technical skills by learning more.
And this is what they consider to be personal growth.
But I actually think that it's more important for a blogger to focus on his personal strengths.
You see, overcoming your weaknesses is just not the best use of your time.
To be successful you need to run with what you are best at.
You are already good at those things.
And you are ready to put them to use today, not some time in the future?
The opposite is true when you get bogged down in the struggle to get better at what you're weakest at.
If you have a natural inclination to entertain people, then I think that's what you should develop.
On the other hand, if you're good at statistics and analytics, that's what you should focus on in your blogging.
I see little value in trying to be something or someone that you are not.
Start with who you are.
Related: How To Align Your Personal Growth With Your Career Goals (from Your Story)
Improve Strategically
Don't get me wrong.
You do need to improve yourself… all the time.
But you can't improve everything about yourself, not even in 10 lifetimes.
So be selective.
Improve on the things that are most important to you.
And… improve strategically.
If you are deathly afraid of public speaking, then why would you force yourself to address 10,000 people from a platform at a blogging convention?
With all the time it would take you to learn the skills for public speaking, and to overcome the fear associated with it…
you could be doing so many other things to build your business faster.
Most successful bloggers are known for their strengths.
They're known for what they are very good at.
Few bloggers are known for overcoming some particular weakness or flaw in their personality.
So delve into your personal growth strategically.
Sometimes, you'll need to learn how to do some things you're not too good at.
It's not a perfect world out here.
Know the difference between wasting your time, and doing what you've gotta do.
If you stink at public speaking and hate the very thought of doing it… then forget it.
It's just not your thing.
But on the other hand…
if you absolutely must use YouTube and video in your particular blogging model, then stop procrastinating.
Sit down and learn it.
Then, move on to what you're best at.
For the most part, just think about what you're best at, and what you love doing… then run with that.
Either forget the rest, delegate it or hire somebody to do it for you.
Related: 16 Personal Development Goals That Will Make You Happier and Sexier (from Daring to Live Fully)
Evergreen Personal Growth
We have been talking for the most part about personal growth in terms of blogging success.
But there's another type of personal growth, too.
That's what I like to call evergreen personal growth.
It's the kind of personal growth that you have to undertake no matter what you are doing.
I don't care if you're a teacher, poet or cab driver.
There are some things you just need to do for yourself.
Here is a short list of some of those things.
Related: Self-Improvement: The Essential Law of World-Class Entrepreneurs (from Huffington Post, by Neil Patel)
Self Love
If you don't love yourself, then you're not going to ever find happiness..
And if you're not happy, then you're not going to be a good blogger or teacher or whatever you choose.
Self love is not an attribute.

It is not a destination.

Self love is a journey.
Find the journey that is right for you.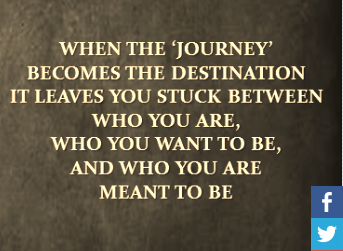 Read more… When The Journey Becomes The Destination
(from Emotionally Resilient Living, by Marquita Herald)
Self-Esteem
YES… you can do it.
You know you can.
But you deny yourself.
Why?
Maybe others have convinced you that you cannot do it.
Don't listen to them.
Instead, listen to yourself.
Listen to your self that you have come to love and trust.
Know that nothing can stand in your way, except your own lack of self-esteem.
Find a way to get past that.
Related: Explosive Growth Only Comes From Ambition: The Mind Of Elon Musk (from Shout Me Loud)
Productivity
Anything you attempt in life will require that you be productive.
You need to learn to get past the dreaming and planning stages.
Get your head out of the clouds.
Put your feet on the ground.
Find the best strategies, methods and systems to help you put your time to the best use.
Make sure that every single day you are moving forward with your plans and dreams
…that you're making them happen.
That's productivity.
If you don't know how to be productive then stop everything right now.
Make it an immediate priority in your personal growth.
Related: Create Your Daily Personal Growth And Development Schedule (from Brian Tracy)
Health
Nothing in life matters if you don't have health.
You need to take time for yourself.
This comes from loving yourself.
If you don't love yourself, then you won't care about yourself.
But once you've learned to love yourself, you will be motivated to give yourself the time you need to live a healthy lifestyle.
That means something different to everybody of course.
For you, it could mean making raw juices everyday.
Meanwhile, for someone else it might mean undergoing Physical Therapy.
For everyone, though, a healthy lifestyle means
eating properly
exercising daily, and
reducing stress as much as humanly possible.
Gratitude
Learn to be grateful for everything you have.
This comes from living a well-balanced, harmonious life.
And it comes from understanding that everything you have is a gift.
The start of the day is a gift.
Each breath you take.
Every person you meet.
And every opportunity you are given to live a meaningful existence, is a gift.
When I wake up each morning, I think of all the things I'm grateful for.
I do this before I get out of bed and start facing the challenges that I will have as a person, as a blogger or anything else.
It's a nice exercise to even write down a list of things you're grateful for.
Add to it every single day.
It's amazing how that list will grow.
Altruism
You have your own life.
It is separate from everyone else's.
Yet, it also overlaps with everyone else's.
If you are not reaching out to other people to help them to have happier, more productive, healthier lives…
then you are missing out on one of the greatest gifts of all.
Altruism simply means thinking of other people instead of just yourself.
And, living your life accordingly.
Happiness
Happiness is really the culmination of all the things above.
If you have achieved each of the things I've talked about, then you will truly have found happiness.
But if you feel like your life is not as happy as you want it to be…
go back and work on your personal growth in the areas listed in this article.

Now, tell me your thoughts.
What kind of personal growth do you undertake?
What do you think is the most important place for you to put your energy at this time?
Most of all…
Do you think you are too busy for personal growth?
Please take a moment to share your thoughts in the comments section below.
I would love to have that conversation with you.
-Donna