This post was most recently updated on November 8th, 2017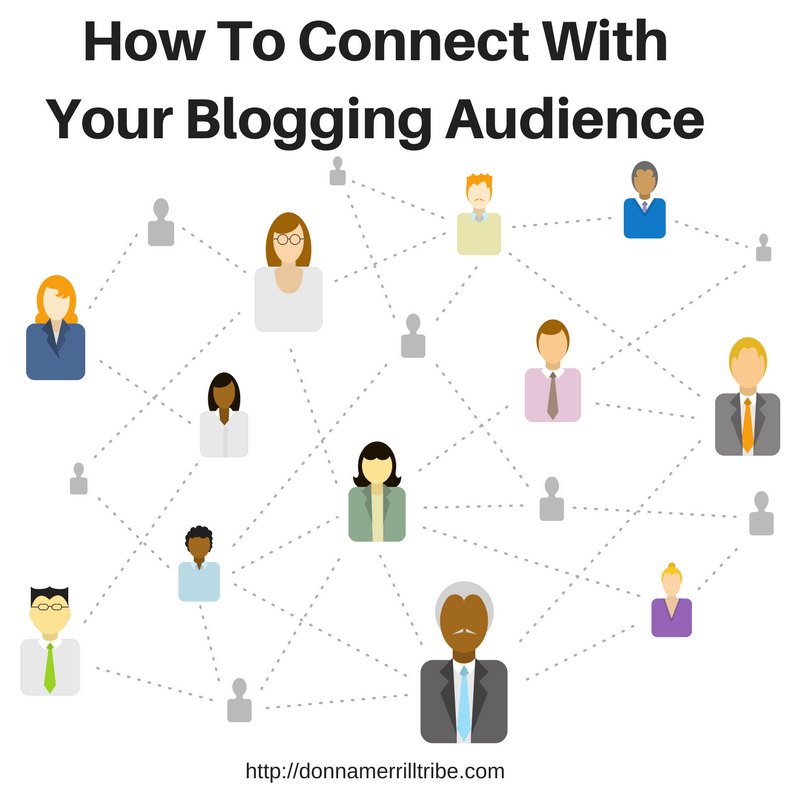 Understanding how to connect with your blog audience can propel your blog into a profitable business.
It's never enough to have a great blog, or to write stellar blog posts.
In order to build a solid online business, you need to connect with your blog audience.
Otherwise, it's like having a television show on some obscure, local cable network that nobody ever heard of.
Or like having a YouTube channel with hundreds of videos that nobody watches.
Creating great content is a big job, especially when you do it consistently.
That is the job of a blogger.
But your business as a blogger, is to connect with your blog audience.
That's how all your great content takes on a life.
What Is Your Message?
The basic communication model involves two people… a sender and a receiver.
Think of yourself on the telephone.
When you "dial the phone" (old school, haha), then you are the sender.
Let's say you are talking to a friend, who answers the phone when it rings.
Your friend is the receiver.
But what will you tell your friend?
You must have a message that you think will be interesting.
Otherwise, they'll just hang up on you.
It's not enough that you have a message, and you have someone to listen to you.
Your message has to be interesting enough that the other person will want to stay "on the line"… or be involved in the conversation.
So before you go out and try to develop an audience and place a bunch of ads to drive traffic to your blog, be very clear on what your message is.
You need to be very clear for yourself.
But you also need to be very clear for your audience.
If your audience does not get a clear sense that you and your blog have a message that they want to hear, then they'll simply click away.
Result: the dreaded bounce.
Related: 13 Ways To Reduce Your Bounce Rate (Neil Patel)
Who Is Your Audience?
Once you have a clear message for your blog, then you have to decide who your audience is.
Who wants to hear what you have to say?
Usually, your audience is the people who want to have a specific problem or set of problems solved.
Your message resonates with them because it promises to solve that problem.
So now, they are all ears.
Your message promises a solution to their problem, so now they want to hear it.
How To Connect With Your Blog Audience
Now, you have to actually deliver your message.
This is what I mean when I say "connect with your blog audience."
Your message is delivered as some type of content.
That content can take many forms.
For most bloggers, it means a blog post.
But it can also mean videos, infographics or other pieces of content.
To connect with your blog audience, you need to find ways to deliver that content to them.
Here are a few.
Your Blog
I guess it almost goes without saying that your blog posts are your main form of content.
But so many bloggers get caught up in churning out their blog posts, that they get trapped in their private little "blogging bubble."
They forget that there are other ways to get their message out.
There are other ways to deliver content to your target audience.
And every different way that you use will get your message delivered to different segments of your audience.
So here are some great ways to reach your audience outside of your blog.
Social Media
I often refer to social media blogging platforms as your "Other Blogs."
Here's how it works.
Write a blog post that is somehow core to your message.

Let's say your message is "people need a home exercise program to stay healthy."

Your entire blog is a collection of articles that deliver that message.

Your articles may even include links to products that support a home exercise program.

Each of those blog posts is core to your message.

That means they are just another way of expressing your message.
They support
whatever you're trying to do,
the thing you're trying to help people to understand, and
that Core Message that you're basing your entire blogging business on.
Now, you need to take those core messages and put them in places other than your blog.
Social media gives you the perfect opportunity.
Why?
Because social media sites are where you'll find the biggest and most targeted audience for your message.
So, after you write a blog post, you can repurpose it… rewrite it slightly… then publish it again in the form of articles for social media sites like…
Embed your blog links in your social media articles.
My Story
A while back I was promoting a new digital course that I had put together.
I had a sales page and had written several articles linking back to that landing page.
Of course, I did all the standard things like promote on social media postings.
I even ran a few paid ads, but things were going rather slowly with it.
I then started writing some LinkedIn articles linking to the sales page.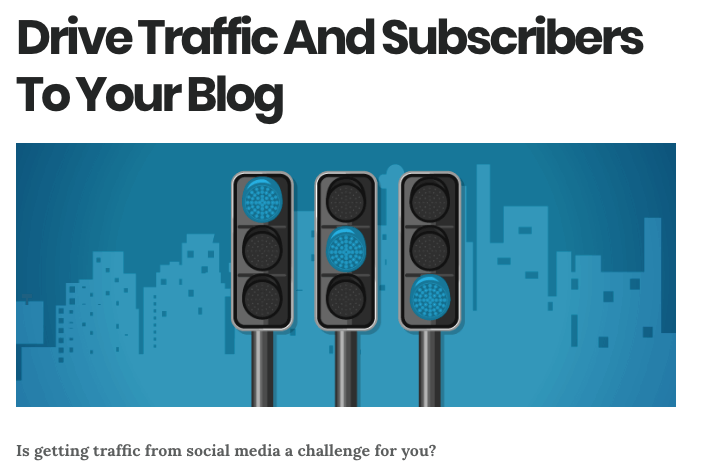 Read more about… How To Use LinkedIn Pulse To Drive Traffic and Subscribers To Your Blog (Brian Lang, via Blogging Wizard)
Almost immediately, I started getting prospects, buyers and clients.
It really helps to promote natively like this.
Your audience will be anxious to read your articles, not your sales pages.
So write articles they are interested in.
Then, embed links to your sales pages within those articles.
Just make sure that the content of the article flows naturally into your offer.
Then you have started to connect with your blog audience in a way that will really boost your business while it promotes your blog.
Remember, people will continue reading your articles for days, weeks, even months after you published them.
So much better than a social media status update or paid ad.
They vanish the moment they're published, right?
Related: 11 Effective Ways To Use Social Media To Promote Your Content (Neil Schaffer, via Curata)
Ebooks
Writing an ebook is another great way to connect with your blog audience.
Again, think of what your message is.
Put it together in an ebook.
Now, start promoting that ebook in places where your blog audience is likely to see it.
I know a lot of my clients get really hung up on the idea of writing an ebook.
They want to schedule it for 6 months down the road.
Sometimes a year.
It keeps getting put off and just never gets done at all.
If you've struggled with this, then it's time to get over it.
Writing an ebook is not much more difficult than writing a blog post.
In fact, many ebooks simply consist of a collection of several blog posts.
The main thing is to get your ebook out there… with embedded links back to your blog.
Make sure it includes your core message so that it will attract and appeal to your target audience.
You can easily put together multiple ebooks over a short span of time.
You can even do this with Kindle books, although I've never tried that.
The point is to put the content together and pump it out on a consistent basis.
Ryan Biddulph is a master at this (see Blogging from Paradise).
Ebooks last forever.
Once they are done, they are digital assets you can use in so many ways.
This will go a long way in helping you to connect with your blog audience on a continual basis.
Related: Build Your Business with Ebook Marketing (Donna Merrill)
Videos
When I first started blogging, I found it a bit difficult to distinguish myself from all the other bloggers.
Then I started doing videos.
Suddenly, people started connecting with me.
They started seeing who I was.
And they liked the idea that I was actually having a conversation with them.
I think there's no better way to connect with your audience than through video.
It made a big difference in the growth of my blog business.
Just start making some videos on topics related to your core message.
Do it on a regular and consistent basis just as you do with your blog posts.
Build a portfolio of videos than you can always fall back on when you want to share your core message.
Related: How to Magically Transform Your Boring Blog Using These 3 Types of Videos (Bree Brouwer, via Smart Blogger)
Link your videos back to your blog.
You can always share your videos on social posts.
Not just new videos, but even ones that you did months or even years ago.
If they convey your core message, keep using them when they fit the conversation.
You can link to them on forums, in Facebook groups or anywhere else that your audience hangs out.
Believe me, this is one of the best ways to immediately, and meaningfully, connect with your blog audience.
Learn More About Donna's Popular Top Tier Coaching Program for Bloggers

So, I hope you have a better idea of how to connect with your blog audience.
I'd love to hear which of these things resonates most with you.
I'm also interested in knowing if you have other methods you use to connect with your blog audience.
Let's talk… leave a message in the comments section below… and then share this article on your favorite social sites 🙂
-Donna