This post was most recently updated on February 22nd, 2018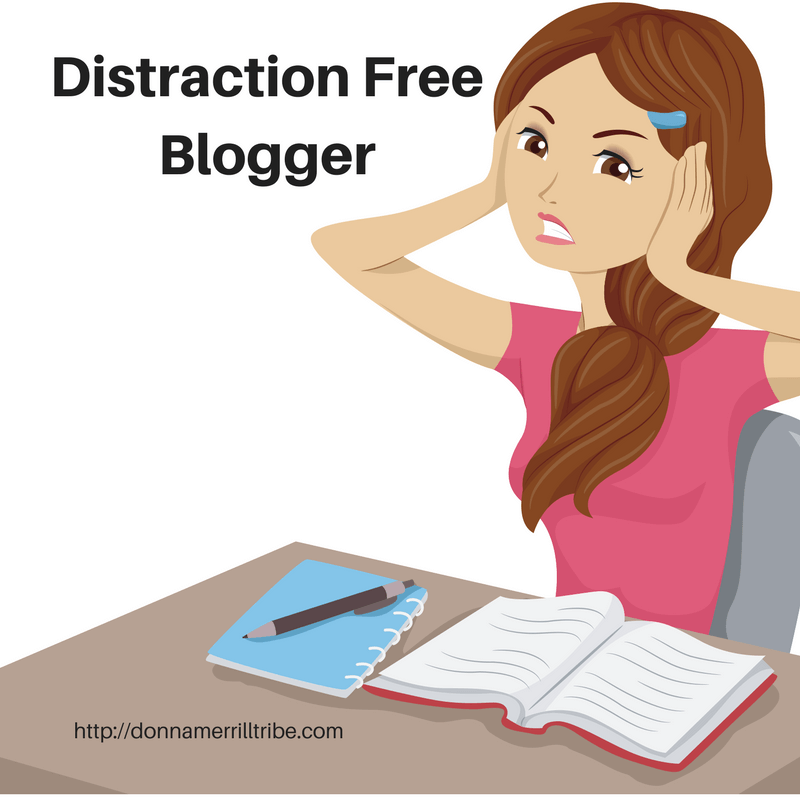 If you've never thought of how to become a distraction free blogger, then you may wonder how some people seem to get so much done, while others struggle to accomplish very little.
I know I've been there.
I've worked so hard on something and maybe taken weeks or even months to get it done.
Then I see somebody else do the same thing 5 times in a month!
How does that even happen?
Distraction
Distraction is the stuff that happens all around you, taking your attention away from your immediate task.
You sit down to write a blog post and hear the phone ring or get an instant notification pop-up on your screen.
Then you think of something you forgot to do last night.
You know… all the little post-it notes that are in your brain.
It's very hard to stay focused on one thing that you're doing when you're attention is constantly being drawn to other things.
That's distraction.
Frustration
Distraction is frustrating because you could be trying so hard to get something done and it just doesn't seem to happen.
Or something you thought would take an hour, ends up taking you all day.
So you feel like you just spun your wheels and got nowhere.
This can definitely get you down.
You got on your computer all set to get something accomplished.
Maybe you have a to-do list and you wanted to do all 3 things on it.
Meanwhile the day is almost over and you still haven't finished the first thing.
Why not?
Probably because of all the distractions that took you off your game plan.
Exhaustion
But distraction goes beyond being frustrating.
It can actually suck up all your energy.
You see, every time you begin a task, it takes a certain amount of energy to get it moving forward.
As you stay focused, your work starts gaining momentum, like a ball rolling down a hill.
It gets easier and easier to stay in that flow.
That's called building momentum.
But…
If you stop and change direction, like maybe you pick up the telephone and talk to somebody for 5 minutes… you've lost your focus.
So now, you've got to push even harder to get that ball rolling again.
Sure you can regain your focus.
But this time it's going to take you more time and more energy.
Why?
Because some of your energy has been drained, and you're just a little more tired than you were before.
You may not know it, but your brain does.
Get distracted like this 5, 10 or 20 times and you're going to be totally exhausted.
And part of your energy drain will come from a mounting frustration for failure to complete your task.
You End Up Quitting
One of the things that you may end up doing is to just quit.
Walk away from your task or project and decide to do it another day.
Or if it's a bigger undertaking… like maybe learning how to do an infographic on your blog for the first time… you might just decide to quit altogether.
"It's just too hard having to learn this 'infographic stuff,'" you complain in frustration.
"It takes too much time."
Well you know what?
It probably wouldn't take too much time if you were doing it right.
But when you're trying to work through a hundred distractions then, yes, it's going to take too much time… and energy.
So it becomes easier, and even a bit liberating, to simply go down the path of least resistance… and quit.
And so you may never learn to do infographics at all.
Lowering the Quality of Your Work
Another way to follow the path of least resistance is to simply lower the quality of your work.
So when you start winding down, getting tired and depleted… you could respond by simply
not doing as much research, or
not being as careful in your writing, or
maybe not doing your editing the way you should.
Maybe you were going to get some cool images to put in your blog post and you decide, instead… "it's too late and I'm too tired."
So you let it go, telling yourself "it's not that important."
There are many ways to lower the quality of your work.
When you get repeatedly distracted from completing your project the way you should… then one of the easiest ways to deal with your frustration is to simply lower the bar on your results.
Sure, you get the job done.
But it won't be that perfect blog post, will it?
You just won't do it nearly as well as you could have, or had intended.
"My Bad"… The Distracted Blogger
So here's kind of what it looks like when I get trapped in a world of distraction.
Let's say I have to write a sales page today.
Sales Pages aren't really part of blogging, but I do a lot of product creation related to my blogging.
So writing sales pages is one my frequent tasks.
Let's do it.
Okay.
I'm sitting down to write my sales page.
The first thing I have to do is to come up with a captivating first paragraph.

This is what will draw people in.

It will really let them see the big benefit of buying my course or my coaching.

Let me think, now…

I could say…

Wait a minute.

I think I forgot to call back the doctor to confirm my appointment.

I'll just quickly do that.

It only takes a moment.
… 5 minutes later…
Okay, now, where was I?

Oh, that's right… something about benefits to my clients.

Wow, look at all the dust on that table.

Let me just grab a rag and clean that off for a minute.

That's better.

So where was I, now?

I can't think of what to write.

Anyway, I think I'm hungry.

Maybe that's the problem.

I've got to get something to eat in order to think clearly.
… 15 minutes later…
Okay, so how about if I say this could be one of the best blogging courses you will ever take.

No, that doesn't seem quite right.

It just sounds like some lame sales pitch.

Oh, I think I need some coffee.
… 10 minutes later…
Wow that's good coffee.

I'm just going to go sit in the sun and enjoy it for a few minutes.
.. another 15 minutes goes by…
Okay so let me see what I've written so far…

Wow, I've really been work for some time now and I've got nothing!

I guess it's just not working out too good today.

Maybe I should go check out my emails, take a walk and then I'll get back to my sales page this afternoon.
Is That "Your Bad," Too?
Does that scenario sound familiar to you?
Have you ever felt the exhaustion and frustration of a "work session" like that?
I certainly have, and even now, I still have days like that.
Fortunately, I've learned to minimize them.


Read the full article, The Key to Distraction-Free Writing (by Ethan Waldman on Goins Writer)
Now let me ask you this…
Do you think I'll ever get back to completing that sales letter later on?
Not likely.
Not the same day, anyway.
In fact, I've had many clients try to write an ebook in this way, only to tell me they'll have to finish it "later."
Six months, even a year later, they tell me… "Oh, yea, I kind of put that on the back burner."
It's not hard to see why.
Do You Blog Like A Wind-up Toy?
You see, working in this constant state of distraction turns you into something like a wind-up toy…
you wind yourself up,
start going forward, then suddenly…
after getting sidetracked repeatedly…
you find that you've simply wound down.
More and more, you just can't recover your focus.
You lose many inspirations and key thoughts, adding to your frustration.
At that point, you find yourself having to work harder and harder all the time, just to get back on track.
As the day draws on, you get more and more exhausted by this struggle.
Keep in mind…
Your best work of the day will get done the first thing in your day. 
That's when you're freshly "wound up."
Each thing after that takes more and more of a toll on your mental resources.
The first thing you should do is whatever task or project takes the greatest amount of energy and focus.
That's when you have the most of it.
After that, each thing you do wears you down more and more, as you wind down like the little toy. 
"My Good"… The Focused Blogger
Okay, it's a new day, so let me try writing that sales page again.
Here's how it starts.
First, I wake up knowing exactly what I'll be working on.
Maybe it sounds funny, but many bloggers spend half the day just trying to figure out what to do.
What can they do that will make an impact on their day?
What you're really asking yourself when you do this is… "How can I maximize my productivity?"
More often than not, when you take that approach, you'll end up doing stuff you like, instead of stuff that will have the greatest impact on your business.
I do two things to avoid this scenario.
ONE: 
Schedule your Day
Actually, I already created my work scheduled for today … yesterday.
And when I did, I thought carefully about what would be the most meaningful 2 or 3 things I could do.
So, when I wake up, I'm ready to work.
I don't have to wonder "what should I do today?"
My first, most important task "today," for example… is to write my sales page.
So, I can just sit down and do it without debating with myself whether or not I should.
TWO: Use a Checklist
I have a physical checklist, hand written on a piece of paper.
It has, usually, no more than 3 things written on it.
But as I check each one off, I get a real sense of accomplishment.
More importantly, it keeps me on track.
I know exactly what to do…
First thing on my checklist today is "Write my sales page."
I'm not doing anything… anything… until that's done.
Then I get to check it off and take a break to celebrate!
I love how checklists can magically improve your productivity and focus.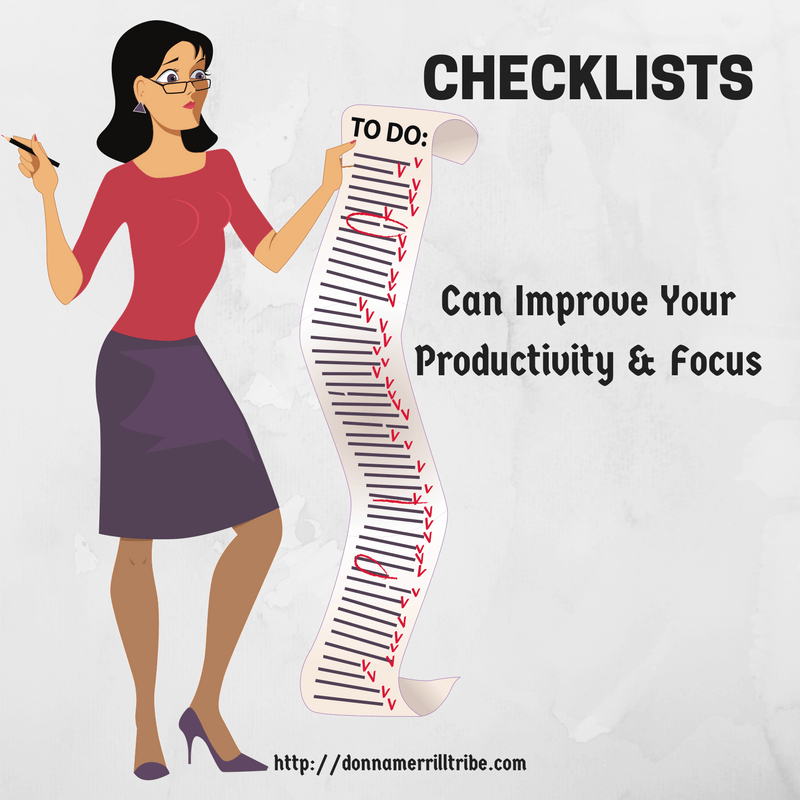 Big Projects
Now, not every task is as simple as "write my sale letter."
Sometimes I have to do something like "create an information course about how to write an ebook."
Now, this might have to be broken down into 30 or 40 smaller tasks.
Monday, I'll outline my first 5 video trainings.
Tuesday, I'll create my first of 20 total videos.
And on and on it goes.
Maybe it takes me 30 or 40 days like this to complete the project..
But as long as I break it down into small tasks that I can do each day, I know it will get done.
If I just woke up and tried to "create a video course"… I'd feel so overwhelmed I'd probably just go back to bed 🙂
But it's easy to get started working on something that I know I can handle.
"Do one video today" is easy.
In fact, this is one case where I absolutely use a "project checklist," and just do one thing a day (my "daily checklist") until the whole project is completed.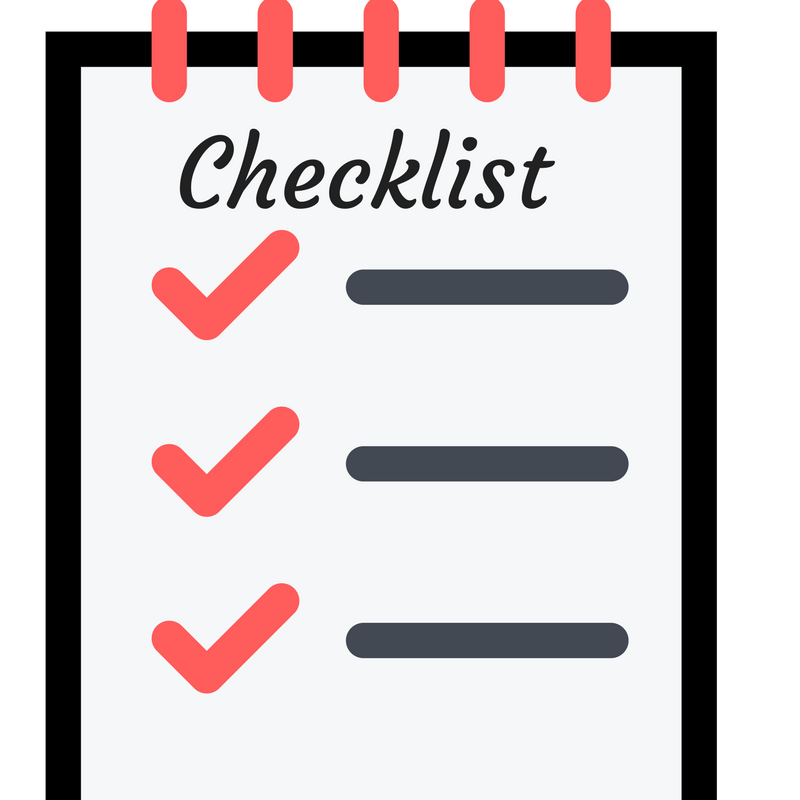 Remove Temptation
So now, I'm ready to write my sales letter.
The first thing I do (after making my coffee) is to shut down all physical distractions.
Things like…
put my phone on mute
make sure the dogs are fed, taken out, and ready to chill for a few hours
close all tabs on my desktop
turn the sound off my computer
make sure I drank my water,
had my breakfast and
all that kind of stuff.
Anything that's a potential distraction… I shut it down.
I don't indulge myself in any thoughts or emotions that don't contribute to my immediate task.
Naturally, I can do that stuff during my "down time."
If thoughts do arise while I'm "in session"… like "I have to pick up my prescription at the drug store today"…
I'll simply jot it down on my "to-do list" that I keep handy.
As soon as I jot it down, I don't have to think about it.
I can simply continue working.
The real distraction-free goal, of course, is to avoid having to write anything at all in your "to-do list" while you're working.
But sometimes things pop up in your mind.
I always find it much better to put those things on a list, rather than let them fester in my mind like an invisible "post-it."
Tools
Now there are lots of "productivity tools" that you can use.
Stephen Altrogge has collected a wonderful selection of productivity tools specifically geared to helping you to
avoid distractions, and
stay focused
Check them out because tools are always so helpful, aren't they?
And sort of fun… like one called Freedom…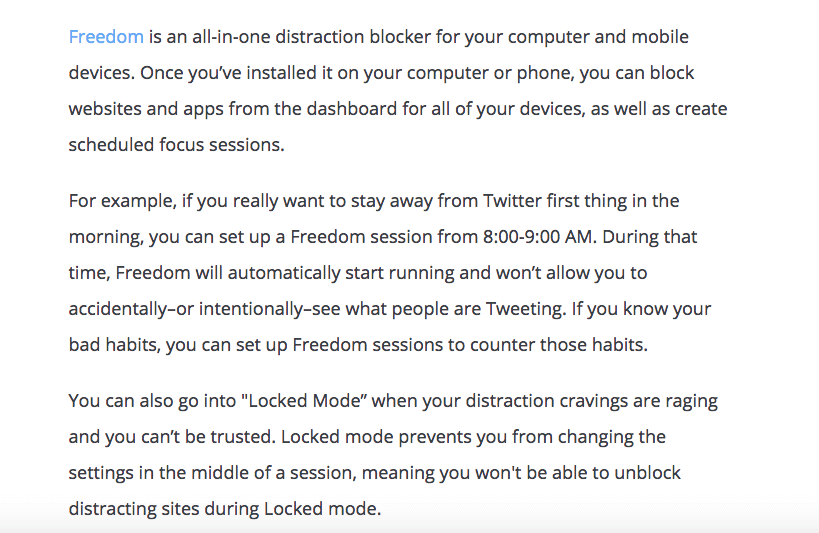 Read more about Freedom and other productivity tools here….
14 Tools to Help You Avoid Distractions and Stay Focused at Work (by Stephen Altrogge on Zapier dot com)
I think that when you have something tangible to hold onto, it gives you the confidence that "hey, I can do this"… after all "I've got a tool to help me."
Now, personally, I don't use any distraction-free productivity tools like these.
But I know plenty of people who do, and swear by them.
Hey, if it works for you, that's all that counts, right?
One note of caution from Mr.Altrogge, though, is well worth noting…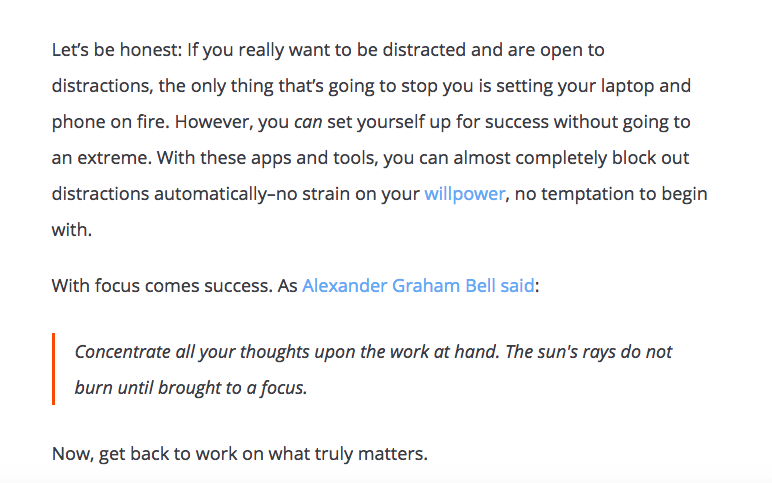 14 Tools to Help You Avoid Distractions and Stay Focused at Work 
Methods
I don't blog to make myself miserable.
I love to write, but it does become miserable if I torture myself all day long to write a lousy 1,000 words.
So, I use a method called the Pomodoro Technique… or at least my little modification of it.
It's really a time management method based on breaking down your work into 25 minute segments, separated by 5 minute breaks.
Now, I'm not a fanatic.
I don't really time myself, but I do use the method insofar as I break my work into short, intense periods of time.
The key is that, during those "work sessions"… I refuse to get distracted… by anything.
This really is not so easy to do, though.
Sitting for a half an hour and focusing purely on nothing but what you're working on is a real challenge.
But you know what?
Practice makes perfect.
I basically work in 30 minute segments.
In between work sessions, I take 5 or 10 minutes off to
pet the dog,
bounce on my trampoline,
drink some water or
whatever.
After 2 hours, I stop working until my next work session, maybe a few hours later.
If you try this, and practice it, I think you'll find what I did.
That at first, purely focusing on your work for 25 or 30 minutes is hard to do.
Try doing that in blocks of 3 or 4, meaning up to 2 hours total.
Really hard.
But then, the more you do it, the more you get in the habit of working in a tunnel, and shutting out all distraction… the better you get at it.
Once you get into the flow, I promise you'll start getting way more done in a 2 hour block of time than you would over 8 hours of randomly distracted blogging.
And that 2 hours is so intense, that I find if I just work two of these 2-hour sessions each day, I can run my entire business.
In other words, I can work 4 hours a day now, and get more done than I once did working 10 hours.
And in between work sessions, guess what…
I get to have a life 🙂
As I've practiced this over and over, I've been able to turn it into a habit instead of a struggle.
I'll bet you can, too.
How To Become a Distraction Free Blogger
I think the key to becoming a distraction free blogger, is to become fully aware and mindful of what you are doing.
Avoid taking the the path of least resistance (ie., socializing on Facebook) until your "work" is done. 
You know that it takes far less energy to play on Facebook than to write a blog post. 
So be aware of that.
Be mindful of the fact that when you're working, you need to avoid Facebook… and everything else that distracts you.
So play on Facebook, and indulge yourself in all the other distracting things when your brain is tired from working… but not before and, certainly, not during.
Staying Mindful
You see, the distraction free blogger doesn't get all wrapped up in what to do, but instead, is always mindful of what to avoid doing.
It's kind like trying to eat healthy.
You have to think, before you eat.
Don't just mindlessly grab the first thing that appeals to you.
Because even though it's important to eat the right things, you need to be equally mindful of what you have to avoid.
This Is Not A Battle
Distraction free blogging is not an endless battle to accomplish something,  but a mindset of staying clear of things that will keep you from accomplishing them.
In fact, it's something I've often called… THE Blogger Success Mindset…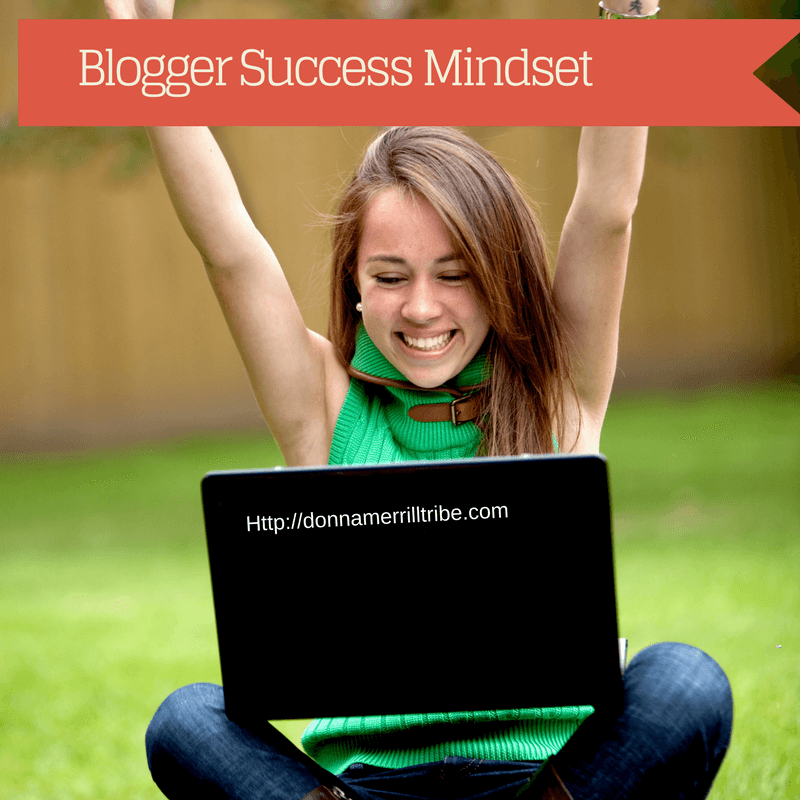 You see, focused mental activity tends to give life to itself.
One you start doing something and giving it your undivided attention, a momentum builds to continue doing it. 
You may not want to figure out all the people you need to send out birthday cards to this year, but once you start, you'll tend to just keep going until you've got it done.
But if you allow distractions to keep you from completing something, you'll tend to always find distractions to hold you back.
So, think about what you are doing… or what you are being distracted from doing.
The simple fact that you're thinking about it… being mindful of it… will help you stay on track.
If you try to ignore distractions, they will take over more easily. 
Confront them, name them, let them know that you know exactly what they are and they're trying to do.
Then stop them immediately, before they hijack the momentum you need to accomplish your task.
It's a matter of being self-aware and mindful of what you're doing vs. mindlessly stumbling through your work day.
Remember this…
You don't "get overwhelmed"… you choose to overwhelm yourself.  

So how do you get through your important work sessions?
Do you use a checklist?
A to-do list?
Do you stick to it, or do you struggle?
I want to hear from you today.
Has this article helped you understand how to become a distraction free blogger?
-Donna
PS: Don't forget to share this article on your social sites…
"How To Become A Distraction Free Blogger"