This post was most recently updated on July 28th, 2016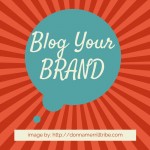 When you're ready to strut your stuff, you'll need to learn to blog your brand.
You see, your blog may be about cooking, swimming or orange juice making.
But that's just blogging.
Now it's time to go beyond all that and learn, not just to give cool content about your niche, but to put yourself up front and center.  In other words, it's time to learn to blog your brand.
Now don't get me wrong.
I'm not saying that your valuable content is not important, because it absolutely is.
What I am saying is that your readers want your information, but most of all they want to know it from "you."
What Is Your Brand?
So, what is your brand?
What does your brand say about you?
If you are a blogger, whether you know it or not, whether you like it or not, you are your brand.  No matter if you name your blog your own name or have a business name, it's ultimately all about you.
People don't come to your blog just to learn how to cook, for example.  They come to your blog to learn how to cook from you.
Let me show you what I mean.
If you have a cooking blog, you could offer a recipe for "sungold tomato and cool cucumber gazpacho soup."  You'd probably generate some interest from your post.  But did you know that Mario Batali actually has that recipe on his blog?
Who do you think would get more buzz from putting that very same recipe on their blogs, you or Mario (Google him if you're not a foodie… he's a major personality in the cooking niche).
It's the same recipe.  But while Mario Batali blogs in the cooking niche, he doesn't just blog about cooking.  He blogs his brand… his "Mario Batali" brand.
Of course, people want to know how to make soup.  But given a choice, they'd almost certainly go to Mario's blog before yours.  In fact, many people go to Mario's blog just to virtually "hang out" with him and see what he's up to.  Their visit may well have nothing at all to do with their interest in cooking.
I sometimes wonder what people think about my brand?  Do they like it?  What do they think of me personally?  Am I friendly? Helpful?
All those questions would run through my mind.
Then I had my own "blog your brand" experience.
There's a fellow blogger I've known for a while.   Early on, we had visited each others' blogs for several months, reading, commenting on and syndicating each others' posts.
One day he PM'd me on Facebook to tell me that he loved my latest post because I didn't seem as "aloof" as usual.  Now that threw me for a loop. I didn't consider myself as being removed from my readers, or in any way aloof, so I asked him what had given him that impression.
He explained to me that I wasn't sharing with passion or conviction.  I was just teaching stuff, but wasn't putting my whole self into the process.
Hmmm…at that time I was doing many instructional posts and of course writing in my own voice as I usually do.  But to make a long story short, his perspective was that too many bloggers in our circle were just developing strings of content, without any heart and soul.  I realized that to some degree, this is what I was doing.
So I started to learn to blog, not just about my niche, but to blog my brand.
My brand already involved helping others learn about blogging and social media.  But now, I increasingly put myself into my brand.
I developed more and more exchanges about things like what works and what doesn't for me.  Where I've succeeded and where I've failed.  I talked more about myself in the context of what I was teaching.  And I started revealing more about my life and my personality, on my blog… but also on in social media, where people came to hang out with "me," not just my content.
So lets explore this a little bit more.
How Do You Blog Your Brand?
Your Blog:
Always write content for people, not for the search engines. Use personal stories in your content from time to time.  Stories are a great way to illustrate things you have accomplished, failures you have endured, breakthroughs you've made and similar things.
This will show your readers that you are a real person!  Branding yourself this way let's you step into the context of what your blog is really about… front and center.  It offers a "real person" contrast to the steady drumbeat of great content that your readers have come to expect.
Pictures:
"A picture is worth a thousand words,"
It's your story in constant evolution, in graphic images.
How are you branding yourself with the pictures on your blog and your social media sites?
Are they friendly? Do you post pictures of yourself regularly on social media?  Don't forget, your blog is the "hub" of your online presence.  But it's not the whole "wheel".  The "spokes" of the wheel are your social media sites.  They are extensions of your blog, and they greatly enhance it's ability to build relationships with your readers.
I post images and photos regularly to my Facebook profile and page.  Sometimes I'll post a goofy pic, just to keep my image real, and avoid appearing "aloof" (I still can't get over that constructive criticism).  I get more likes and comments on the silly ones than on any other pictures I post.
I also like to share pictures that reveal snippets of my life, real and spontaneous.
Images are a source of a growing engagement that carries over into my blog, and even into my information products and coaching community.
They show that I'm a real and approachable person, as well as an authority and leader in my niche.
Here's one I shared recently…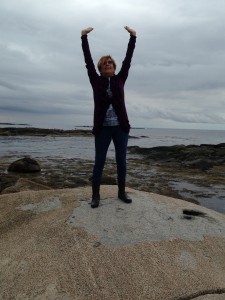 Videos:
Posting videos of yourself  "face to camera," or even screen captures with your voice-over is a great way to blog your brand.  If you're shooting a screen capture instructional video, try inserting an intro clip of yourself, before moving into the actual tutorial.  This will personalize it, and again, contribute to your branding.
Everything I just told you about photos and images also applies to videos.
So I won't repeat it here.
But even more, it lets people see and hear you in a way that not even photos can achieve.
Here's the type of video you can put on your social media status, or blog, to help people get to know you.  I put this one on my Facebook Page a few weeks back… It's less than 1 minute… but it does the job rather nicely, don't you think?
Again, it's about getting to know YOU, not just get information.
Blog Your Brand From The Mountaintop
The more people who see and hear you, the better they will see you as a person they'd like to associate with.  So why not post your photos and videos all over the place?
Whenever I go to a blog and I don't see a picture of the author, it confuses the heck out of me.  If there is a logo, it doesn't stick in my mind like a photo of the blogger does.  Does that happen to you?  I'm much more drawn into the content of someone whose face I can see.  You can rationalize this all you want, but the fact is, people simply relate better to people they can see and hear, than to an inanimate logo, no matter how good it is.
Hey I am the most camera shy person in the universe.  But when it comes to business, I know my picture needs to be out there for branding.  Don't believe me?  Let me share a story with you, especially if you're camera shy.
Years ago in my offline profession, I had thousands of post cards made up to send to my list of clients.
When I opened the box from the printer and saw my photo on it, I cried.  Then I got angry and threw them down into the basement.
Please…this cannot be me!  I look terrible and I don't' ever want anyone to see this picture.
That was my state of mind.
But it started tugging at my sensibility.
I realized that no matter what I thought of the photo, introducing myself graphically would a good move for my business  After a year of spider webs making their home on those boxes, I shook them off and hand wrote the addresses to my clients.
Not only did business increase ten fold, but everyone who received this post card just loved the photo… and told me so!
I smiled, thanked them politely while grinding my teeth.  And I got over it!
So, if you are as camera shy as me, just do it!  Don't make the mistake I made by waiting a year for business to boom.
Get out there and blog your brand from the mountaintop, with a steady photo and video sharing strategy.
Your Business, Your Brand
So that's it, blogger.
You need to brand yourself so people can feel comfortable with you, and want to be part of what you're doing… whatever it is.
No matter what kind of self-conscious hang ups you have, get over them because time waits for no one!
You are your business.  You are your blog.
You need to let people see who you really are, "warts and all."
They need to get to know you, not only through your writing and marketing, but by gaining glimpses of your life and your personality.
Start blogging your brand today.
Just be who you are and you will attract a following!  Better yet, you will attract those who will like you and want to be part of what you're doing.  
They'll always hold a "picture" of you in their mind.
This will not just get them to remember and recognize you, but it will go a long way to having them build trust with you.

I welcome your comments on this post.
How do you feel about this?
Did you learn to blog your brand today?
Have you given previous thought to what your personal brand is?
Do you agree with me that your personal brand is at least equally important as your content?
Go ahead and give me your honest opinion in the comments below.  I really want to know.
Then take the challenge: get out there and "blog your brand."