This post was most recently updated on July 28th, 2016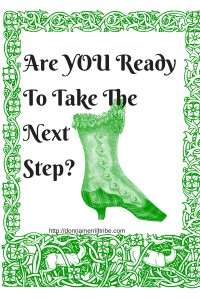 I've been doing a lot of individual strategy sessions, lately, and one thing I have found that so many people have in common is their fear to "take the next step" in their business.
People get comfortable performing the same tasks day in and day out.  They get good at them, people give them positive feedback for it, and they want to stay in that space.
Breaking out of that comfort zone, though, is the only way to move forward.  Sure, it's scary.  It will almost certainly result in new obstacles, challenges and failures.
It's so much easier staying where you are.
The question is, do you want to be where you are.  Or do you want more?
If you want more, and are ready to take the risks and discomfort that come along with it… they you may be ready to take the next step.
In this post, I will talk mainly about bloggers and show ways they can take a leap forward in their business.
Stock Your Blog With Killer Content
You may have been blogging for quite some time now.
Every day you are learning new things to improve and streamline your business. 
No matter how you look at it, though, blogging does take some time. You have to write some good content, then deliver it in the form of a blog post..
Make sure to put plenty of time and effort into giving your readers great content all the time.  This is the foundation of your entire business.
If you don't have a system in place for delivering great content on a steady basis, then you don't have a business.
Once you've got that system down, you're ready to do business.  But don't let yourself get too comfortable.
It's time to take the next step.
Drive Traffic
That means getting as many people as you can to see your post.  
A great way to do that is by sharing it on the social media platforms.  The main ones are Facebook, Twitter and Google+… but the more sites you share it to, the more people will see it. 
So you don't need to stop with the big 3.  Youtube, Pinterest, LinkedIn, Reddit, StumbleUpon and others will also get you lots of juice. 
Now, you're ready to take the next step again.
When people visit your site from social media links or discussions, they'll want to see how active your blog is.  Greet them with plenty of visible buzz right on your own blogsite.
Here's how you take that next step. 
Encourage Engagement
A certain percentage of your visitors will be just "readers."  Others, though, will engage with you on a deeper level by sharing your content on their favorite social sites, and by commenting at the end of your post.
You can, and should, encourage readers to get engaged in this way.  The most direct way is with a clear "call to action" in your post, usually at the end.  Simply ask them to please leave a comment and share the post on their social sites if they found it valuable. 
If you don't ask people to do this, many won't think to.  When you do ask, though, they'll be strongly encouraged to get involved in that way.
Reciprocation
Now, you need to take the next step once again.
To reciprocate for your commenters and social media syndicators, you should go to their blogs, comment and syndicate their content on your own social sites.
Don't be so quick to skip past the social media links you find on their blogs, too. You need a presence in social media, so take some time to socialize with people for further engagement.  Visit their Facebook, Twitter, and Google+ sites. 
Now, stop now for a moment and think to yourself how much time are you spending on this?  Don't make it consume your entire day, but allocate a fair amount to it so it gets done and, oh yeah… do it routinely and consistently.  That's how to build your organic reach.
Are you ready to take the next step?
Build A List
Evaluate your blog as a business. 
For instance, what are you offering on your blog?
Affiliate products? Your own products? Maybe nothing at all, yet.
When you view your blog as your business, you know there must be a method for monetizing it.  If there's not, then it's not a business model, it's just a good-will excursion or a hobby. 
The most important way to build a business on your blog is to get visitors to subscribe to your email list.  That way, you can always contact them with offers and valuable information that keeps them engaged and doing business with you.
That doesn't mean to follow people everywhere with annoying pop-ups and banners.  It means to give value, then simply ask them it they'd like to subscribe to your email list to get more of the same kind of value.  No need to be pushy or rash, here. 
You'll build a much better business with people who truly want to follow you, rather than tricking them into joining your list. 
People who want to be there will continue to engage with you.  Those who don't simply won't open your emails, they won't click through on your embedded links, or, if you're lucky… they'll just unsubscribe.  If they don't sincerely want to be on your list, you don't want them there.
Building a good, responsive list is critical.
But it's not the end of the journey.
Build A Customer Base
Let's take the next step.
To build a customer base with your blog, you could start writing some blog posts that promote your affiliate products, or invite people to explore your business opportunity.
Once people get to know you, they'll be far more likely to be receptive to these kinds of articles than they might otherwise. 
Don't overdo it. 
Remember, 80 to 90 percent of your posts should be presenting good, valuable information.  The remaining portion can be used for promotion.
Ready to take the next step once again?
Monetize Your Blog – Scenario 1
Lets take this scenario, for an example. 
You have written a few e-books. They can be free ones or maybe they are on Amazon. You went through a learning process to write, edit and publish them.
Great job! 
You've just learned a whole new process that you successfully put into action.
You could take a break, but…
Now is the time to take the next step.
Why not teach others how to duplicate your success, by writing, editing and publishing their own e-book?
Take the next step and offer a workshop or a paid webinar to teach others how to publish their books.
But this is not just for fun, it's your business, remember? Value your time!  Create a fair price point that reflects the time and effort you put into learning this skill to enhance your blogging business.  What would it be worth for others to learn to do this, too?
That is one example.
Here's another one.
Monetize Your Blog – Scenario 2
Say you are a network marketer who blogs to build a team for your primary opportunity.
You have been at it for a while and have successfully built a strong team.  You meet with them every week to help them develop stronger marketing skills.
You are good at it, so of course you want to share what you are doing with your downline team. You want to keep them enthused, informed and increasingly  skilled.
What do you think you need to do to take the next step in this situation?
Well, you can write an e-book with the how-to instructions for the team. You can even go a step further and create a digital product with video tutorials about network marketing, blogging and related topics.
You can share these things with your team, to make it stronger and more effective.  They'll benefit from it and do a better job.  You'll benefit by having a stronger, more professional team.
Now, you can take these same trainings and offer them to your blog visitors. This time, though, you'll sell them because the people reading your blog are not your team members, they are prospects and customers,   
Network marketing is something you have mastered and so you are putting your information out into your blogging marketplace, and attaching fair value to  it.
Monetize Your Blog – Scenario 3
The next step you need to take, is to put a clearly defined value on your time, energy and expertise.
If you have the notion that "no one is going to want this" or "I don't know enough," then you may not be ready to do produce your own product, or offer your services. 
I will tell you to stop before you take the next step and decide whether or not you're ready to put your own products and services on your blog.
I consult people all the time who under-value themselves. If you think that others won't pay you for your knowledge, it could be that you need to deal first with the issue of low self esteem. YOU need to acknowledge that one.
You need to raise your standards, and understand that your hard work and all your knowledge is worth something to someone! They need to pay for it.
Don't get caught in the trap of feeling bad for setting a price on your information or services.  After all, you give out free information every time you write a blog post don't you? Ahhh that made you feel better didn't it?
I'll share my own story with you here.
A while back, David and I hired a coach to help us develop our first product. After many revisions and tweaks, we came up with a price. Our coach almost flew through the phone and said NO!
We totally over delivered on it, but buckled when we had to come up with a price point.  Being it was our first product, we were undercutting the price point. Why? Because it was our first one!
Thank goodness we hired a very capable coach.  He put a higher ticket price on it not so much so it would pull more profit, but to establish it's value.  Well actually…he wanted it to be even higher, so we compromised.
I'm not saying, here, that you need to create your own product.  I'm saying that if you do, you need to require fair value for it.
Even if you're promoting affiliate products, you need to require people pay a fair price for them.  You need to get comfortable with this in order to take the next step of running a business on your blog.
People want to know why my business has been doing so well.
The answer is that day after day, I got out of my comfort zone and took the next step in my business.
Because of that, many good things have been happening! We've gone on to create more products and services and build a solid following.
Take The Next Step
So now my friends, I ask you, are you ready to take the next step?
Are you prepared to get out of your comfort zone, and take the next step to confront and overcome new obstacles that stand between you and the success you're striving for?
It's easy to do the same thing day in and day out, and feel good about knowing your game.  But you never move forward unless you step out of that comfort zone and take the next step.
The the next step today.  And again tomorrow.  And the next day and the next. 
If you let your journey be built on a series of small steps taken daily, relentlessly, without fear and without accepting the failures you'll experience as anything other than opportunities to form new solutions… then it will be a very exciting and rewarding journey, for sure.

Are you on the verge of  moving forward right now?  Have you been thinking of abandoning the cozy nest?  Are you ready to take the next step?
I would really like to know.
Thank you and be blessed,
-Donna