This post was most recently updated on July 28th, 2016
I know many bloggers who have done joint ventures with each other at critical stages in their professional development.
One of the more common types of JV partnerships I've seen involves bloggers who want to create a digital information product.  Maybe they want to sell a course showing people how to prepare nutritious vegetarian meals, a training tutorial teaching people how to run a YouTube campaign or a video course containing pro methods for breaking your puppy of bad habits.
These and other bloggers may have a good idea, and something of value to share.  They don't have the technical skills though to actually produce the product, create a site to house it, manage sales pages, affiliate programs and checkout processes.
So they reach out to someone they can strike up a joint venture with… someone who may or may not know about the subject matter itself, but has the skills to market, produce, promote and sell it.
Together, they create, produce and market the digital product.  Sometimes they market it as co-authors, or sometimes it's marketed under just one person's name, with the technical partner remaining "silent."
Meet My JV Partner

I know a bit about joint ventures from first-hand experience.
I was in the process of putting together the creative material for a product I wanted to create for my clients, when I realized I needed help to put it together from a technical and marketing standpoint.
I needed a JV partner to make this project move forward expeditiously.
I didn't have to look far, though.  I turned to my husband and long time business partner in many ventures.  You may know him, too, from his blog, David Merrill 101 (.com).

You see, David and I are both bloggers, but while I focus primarily on blogging as a primary business, David is more involved in the technical and marketing aspects of blogging.  So, our partnership was a perfect fit.  I could focus on the creative aspects of my first digital product, while David would be the architect of its structural and technical components.  Not only is he technical but a darn great teacher. 
This was the joint venture that eventually brought about "Blogging Magic."
It was an outgrowth of an info video we had produced called "Blogging Fever" that reveals the depth and power of blogging as an online business model. 

Our First Joint Venture Project
Blogging Magic is my digital course for bloggers.  I created it for both newbies and pros, laying out the exact process required to build a blogging business.  I show people how to develop authority and branding for themselves and for their blog.  I also map out the course for making your blog successful through different channels, most notably social media.
What made this JV partnership even more perfect was the fact that David and I had worked on many joint ventures before "Blogging Magic."
Locating My JV Partner
We first met when David was ghost writing a book for one of my professional peers.  I had agreed to do a read-through of the book for her, and had to sit with him to discuss it.  We actually had some rather nasty little disagreements about the style of the book which I thought was too slanted toward marketing, but David insisted was necessary in order for the book to have marketability.  It did quite well, so I guess there was something to his strategy, although we still argue about it… amiably, of course. 
I built a professional practice as an intuitive consultant with David (my husband by then) at my side as a joint partner.  He helped me to build the business, manage and grow it.  It continues to thrive to this day, although I've since chosen to give priority to my blogging business.
The Blogging Joint Venture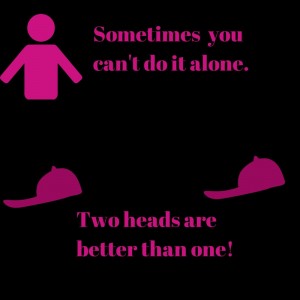 David had actually started blogging a bit before me, and he was the one who first introduced me to it.  He insisted it was a perfect platform for me, considering how I had always loved helping people, and had a social flair for connecting with them.  Considering the fact that my blog has blossomed to such great success, once again shows that he has been a pretty solid JV partner.
Now, David had built a pretty solid reputation himself, among some pretty well known internet marketers and product creators.  But the circle he was running in was different than mine.  So he was far better positioned than me to actually make my product viable in the marketplace.
From Blogging To Coaching
Blogging Magic took off rather nicely and, in turn, led directly into the development of a coaching club that we hadn't even planned on. 
With the release of Blogging Magic, we were rather taken by surprise at the number of people who began asking us to mentor them along their own paths as bloggers and online entrepreneurs.  We couldn't possibly handle the large demand for this service, so we almost immediately found ourselves in the midst of developing a membership site.  It would be the cornerstone of what we refer to as our dynamic group coaching platform, the Whirlwind Success "VIP Club."
Again, David was my JV partner in this. 
Together, we produce monthly training webinars to teach people the up to the minute things that are working best for online entrepreneurs.  We added weekly Q&A sessions in which we answer the specific questions that VIP Club members present us with. 
David has an M.Ed. in Communications from Columbia University, so he has a flair for pulling together and organizing training materials.  He has been both a teacher and a freelance writer, so .  This has been a major asset in making these direct training programs so useful to members. 
David really knows how to teach and I have always had a natural talent for helping people break through barriers in their lives.  I really love mentoring them as they carve out their own online success stories.  Again, we've been a pretty good team delivering this value to our members.  I know, because it has become so popular in such a short time.
A very popular feature of the VIP Club is that we make ourselves available for live, one-on-one assistance.  We do this together.  It's a really unique kind of mentoring because David and I both have such different perspectives on our VIP members' challenges.  While I assist them on the creative and social aspects of their business, David is always present with his marketing and technical expertise that helps them conform broad strategies into step by step action plans.
Is there a Joint Venture for you?
If your business is at the point where a JV partner is needed to move it forward, I suggest you look carefully at who has the exact skills and expertise that will complement yours. 
You probably don't want to work with a partner who does the same thing as you, and has your same skills.  This will leave a gap between what the two of you want to accomplish, and what you are capable of delivering.  That's why I think it's best to work with someone who has different, but complementary skills and expertise.  What you don't know how to do, your partner can work out.  What your partner doesn't understand, can be your role in the joint venture.
If you're lucky, maybe you have the perfect JV partner living under the same roof as you, but it's probably not likely.  I suppose David and I just lucked out.

What do you think?  Are you ready for a JV partnership?  Do you know what sort of partner or joint venture can best be an asset to your business?
I'd love to hear your stories and comments below.  And don't forget to share this post on your social sites 🙂