This post was most recently updated on July 29th, 2016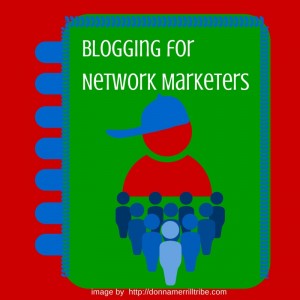 I'm often asked, how important is blogging for network marketers?
Well, if you're a network marketer, you were most likely trained to go to your warm market, and then reach out gradually into the cold market.  A typical cold market plan set forth is to make a goal of talking to 5 or 10 people a day.
Don't worry about the results of that conversation, just focus on reaching out to a core number of people each day, and over time, results will occur.
So where are you taught to find those people you hope to recruit?
The answer is usually… "everywhere."
You carry your business card to the grocery store, you go to a party and when asked what you do, you tell that person how great you are doing with your primary opportunity company.
What online strategies are you taught?
Many times you are given a blog site by your company.  As you might expect, it's geared toward promoting the company, the product and the opportunity.
Once you bring your business online, you are taught that you have a bizillion people to connect with all over the world.  Oh boy!  You won't hardly know how to handle so many connections.
With your company blog all set up, you are blogging about your wonderful business because you love it so much and want everyone to get in on this great compensation plan, and enjoy some high quality products.
At the end of the day, though, you're just not getting the results you thought you would.
So, what's the problem?
Setting Up A Company Site or "Blog" Is Not Blogging
You see, company sites and company blogs are set up to encourage you to go out and get traffic.
That traffic gets exposed to what "the company" is all about.
Some visitors to "your" site or blog may be interested enough in the opportunity to actually sign up as representatives.
Here's the problem.
Your company knows that the vast majority of it's reps will drop out of the company after a relatively short time. 
That means that you won't be getting results.  Worse yet, you don't really know how to, you can't keep up with auto-ship payments any more… or any one of a hundred other problems start to overwhelm you.
So what happens to all the traffic you pulled to your web sites while you were online?
The answer is, it will end up benefiting the company.
Sign-ups will join directly, or under some other rep, but when they do sign up long after you're gone, the company will benefit from the efforts you made.
Meanwhile, even if you remain with the company, you'll almost certainly find it's a really tough thing to get people to your site, even tougher to get them to sign-up, and often just about impossible to get them to sign up as your personal downline.
You may be wonder why no one wants to read your blog, and why nobody signs up under you.
Part of your problem may be that you don't know how to blog properly.
But even good, savvy bloggers struggle to use their blogs to give a major boost to their network marketing.
The problem in both instances is that "blogging" with a company site or blog is really not blogging at all.
What you do with most company sites is to talk endlessly about how great the company, the product and the opportunity is.
You're given well written articles, very convincing statistics, stories and lots of glittery images and videos to bring the message home to your readers.
But this is not blogging.  This is advertising.

All you accomplish with this approach is to advertise for your company.  And the company is probably fine with this, even if you never sign up a single downline because advertising is all about branding and exposure.  It's not about directly converting leads into partners.
You are using your time and resources to advertise the company.
If you get leads fine.  If you convert them, even better.
But even if none of that ever happens, you fulfill a tiny role in the company's overall advertising campaign.  You are getting eyeballs to the company's message, and you're giving your personal seal of approval which amounts to a testimonial for them.
But what do you get from this?
The answer, all too often, is "very little or nothing at all."
But the problem is not that you're blogging poorly.  The problem is that you're not blogging at all.
You're advertising.
So, How Do I Start Blogging?
The whole purpose of blogging is to brand yourself as a leader… THE person that a prospect will want to team up with when they decide to join your primary opportunity.
So you want to ask the question, how do I start blogging?
And, the next question you'll need answered is, how do I brand myself as a leader in my network company?
The answer to these questions is quite involved, but let me outline it for you briefly.
Your blog should be your own, not your company's.
It is always better to brand yourself, than to promote the company you are representing.    You may decide at a later date to either leave that company or even better, join some others too.  Your brand will be attached to you, no matter where you go or what you do.
Branding yourself will encourage people to know, like and trust you first, your company second.  Remember, people want to follow a leader, not just sign up for some faceless company.  Your blog will make you the leader they're looking for.
You will blog about the niche your company is in, but not about the company. 
Your goal at this point should simply be to get people to follow you, and see you as an authority in your niche.  Don't worry about involving them in your particular opportunity at this stage of the game.
Always give top quality information to your readers.  Give them information that will improve their lives, whether or not they ever learn a single thing about your primary opportunity.
If you feel absolutely compelled to talk about your company in your blog posts, do it VERY sparingly.
You can put up a sidebar banner promoting your company, but here is the secret sauce:  Do a personal video giving some valuable information to capture a name and email address, BEFORE sending them to the company site.
This ensures that you build a list of people interested in pursuing your primary opportunity, and will further brand you as the go-to leader for when they're ready to sign up.
The worst thing you can do is link directly to the company site from your sidebar banner, or anywhere else for that matter.
These are the bare essentials of blogging to promote your opportunity.
Remember, most importantly… set up your own personal blog.  Do not use a company duplicated blog or site.  That's not blogging, it's advertising.  And it's not promoting yourself, it's promoting a company that you may or may not continue to represent in the future.
Social Media
Another problem I see so often with people trying to use blogging to promote their network marketing company is the way they interact with it on their social media sites.
The most common mistake I'm seeing, especially with new kids on the block, is what I call link dropping.  These are the sort of social media statuses I see all the time, accompanied by a link to a company blog, site or even sign up page.
I need 5 more people to join me in ….

I am representing company x, and you should see what a great opportunity it is for you

I just made $$$, here's how you can too
These sorts of status updates or tweets or whatever, are always accompanied by the links I mentioned.
It's also very common for bloggers to tag other people with their company promotion, or private message them on Facebook: "Hi….Can we talk?"
OMG.. Everyone knows they're getting a sales pitch with those approaches.  They're not about to click through to your blog, and it is not the way to market your blog or your opportunity.
Network marketers use these bad blogging practices all the time because they don't know any better, and because that is exactly what their uplines and leaders taught them to do.
Why?
Because their uplines and team leaders don't know anything about blogging, only advertising.  What they're so often teaching you is little more than how to spam, be annoying, and drive traffic away from your blog.
Do You Pass It On To Your Downlines?
Let's say you have the knowledge for blogging effectively and building relationships with people.
Let's say you have the marketing savvy to entice people to actually ask you "what do you do?"
Let's say, in other words, you know how to blog, and have built up a team in your primary business.
Now, you have to ask yourself, how will I ensure that my downline partners are also successful and productive?
Your downlines need you to be a good leader and teach them everything they need to know about the product, the compensation plan, but most importantly… network marketing and network marketing online.  And blogging is the most effective method to teach them.

You may be such a great leader that you gather them together on a phone chat or a Google+ Hangout and make sure they are marketing correctly.
But a large part of this will be to teach them the power of blogging to build their own teams, just like you built yours.  In other words, teach them to duplicate your success.
What are your downlines doing to blog effectively and build their downline business?
Are they using a company blog or a personal one, like you do?
What kind of training are you giving them to ensure they will blog effectively and not be spammy?
Even if you think your company provides decent training for blogging effectively, do you keep your eye out on your downlines, so you know they are doing it right? Hmmm…
Blogging Magic for Network Marketers
So, let's get down to the nitty gritty.
You are a network marketer, you have a team and you want that team to grow successfully. 
You spend a lot of time teaching them how to blog effectively because you know that there is simply no better way for them to build productive downline teams.
You are actually one of the very few network marketers who know how to leverage blogging to build powerful teams.
Although my readers know me best as a blogger, I'm also an online marketing consultant.
One of the groups I've worked with a lot, is network marketers.
It was from my work with network marketers that I developed my blogging training course called "Blogging Magic."
It's for bloggers of any type really, but network marketers use if to train their entire downline teams, and it's been very effective for that.
"Blogging Magic" is also an affiliate product that you can sell to your downlines so it is a tailor made win-win situation for network marketing teams.

So, if you are a network marketer trying to build a power team of downlines, Blogging Magic just might be the training system you need for teaching them how to blog the right way.
In any case, to build a strong team, you really should be investing your efforts into leading them into the world of blogging.
By now, you know that when I say "blogging," I'm not referring to the duplicate blogging systems handed out by the vast majority of networking companies, but the personal, individualized blogging that will create true leaders and producers on your team.
IMAGINE… If all your downlines were ethical, effective bloggers that knew all about how to brand themselves correctly.  They not only will build relationships, but also will become recognized as people who others will know like and trust.
When you build a network marketing team filled with great leaders like yourself, you will stand out in the crowd no matter what primary company you represent.

Are you a network marketer?
Do you use blogging to build your network marketing organization?
Do you have a different business model that you use in conjunction with blogging?
I'd love to hear from you.