This post was most recently updated on July 29th, 2016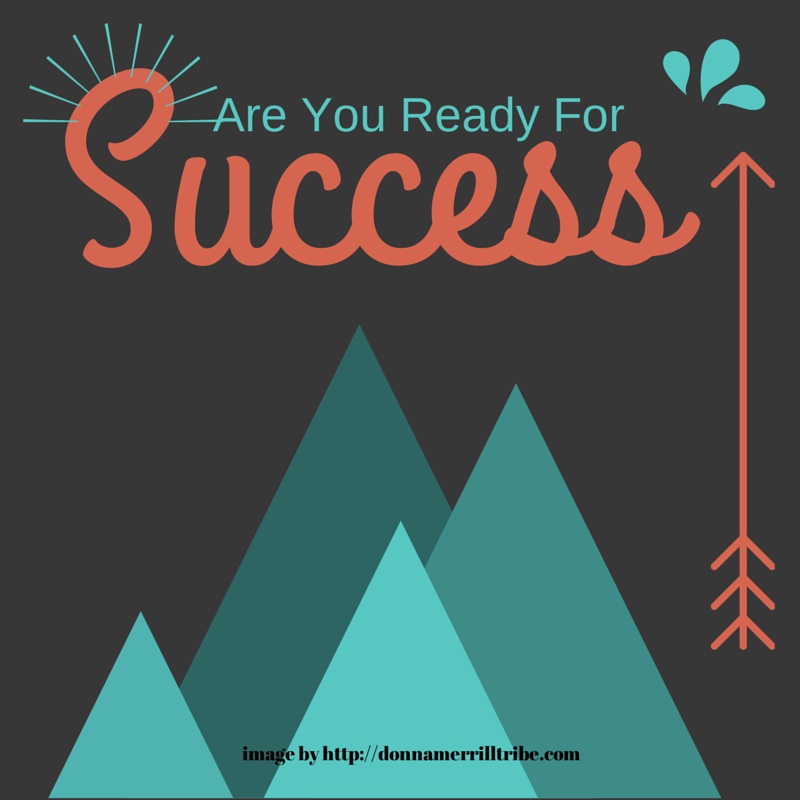 Are you ready for success?
Sometimes success comes slowly to you.  Other times it is like the flood gates opening and it just pours out right into your lap. 
I know what you are thinking.
Yea… bring it on I'm ready for success!
Some people reading this have already achieved success.  Many of them may know how to handle it, but others may not.
You see, if you're striving for success, then you need to prepare for it in advance.
There are two things, in particular, that I'd like to have you start thinking about now, even if you feel that success is well off in the distance.
These two things are Time and Money. 
Are you prepared to deal with these commodities wisely and effectively?
"Oh yea… I can handle it!"  you might be saying to yourself. 
But don't answer so quickly.
I'd like you to carefully consider if you are really ready for success when it comes to handling both time and money.
TIME
Before jumping at success, think about the time commitment you'll be strapped to when all of the sudden success is on your doorstep.
Think hard. 
Okay, you folks that gave me a quick answer, are you beginning to think about this a bit more carefully?
Let me help you out with a few questions.
Can you realistically handle, let's say 100 people joining your business or your primary opportunity overnight? 
You may have placed an ad, got a great response, a killer conversion rate and you now have 100 people depending on you to be their team leader, or mentor.
You may have run a promotion for your affiliate product, or your own product for that matter.  Maybe you ran an ad for clicks to a listbuilding campaign. 
Whatever your particular campaign was for, it was a big hit and 100 people have just been added to your list or purchased your product.
Do you have it all ready?  Did you write your emails?  Did you develop your sales funnel?
In any of these scenarios, you'll have to think fast about some things. 

How are you going to answer all their questions?

Did you develop your sales funnel?

Did you prepare a platform where all 100 people can gather to learn the necessary beginner things?

If you are still working a job, do you have the time to spend blocks of hours on this?

Even if you don't have a job, can you smoothly transition your schedule to make the sudden shift required to focus on the needs of your new list or your new customers, clients and down-lines?

Did you think ahead and set up a time line for all these people who are suddenly looking to you to lead the way?

Did you carve out some time for yourself in the midst of all this new activity and obligation?

Do you have a list of people ready in the wings, ready to handle the tasks you may not have time or ability to handle?  Maybe you need some technical assistance, or spreadsheet tracking, copy writing or whatever.  Did you think of that?

Do you have a system in place for handling customer service issues like, somebody didn't get a password to access your members area or download site?  Maybe your instructional video isn't working right, or your redirect links are broken.  Can you handle these issues, or do you have someone on board who can?

Are you ready to take responsibility to fulfill the needs and expectations of each and every customer, client and business partner?

Do you have the content and systems in place to deliver on everything you promised?
And, oh yeah. 
This new promotion or campaign represents only one part of your business.  Can you keep up with your other necessary tasks, like maintaining your blog, your social mediastrategies, place and monitor your ads?
Your new customers and clients will be waiting for more direction from you.  Are you ready to lead them from the front of the room?
Do you have it all ready?  Did you write your emails?  Did you develop your sales funnel?
MONEY
When it comes to success, we have to remember that it involves a new influx of cash.
Do you know what to do with your profits?  Even more basically, do you know how to handle money properly? 
If you were not born with a "silver spoon in your mouth," as most people were not, you probably don't have a lot of experience with excess cash.
With success, you are going to need to learn how to use money to enhance your business.
I highly recommend that you read the book "Rich Dad, Poor Dad" by Robert  Kiyosaki.
It will show you the different way in which people look at, and handle money and capital. 

Kiyosaki explains how he grew up in a household where his "poor dad" had a salary based job and the standard "hard work" and "invest conservatively" values he was passing on. 
They were things most of us grew up with, like save your money, work hard, if you need more money you have to work more hours or add another job… you know that kind of "grunt" mentality.
His friend's "rich dad," on the other hand taught young Robert about a deeper financial wisdom and intelligence.  He stressed putting a stop to working for the "man," and replacing it with working for yourself.  He taught Robert how to make money, but far more importantly, he showed him how to develop the mindset of the rich. 
So when your success gives you the challenge of handling money and profit, you'll need to consider some of these things.
Re-investing that cash flow and how and where to do so?

Do you still have that job mentality? 

Do you think the best idea is to put your new "seed capital" in the savings account, or buy some consumer items you've been wanting?

Maybe you need to pay off your household bills.  Should you be using your newly earned business cash for that purpose?

Do you know what Kyosaki means when he says that a "trained mind is a good mind?"   It is all about training your mind to achieve wealth.

If some windfall profit suddenly falls into your lap, are you ready to start paying it out to people and systems that will help you scale your business to higher levels?
These are but a few questions raised here.  
The big one is this:  if you are working hard at your online business, and all of the sudden you achieve and even exceed your goals, and success rushes in… are you ready for it?
Don't just say "bring it on."
Prepare yourself for it.
In fact, preparing for it will actually open the doors through which it will enter.
You need to be ready to understand what money is and how it really works. 
Clearly, I'm suggesting that you read "Rich Dad, Poor Dad" very carefully.  I think it's about the best resource I've come across to ensure that you are ready to handle your profits wisely. 
If you never gave it a thought, and have dreams of a big fancy car and luxury vacations… give it a second thought.  Money is only a means to achieving your bigger dreams. 
You really need to understand money and financial flow from the perspective of a "rich" person, and not a "working Joe."  If you don't, you're preparing to be the "working Joe" instead of a rich and successful entrepreneur.
Believe me, you will achieve whatever you prepare yourself to achieve… for better or for worse. 
SUCCESS
So… are you ready for success?

Even if you are not making one stinking dime today, you must be ready for the success you know you will attain tomorrow. 
If you are not prepared by having all your ducks in a row when it comes to your time, I assure you that you will be overwhelmed. 
This is a critical part of marketing that I don't see others talking about much. 
I was inspired to write this to you my dear readers because planning ahead and being mentally prepared for your success is the most important part of achieving it… like I know you will!

-Donna