This post was most recently updated on July 29th, 2016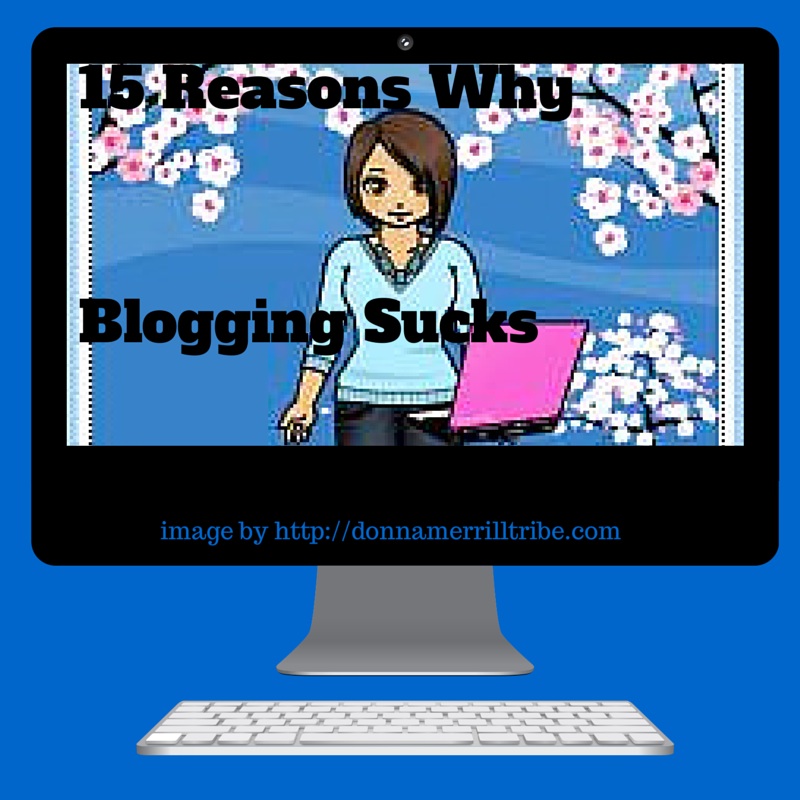 Yes, my loyal readers I am here to tell you that blogging sucks!
Let me show you why.
1. It takes so much time to write a blog post… doesn't that suck?
2. After you're done writing, you have to purchase or otherwise find a cool image that reflects the blog content. There are tons of image vendors… choose carefully.
3. You better read the terms and conditions of any images you snag, or even purchase. Otherwise you can be in big trouble. Read the fine print, and bear in mind that the rules you signed on for change all the time.
4. Here's the safer alternative: create your own image. But that's not necessarily simple, either. Use Canva, Paint, Photoshop or some other software? I use Canva (not an affiliate link). It's pretty good, although sometimes my pictures look like a five year old made it.
5. OMG… now people are actually coming to read your blog, and some of them leave comments.
6. Now, you have to reply to that comment.
7. Don't forget to reciprocate. You have to return the favor by going to their blog, reading an article and commenting on it.
8. Not done. Now you have to share their blog post on your social media sites. More time. I told you this sucks.
9. In addition to all of this, you have to work on building an email list of your followers. You need to get people to opt in…what? This really sucks.
10. So, get down to the business of creating something of value, like an e-book, in order to entice folks to opt in to your email list. Just what you wanted to hear, right? Another time-draining "to do."
11. Now people start opting in to your offer. Yeah! They're on your email list. Uh-oh. Now you have to spend time writing emails… several times a week without fail! Oh, yea… Every week.
12. Emails are critical to jump starting the engagement process. Writing Good emails is the lifeblood of your business, but… it's no snappy little process. %agh&*#yick%!! This is really gonna Suck!
13. You have to keep up-to-date with the latest and greatest products to offer and trainings to share with both your email subscribers, and your blog visitors.
14. As your blog starts growing, you find yourself replying to an increasing number of comments, reciprocating by reading 5, 10 maybe even more blogs every single day, and leaving your own comments on them. Where do you find all the time for this?
15. Besides, what is the point, anyway? Blogging really sucks when you have to spend so much time doing so many things that are not even making you much money, and certainly not very quickly.
Now, these are only 15 ways that blogging sucks.
There are plenty more.
Do you agree?
If so, the joke is on you … he he he

This may be a little off base from what I usually write, but the real point I'm making here is this:
Blogging is a lot of work, and it may take a lot of your time, and you might get discouraged at times and think "this sucks"…
but when you learn how to blog the right way, it's worth every single bit of the effort.
As a successful and dedicated blogger, you already know that. 
Everything you see, hear and look at makes you want to write about it.
You constantly think of neat blog titles, and hopefully even jot them down for later use.
You are eager and passionate in your quest to help others. This is really why you blog.
Inexperienced or struggling bloggers, on the other hand, may not understand yet.  They may just see blogging as too much effort for too little return.
I know it takes time to write good content on your blog.
But it's really just sharing things that you know, or that you may have just learned.
There a variety of ways to do that.
You might put together a curated blog post.
Or, you could do an interview with another blogger or authority in your niche.
Make blogging interesting and fun, not drudgery to just slog through.
A good blogger loves to hear from her readers.  She answers each and every comment fully, and with enthusiasm and interest.
It is all about engagement.  This is where it happens.
If a person reads your blog post and leaves a good comment, you are excited to reply to them. Then in turn you do the appropriate thing. You go to their blog, leave the best comment you can. Then share it on social media sites.
Did you know how many people will read your comment and come over to your blog just because something in your comment resonated with them? It's true. 
This is where your blog can start to go viral, so don't think you're wasting time with these "chores."
Now Here Is The Part That Bloggers Love Most!
This is the part where the time you put into blogging starts translating into profits.
Does that sound like blogging sucks? Not to me.
While there are many ways to make money with your blog, one of the most direct methods is to simply offer your readers good products and services to buy!
You can do this with side bar banners, or links within your posts. Either way, just make sure to brand yourself in the process…that's right! 
You don't want people to just buy a product, you want them to start to value you as someone who can help them solve their problems and make their lives better.
You want them to get to know you, and trust you.  That's when they'll become interested in buying things you offer, and want to follow you even after they've purchased. 
It's easy enough to brand yourself if you're offering your own product or service.
But even if the product is not created by you, do a short video or blog post "review" introducing it to your readers.  Make it clear that it is YOU who is suggesting they buy the "problem solving product" because YOU want to help them solve their problem.
This is how to build a following of readers, prospects and customers who will come back to you time and time again, for information, value and to make additional purchases.
Probably the best way to keep in touch with your buyers, so you can continue building your business by offering additional products and services is with your email follow ups.
Sure, writing emails is time consuming.
Figuring out what to offer and how to do it… this is a whole other specialized task that you'll need to learn to do, and you'll need to spend time working on.
And it's not a one-time thing.
As long as you have a list of prospects and customers, you'll need to come up with new and fresh ways to give them value and make them offers.
Bloggers Need To Keep Learning
"What? Learning… Grrrr my company told me everything I need to know, Donna!" Err…Not!
The internet is a place that changes very, very quickly. What worked yesterday may be just old-hat today.
If you are not up to date with what's happening online in your niche, and spending time acquiring the latest marketing skills, you are going to sink very fast.
Does this suck to you?
Not to successful bloggers.  They know this is an essential part of blogging. 
They make it their business to keep up on all the latest niche information that pertains to their blog, as well as the hottest marketing strategies that other bloggers are using.
It doesn't suck to me because (1) it challenges me, and (2) I love it!
Those are pretty key attitudes to have if you are going be a successful blogger.
Yes, my friends, blogging sucks…
IF you think you are going to start a blog, push a button and make money fast

IF you don't have an altruistic mindset, meaning: you don't care about anyone but YOU!

IF you don't want to put in the necessary time

IF you don't love the challenge of keeping up with the fast pace of the internet

IF you don't love to learn new things, all the time

IF you don't love connecting and engaging with people

IF you are not committed to always finding new ways to improve the lives of your readers, subscribers, customers and clients

So my dear friends, what say you?
Does blogging suck? or is it just about the greatest business in the world?
-Donna